First post, by foey
ATC-S PIII Coppermine Build
Updates
02/08/2014 - Additional Voodoo 2 CT6670 Card, SLi - Re: ATC-S PIII Coopermine Win9x Build Log [WIP] **Photo Heavy**
07/08/2014 - Creative DVD-ROM - ATC-S PIII Coppermine Win9x Build Log [WIP] **Photo Heavy**
18/08/2014 - Creative Live Drive installed - ATC-S PIII Coppermine Win9x Build Log [WIP] **Photo Heavy**
28/08/2014 - Zip, Voodoo 2 12mb + Msc Updates - ATC-S PIII Coppermine Win9x Build Log [WIP] **Photo Heavy**
Background
Hello, back in 1999/2000 I was setting the world on fire with my AMD K6-2 400, it was not until mid 2001 I upgraded to a Athlon Thunderbird with a Geforce 2 GTS Pro. I wanted to create a top end Windows 9x machine, I have and shown a couple of systems on Vogons, those include my IBM Pentium 200 build for Windows 95 and a Pentium 4 XP build.
Games
Quake 2, 3
Unreal
Unreal Tournament '99
Turok 2
Expendable
Jedi Knight
Black & White
The Sims
Need for Speed Porsche Unleashed
Carmageddon 2
The Build
Case
For me the real push for this build was finding the right case. I had previously started building it in a new-ish cheaply black case. However after cutting my hands on it trying to assemble it, it just didn't feel right. The case of choice in 2000-2002 was the CoolerMaster ATC cases. They looked stunning and were marketed as top end.
I managed to find a ATC-S 500 on ebay for £20, however the seller lived over 150 miles away from me. I reluctantly agreed on a shipping price and here it is!
The ATC-S 500 is a slightly different case to your standard ATX. Its smaller, only exposing 2 full drive bays. The PSU is mounted on the side, just above the CPU.
The previous owner bought this off someone who modded the case slightly. You can see below he made a custom frame in the smaller drive bays and pictured later a cutout for a 80mm fan.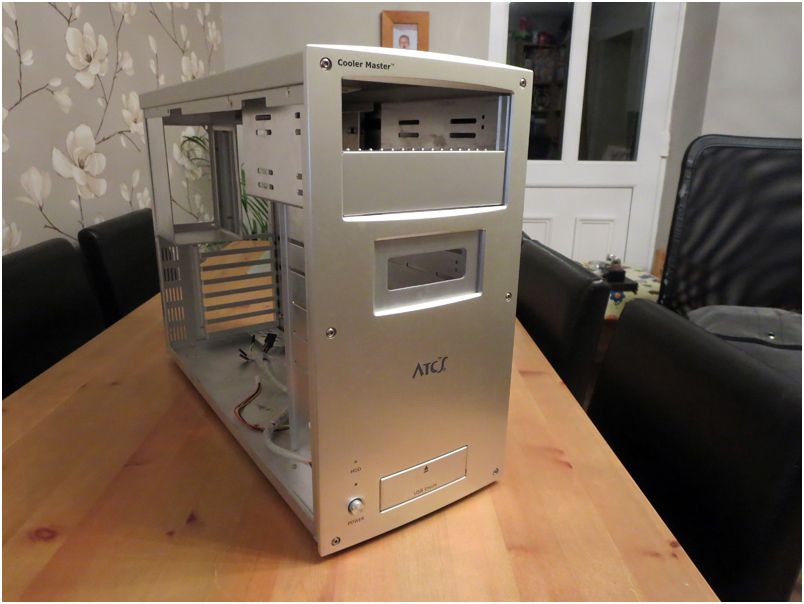 The motherboard tray slides out, making for an easier build.
The 80mm cutout. I placed a 80mm fan with a black fan guard. Looks pretty much OEM.
CPU & Motherboard
I picked up a MSi 6309 v1.01 Motherboard which supports a vast range of Coppermine Pentium IIIs. The board came with a very watered down Bios. The splash screen displayed a Packard Bell logo and was using a Custom Easy Bios.
I flashed the Bios to the latest one off MSI's site and was able to access the full Bios. I'm quite impressed by this motherboard...
- Support for ECC memory (1.5Gb total, 3x512mb) @ 133mhz
- CPU FSB up to 160mhz+
My only gripe would be the placement of the PSU Connector, especially with this case! 😀
The CPU of choice is a Pentium III Coppermine 1Ghz, SL4MF, 133, 256k
Graphics Card
Creative Geforce 256 Annihilator Pro, DDR
Despite having a short shelf life as the Geforce 2 came out not long after, there is something special about this card.
Creative 3D Blaster Voodoo 2 12mb CT6670
My first Voodoo 2! Just need to find another.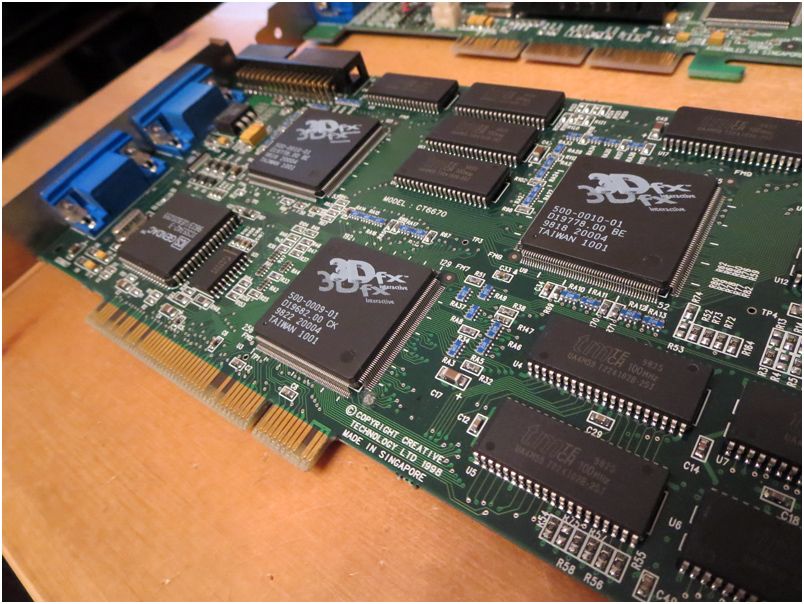 Sound Card
Creative Sound Blaster Live! CT4760
A fantastic card for its time, still sounds great today. Next month I'll purchase a Live Drive.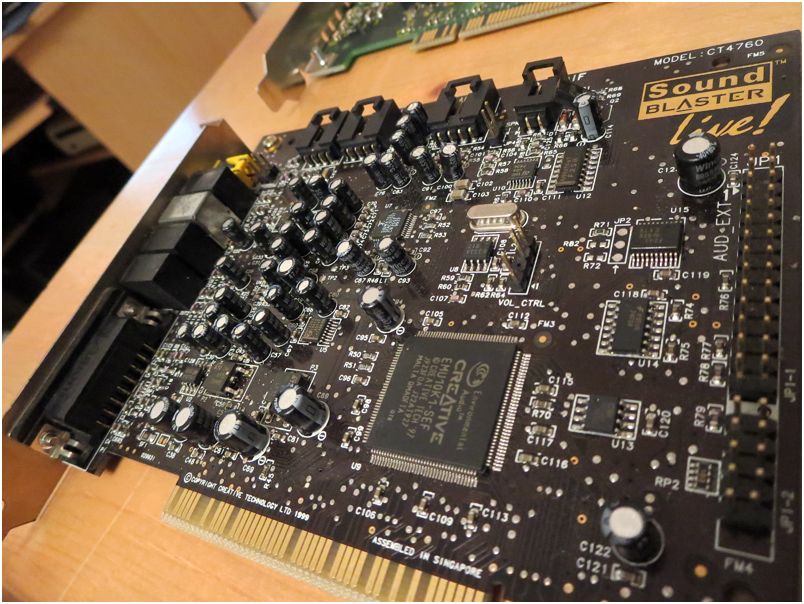 Others
Adaptec 2940U2W SCSI Controller
As this is a top end machine I wanted a quick drive where I could store all of my games. The controller is connected to a Seagate Ultra320 10k Drive.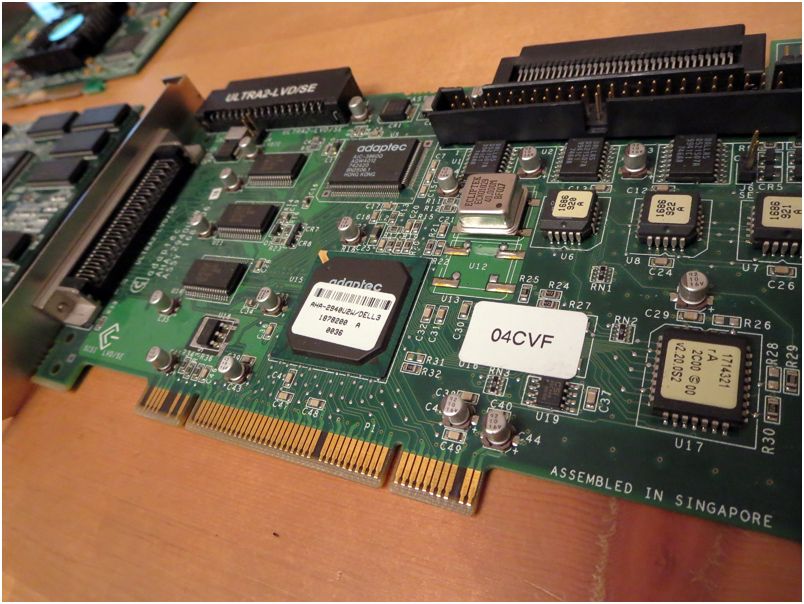 3Com NIC 10/100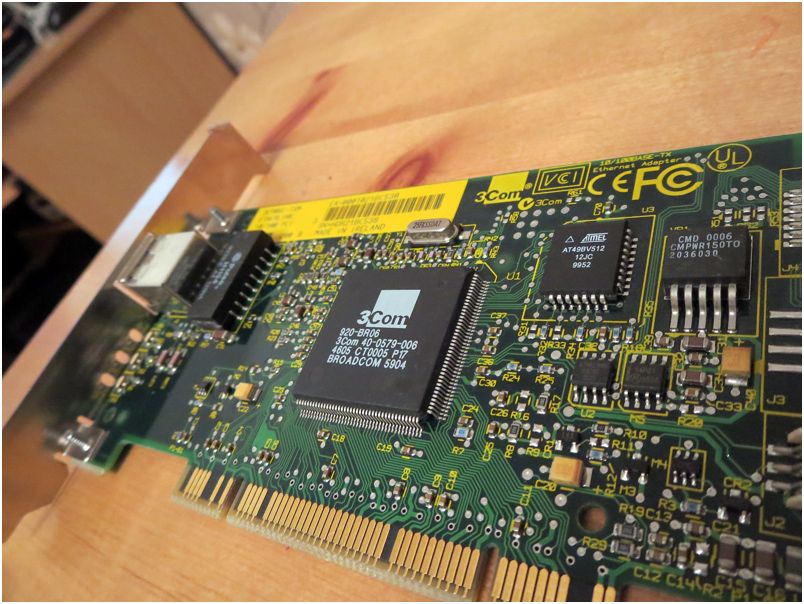 The Build
It really is a pleasure building everything up in the removable motherboard tray, no cut hands all night either! 😀
All fitted, going in!
My first time consuming job was to try and route the PSU cable around the top of the case leaving room around the CPU and ram. The removable tray made it easier as you can see
PSU fitted. I managed to route the MB cable at the top, as there was alot of slack, I managed to lose the excess in the space above the PSU. If I need to pop the tray out, there should be enough slack. Now for the time consuming cable tidying...
Getting there...
My next job was to neatly attach the SCSI cable. I managed to do so by routing down the side of the case, flat. This works perfectly as it just comes to the side of the 80mm case fan meaning no loss of air flow.
All done!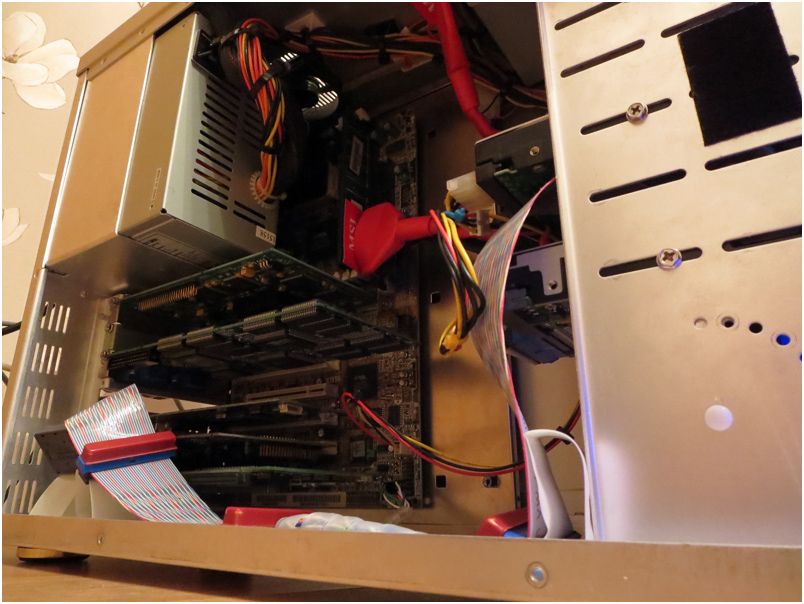 Specifications As of 17/09/2014
CPU Pentium III Coppermine 1Ghz, SL4MF, 133, 256k
Motherboard MSI MS-6309 Via133 Pro Motherboard
RAM 512mb Crucial PC133 CAS2 Ram
Primary Graphics Card 64mb 3D Prophet II Geforce 2 GTS Pro @ 200/400 AGP 4x
Secondary Graphics Creative 3D Blaster Voodoo 2 SLi, 2x 12mb CT6670
Sound Card Creative Sound Blaster Live! CT4760
NIC 3Com PCI 10/100 NIC
SCSI Adaptec 2940U2W SCSI Controller
Storage 40Gb Western Digital 7200rpm IDE Hard Drive - Windows ME
300Gb Seagate Cheetah 10k.7 SCSI Hard Drive - Windows 2000 + Storage for Games
Optical Creative DVD5240E 5X DVD-ROM Drive
Optical Iomega ZIP100 Drive (ATAPI)
Extra Creative Live! Drive IR SB0010
PSU Suntek 420w Dual fan PSU
Outstanding, to do
- Fill the lower bay (Floppy or LS120 Drive)
Benchmarks


Questions to Vogons
- Do you think I should replace the Geforce 256 for a Geforce 2 GTS?
- Any suggestions to add to this epic build?!
Hope you enjoyed reading 😀
Last edited by
foey
on 2014-09-17, 21:22. Edited 14 times in total.