First post, by CelGen
Eight years in the making. Completed just in time to see the commercial release of the Oculus Rift.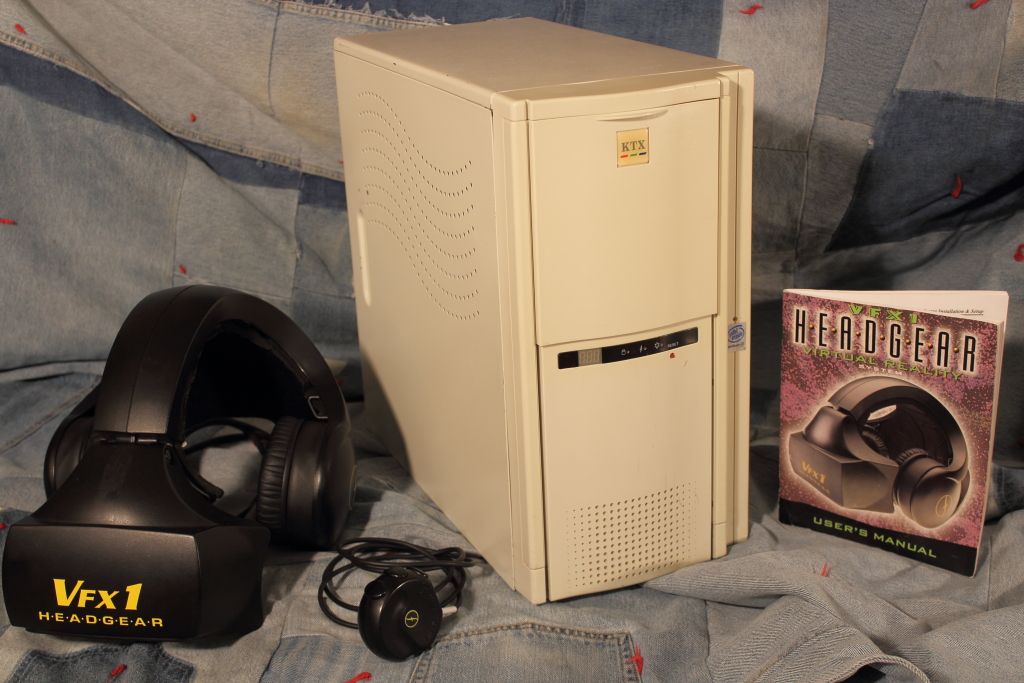 CPU: Intel Celeron (tualatin core) 1400mhz
Motherboard: Aopen AX34-U
Ram: 1.5gb PC100 SDRAM
Hard Drive: Samsung Spinpoint V40 (60gb ATA mode)
Optical drive #1: LG CD-RW/DVD combo (32x/10x/40x)
Optical drive #2: LG CD-RW (32x/10x/40x)
5.25" floppy: Panasonic 360k/1.2mb
3.5" floppy: Panasonic 720k/1.44mb
Video: ATI Rage Pro Turbo (8mb)
Audio: VIA chipset (Sound Blaster Compatible) with GS Wavetable synthesis
SCSI: Adaptec AHA-2940UW
USB (PCI): ALI chipset USB 2.0
Firewire: Texas Instrument Firewire 400
Network: 3Com 3C905B (WOL enabled)
Modem: AMR Software modem (Voice/Data/Fax)
Specialty peripheral: Forte VFX1 "VIP card"
Operating Systems:
-Microsoft Windows 95 OSR2
-Microsoft Windows 98se
-Microsoft Windows 2000 Professional
This all started with a deal to buy part of a VFX1 set for $200. Eventually money came along and I ended up purching a second one with the VIP card and a bunch of extra cables so I can basically be twenty feet from the machine so I could assemble one complete kit. Originally I mingled with it on two different machines but never really spent time dedicating it to anything and it went in storage when I moved several times. Eventually I located it in storage again and decided it was time to build a machine designed specifically for operating and developing patches and god knows what for the VFX1 in the fastest possible configuration I could build using parts scoured from my recycling connections. Through a lot of fiddling with partitions and batch files I was able to install 95, 98 and 2K so I was assured full compatibility with any software I threw at it and believe me, I found a few applications that were extremely specific to one OS over another. Another problem I found was that the foam padding in the helmet was starting to decay. Not too hard to fix considering it's held in with velcro. I'll just need to cut a new piece of foam.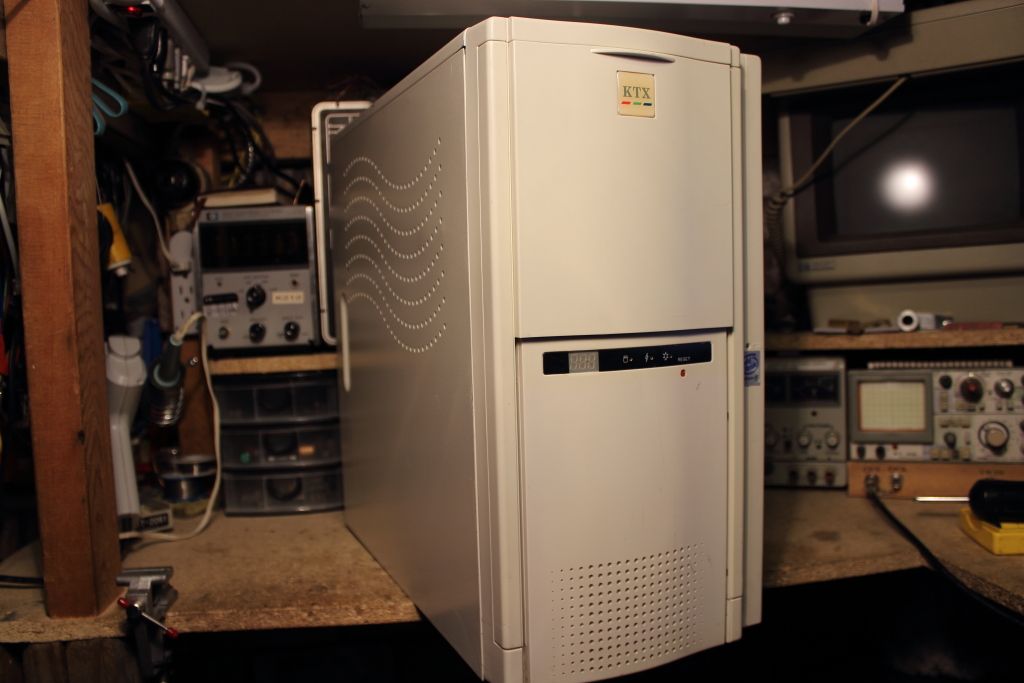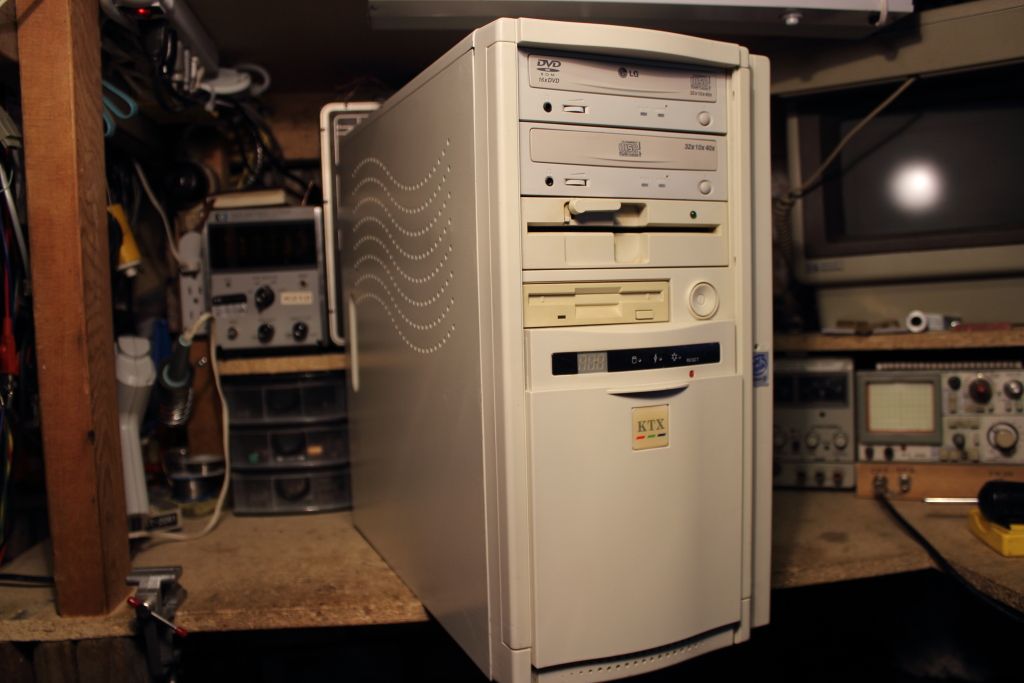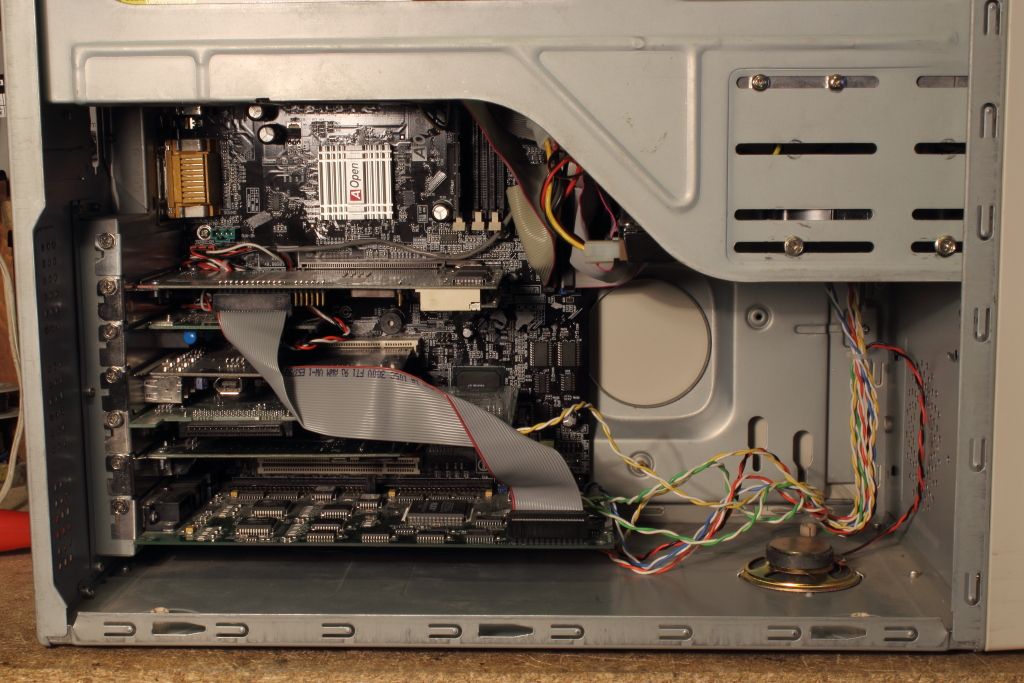 The beige box originally belonged to an older PC I never ended up building around 2004. The motherboard I had put on a backburner for years because it needed a recap. I threw in two optical drives for the hell of it and the 5.25" again for compatibility. Most of the hardware worked on all three operating systems once the drivers were loaded but there's a still a few oddities. Windows 95 obviously has no idea what USB2.0 chipsets are, let alone firewire. Windows 2000 never had drivers for the VIP card but across all three I can't seem to find drivers for the AMR modem. 😒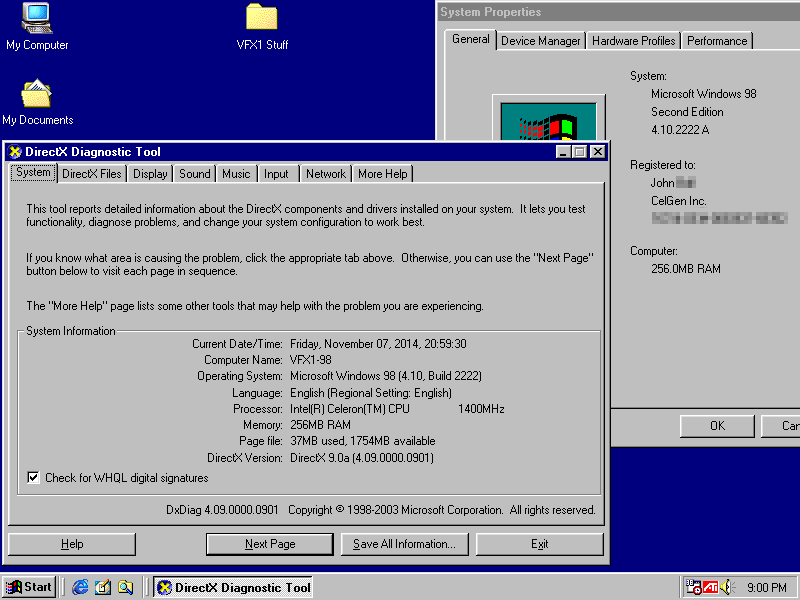 Ignore the small memory count. I'm still fine tuning the operating systems so everything works properly. No benchmarks yet, mainly because my file server is down and I currently don't have an archive of benchmark tools but trust me, what I'm doing won't even touch the limit on the PIII. 😉 Overall setting up three operating systems with SDK's, programming suites, synchronizing settings and configuring is an amazing task. It's taken three days alone just to go from three bare OS's to mostly configured and a few software packages installed to make sure everything works. There's only a half dozen games installed so far but I got plenty more that I'll install in the coming days.
Anyways, enough of that. The keystone to the system is the VFX1 which for its time was expensive and pretty damn good. If you've somehow never heard of it, watch this youtube video.
Now originally I was expecting to use a much higher end card with this but the main constraint is that it needs a 100% compatible VESA Feature Connector so things like the Radeon 9600 are ruled out but I still got bunches of other decent AGP cards.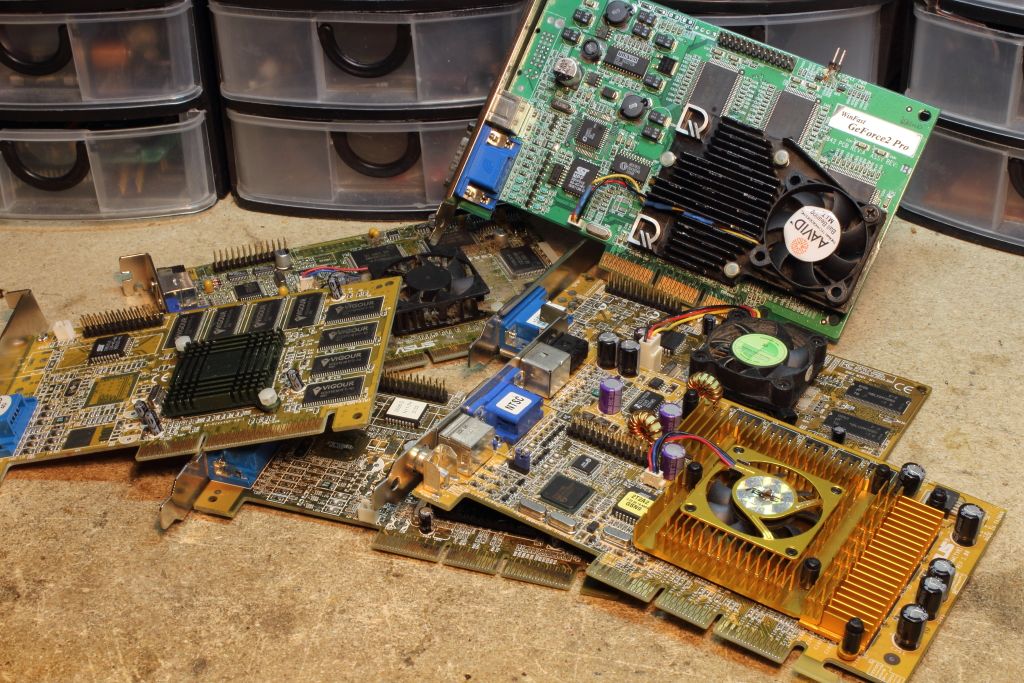 ...too bad none of them worked. 😒
They all had feature connectors but none of them properly supported the VESA standard so you would be rewarded with blank screens in the helmet (which basically meant that the feature connector was not 100% compatible). After getting desperate I finally found a card that worked. A nasty Rage Pro card. Sure it has 8mb of video memory but under 9x the OpenGL support is sketchy and nonexistant under 2K and Direct Draw support is really bad. Even software rendering can do better.
I just wanted to use my Geforce 2 Pro. There's no way what I'm doing would ever cause my video to lag out. 😭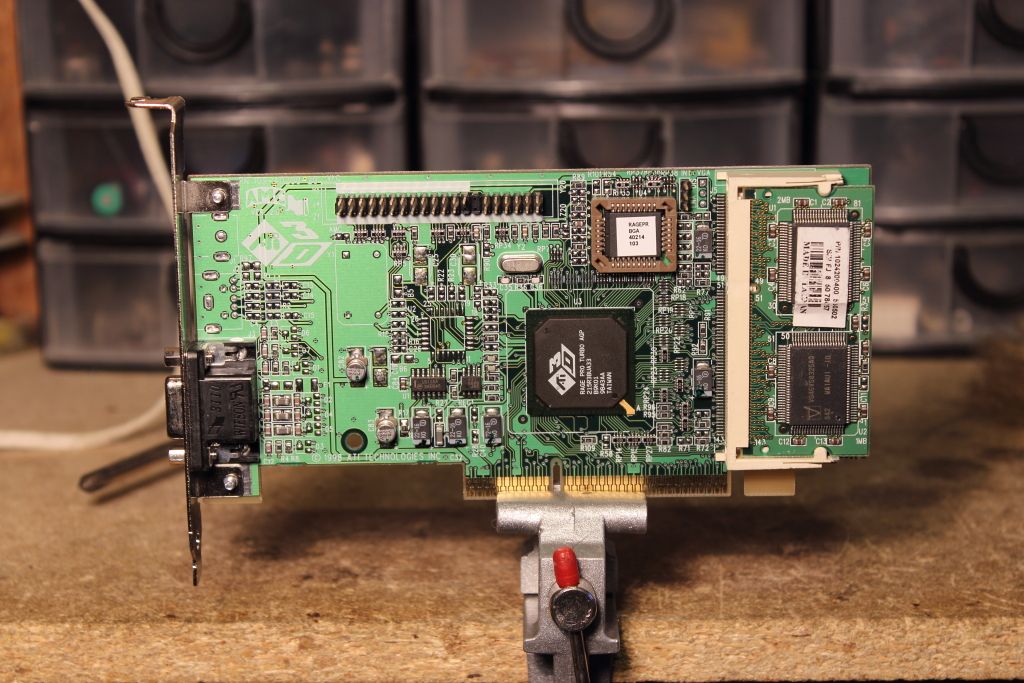 Anyways I skimmed over the VFX1 Yahoo group years ago and it seems the latest drivers I can find are 2.16 which behave to a degree, mind you I can't use the Windows configuration utility at all. It keeps wanting to configure the joystick and you can't get around it, even if you've already done so....

I really need help from a more experienced VFX1 user. God knows what settings I can't set.
The DOS setup and testing utilities however are fine. I do occasionally get palette corruption when running under 95 but it clears up if you unpolug and plug back in the helmet. I suspect the video card again...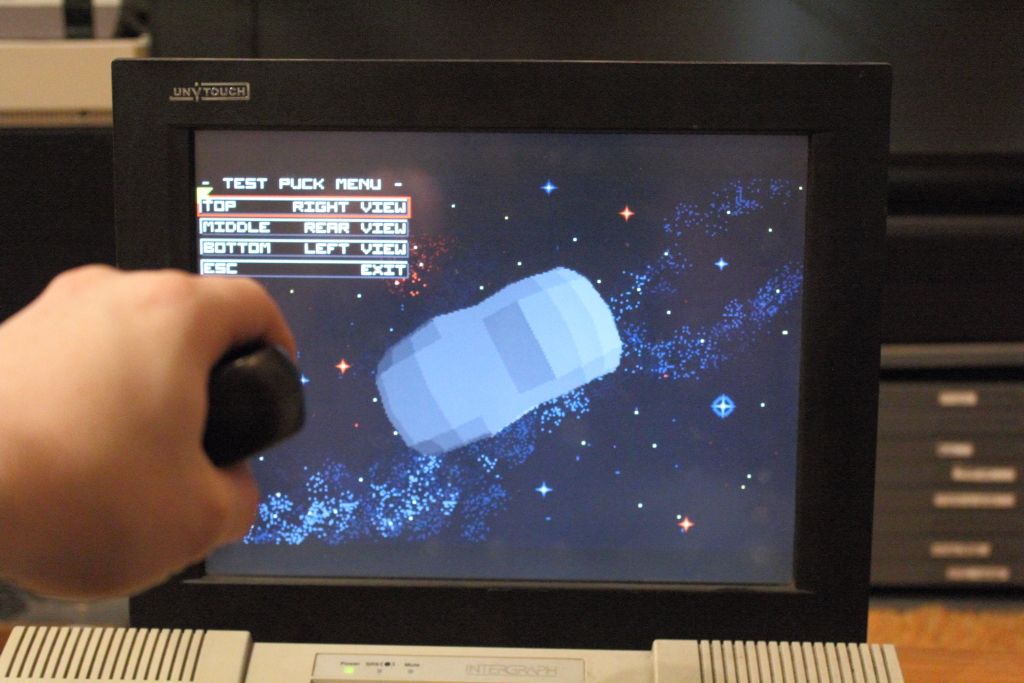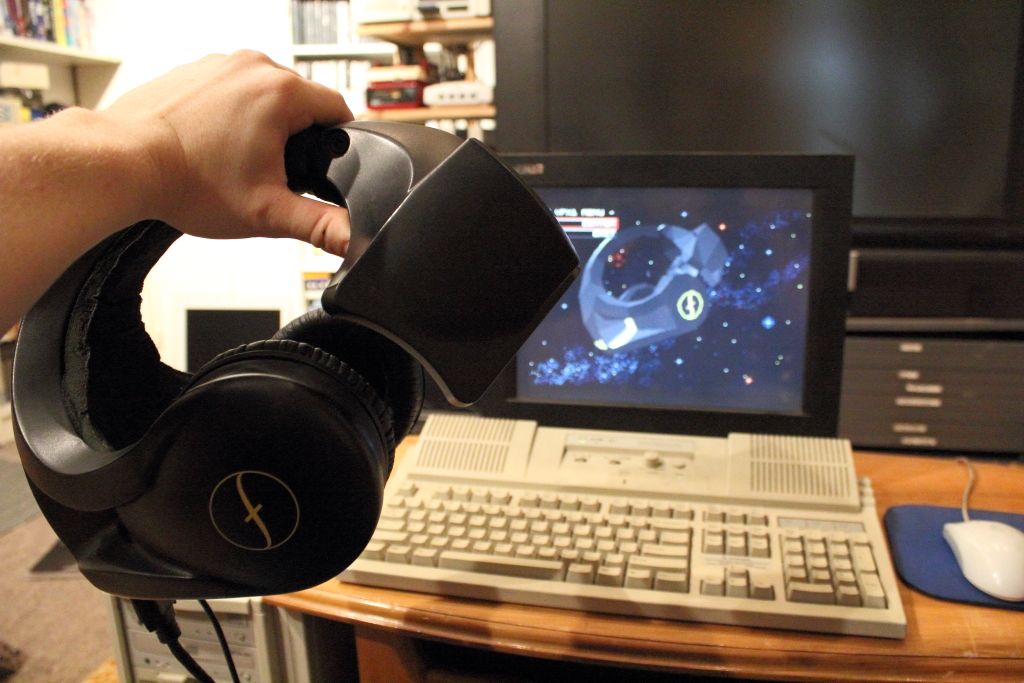 The VIP card needs a free port address and a completely unused IRQ. You have to make sure NOTHING touches the IRQ you configure it for or it gets really cranky.
Once setup you're completely limited to the 640x480@256 color ceiling the feature connector introduces. For games like Quake or Myst it's fine but in straight-DOS sometimes you experience weird image doubling. Again, I look suspiciously at the video card. On the desktop it feels like everything is too bright. Also the incredibly low resolution of the LCD panels becomes apparent.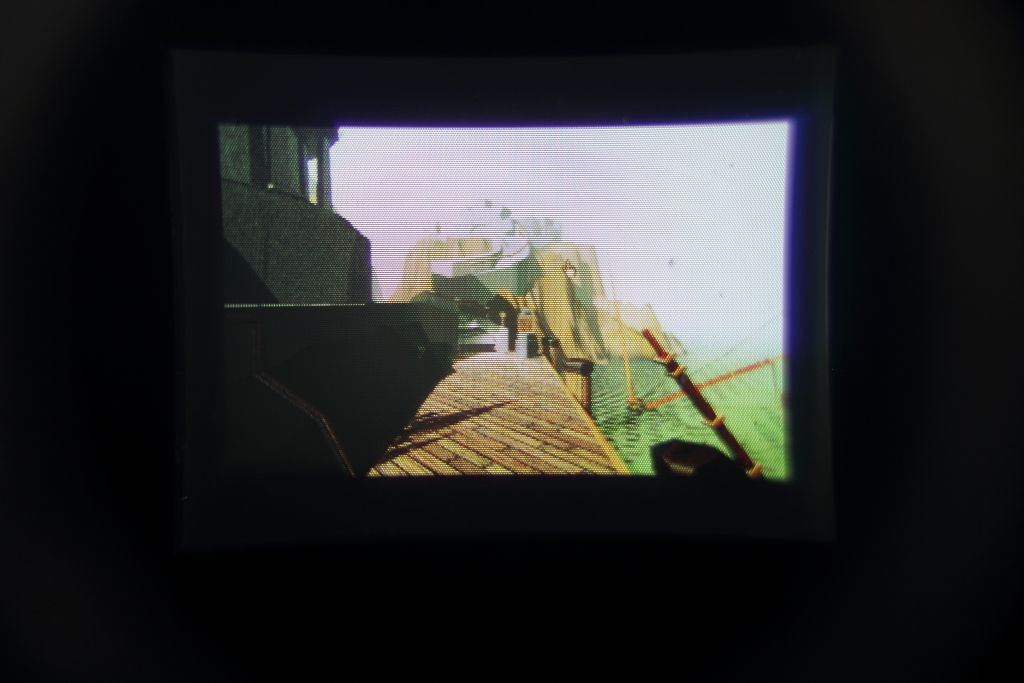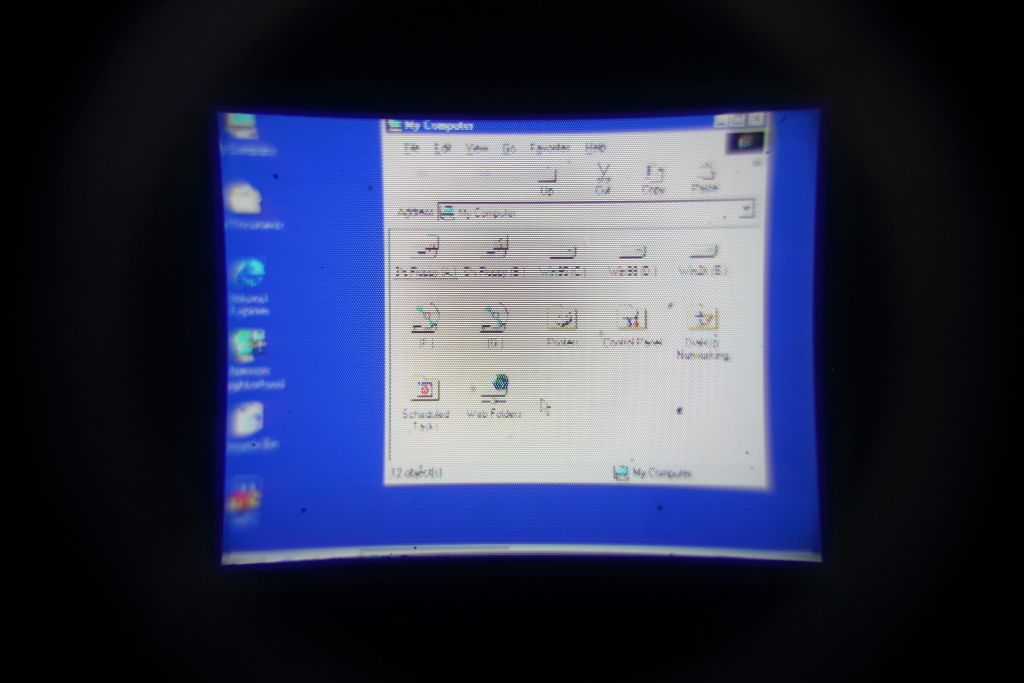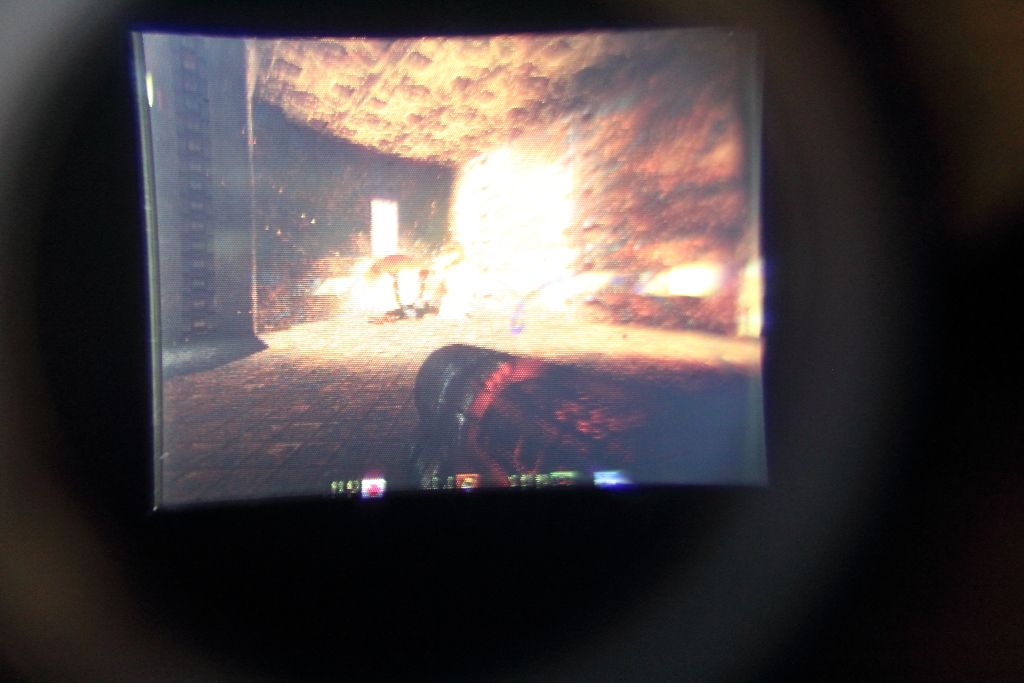 Once you try and push the VFX1 beyond what it can support things go downhill very fast. I tried Half-Life which out of the box needs millions of colors and all you get is palette corruption. By chance when I was photographing this show of abstract art I even had the cruddy OpenGL support on the card lock the system up. Unless you can force whatever you play to 256 colors you're out of luck.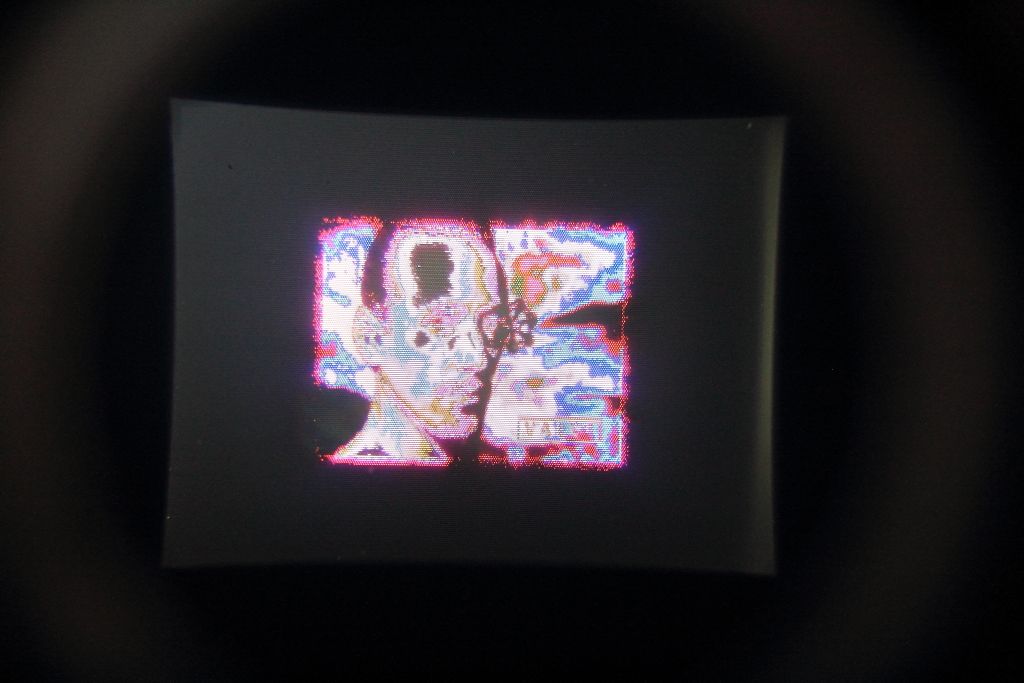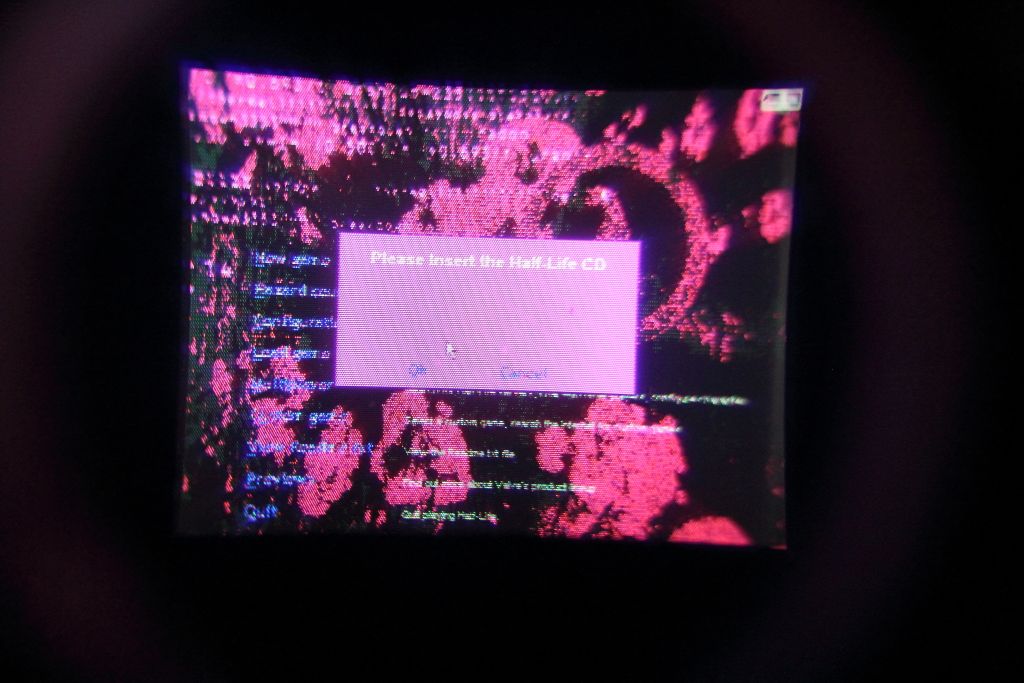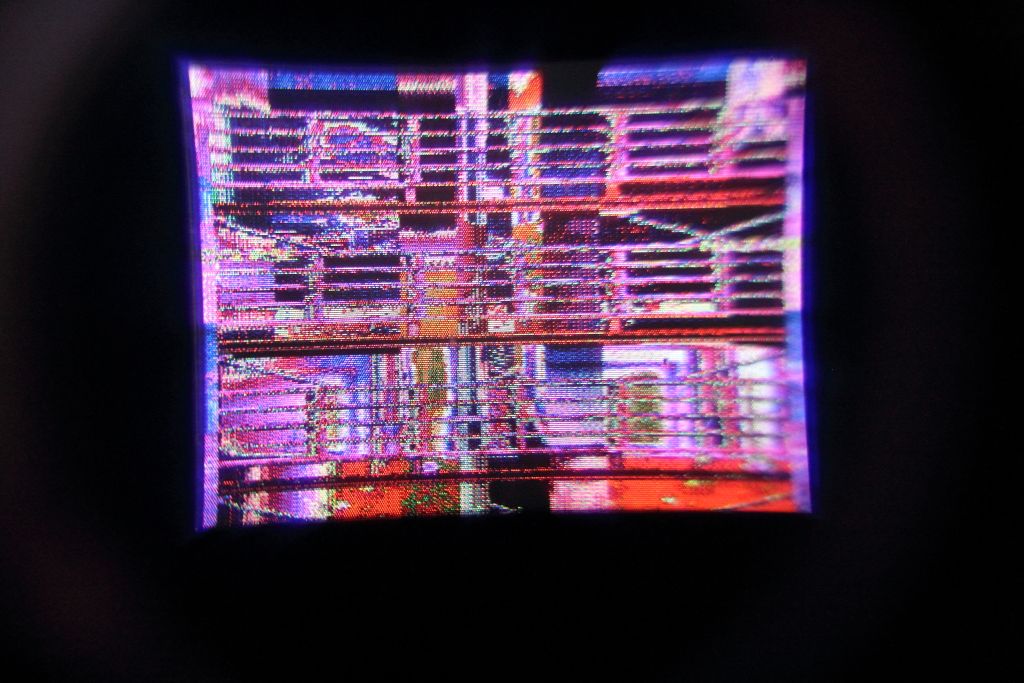 Now, there is the Linkbox. This was Forte's afterthought to get stereo and mono video to the helmet without the need for the VIP card (and letting you use much faster video cards) but still giving you the ACCESS.BUS interface the hardware needed regardless. More recently there was this linkbox project which completely eliminated the VIP card but that's not what I am after here. It's possible I'll continue to research building my video-only box. I started on a design years ago but never finished it.
As for supported software there's currently a fair bit of support out there but my golden ticket was the Bonus CD which contained games patched and ready for the VFX1. Unfortunately to my luck it appears that my disc is a bad press. You can read it and view the files but everything is suspiciously corrupt in the same manner.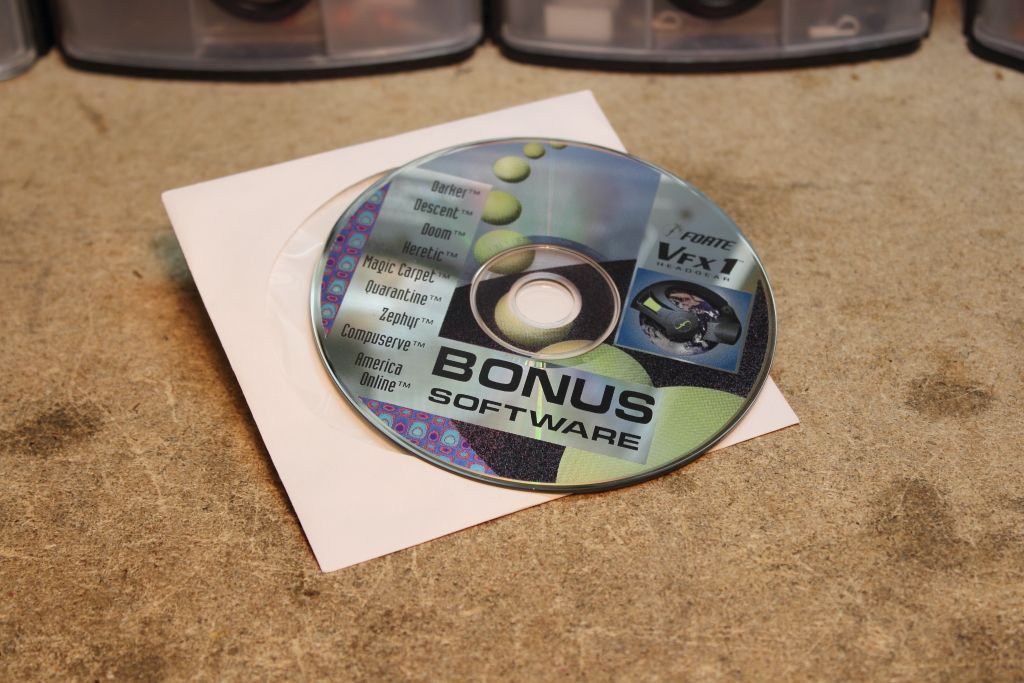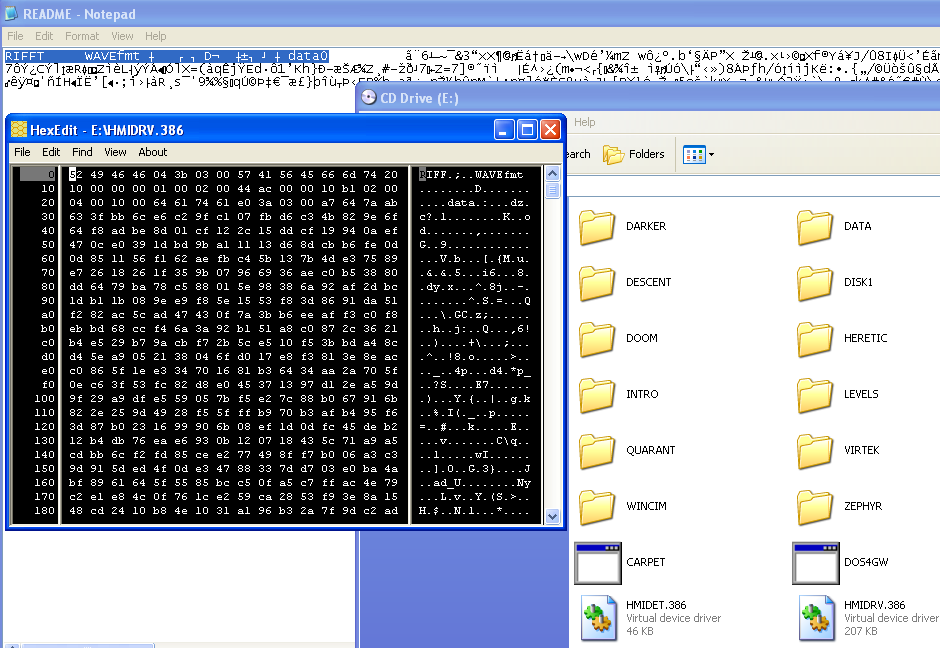 That I'm aware of nobody has ever made a backup image of the disc so in my case at least I can't play any of these games with their enhancements. 😢
Other than all that, I don't have any specific keyboard, mouse or monitor selected for the system. Right now it uses whatever I could find which is fine considering everything is running in 640x480@256 colors. Might look into a low resolution CRT monitor as there's still a few of those around in good shape. I also need to make two shore audio cables to loop the audio and microphone connections between the motherboard's audio jacks and the jacks on the VIP card. Hopefully once everything is properly setup I can take it to gaming events.

"It's science. I ain't gotta explain sh*t"