Reply 60 of 146, by PTherapist
I was given all of these computers for free, I've never actually bought a Dell myself and generally wouldn't consider it. But here they are:
Dell Dimension XPS D266
Intel AL440LX, Slot 1 Motherboard
Intel Pentium II @ 266MHz
160MB PC100 SDRAM
40GB IDE HDD
Nvidia Riva 128 4MB AGP Graphics Card
1x CD-Rom Drive, 1x CD-ReWrite Drive
1x Zip 100 Drive, 1x 3 ½" Floppy Drive
OS: Windows XP Pro
I'll get around to removing XP from this 1 day. This was used as a very slow office PC in the early-mid 2000s, they definitely must have had a lot of patience with that setup. 🤣
Next 2,
Top:
Dell OptiPlex 425s/L
AMD Am486 DX-40 @ 33MHz
28MB EDO RAM
2.5GB IDE HDD
Tseng Labs ET 4000 1MB Onboard Graphics
3Com EtherLink III 3C509B ISA 10Mbps Ethernet
CD-Rom Drive
OS: Windows 95
Has a dead PC speaker, which does limit it's usefulness somewhat with regards to DOS gaming.
Bottom:
Dell OptiPlex GX1
Intel Pentium III @ 500MHz
100MHz FSB
128MB PC133 SDRAM
160GB IDE HDD
ATI Rage 3D Pro 4MB Onboard Graphics
Crystal Semiconductor CS4236B Onboard Sound
3Com 3C905B Fast Etherlink XL Onboard 10/100Mbps Ethernet
Silicon Image Sil 0680 PCI E-IDE/RAID Card
CD-ReWriter Drive
OS: Windows 98 SE
I've managed to break the Floppy eject mechanism and will need to fix this one day, but otherwise not a bad little system, hasn't had a lot of usage however.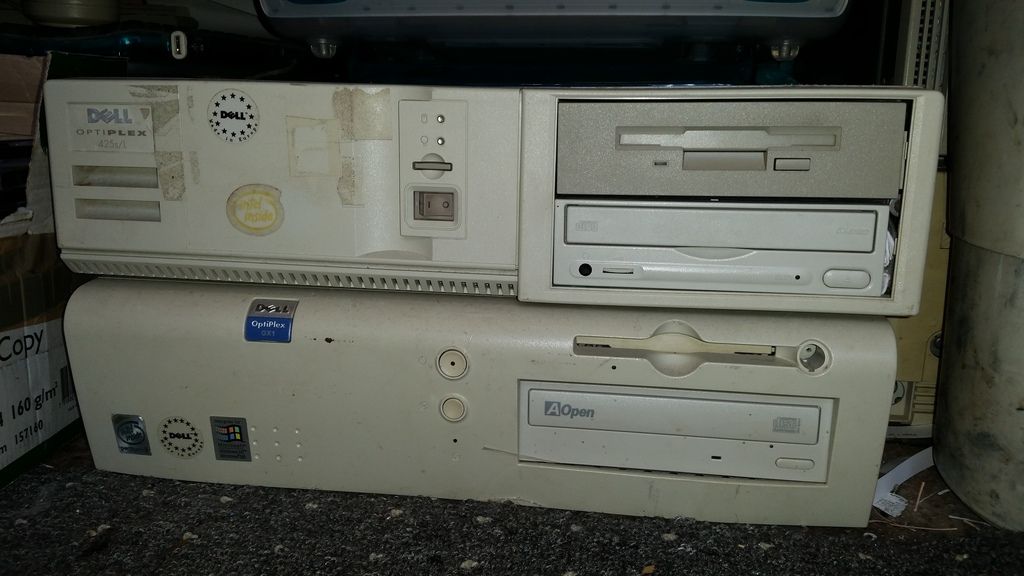 Next up, a Dell Laptop -
Dell Inspiron 2500
Intel Pentium III @ 897MHz
512MB PC133 SODIMM RAM
40GB IDE HDD
Intel 82815 4MB Onboard Graphics
Intel 82801BA AC'97 Onboard Sound
Onboard 10/100Mbps Ethernet
Netgear PCMCIA 108Mbps Wi-Fi Adapter (Atheros AR5001X)
1x CD-Rom Drive
1x Floppy Drive
Primary OS: Windows XP Professional
Secondary OS: Windows 98 SE
This actually is quite a nice laptop, have used it quite a bit. It's floppy drive was extremely helpful when I was setting up older systems, for creating boot disks etc. With the help of a script blocker & ad-block addons, it's even quite nice to browse the internet in Firefox.
I just wish it's DOS support was better, never could get sound working.
Needs a new battery, which I'll try to get around to eventually. However I did notice that it seemed to start having graphics issues a few months back - flashes, freezes & lines on screen even in the BIOS, indicating an imminent hardware failure, but it has since seemingly cleared up.
Finally the newest Dell in my collection.
Dell Dimension 9150
Intel Pentium D 830 Dual Core @ 3.0GHz
800MHz FSB
2GB PC2-4200 DDR2 RAM
250GB SATA HDD
AMD Radeon HD 5450 512MB PCIe Graphics
Onboard RealTek 5.1 Sound
SoundBlaster 5.1 PCI Sound Card (I can't recall the model no, it's used primarily for DD/DTS digital passthrough)
Intel Pro 100/1000 PL Onboard Gigabit Ethernet
1x HD-DVD Drive
OS: Windows 8.1 Pro
Excuse the poor picture, it's in a tight space. The mess of wires and the PC itself is hidden away from view and it's currently serving as a bedroom HTPC due to it's spec & general low noise output. It pretty much spends the majority of it's time running Kodi, with the occasional Netflix & Now TV usage.