Reply 540 of 561, by Robert B
Wu-Tang Clan - Shame on a Nigga
ASUS ROG Matrix GeForce GTX 260 896MB / ENGTX260 (Prequel No.2 to the HEAVY COPPER episode)
If I stay and think a little, maybe I should've called this episode: "GET PUNK'D!". Why use this as a secondary title for this episode? Well, you see, I found this card in my city on the OLX site. I sent a message, I negotiated, I got a reduction of the asking price and I established when and where to meet the seller. All was fine... I went to the meeting place and to my surprise I was met by a 17 year old "kid". Heck brother do you like PCs and stuff? I said. Yeah my brother! Said the young'un. After we chatted for a few minutes I asked to see the wonder that made us to get together : THE ASUS ROG MATRIX GTX 260!!! AWESOME! What a brick! I said. I looked briefly over the card and I paid the asking price. One of the DVI ports was missing a screw, a few pins were a little ruffled and the plastic had some marks made by a neanderthalian which maybe tried to insert a VGA cable in the DVI slot but all in all I fell in love with the card. The deal concluded. The seller assured me that it was in good working condition and if I was to have troubles with it we will speak on the phone. The boy seemed trustworthy and I wasn't worried. I didn't want to test the card before I bought it.
I got back to my car and when I took the card in my hands I felt a sweet heavy smell coming from it. YUCK! IT STINKS!
I thoroughly checked the card and I soon found some problems. On the back a Schottky diode was missing. F..K! Oh well, it could be worse I said to myself. I flipped the card and I found another problem. A ferrite choke was damaged. F..K!
GET PUNK'D! ... that's how I felt ... I called the seller and I informed him of the problems, I sent him pictures and I said that I will test the card when I have the time and I will call him afterwards. He agreed but I was still feeling the sour taste of GET PUNK'D! If I didn't peel my eyes better ...
Initially I wanted to return the card but it already had my name written all over it and besides the seller seemed trustworthy and he said that he wasn't aware of the problems that it had. He assured me again that the card works and that he has used it recently.
I stood for a moment and thought about it. If I found this card at the flea market I would've bought even if it would've had bigger problems so why bother? THIS IS MINE! I said to myself ...
The card was awesome. Back in the day I wanted one but I used a 9800GTX until I got a 460GTX Hawk. I loved that Hawk but I trade it for something way better, but this is a story for another time ...
Awesome non-reference design. ASUS ROG BABY!!!
Dingded perfection ...
Slightly bent heat pipe.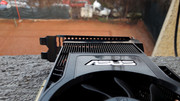 The following day I searched for a Schottky diode but I didnt find what I needed. The missing diode was SX34 https://www.digchip.com/datasheets/parts/data … 52/SX34-pdf.php. In the end I found something close to perfect but I was very close to soldering a higher value diode. I found a SB34 diode on a damaged motherboard from a dead laptop. https://pdf1.alldatasheet.com/datasheet-pdf/v … FSEMI/SB34.html. The transplant went without a hitch. The SB34 is slightly wider than the SX34 but it fit perfectly.

I quickly tested the card before I was to return it to its lost glory. All was well. It ran like a dream.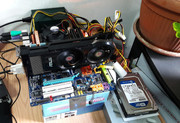 Purring like a kitten! ... but what's that smell ... that awful perfume like smell ...
Fan stop.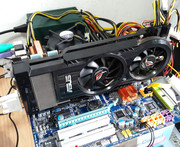 Independent fan stop.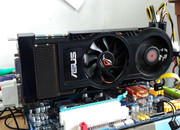 The fans were in great condition. No suspect noises. They have a nice tone even if they arent exactly silent. The moment they stopped spinning I thought the card passed away ... but it was normal. I dodged a bullet, I said to myself.
The SB34 diode got warm during testing, sign that it did its job.
I wasn't going to replace the dinged ferrite choke as it was too much hassle for little return. I had a back up plan for this shortcoming.
I called the seller and "I pulled him by the ears". I said to him to pay more attention as he might meet someone that could have an inappropriate reaction next time. I asked him to delete the add as the card will remain with me. The boy was respectful and he assured me that he didn't know about those problems and he will be more careful with the stuff he sells in the future. Also I should've paid more attention to what I buy. One thing is certain though: I would've bought it regardless. 😁 I didn't ask for another price reduction as I deemed it out of place. Maybe the boy needed the money more than me. All in all I was quite happy wit ma brick!
My work was just beginning. Let's see what I did wit ma brick! 😁
What was that sweet heavy perfume like smell? Initially I thought that the smell was from a GLADE type like perfume, but a test with a cotton stick dipped in IPA 99% on the brown crust present on the heatsink brought me some bad news. My sneaking suspicion was right. It seemed that the graphic card was a heavy vaper or at least one of the previous owners was vaping like hell. Yep electronic cigar residue. Sheeshhhh ... I have the work cut out for me I said to myself. If there is something that I didn't do before then it is to clean something that came from a smoking environment. I read of such horror stories. At least I'm not dealing with a regular cigar smoker I said to myself. Little did I know ... I washed the card so many times that it was kind of ridiculous ... 😁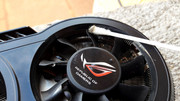 Let's crack this can of worms open.
Awsome! I will not have to deal with any damned thermal pads! I love this non-reference design even if I regret that it's missing some heatsinks on those tasty memory chips or VRM ICs.
Skunk smell. Brownish deposits all over those cooling fins.
The TIM was still in good condition albeit it was starting to dry a little.
Brown stuff started to pour out as soon as I started to wash the heatsink with IPA 99%. I washed the heatsink many times with hot water and Fairy Lemon dish soap. After this I used an air compressor to eliminate any moisture as it could damage the metal surfaces. Next on the list were many IPA 99% washes with a soft tooth brush until I removed 99% of the deposits. It took a lot of elbow grease.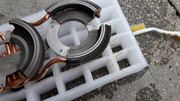 Nothing was spared from contamination. Brownish residues all over the place.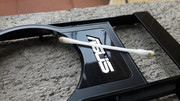 I removed everything that could be removed.
YUCK!
The light at the end of the tunnel. There's still hope.
I immersed in IPA 99% just about everything I coould.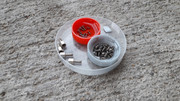 I prepared the PCB for cleaning.
I "fixed" the problem that was hurting my eyes. Intially I wanted to use BISON EPOXY METAL to rebuild the missing piece from the ferrite choke but in the end I used grey POXIPOL as it is easier to file. Also the POXIPOL is rated for max 120C vs the BISON EPOXY METAL which is rated up to 100C. I knew that the fan would blow over the area and the ferrite choke would not reach high temps but I felt more comfortable to use something rated for a higher temperature.
I straightened all the bent heat pipes and I fixed with transparent POXIPOL some fins that were rattling. From factory they have been fixed with something similar.
I cleaned the PCB to perfection. IPA 99% in ridiculous quantities.
I washed with hot water and dish soap all of the plastics. Again it took a lot of elbow grease to remove all of the residues that were present.
The fans were also caked in brown stuff ... GREAT! More work.
Fallen soldiers.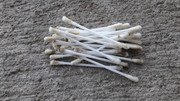 There was still hope that I would be able to get rid of all this vaping byproduct.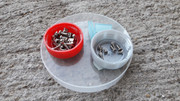 i didn't want to dismantle the fans as they worked great and I had to make an exception from the rule. I cleaned them through the keyhole.
The results were beyond my expectations.
I keep on talking about the heatsink but where are the pictures? I saved the best for last!
All the fins were checked so they won't rattle. All of the fins that have been moved during cleaning were fixed using fine tweezers and each small hook that attaches them to each other has been brought to the required position. At the end I pat myself on the shoulder for a job well done. 😁
I must underline that those minor scratches present on the base of the cooler have been there from the start. I'm not responsible for them.
Clean as a whistle.
Some Arctic MX-4 2019 lovin'. Good for at least 8 years from now. The quantity of TIM used initially was huge. I used an amount that I deemed it was adequate for the task.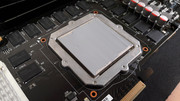 Smiling to the camera.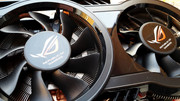 DONE!
DONE! & DONE!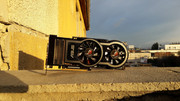 I absolutely love this brick! My BRICK!
I decided to give this card an entire episode as it took a lot of work to restore. Also, let's be honest, this card is anything but regular.
I wanted to have such a card, which I consider to be collectible, as during the testing fase of the HEAVY COPPER episode, I came to the obvious conclusion that I don't have a more capable PCI-E single GPU. My dual GPU ASUS ATI 3870x2 is too hungry and I don't have a PSU higher than 370W. In the future I plan to address this shortcoming with something that is at least 1200W. We'll see ...
I can report that I got rid of 95% of the smell that the card had initially. The chemicals present in the vape smoke have penetrated the plastics and the smell still can be faintly felt on the cooling fans. All in all I am not bothered by the smell as it is way bellow the minimum threshold.
VAPING is bad for health but I guess you already knew that ... Because I didn't want to start smoking just to escape from cleaning this card, I had put in some work to get it up to my stringent standards. If I will ever buy something that comes from a smoking environment this aspect will weigh heavily in my buying decision.
But didn't I forget something? AaaaaaAAaA the DVI port that had some cosmetic issued worked well I just had to straighten some pins with a fine needle. I won't lose any sleep over this.
THIS GPU IS HERE TO STAY! aka I GOT PUNK'D with this beauty so who's complainin'? 😁 Mariah Carey - Fantasy
gallery: https://postimg.cc/gallery/1mdkl35ck/
More later.
MERRY CHRISTMAS!