First post, by 386_junkie
It has taken a while to get around to taking pictures and making a write up of this ALR Powerpro system, I hope you don't mind me sharing… here she is.
Background info
I bought this system around October time last year for a modest £80, collecting by car in passing from a nice community Oxfordshire. The person who I bought it from was only the second owner of the system and was only selling it due to a move with his job, immigrating to France with the family. He had bought it from the original owner, who at the time of original purchase (17/07/1992 @ 17:27pm) had paid a handsome sum of £5875 (see pictures below)... including VAT, meaning that now... I'm the third person to own this system. With the VAT receipt shown below, includes the business card of the ALR representative who sold the machine. They had even provided them with the glossy A4 product guides for the rest of the ALR range.
I have to really take my hat off to both the previous owners as they have done a fantastic job of preserving the system with all of the manuals, books and original 5.25" floppies! I gathered the second owner did not have time to do much (if anything) with the machine since it's original purchase, so I have practically received the machine in near new condition. Attached above is some addition information I found regarding multiprocessing.
The system was originally bought as a 486, however will now be run as a single 386 system. The website th99 reflects correctly that the system does indeed have SMP capabilities: -
http://th99.classic-computing.de/src/m/A-B/31211.htm
System specs:-
Cache: - 256Kb
DRAM: - 49Mb (12 x 4Mb)
I/O card: - Adaptec 1742 EISA full length
Graphics: - MiroCrystal 32S EISA with 4Mb VRAM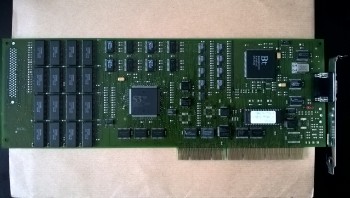 Those of you who are familiar will know I tend to downgrade systems more than I upgrade, and for this system there was no exception. Since buying the server, I have since found a single ALR 386 processor/CPU board.
Admittedly I wasn't entirely sure if it was compatible with this system as I know there are a few different types of CPU boards out there… but the plunge I took.
Opening up the system to check the internals and to switch CPU cards found two slots on the motherboard which are supposedly interchangeable and can apparently hold 2 x CPU boards: -
Turning the system on with the new CPU module….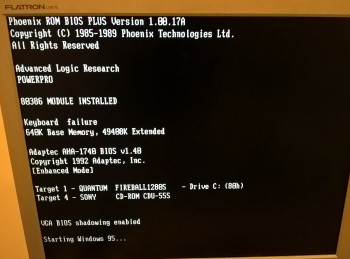 Now for the upgrade, by de-soldering the crystal oscillator and putting a new DIL socket paved the way for flexibility, and an AMD DX40MHZ!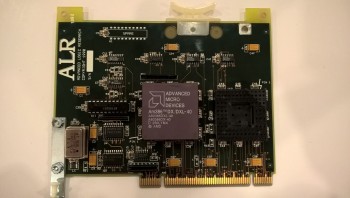 Update 04.03.2017
After initial problems getting the system to run at 40 MHz, and between the late / early hours of this morning, I found myself tinkering with this system once more. Changing the graphics card in for an ISA alternative, putting the 40 MHz oscillator back in the 386 CPU board and re-inserting the 25ns cache module to find that this system can now run at 40 MHz without problem.
It turned out that the graphics card did not like 40 MHz! I'm glad I came to you guys for opinions first, having said it may have crossed my mind before seriously considering taking the board out and start replacing oscillators. Having let the system run at short intervals and conduct a thermal system survey with my digits it turns out the IC's are not giving off much (if any) heat signatures. I have as a precaution stuck down with some arctic silver a couple of heat-sinks on those big Intel chips eventhough they're not really needed.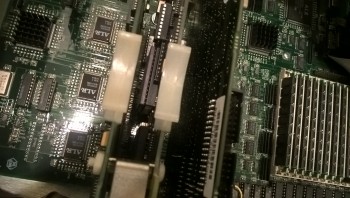 I will keep the system at 40 MHz for now while I run some tests, but plan to knock it back down to 33 MHz for the interests of preservation. The systems IC's may not be giving off any heat... but I don't want to put any unnecessary strain on the transistors within.
If anyone has spare parts for this system, or ALR spares which might be compatible I would be interested to hear from you, and if you have any advice on how to move the project forward I would also appreciate comments on.
More to follow...
Update 10.08.2017
... Following on from the original post I have managed to spend a bit more time playing around a bit more with the system. This, and recently hearing from one of our newest members Kalyke who was good to hear from, regarding their ALR Business VEISA system. Their excellent thread for this system is over here: - ALR Business VEISA 386DX 33
One of the main things I did since the last time I used the system was trying various different oscillator clocks and managing to get the system stable with a 40MHz OSC. A 50MHz OSC didn't even start the system which is expected given that the cache module is only designed to run at 25ns, to stand any chance of the 50MHz system running the cache would be required to be rated at 20ns, having said, the ALR bridge chips are rated at 33MHz... so 40 MHz is most definitely the limit with which the system operates nice and stable.

Keeping the system DRAM a mix of 70ns simms and 80ns DIPs, I tested the TI486SXL2-66 on one of the modules, however, I couldn't get the L1 cache to be activated through the software I typically use, though I still took some benchmarks of this, with another benchmark as a regular old 386 DX40 system: -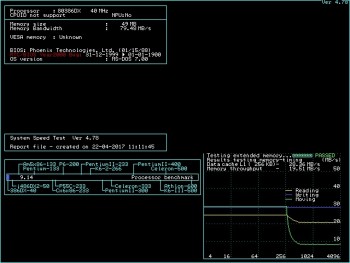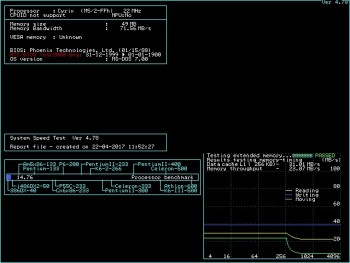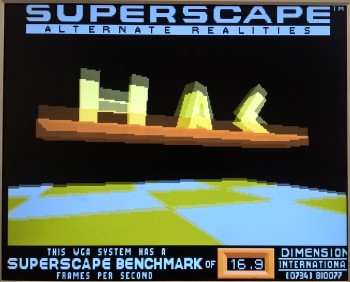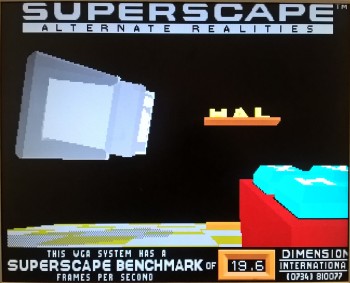 ALR-DX40 / ALR-SXL2-66 (no L1 cache)
These are not too bad considering both the ALR bridge chips are rated only at 33MHz. Should I again have time, or new parts, I might tweak the system further. The DRAM hasn't been upgraded since I acquired the system, this... and of course there is faster cache / other modules out there... somewhere.
Until the next...
Last edited by
386_junkie
on 2017-08-11, 09:02. Edited 13 times in total.