First post, by furan
This is my second build. It was the fall of 1997 to the summer of 1998, my senior year of high school. I was big into programming and playing 3D games. Final Fantasy VII in particular. I lusted after exotic workstations with amazing graphics and displays. I'd plot out what kind of systems I could build if I could really afford them. And I'd be jealous of magazines that had "ultimate PC" builds I felt I could never afford. I had a p55c. I want to get my mind off of other things, and have some fun. So this is my build. Attempting to be (almost completely) period-correct, and only use the things I knew/heard about. The end goal is to have a machine that functions both like an Windows NT workstation, and a kickin' dos/Win98 games machine. So far here's what I'm planning for my build. Feel free to shout if you think I'm missing something cool. I like photos for communication so here are some pics of the parts I'm including in my build. Some are of the actual parts, some are the best image I could find for a part on order. I didn't slowly collect these parts over time, or find the best deals on all of them. I hope this is still in the spirit of things.
Monitor:


I bought a Sun Microsystems Trinitron GDM-5010PT - 21" new in box. From what I could find, it is multisync. If that does not turn out to be the case, I'm a hardware wiz and will figure something out.
Chassis:


This design is built around a Dell Precision Workstation 610 and motherboard. 1 AGP slot, 5 PCI slots (one shared with an ISA slot).
Keyboard:


Intergraph ConcertMaster Multimedia Keyboard. When I first saw a photo of John Carmack using this keyboard next to his gigantic 28" 1080p CRT I got machine envy.. I asked on twitter recently and he said he kept the keyboard longer than the Intergraph system it came with. I found one NOS so I bought it.
Mouse:


Logitech Trackman. NOS. I just use trackballs everywhere.
CPU:


Dual Pentium II Xeon 450 . On the original motherboard.
RAM:


Four 256MB sticks.
Video card:


Diamond V330 (Riva 128zx, 8 meg).
3D acceleration (commodity):


It's almost the late 90's. You saw this coming. SLI.
Network:


3Com 3C905-B. I always thought the naming was hilarious, because they flipped the name of an old ISA model - 3C509-B, which turned out to be a great gaming card to have for deathmatch get-togethers. It turns out this is integrated on the motherboard in the chassis I finally settled on.
Sound:
PCI:


Diamond Monster MX200
WaveBlaster MIDI:


I bought the DreamBlaster S1 before I found the Yamaha DB50XG (below) so I've got to use it somewhere.
ISA: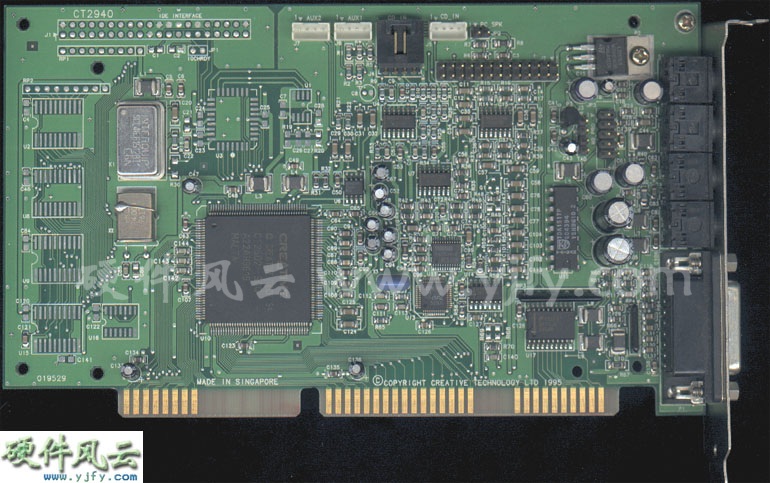 Sound Blaster CT2940, with the YMF262 still present. Found it, bought it. Image stolen from another Vogons post, sorry.
WaveBlaster MIDI:


I pinched for a DB50XG to stay more period correct.
Cheats, horrible cheats:
Storage:


I'm worried about hard drive mechanical failure, especially after putting so much work into it. If I use SSDs I can easily swap them out to keep disk images. I plan to split them up into (roughly) 128 gig partitions. Some FAT32, some NTFS. I will be using a SATA PCIX storage controller. I don't expect to get any real throughput here, however I am saying goodbye to spinning platter noise. I will be using VCOM System Commander to boot DOS, Win98SE, and Windows 2000 partitions. I plan on using EtherDFS to get files off of and onto the dos partitions. http://etherdfs.sourceforge.net/
Storage controller:


LSI MegaRaid 8-Port SATA II RAID Controller (PCI-X). I had a PCI-X slot, and I wanted something that'd make the SSDs easy and allow them to work better with MS-DOS.
Fans:


If it's still too loud, I will be replacing all of the fans with quieter ones.
Please let me know what you think of my build - I'll be updating this thread with progress. Thank you!
Last edited by
furan
on 2017-11-30, 19:32. Edited 12 times in total.