Hi,
I would like to present you my new DOS machine. The aim of this build was to make strong multitool 486 with VLB cards and put as much nice stuff inside as it is possible
How does it look:
Front:
Back (my, so many ports to tinker with...):
The guts are really crowded
What is inside?
Motherboard:
Chicony CH-471A, based on SiS 471 chipset, with 3 vlb and 5 ISA slots. In general, it is a very stable motherboard for wide range of 486 CPUs. It only accepts parity 72-pin SIMMs though, so expanding RAM is a bit more difficult. The motherboard is equipped with 256kb 15ns cache.
I removed the battery and now I' m using CR2032 in socket soldered to a cable connected to external battery. I also added a potentiometer to PC speaker so I can now change the volume of PC speaker sound.
CPU: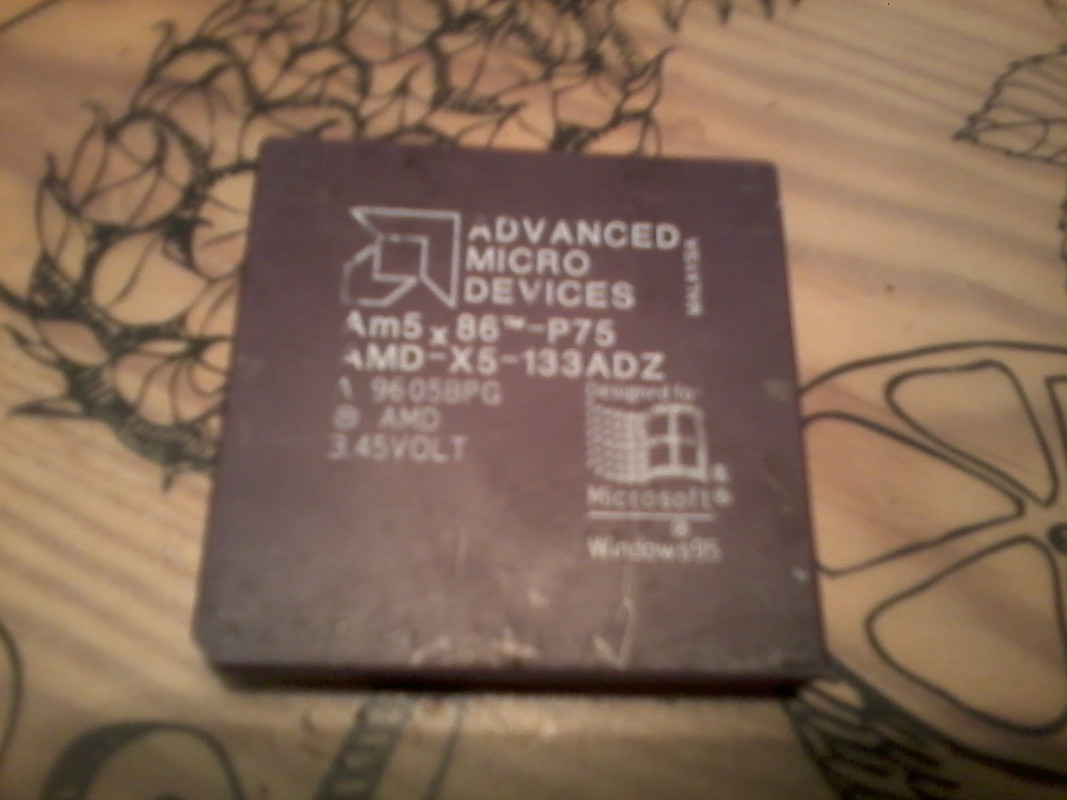 AMD 5x86 clocked at 160 Mhz (4x40). I am using a fan and a radiator to cool it a bit.
RAM:
64MB, in two 32MB 70ns modules made by Viking. It was so difficult to find cheap parity 72-pin SIMMS...
Graphics cards:
1. Mirocrystal 8S, based on S3 805 chipset and equipped with 2MB of 70ns RAM. The card contains switches that allow to change the horizontal frequency.
2. Winbond W86855AF, a hercules graphics card with 9pin TTL output and bonus LPT port.
Sound card: Sound Blaster 32 (CT3600) with 8MB of RAM added.
Network card: 3COM Etherlink III.
HDD controller:
PTI-255W/VL. Now, this one was hard to setup. With the right driver loaded, it allows to use 4 IDE devices at once. However, it was very picky about the drives used. It was not able to detect some drives, even those with low capacity (tested 40MB to 10GB). Also, some drives were incompatible with each other for some reason or the driver was not detecting them on secondary port. In addition, these IDE ports are not compatible with ATAPI, so the CD drive connected to it will be detected, but there will be MANY data corruption issues while accessing files on CDs. As a bonus, this card also gives two COM ports and one LPT port.
After trying many HDD combinations, i found one that was satisfying enough for me...
DRIVES:
Floppies - Generic 3,5", 1,44MB and 5,25", 1,2MB
Primary Master: Quantum Fireball EL2,5A, 2,4GB, split into two partitions - one for WfW 3.11 and DOS 6.22, and another for Windows 95. As a boot manager I am using GAG:
It does support many different languages and it is easy to setup from floppy.
Primary Slave: Transcend 1GB CF card; the CF card adapter is mounted in the back, by using a bracket - I am using it as a "pendrive" for copying files from my modern PC.
Secondary Master: Seagate ST33221A, 3GB, also split into two partitions - 1GB one for modules, music, demos and images, and 2 GB one for games. Despite being bigger than Quantum, it is slower, so I decided to use it as a storage drive, not a system one.
Tertiary Master: HL-DT-ST DVD-RAM drive. It was the only DVD writer I had, and I know it does not match with the builds' period correctness
I didn' t test CD/DVD burning yet, though...
Bonus Drive: 16MB RAM drive, for TEMP variable and just because I have so much memory I don' t know how to use it under DOS.
Also, I am using Smartdrv with 16MB buffer for all hard drives.
PERIPHERALS:
Monitor: LG Flatron F700B, not really period-correct, still it is working well and handles lower resolutions flawlessly. For tinkering with Hercules card, I am using an old IBM 5151.
Keyboard: Generic DIN keyboard.
Mouse: A4Tech Neo 702, just standard 2-button COM mouse.
Dual gameport adapter - AlfaData AlfaTwin - it allows me to use two gamepads/joysticks at once, very nice for multiplayer gaming.
Gamepad: Genius MaxFire G-07 - very ergonomic and durable gameport gamepad.
Joystick: Tevion Erazer.
The whole setup:
The Amiga 1200 is a bonus
unfortunately I do not have enough space yet to set up everything without crowd.