I am going to share the build, because it requires a bit of unusual tinkering.
Build aim:
To play DOS up to late Win95/98 games with maximum atmosphere and enjoyment factor on an upgraded 1985 IBM PC AT, using a flicker-free high-quality CRT monitor, M keyboard and first-generation MS mouse.

Build limitations:
-No ATX stuff allowed.
Must be a (baby) AT mobo.
-No SSD allowed.
Thus internal HDD must be fast, quiet and long-lived.
External HDDs must be attachable (U160+)
-Sound output must be digital (SPDIF) for both DOS and Windows.
Sound card must be PCI to avoid the ISA DMA performance bog.
-Case excludes many CPU options. Drive bay is where more modern mobos usually have their CPU/cooler combo.
Now the pics!
The "new" socket 370 Intel 810 mobo arrived yesterday from the former Soviet Union.
It is the only AT form factor mobo I was able to find that can take the 1400MHz Pentium 3 Tualatin without any additional contraptions like slockets, added voltage regulators etc, while running at full 133MHz FSB.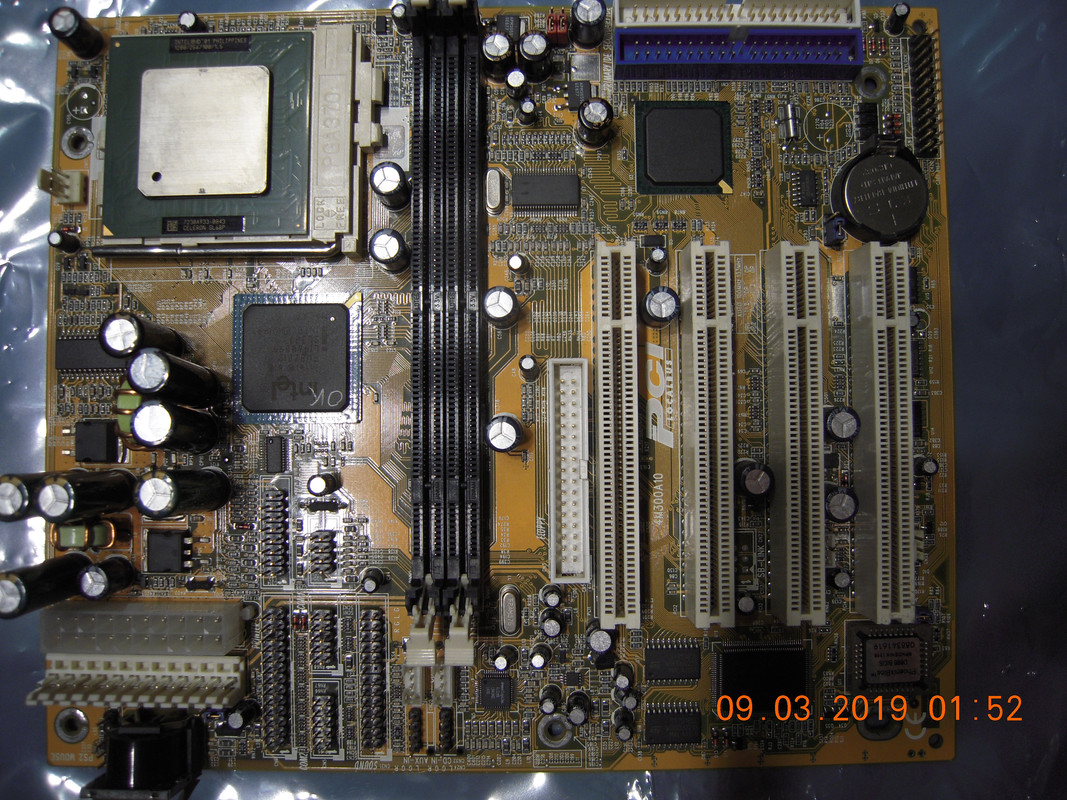 The mobo.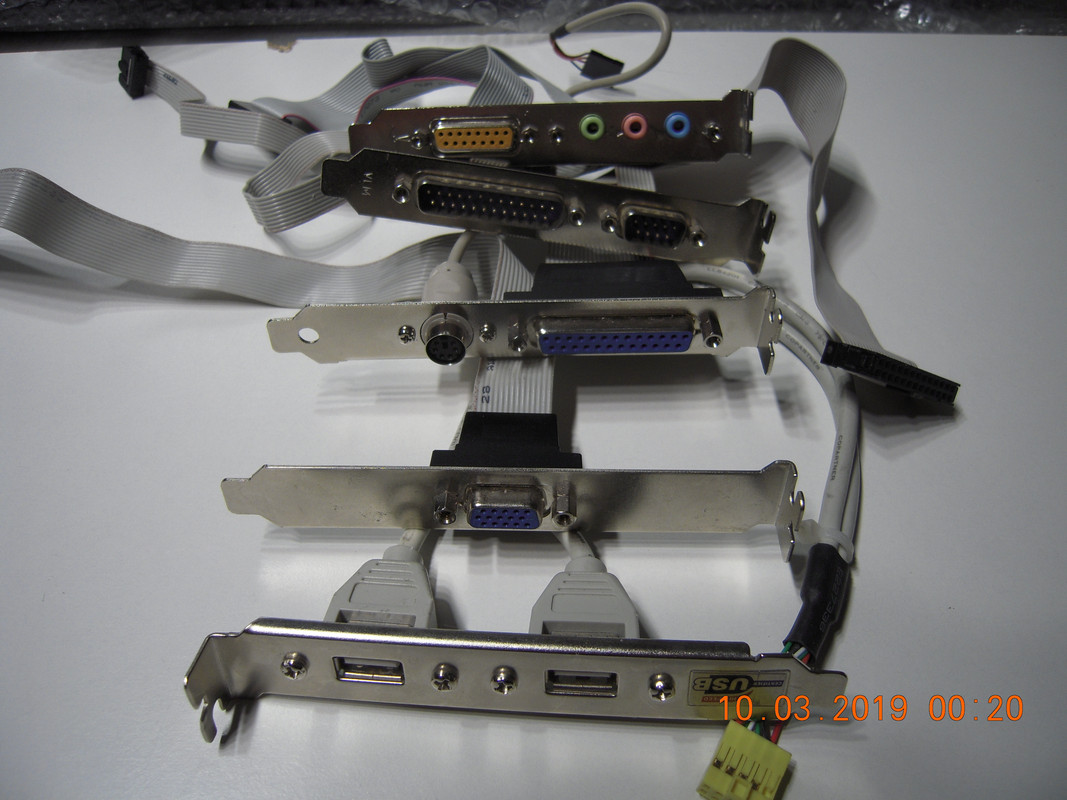 The included collection of slot shields was impressive.
But... ouch!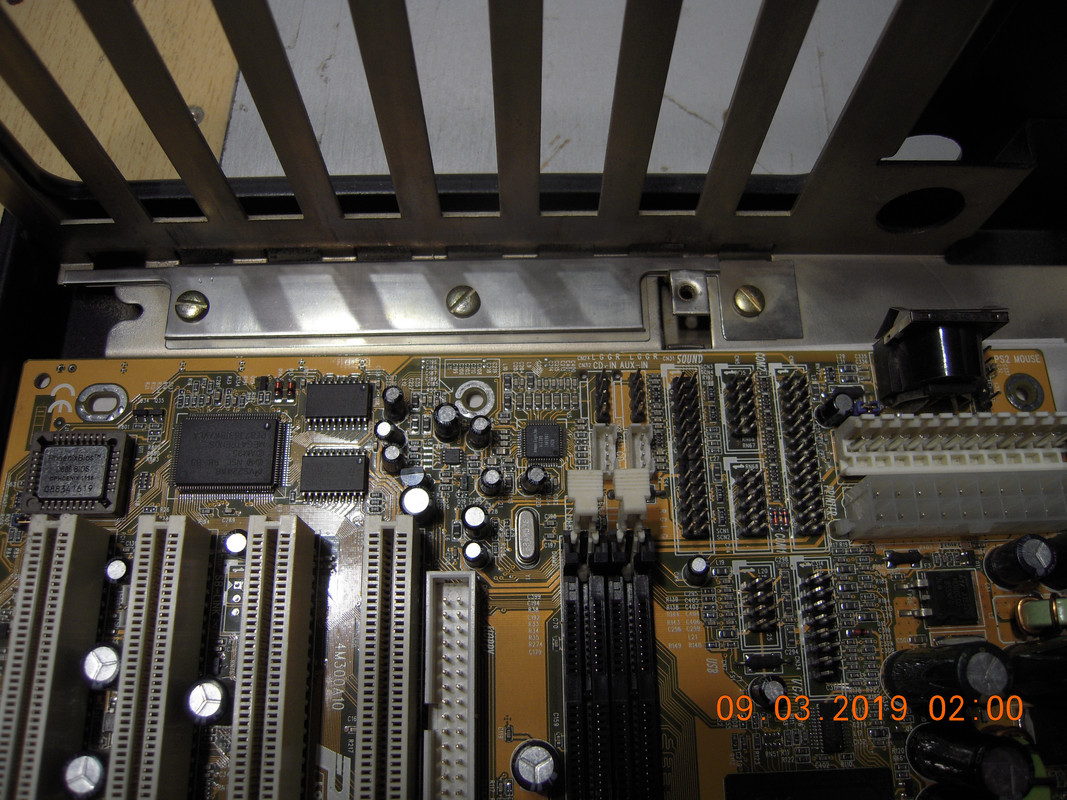 The mobo turned out to be not really AT-compatible.
Where normally the screw for fixating the board goes, this board lacks the hole.
Instead there are posts for the soundcard/gameport and for COM 2.
Not good!
This has to be corrected somehow.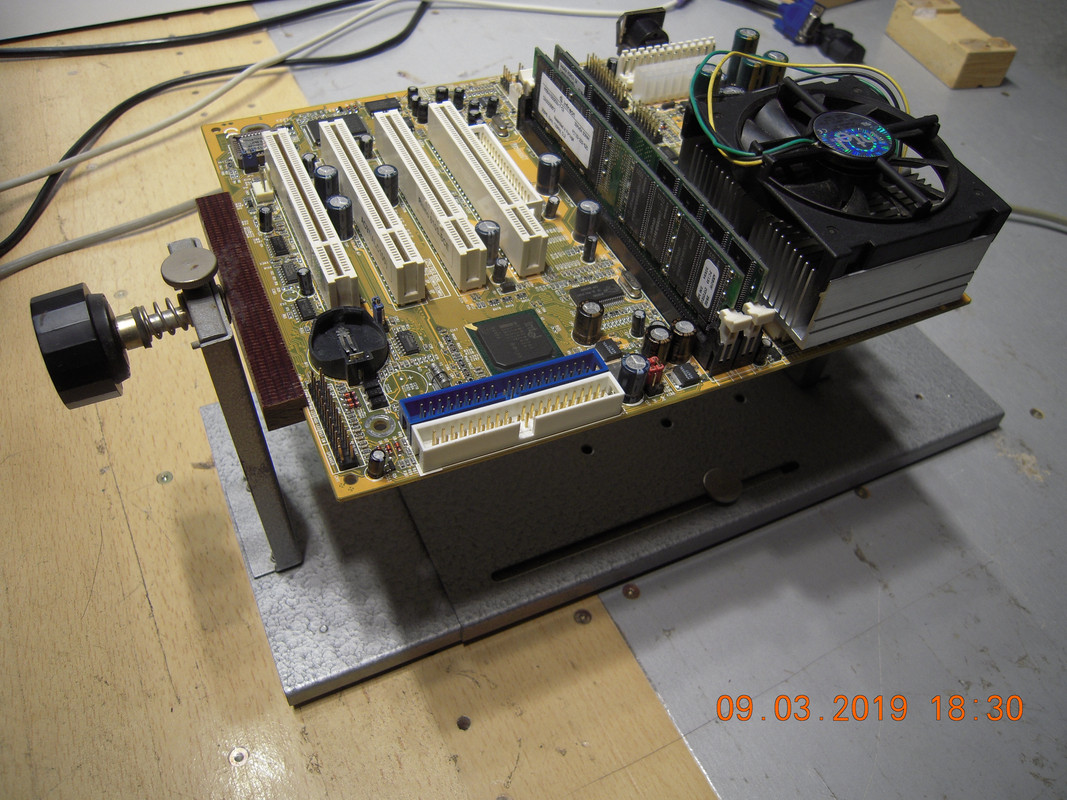 Preparing for surgery.
(Pictures of the surgery will be shown only on explicit request
)
After removal of the offending posts it looked this way: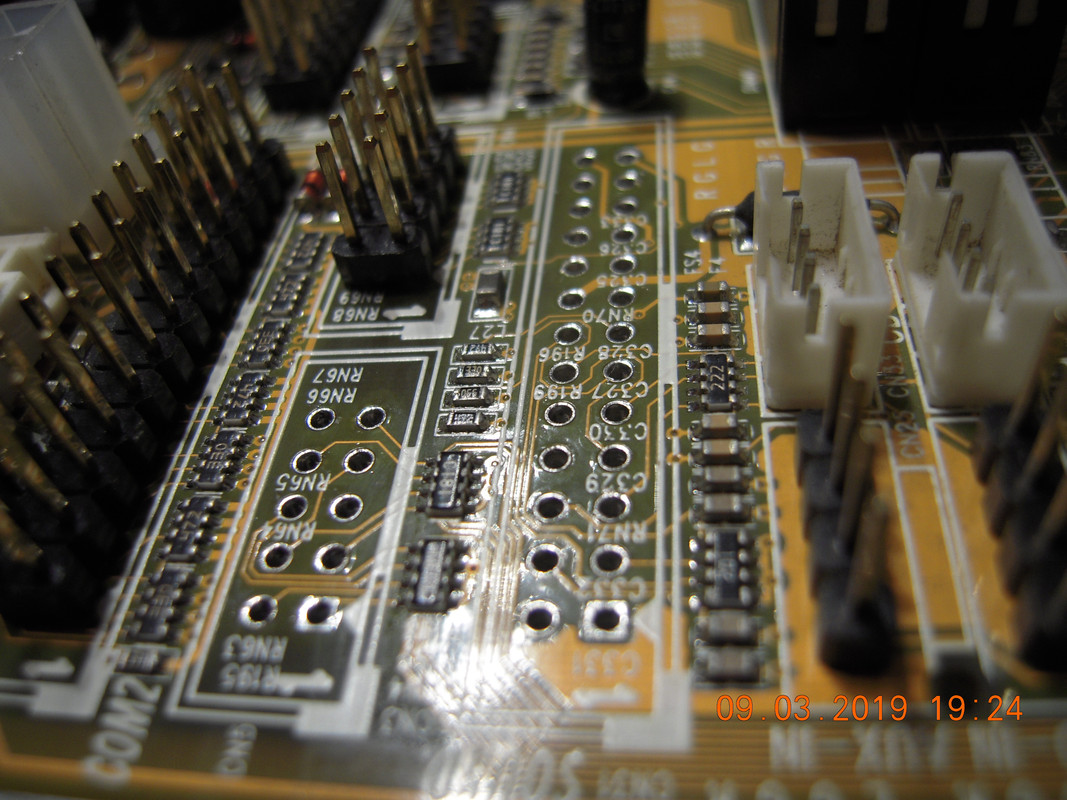 Much better!
But I was not willing to give up COM2, as the computer also must run Crosstalk (terminal emulator, console for beagleboard).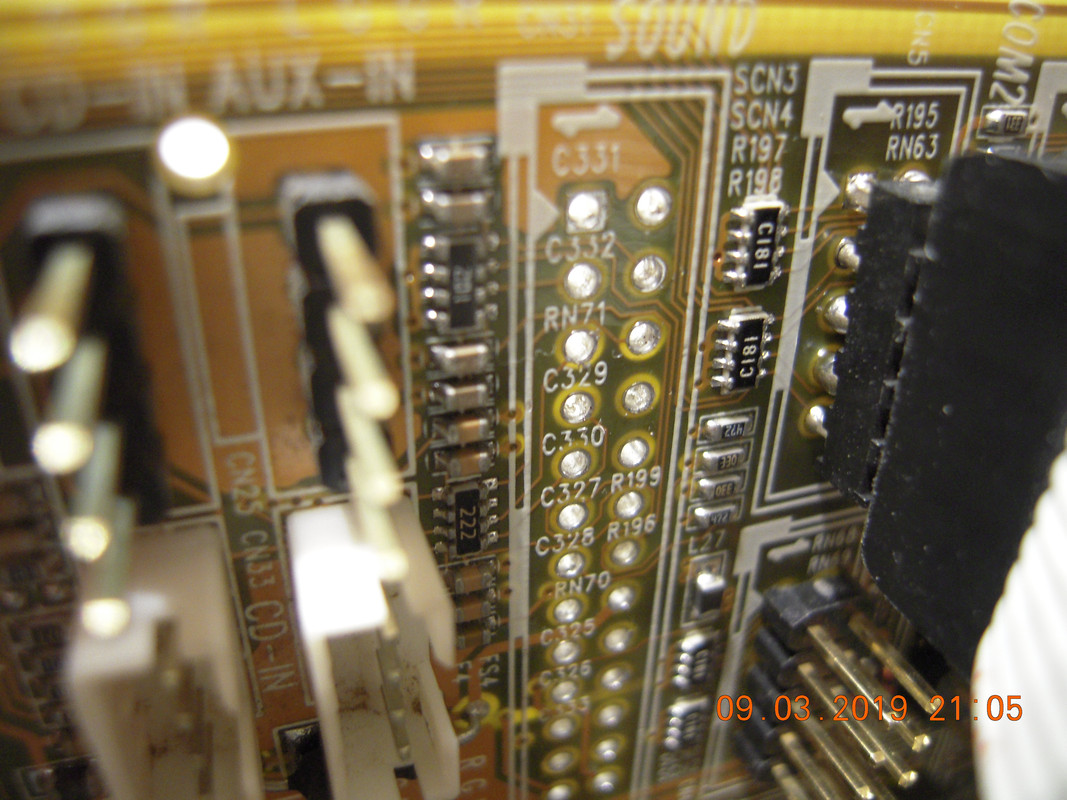 So I attached a new header in a way so that the pins did no longer protrude from the underside of the PCB, instead there was a flat solder surface.
Using a connector as guide was helpful to keep fingers cool while soldering.
Without connector, it looked this way. Acceptable at least for me.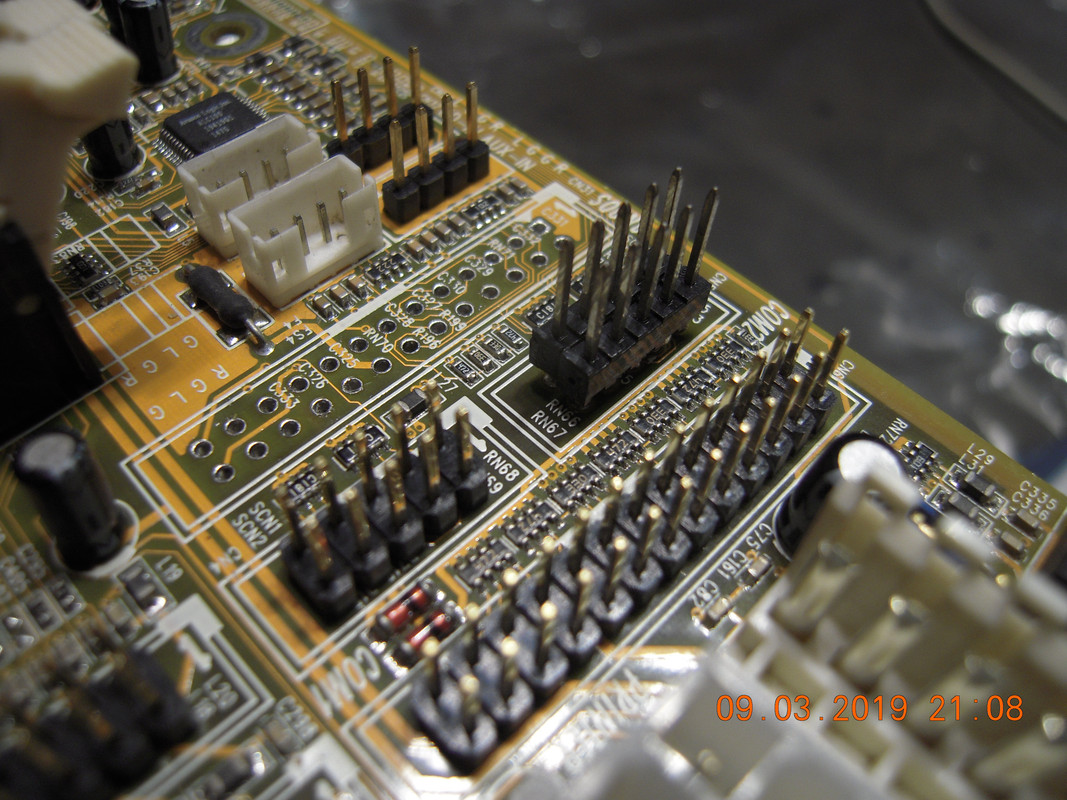 But the board was dirty!
Sort of grime. It must have been either in a car workshop, or in a smokers' office.
I did not like the smell. So I decided that it has to take a bath in pure IPA.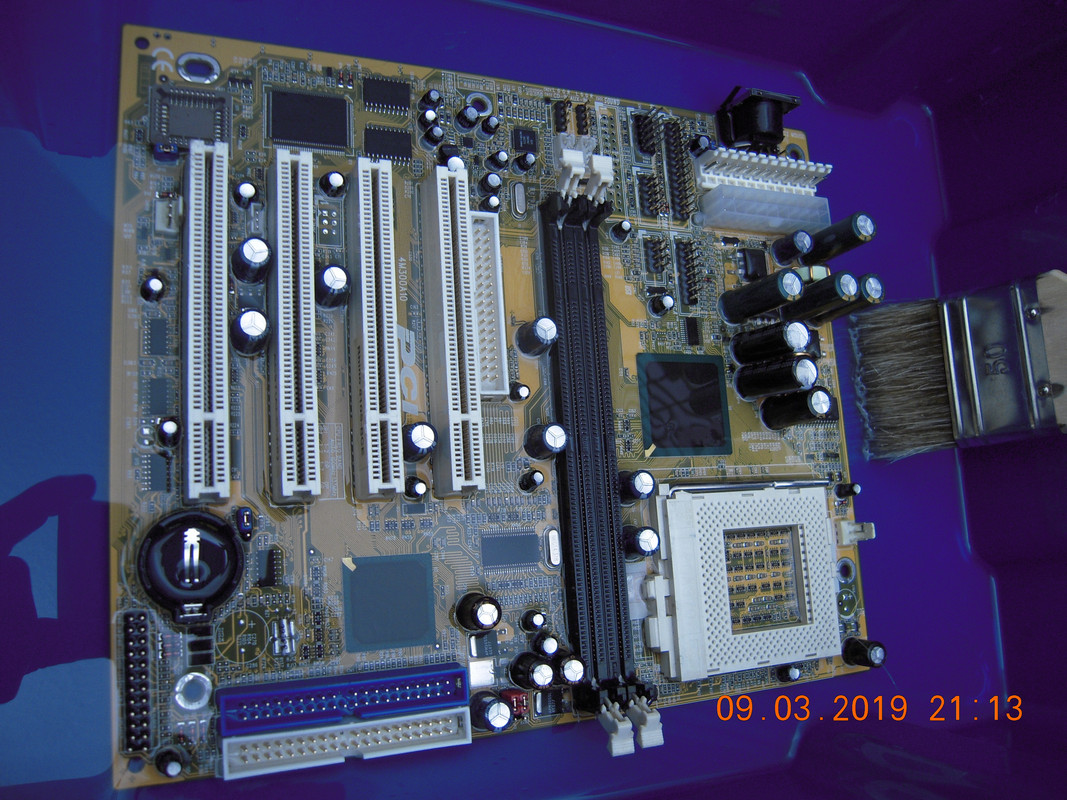 For better solvent effect, I warmed up the IPA to about 40 degs and then bathed and scrubbed the board thoroughly.
Perfectly clear before, the IPA was dirtily-brownish afterwards.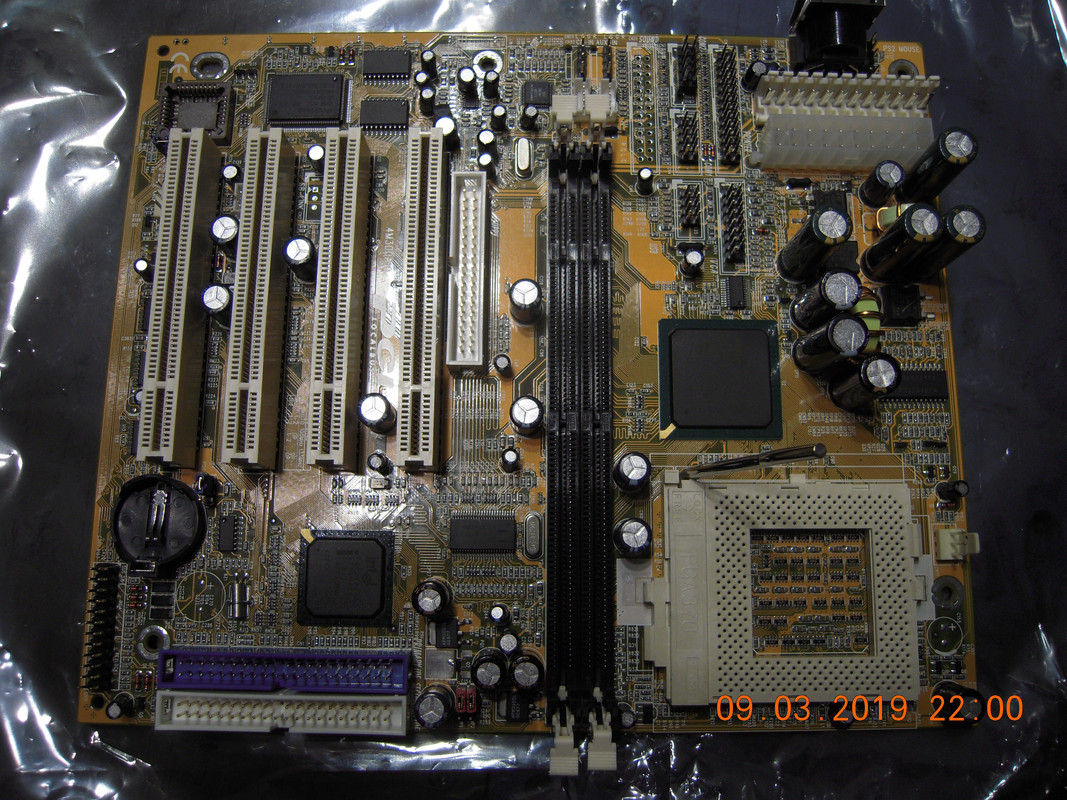 Wow! So clean and shiny now!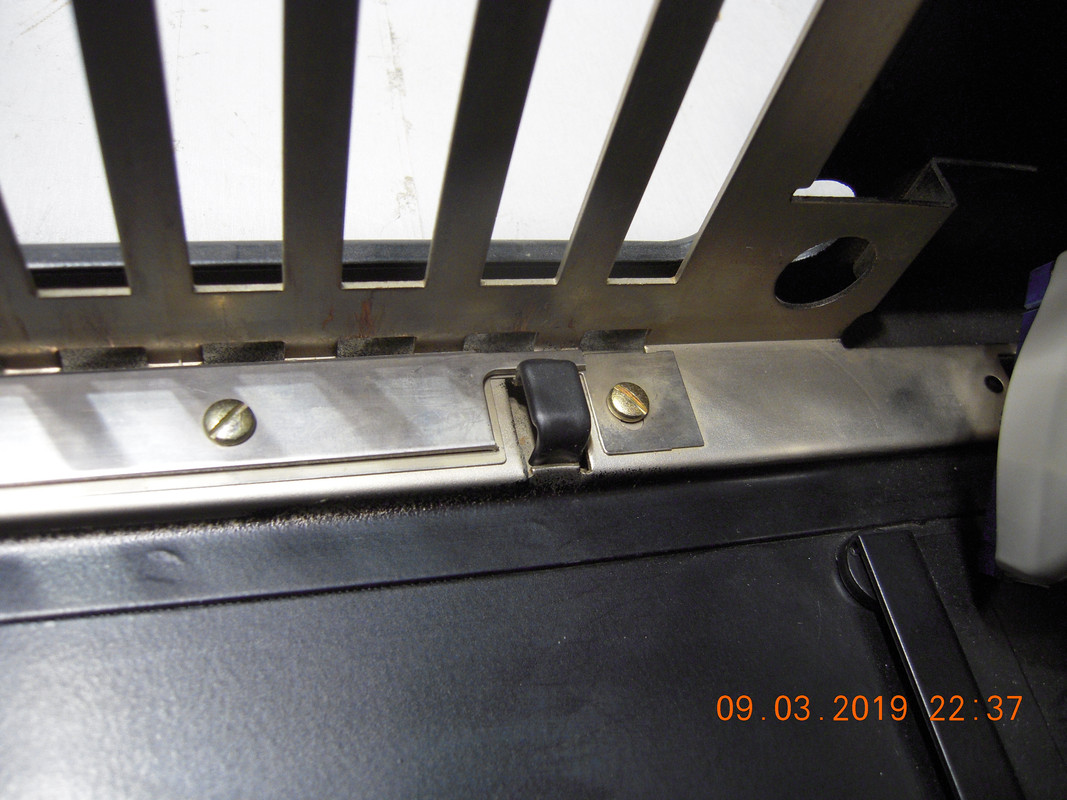 To avoid shorts, I put two layers of heatshrink tube over the screw post.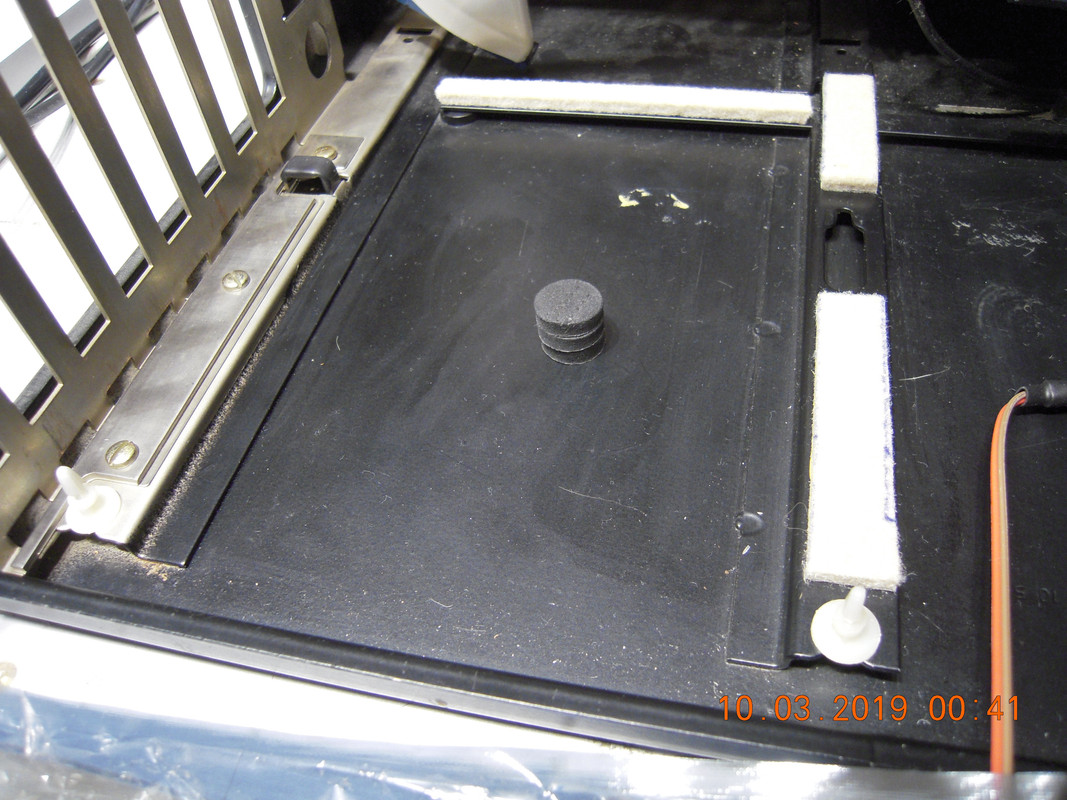 BGA flexing is not recommendable.
So I added buffers to support the board.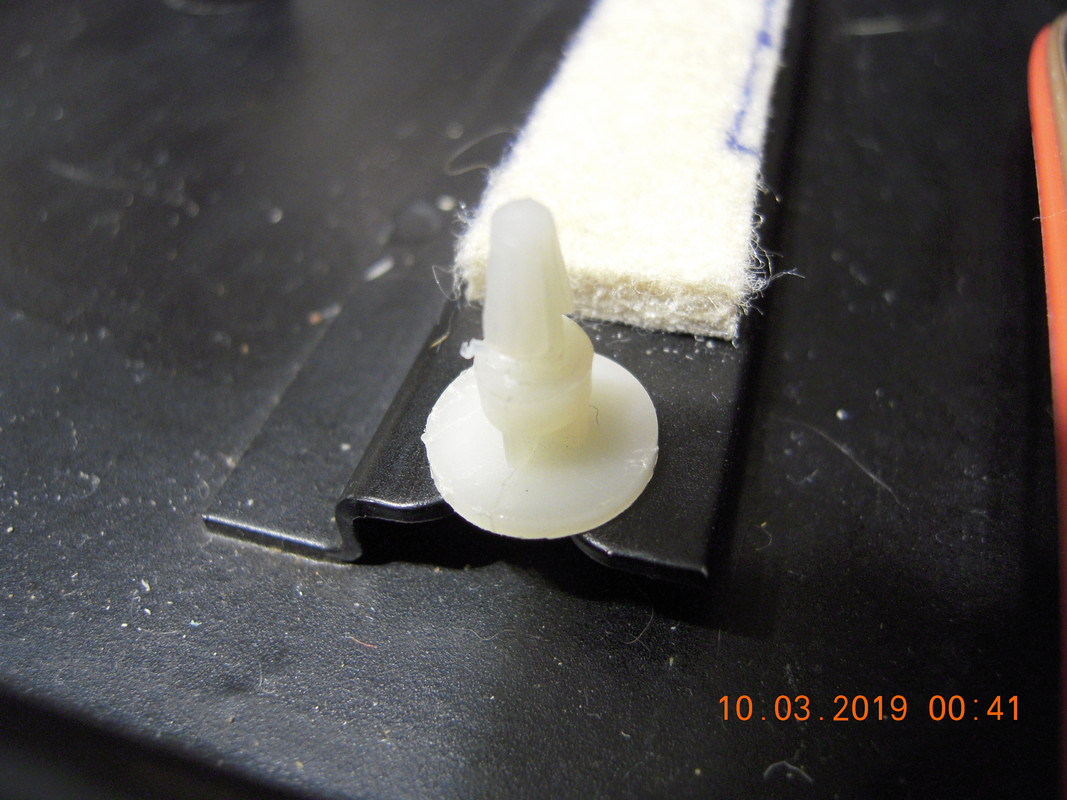 Even the holes' size of the mobo was wrong. Way too small.
So I even had to carve the plastics posts to make them fit.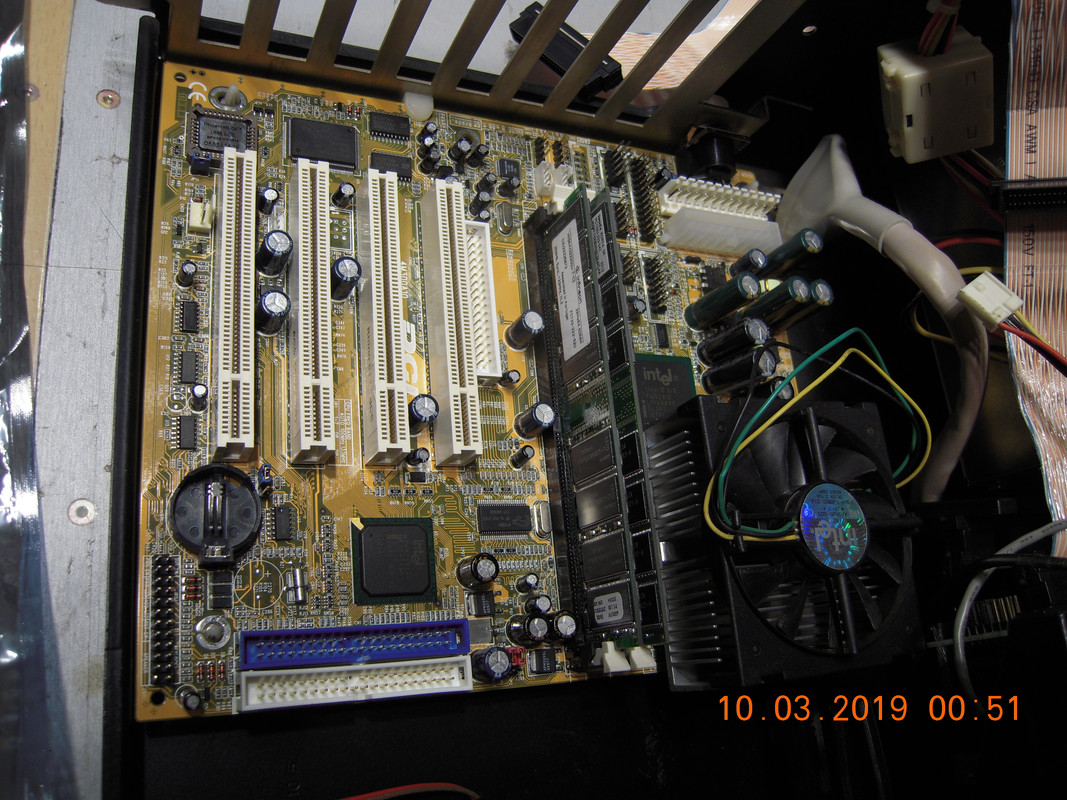 Phew!
Finally the mobo fitted.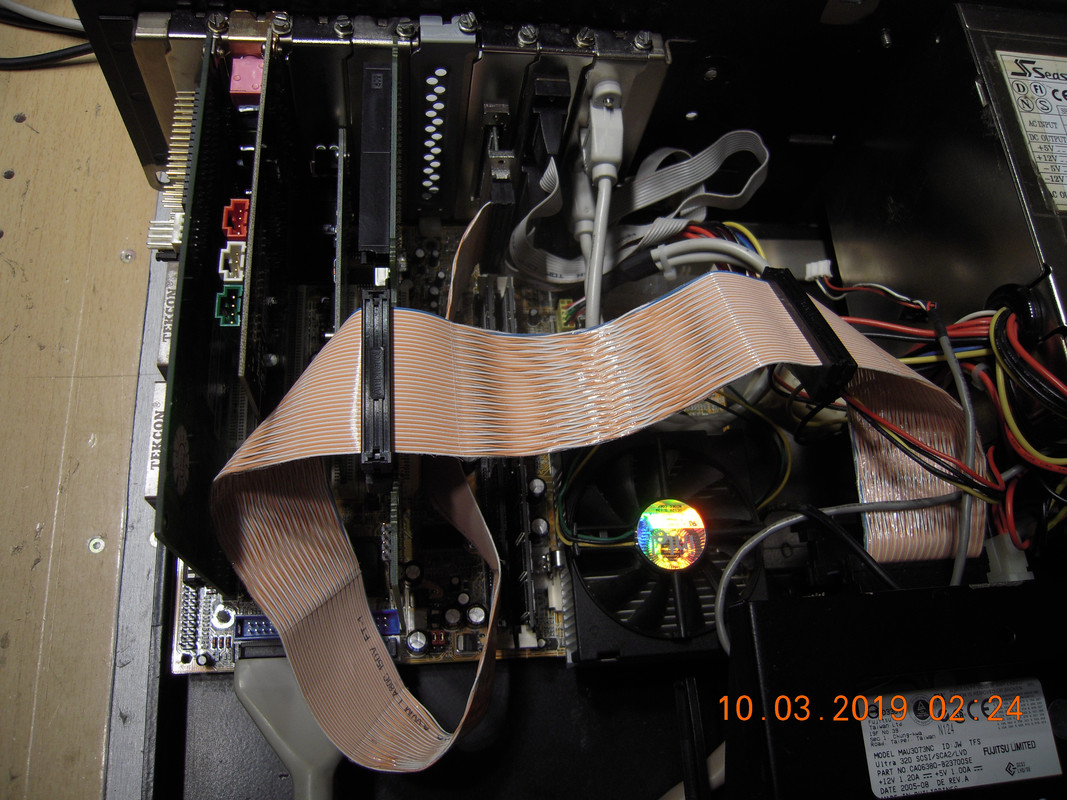 After that I threw in the cards.
From left to right:
-Generic S3 Trio64+ 2MB. (Just a provisory, because in this mobo the ATI Radeon 9250 I tried before somehow prevents the SCSI BIOS from starting. Will get a 4MB S3 graphics card soon to replace it)
-Terratec Soundcard MediaVision FM801 (or so), with Toslink output (for DOS gaming with SPDIF sound)
-D-Link gigabit ethernet card (Has drivers for DOS and MacOS 9 as well, curious testing this card)
-HDD controller
Now I am going to look through the DOS config, trying to get all important drivers in.
(To be continued with many new photos
)