First post, by dr_st
So, I have this Socket 775 C2Q desktop (originally bought in late 2008, all components but motherboard, CPU and case upgraded since):
ASUS P5Q PRO (Intel P45/ICH10R)
Core 2 Extreme QX9650
Scythe Mine Rev.B SCMN-1100 Heatsink
OCZ Reaper 8GB DDR2-1066 (4x2GB)
Zotac GTX 660 PCI-E
Seagate 1TB + 2TB hard drives
2x LG BluRay burners
Wifi & USB 3.0 PCIe x1 cards
Gigabyte 3D Aurora 570S full-tower case
Enermax Modu 82+ 625W PSU
Running Vista Ultimate 64bit
A few years ago I started getting the classical dying mobo symptoms: intermittently doesn't POST, doesn't exist standby, random lockups, sometimes does not detect SATA ports on boot, etc. I got a replacement board of the same kind, but also gave the original an ultrasonic bath and decided to keep it until the symptoms become frequent enough to make the machine unreliable. Well, it recently got to this point, so I finally got around to swapping that board out. Also got to clean most of the components a bit before putting them back in the case.
The case with the board removed (just looking forward to working through that cable mess upon reconnecting):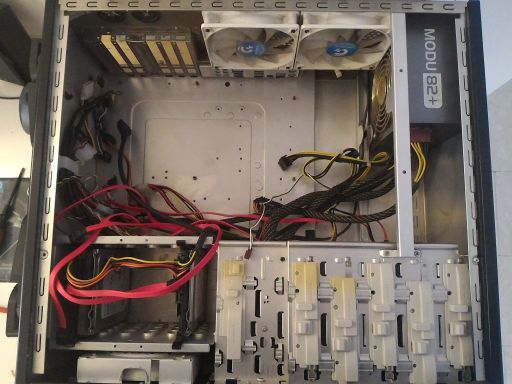 For the new board I decided to get one of those third-party coolers (Enzotech MST-81) for the MOSFETs directly above the CPU socket; there are holes for it on the board, but ASUS skimped on the actual cooler (the more expensive board in the P5Q line had them).
Enzotech MST-81 MOSFET cooler / Scythe Mine Rev.B Heatsink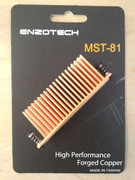 The OCZ Reaper RAM. I got them as matching pairs, but a few years apart, and OCZ change the heatsink design in between (but the chip specs are the same):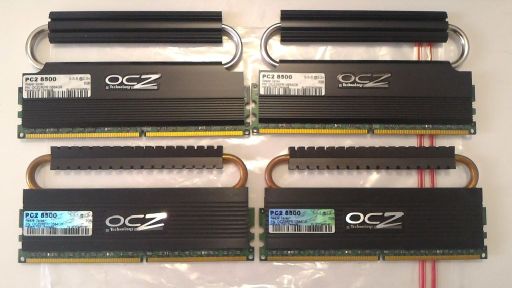 The new motherboard with CPU, RAM and MOSFET cooler installed: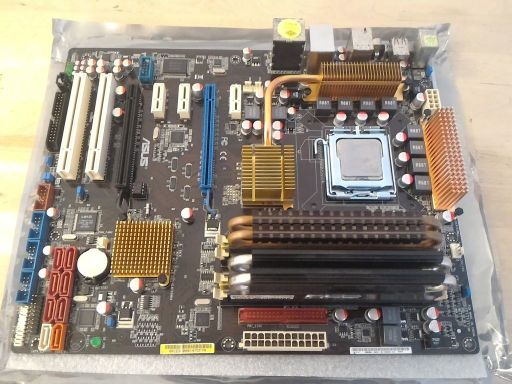 With the monstrous HSF installed: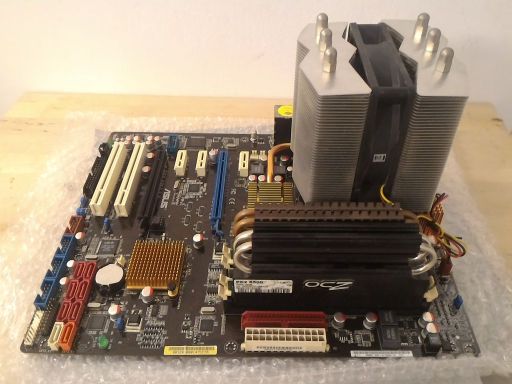 Despite the size, the SCMN-1100 is very light and so has no backplate, and so it only uses the atrocious Intel-designed pushpin mechanism for installation. It's easier on one hand, but sometimes struggling with those pins is a nightmare. Once I tried doing it with the board in the case - never again. This time 3 of the 4 pins went in easily, but the fourth one gave me hell.
I decided to first test the board outside the case (would be annoying to put everything together to find out it's DOA). For this I used a spare Enermax 525W PSU, a spare 8400GS PCI GPU, and connected it to the keyboard and monitor normally used by the Thinkpad T60 laptop: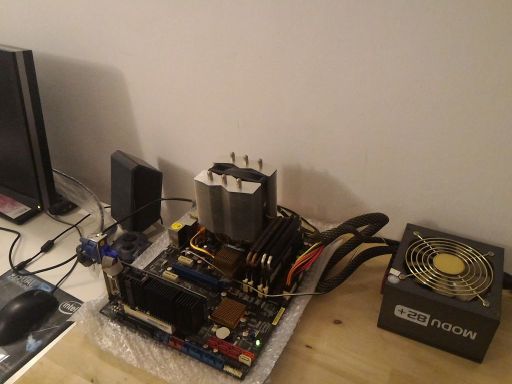 It's alive! (and BIOS is at latest version)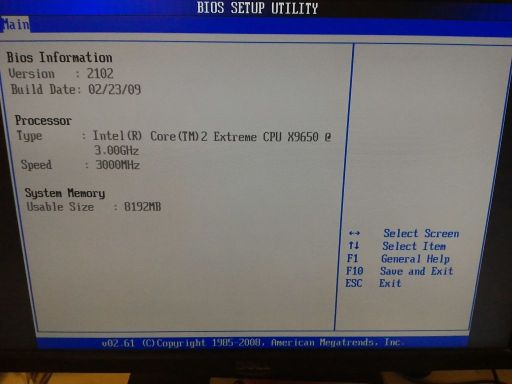 One of the Reset switch pins was bent - good thing I found out before putting it back in the case and trying to plug the Q-Connector:

Installed back in the case with everything connected: #CableManagementIsOverrated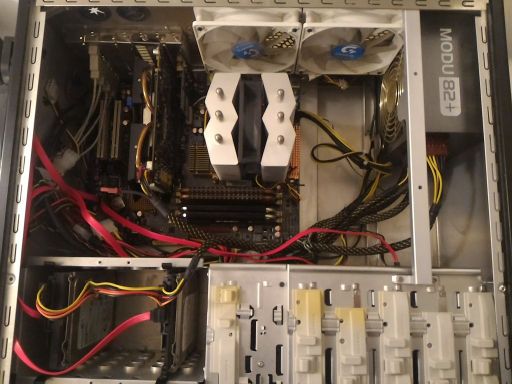 Temperatures are OK, all sensors normal: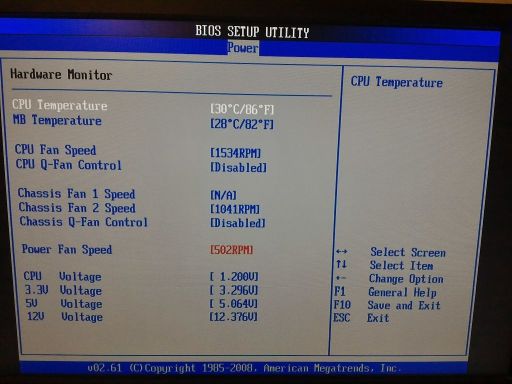 Front view of the case: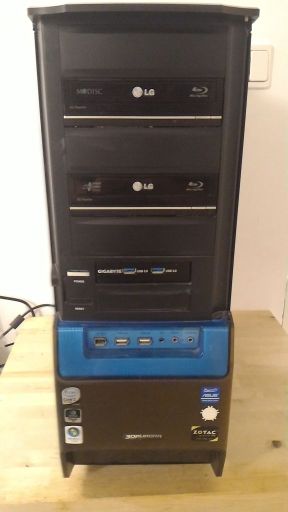 So far the computer works, and appears stable, but of course only time will tell. Fortunately, Socket 775 P45/X48 boards should be available for a long time in case this one also dies: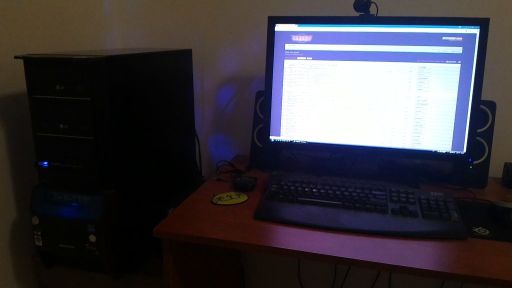 Last edited by
dr_st
on 2020-09-26, 16:19. Edited 1 time in total.