First post, by waterbeesje
A few weeks ago I bought this cute little 486 computer. Well, not quote that little. It's huge.
When my wife saw it, she immediately called it "Bakbeest". In simple English it means something like colossal, but a step further. That's why I gave this computer a name. My only one with a name, and it deserves it.
Warning: got a lot of photo's following!
I bought it, knowing it is working, but it could not fully boot because of a dead battery but was still in service a few weeks earlier.
From (not too clear) photo's I could see:
- huge case
- PCI/ISA (no VLB) motherboard with Socket 3, but unclear what board and couldn't see the battery due to cables.
- Some CPU on it
- Some RAM in it
- Some PCI graphics card
- Some ISA LAN adapter
- 3,5" FDD
- 5,25" FDD, not connected
- some CD-player that is newer than te rest of the computer
- two EPROM programmers with 8 bit ISA controller cards
- Keyboard and mouse
- Hard disk was carefully handled and carefully beaten up by a 10mm drill because of data 🙁
Not knowing if I would get something damaged by battery accid, I just trusted the damage would not be severe.
Turns out I got lucky 😀
First I got to fully dismantling it to check if anything is wrong with it. Along with this I took a nice bunch of photo's... maybe a few more than needed.
Keyboard, mouse, EPROM programmers: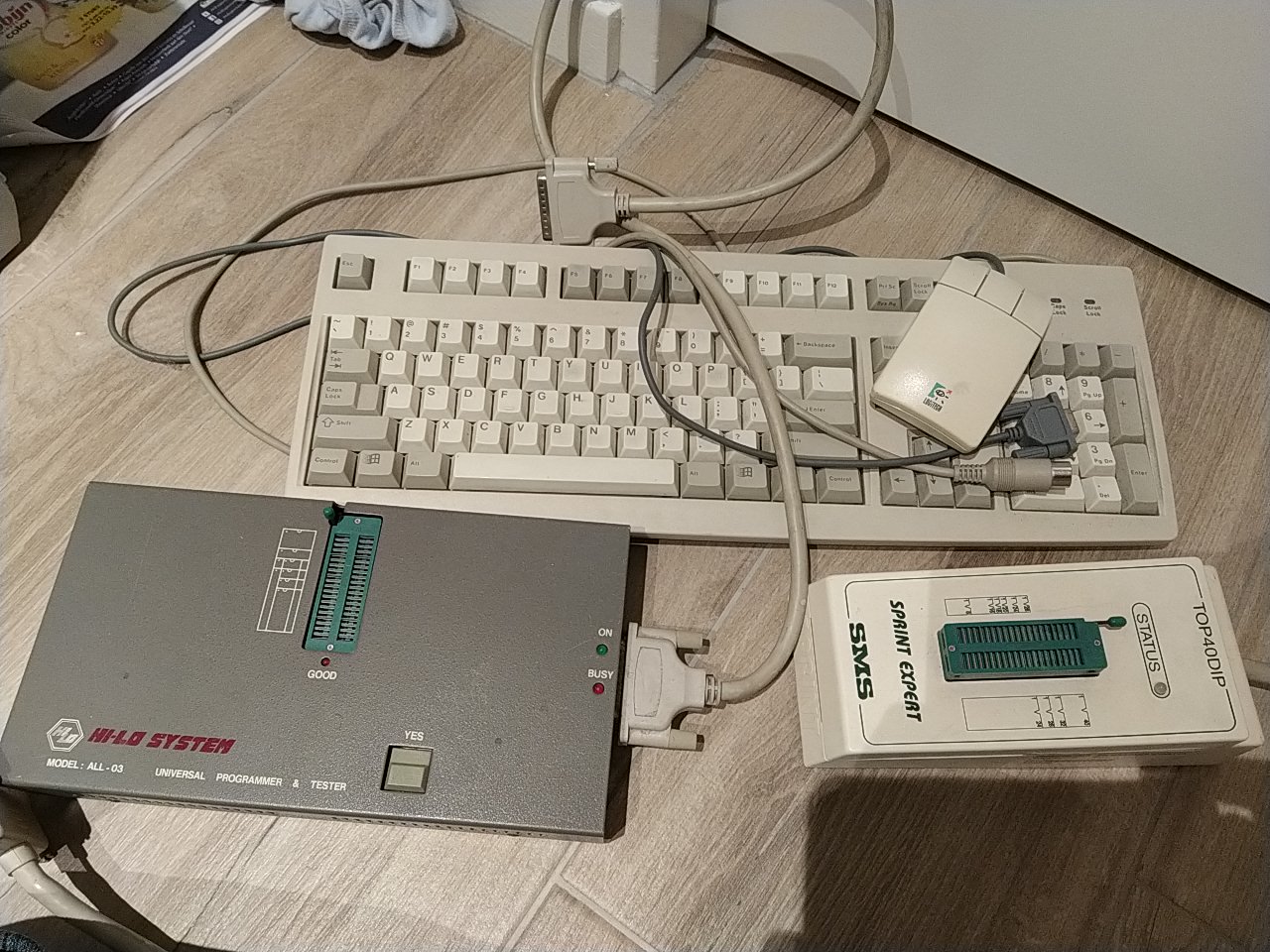 Computer case: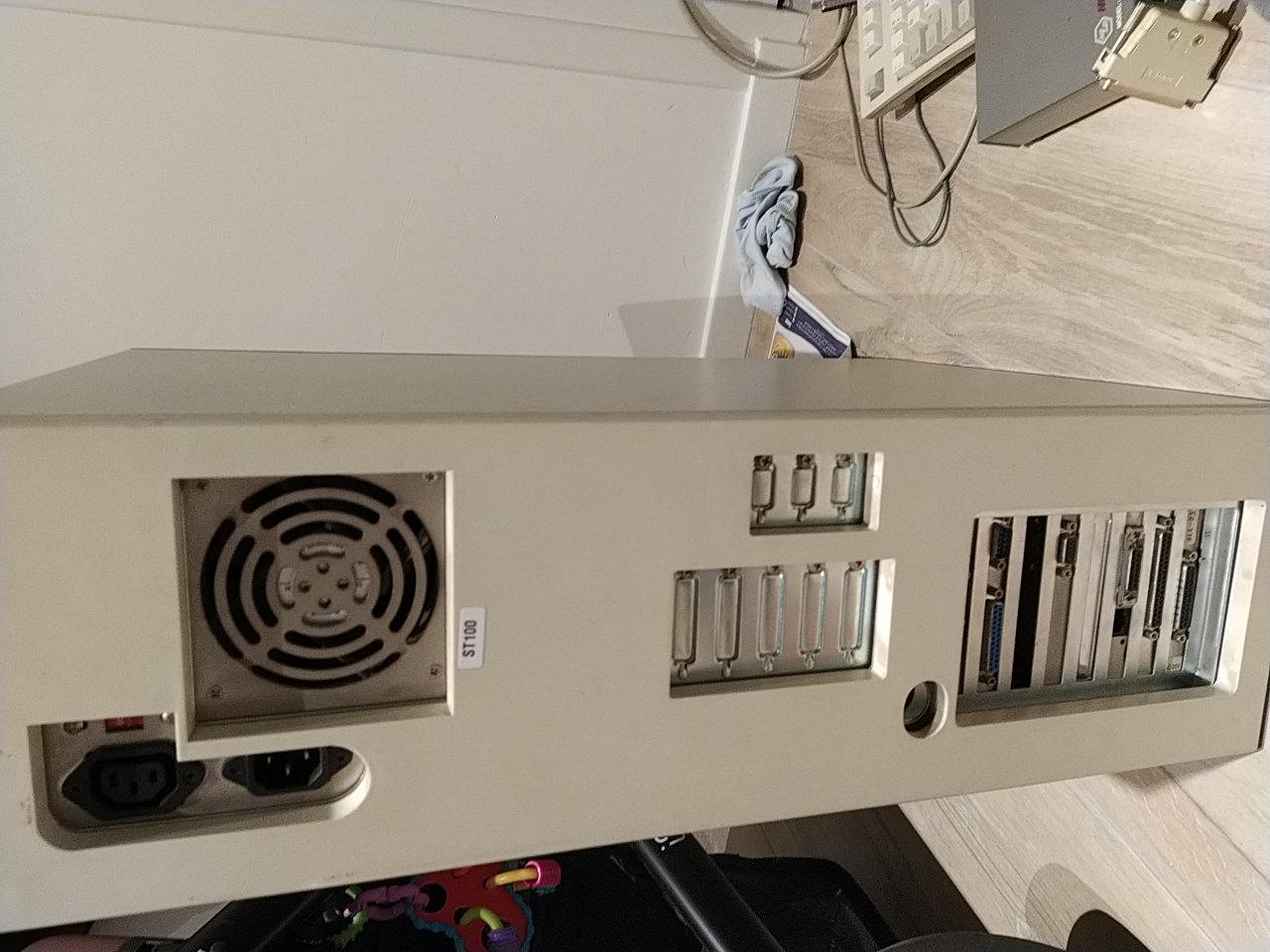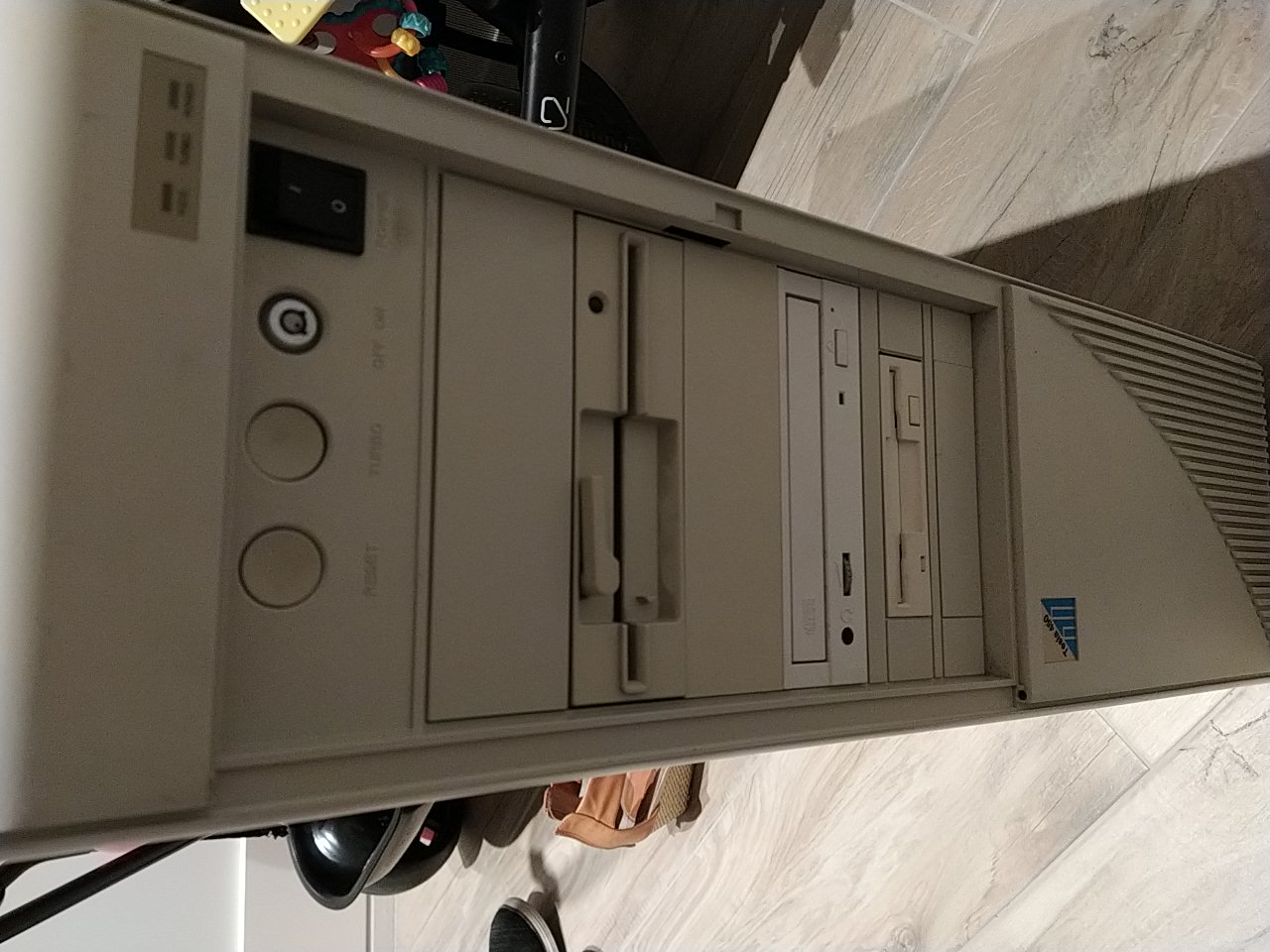 CPU turns out to be a 486 DX/2-66 SL enhanced: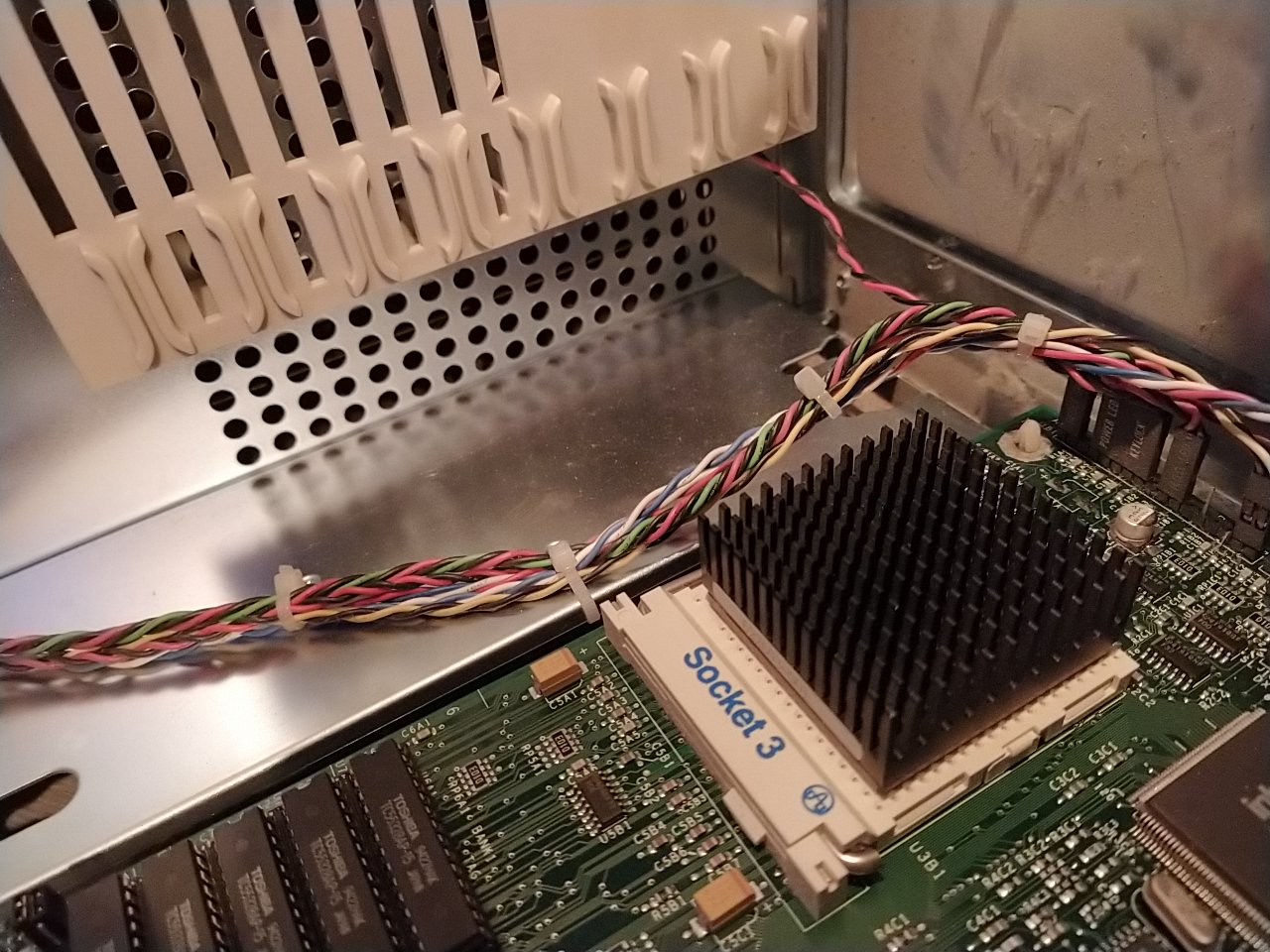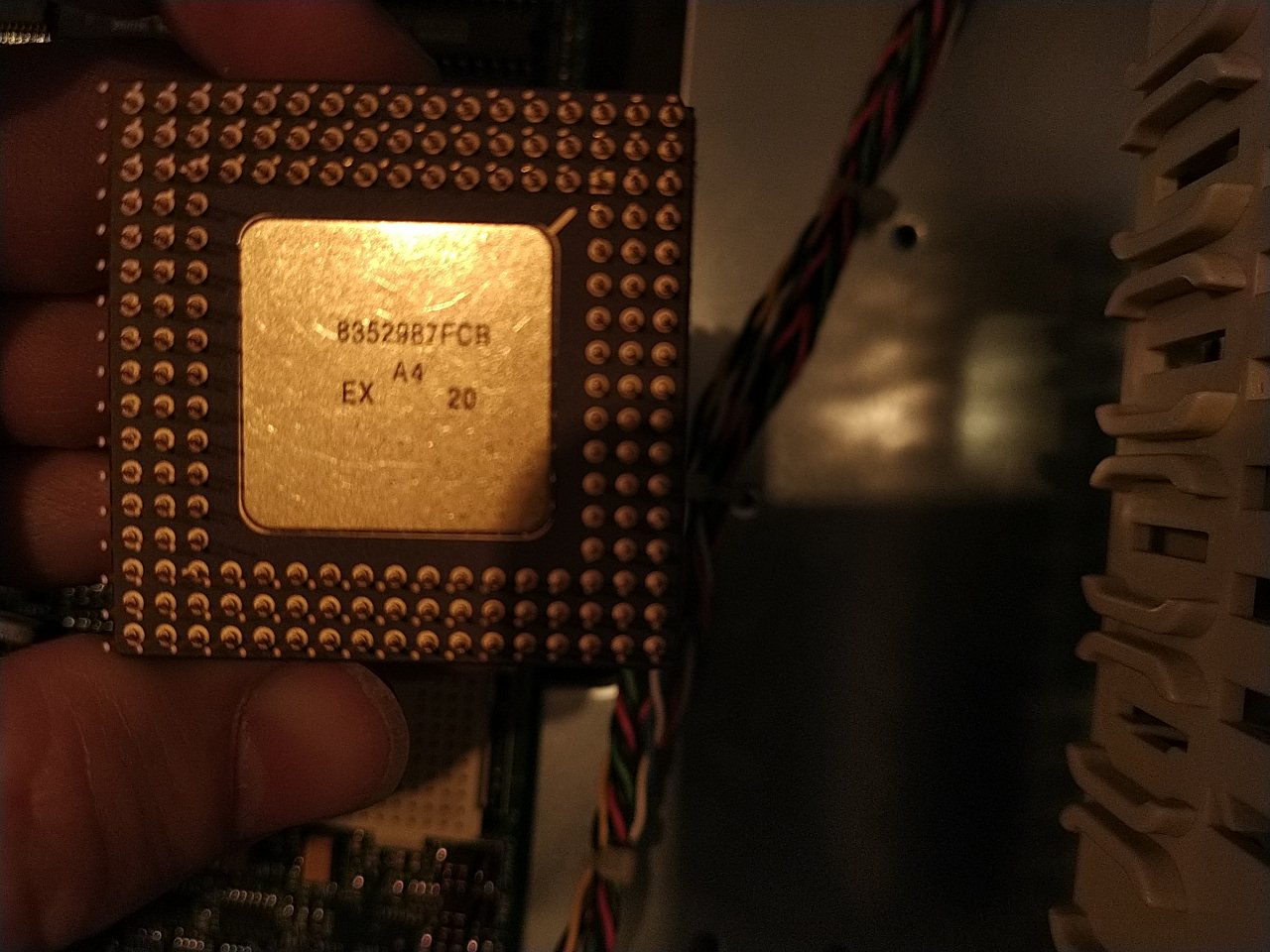 (can't find info on the EX 20 series? Can you?)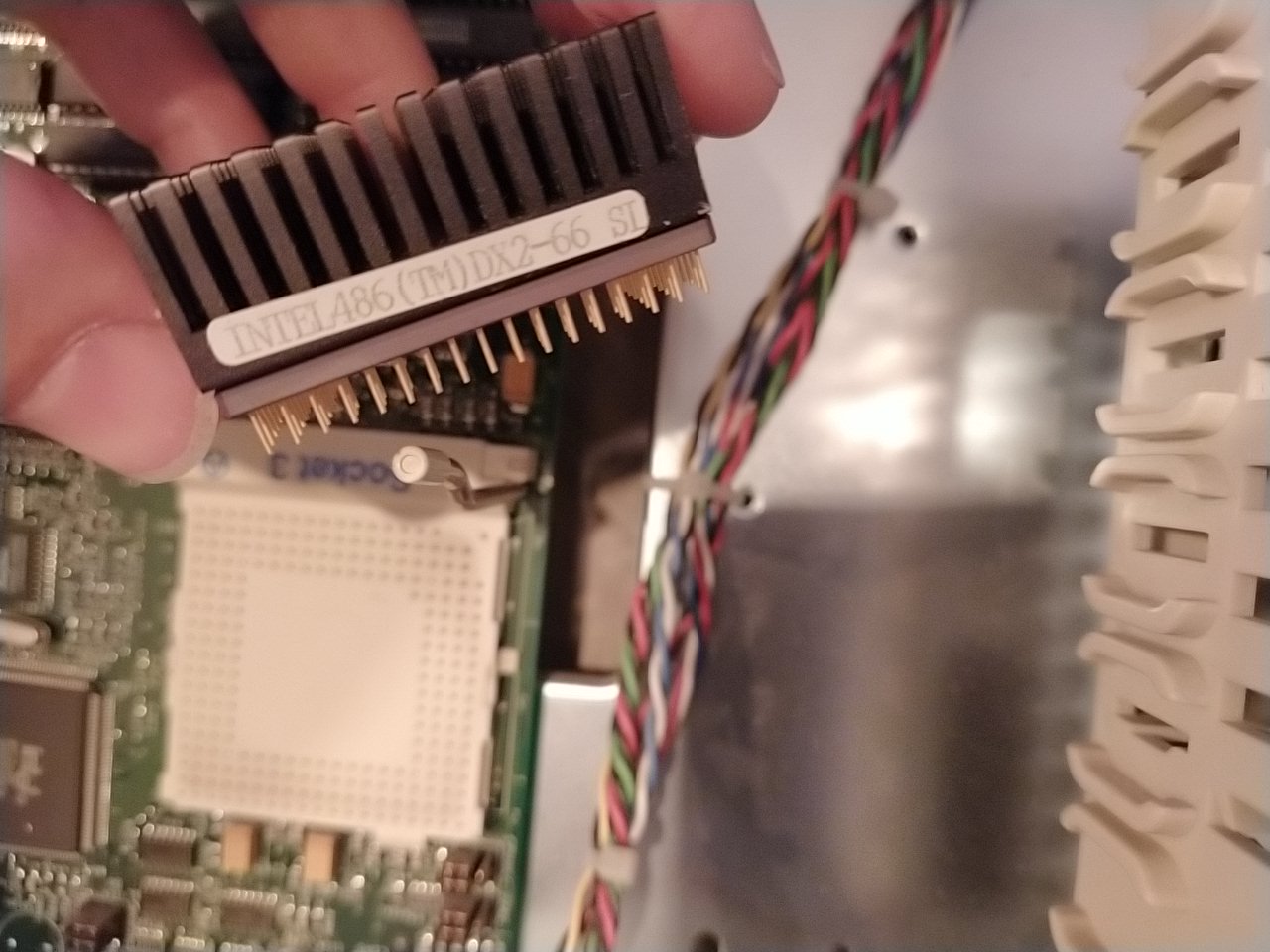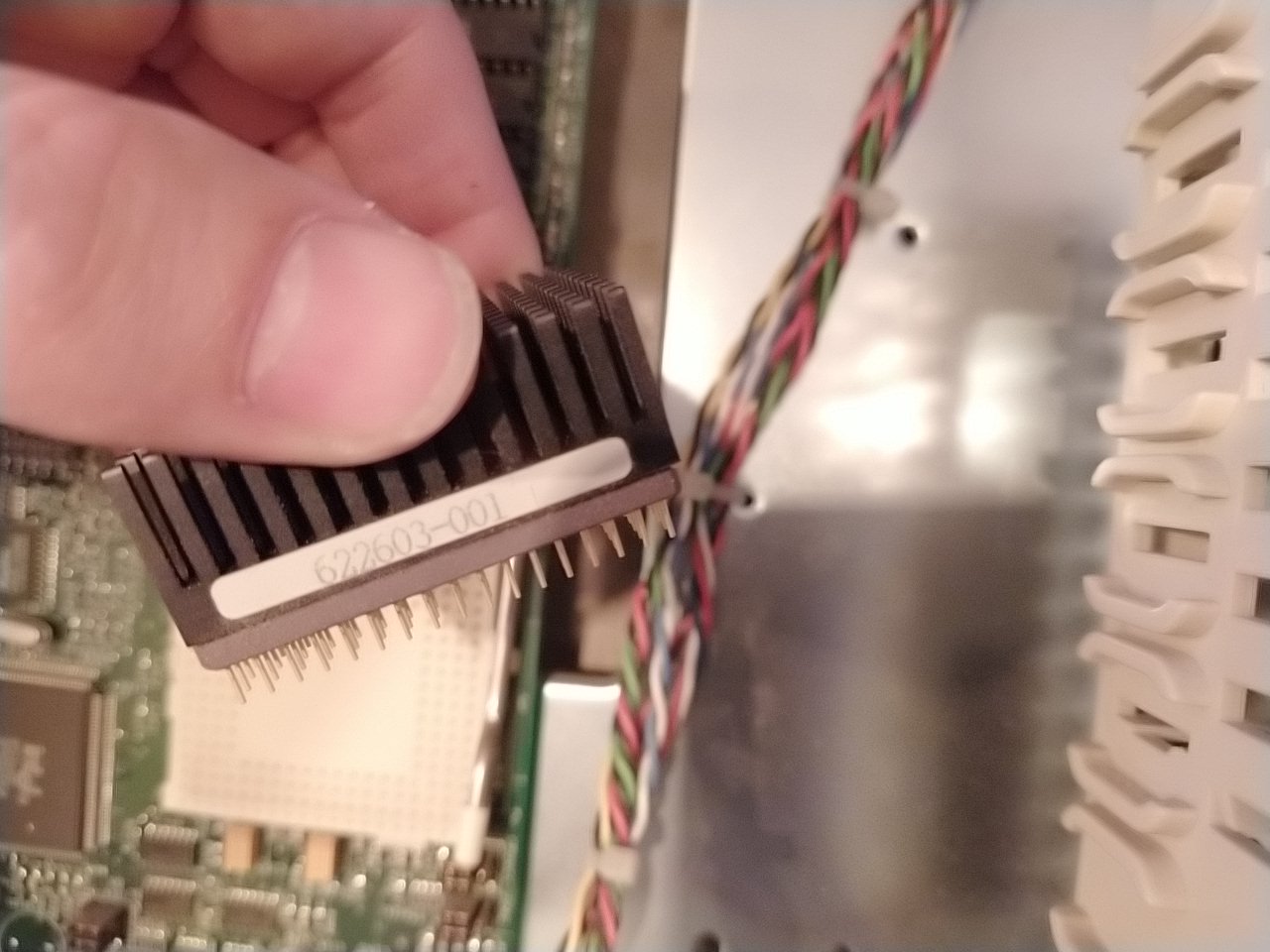 RAM is a single 16MB 72pin module, 60ns (2 slots available)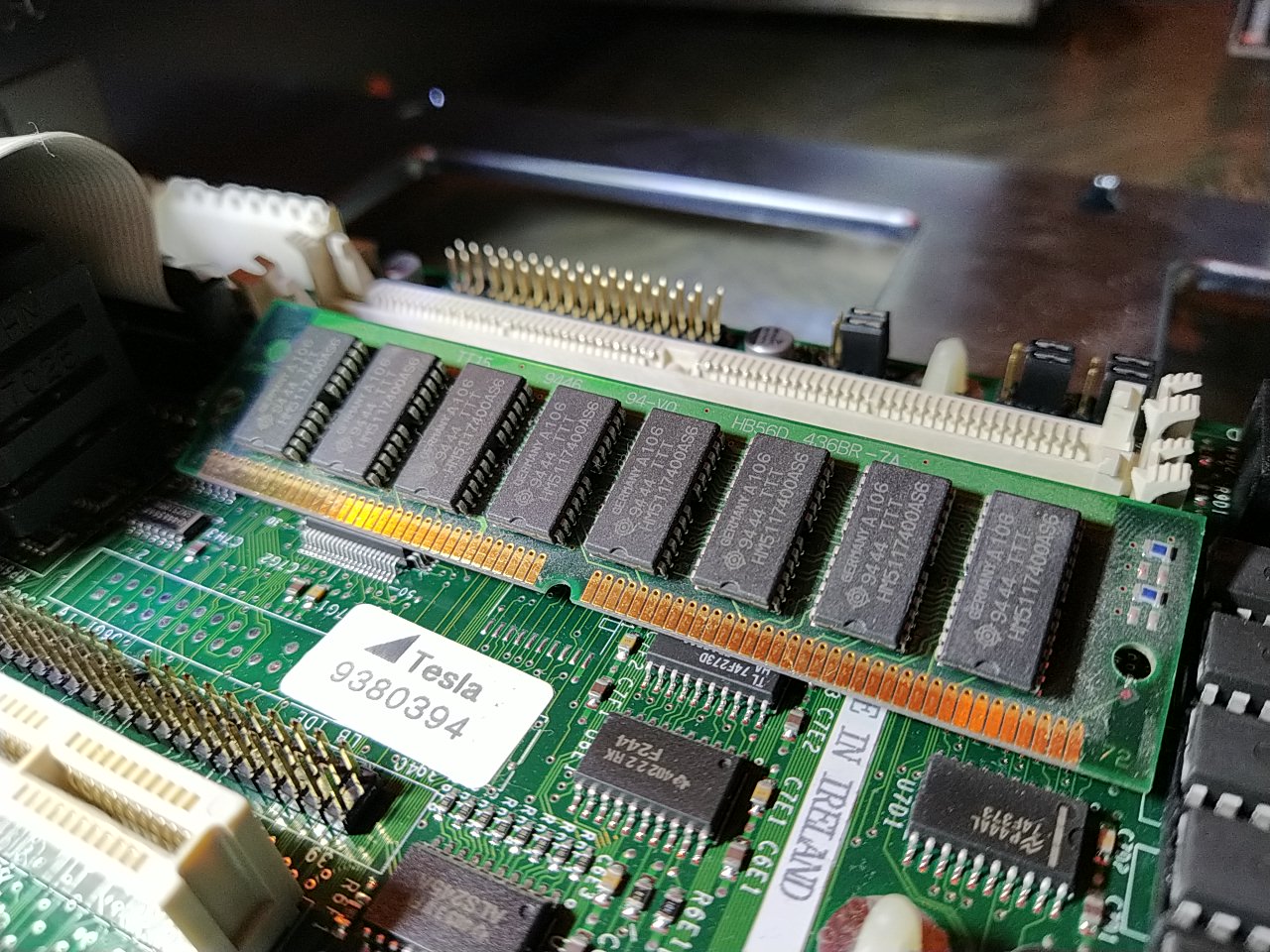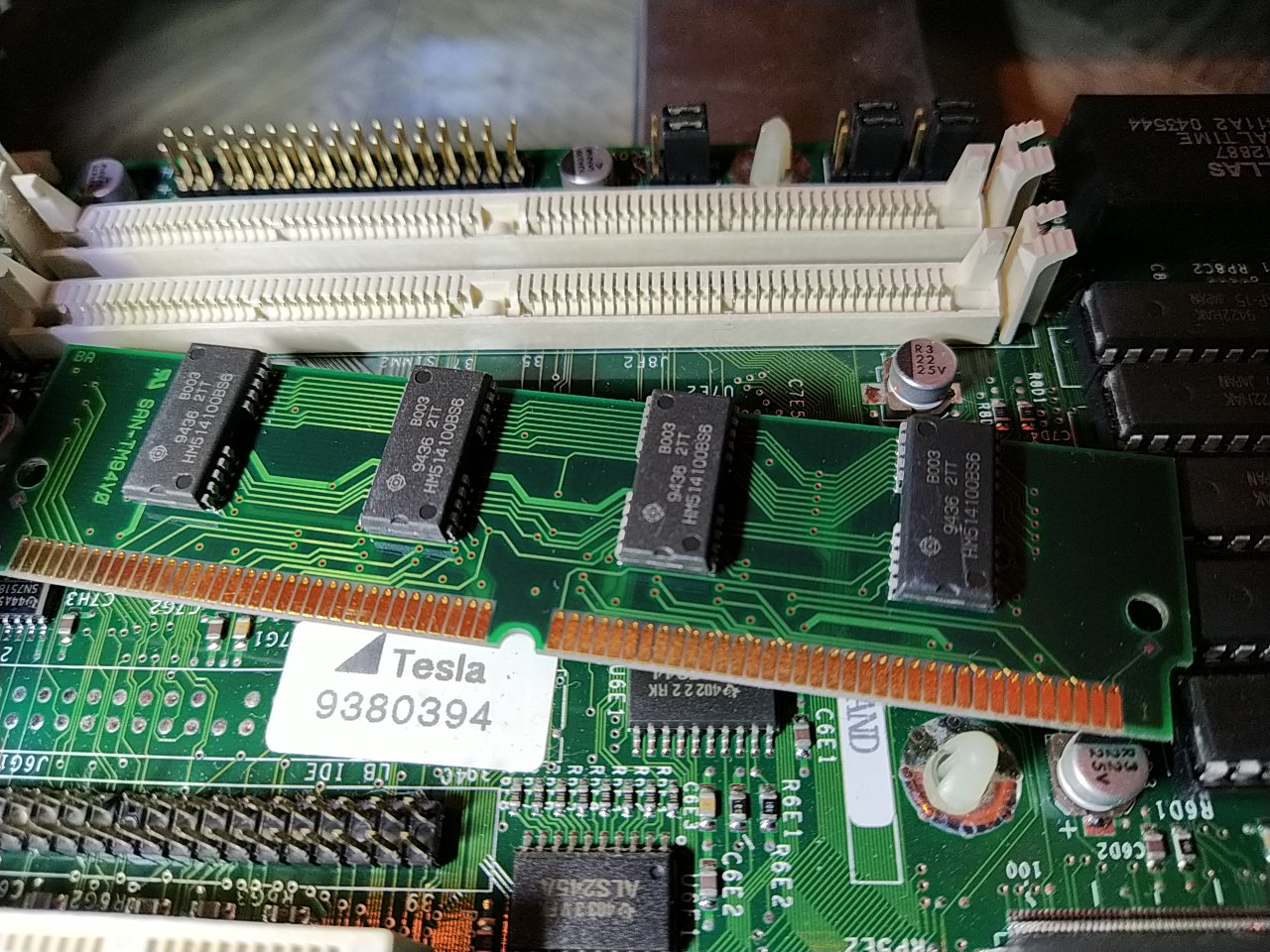 Graphics: Video Magic PCI-V864 (S3 Vision 864 with 1MB, upgradable to 2MB)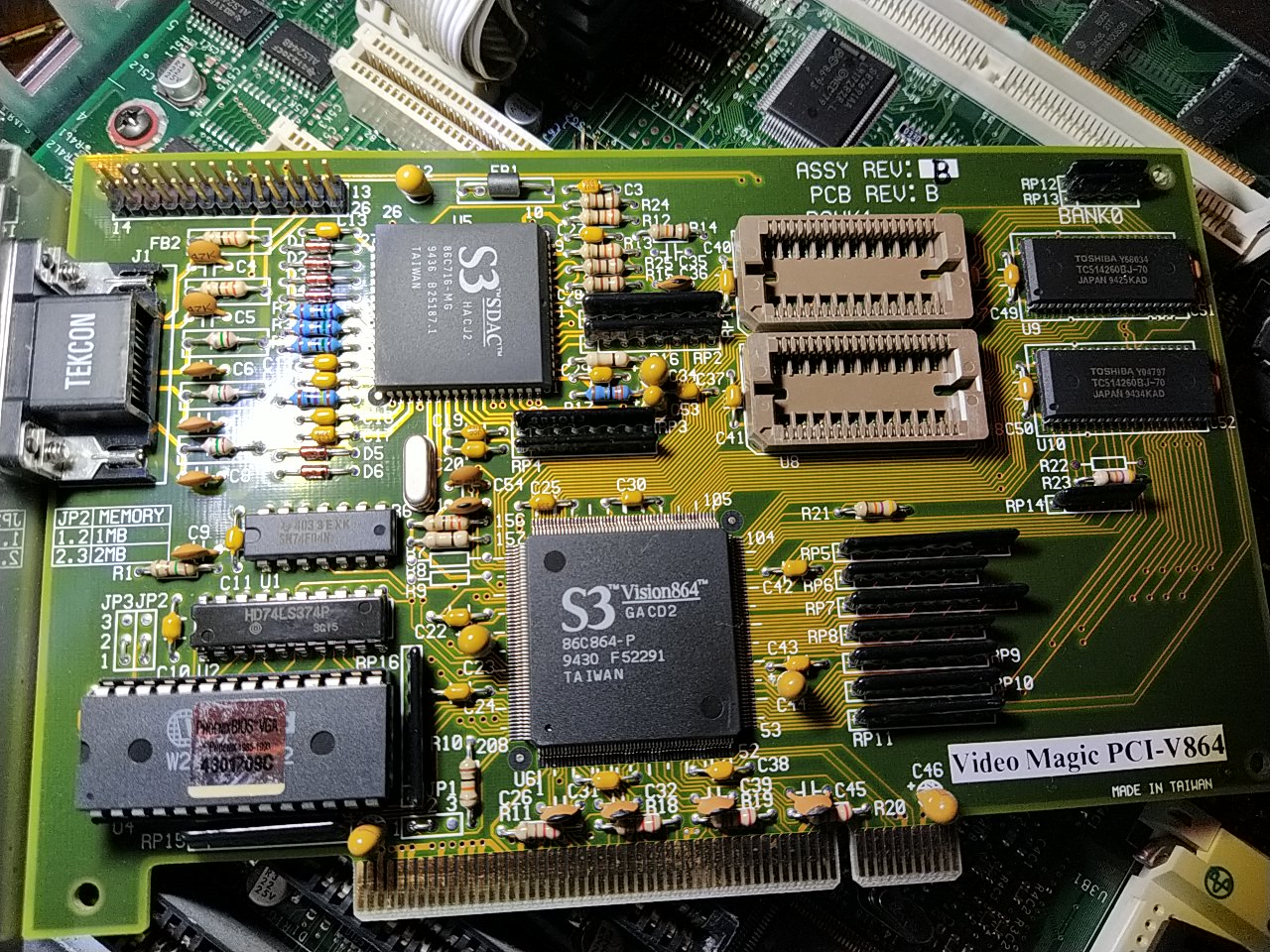 LAN adapter: Etherlink III 10MBPS capable and EEPROM socket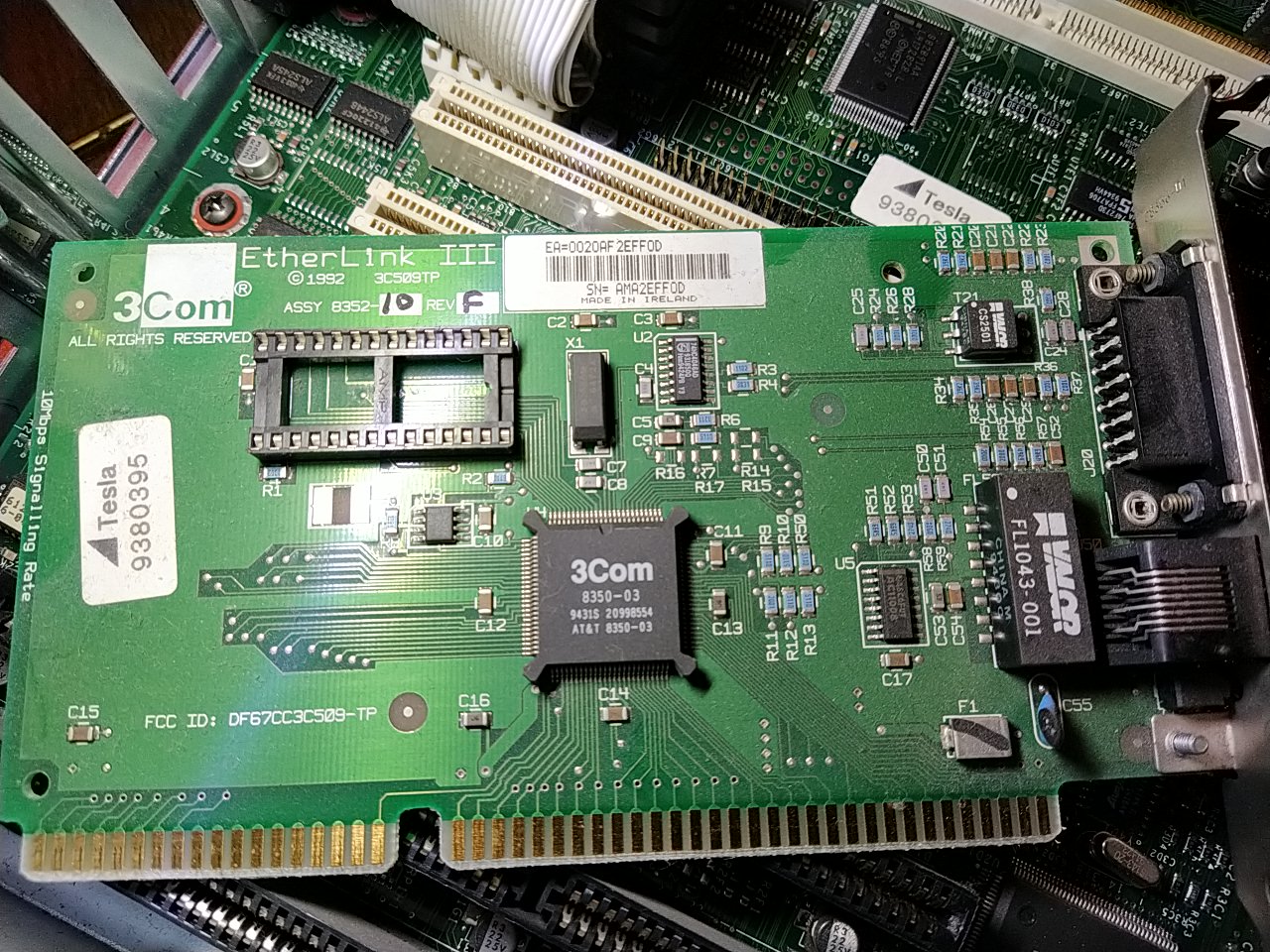 EPROM programmer controllers: not sure what they are, never owned these before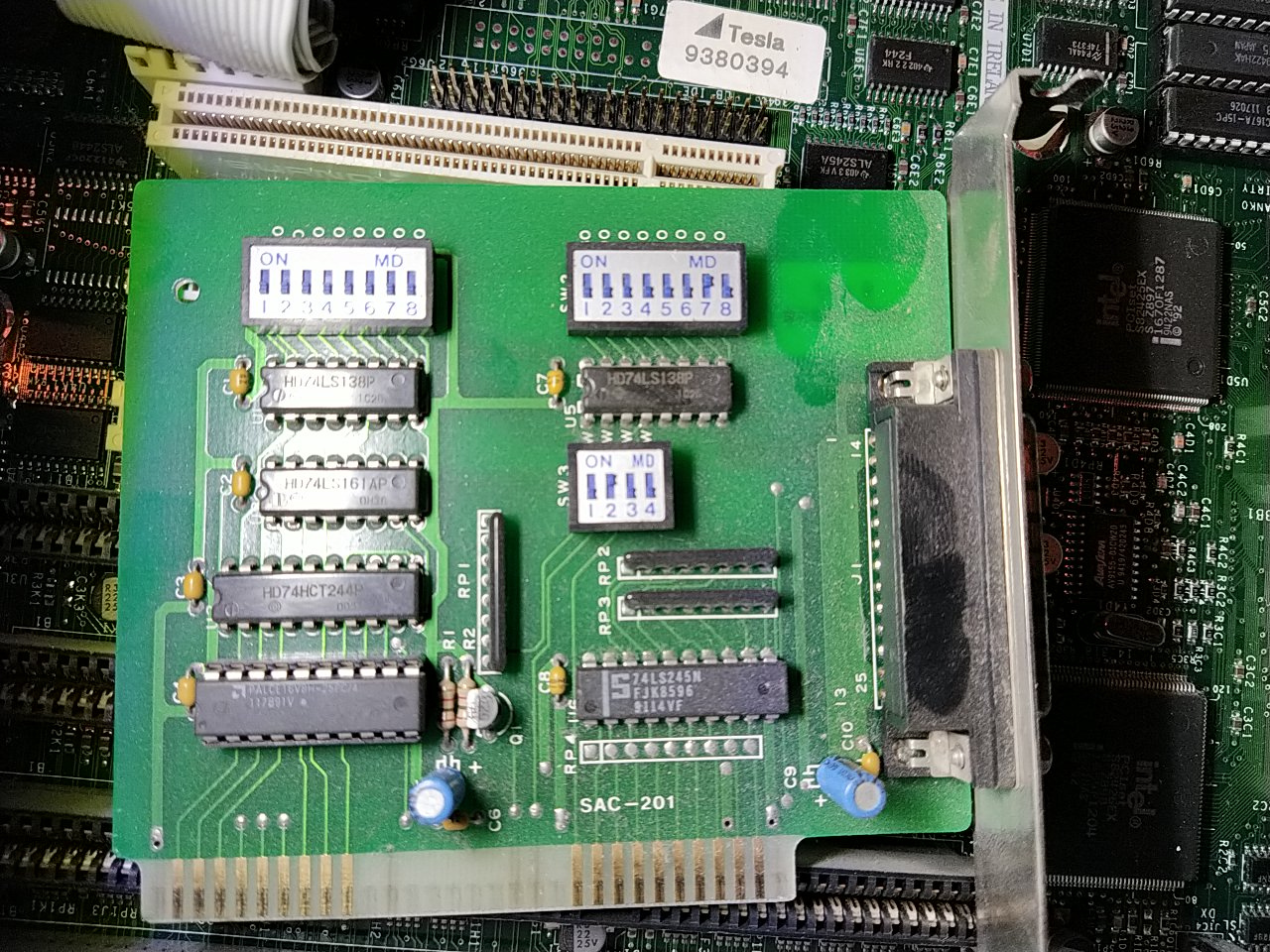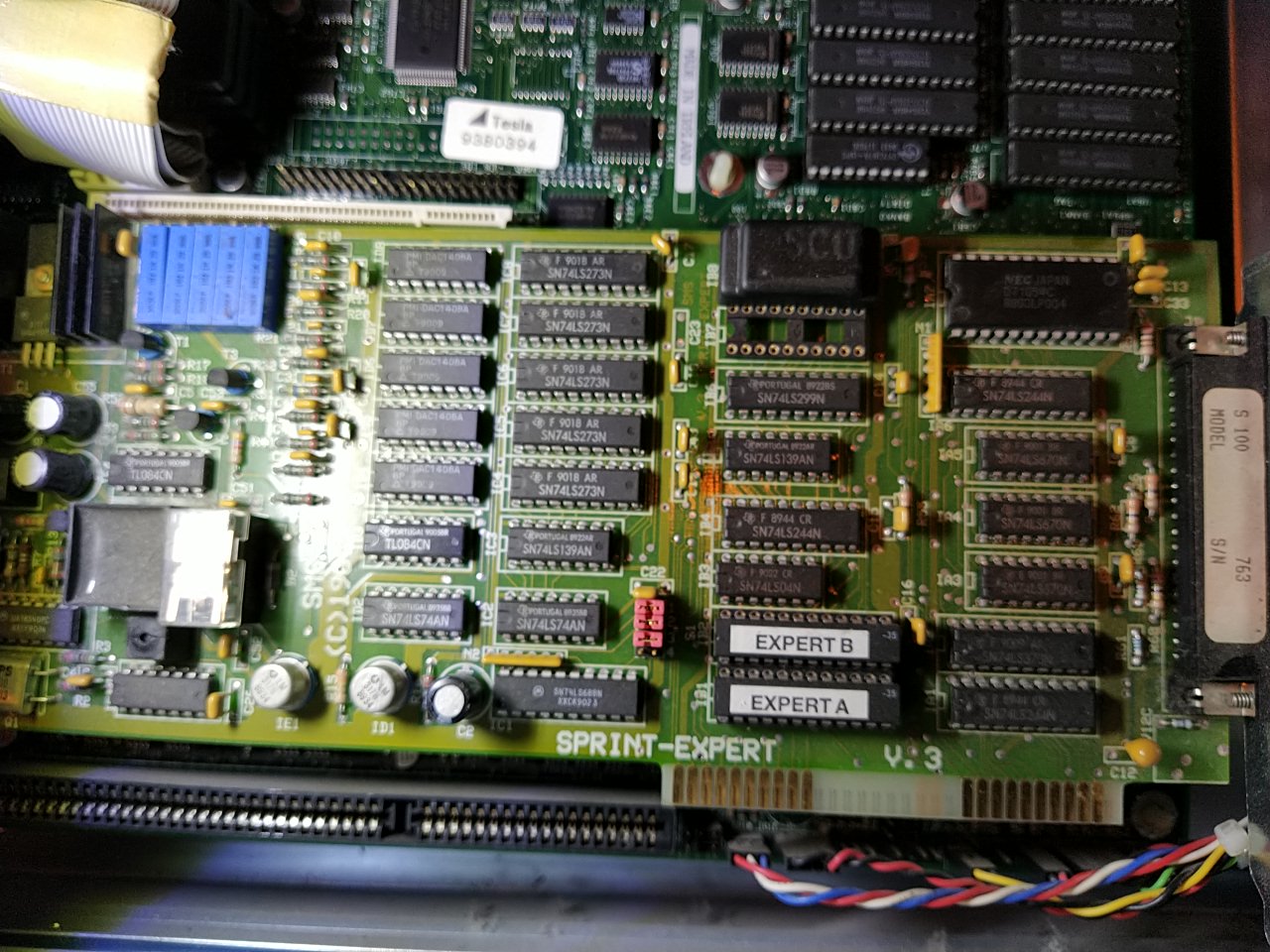 PSU: Enermax E250BT-T. just as colossal as the computer case. Supposed to be reliable but have not yet checked voltages.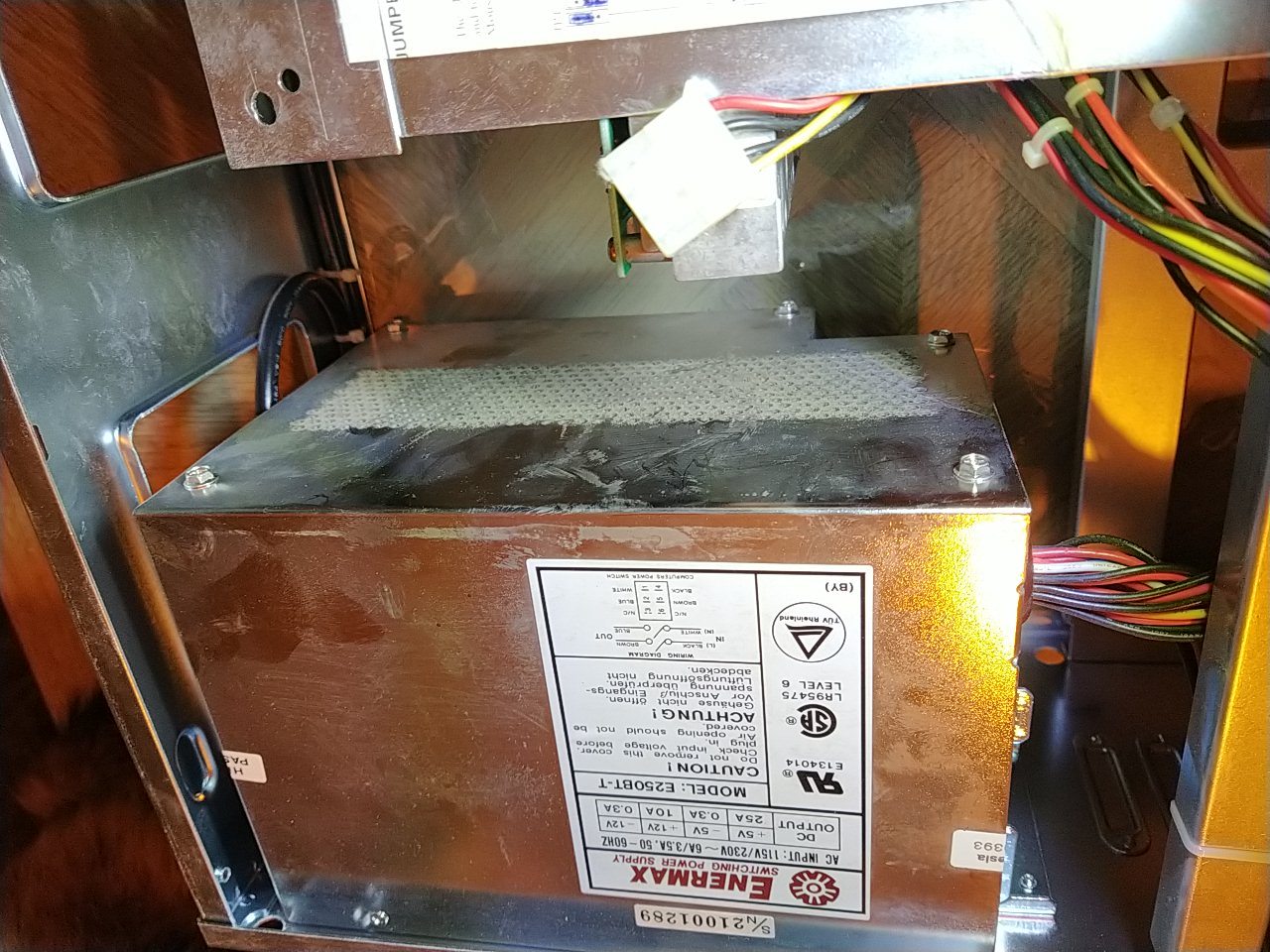 After cleaning some stuff I put back together the board, graphics card, FDD and a 64MB compactflash card for HDD. Everything looks OK so I turned the switch. Bingo.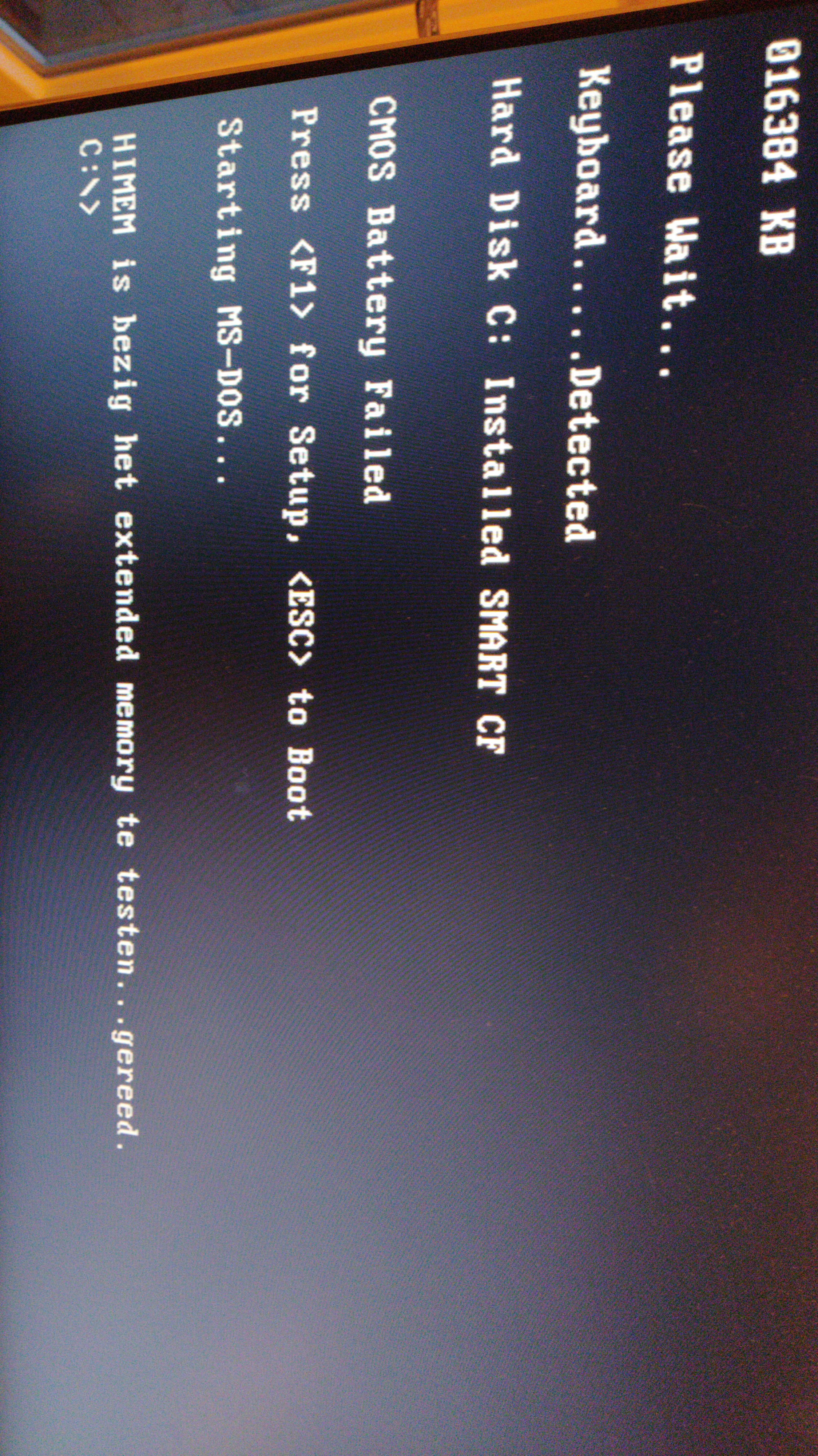 The system did turn on, gave me an error on the CMOS battery... but then just got into DOS and let me run a few tests.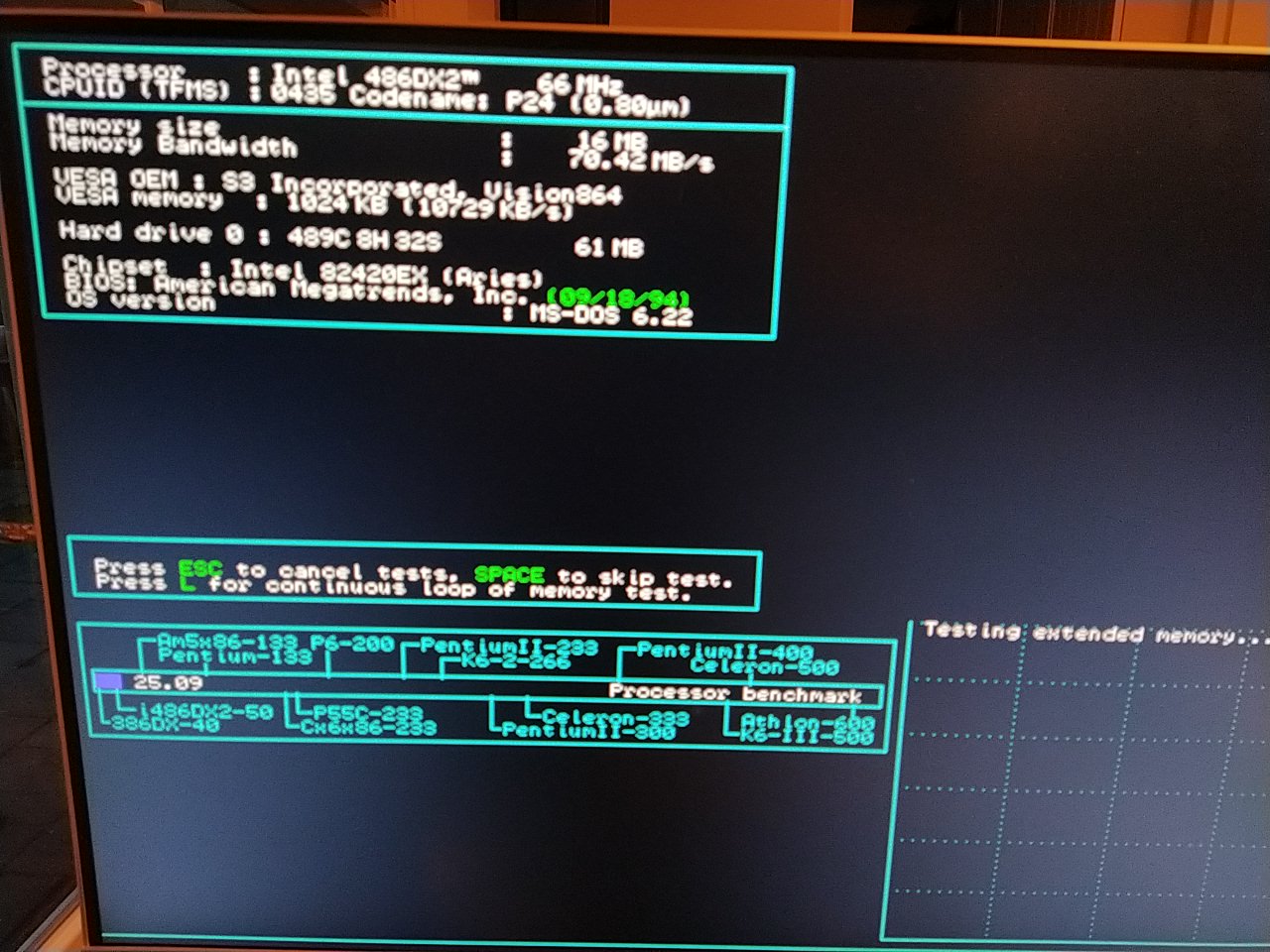 First result was around 9... then I pressed the turbo button to speed it up 😜
I could get into the BIOS but whatever I did, nothing was stored, even without turning off the power. But it's OK for now: I know it works.
Based on the chipset and some numbers I got to the motherboard brand andfigured out it is an Intel Ninja board, also known as "Classic/PCI Expandable Desktop".
This one supports a Socket 3 CPU at 25 or 33MHz FSB and can handle a SX, DX, DX/2 and DX/4 CPU.
There is a full 256kB 15ns cache socketed.
It's got onboard i/o including 2x COM, LPT, FDD, IDE (only one 🙁 ) and AT keyboard connector. Nothing special but it will do for now.
The dead battery has not leaked a single drop of accid: it's a *** Dallas clock, soldered directly onto the board. I'm going to rework it any time soon, and will keep it in place while working on it.
I'm not going to desolder it and put it in a socket: I don't intend to ever remove it when the rework is done (by placing a CR2032 socket on top)
-----
Some thoughts:
the EPROM programmer controllers wont be returning for now.
a soundcard will be added, not sure which one.
It definately needs onboard IDE.
a hard drive will be added, probably a 400MB I've got laynig around Probably along with a CF reader.
Or maybi it supports LBA and I can go to about 800MB-2GB.
the 1997 CROM drive will be out for good; colour doesn't quite fit.
maybe I'll put in a 1995 model it the soundcard has IDE.
I've got a Soundblaster 32, but it's got the hanging note bug... so not sure yet.
think about memory config.
16 MB is certainly enough (but 32 or 64MB might be tempting for obvious reasons.
I do have 60ns mem laying around, so maybe it will give the system a little boost on demanding stuff... if it can be cached of course.
think about a DX/4 if I can find one cheap. PCI and a DX/2 just alsks to be upgraded.
Besides I already have 3 DX/2-66 systems running (and a DX-50) 😀
Would a 5x86 be supported / work?
Graphics. Stick with the S3-V864 and upgrade to 2MB or go for something else?
Replacements may be:
- S3-V968 with 4MB
- S3 Trio64 with 2MB
- S3 Virge with 4MB
- Matrox Millennium something with 4MB
- (go for an ISA card... nah... I'll keep that for my DX-50)
OS: not sure yet.
- Windows 98SE (and add USB2 if supported?)
- MS-DOS 6.22 with Windows 3.11
- PC-DOS 7+ with Windows 3.11
- Freedos?