First post, by bassix6
After building a Windows 98SE PC, I realized that a lot of the games I wanted to play were bitter fit for a Windows XP pc. I didn't waste any time and started to hoard parts for a overkill XP PC that will be able to run anything from 2002 to 2010.
Apart from the SSD and PSU I tried to buy parts that are from the 2009/2010 era. I managed to find everything in thrift shops or Marktplaats (The Dutch E-bay 😉 ). All in all I think i've spend between 150-180 euro's on the project, which I'm pretty happy with. The system runs amazing and the games I tested TES: Oblivon, Hitman Blood Money and Max Payne 2 run buttery smooth!
Compared to the Win98 PC, the installation of this XP rig went really smooth. It might be due to the fact that I know more about retro gaming, but maybe technology just got more user friendly through the years.
The only problem I ran into was when I tried to install the Radeon 5870 in the Thermaltake case. The GPU was too long and I had to drill out the HDD bays, which was an annoying task.
On to the fun part! These are the current Specs:
Motherboard: ASUS P6T SE
CPU: I7 930
GPU: ATI Radeon 5870 1 GB
RAM: 4 GB DDR3 (Kingston Technology 99U5458-002.A00LF)
Soundcard: Audigy 2 ZS
240 GB SSD (PNY CS900)
Thermaltake Soprano RS 101
Zalman cnps9900 Max Blue CPU cooler
650 Watt PSU (Corsair TX650M)
Pictures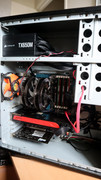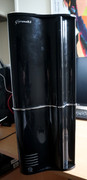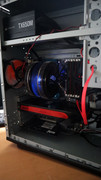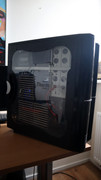 Future plans
- I have a spare 1 TB HDD that I want to install. However as I had to remove the HDD bays from the Thermaltake, I can't find a reliable way to mount it. I'm thinking about using velcro and sticking it to the bottom of the case.
-I'm still looking for a good 4:3 monitor to go along with the pc. I hope to find a Dell 2007 FSB.
- Recently I found a Sapphire Radeon HD 5970 for 12.50 euro's. I might install it in the rig, but don't see a need for it at the moment
- The Audigy 2 ZS could be upgraded with the Creative X-FI Xtreme Music, although this isn't a priority