First post, by mpe
Over the years I accumulated quite a few of different vintage VL-Bus graphics cards.
I started benchmarking them on my Vl-Bus NexGen 586 system. I thought it was a good idea as NexGen system is a 5th generation platform which should perform favourably against 486 removing many bottlenecks.
Retrospectively I don't think the NexGen system was a smart choice for this. It is rather an obscure system, doesn't have FPU and I suspect some cards don't play well with it.
Thus I want to build a new reference VL-Bus setup. A high-end 486-class platform where I could test/run my cards on. Something that is compatible and easy to maintain and work on.
I decided to use AMD 5x86-133 MHz which is arguably the best 486-class CPU ever made. It is fast enough to not hold any graphics card back without having to resort to overclocking or problematic options such as Cyrix 586 or Pentium Overdrive.
As for the motherboard I definitely want a VIP motherboard (the one with both VL-Bus and PCI slots). The motherboard should have as few quirks as possible, built-in I/O, work with 5x86 with most aggressive settings, support EDO RAM and fast L2 Cache.
For now I decided to use this PC Chips M919 rev. 3.4 motherboard. In my opinion this motherboard ticks all the boxes for a high-end 486 system. It supports all CPUs and seems to be working with most of my cards. The only card I couldn't run in it was ARK1000 VLB (Bali32). I tried several copies of card (and different revisions of M919) and it only works is slowed down to 1 WS (by jumper), which is disappointing. I might experiment with another VIP board (ASUS PVI-486SP3), but for now this is what I use.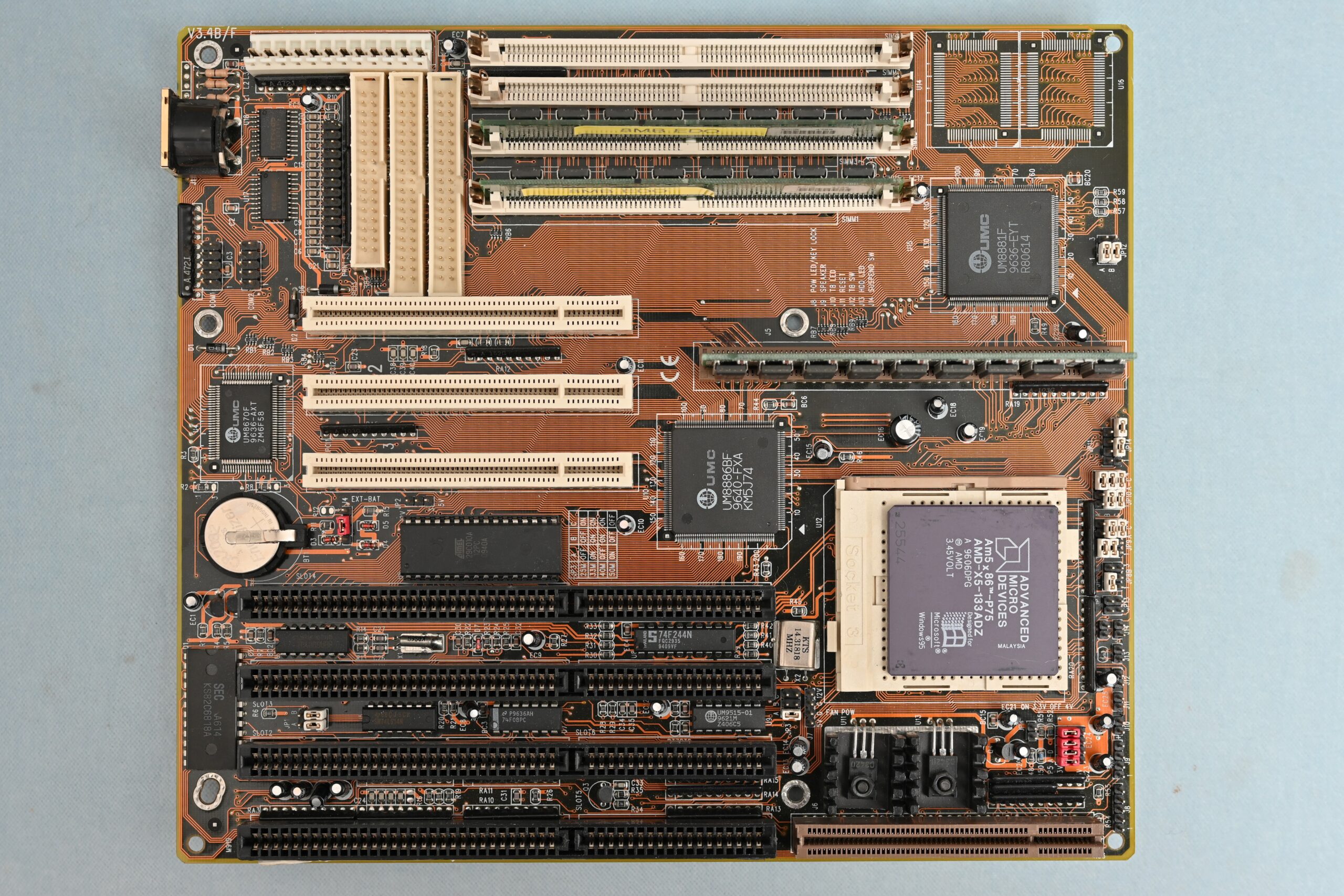 Now for case I could well use yet another retro beige case, but given this won't be a permanent system and I will need frequent access I decided to try one of these open cases from Amazon. It is designed fot ATX or mini-ATX boards, which are taller and narrower that baby AT retro boards. However, slightly smaller M919 fitted just fine. Building the case was surprisingly difficult as it comes completely disassembled and it contains two dozens of different screws and connecting bits. It was quite hard to align everything, but I somehow managed to fit the board in.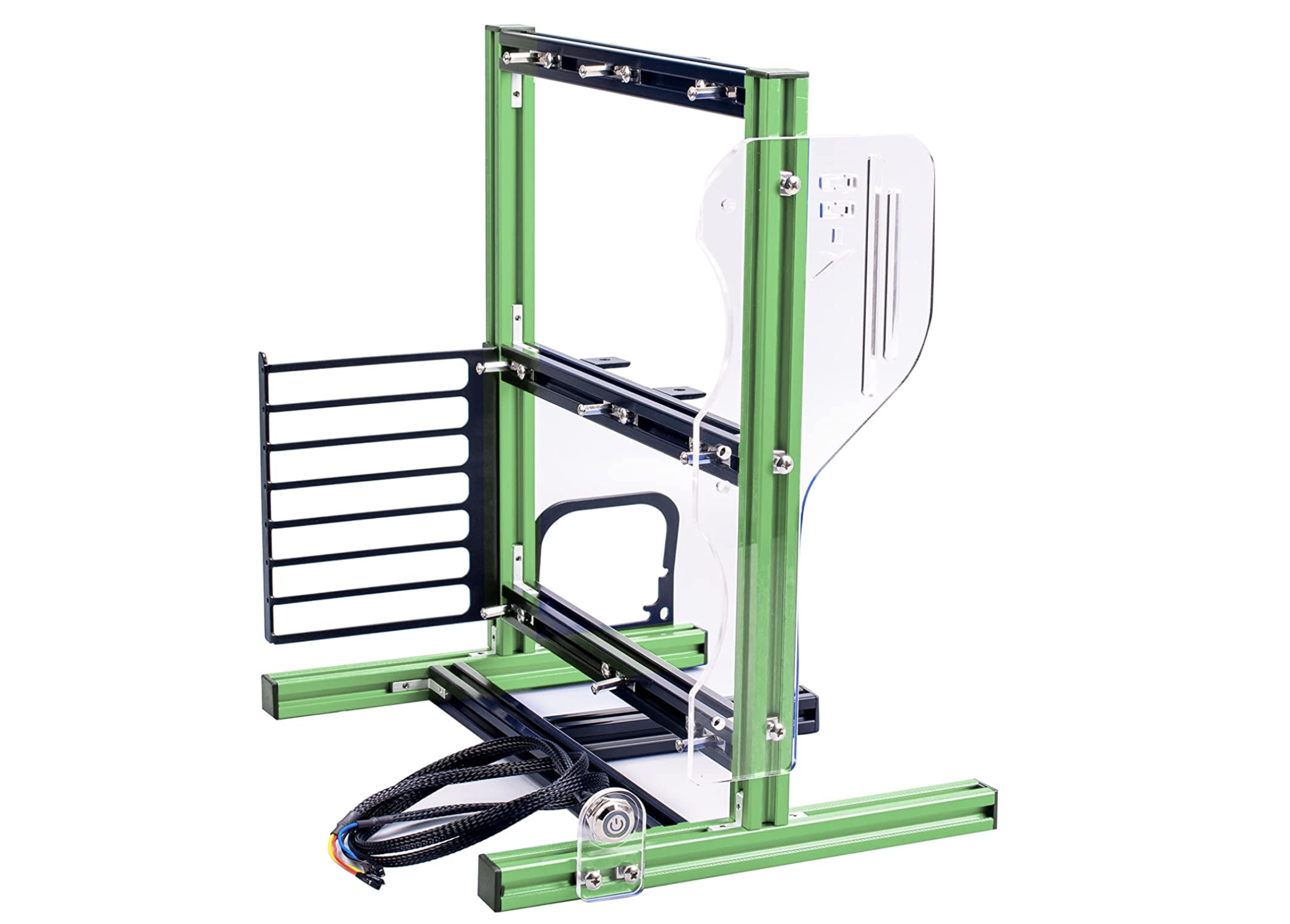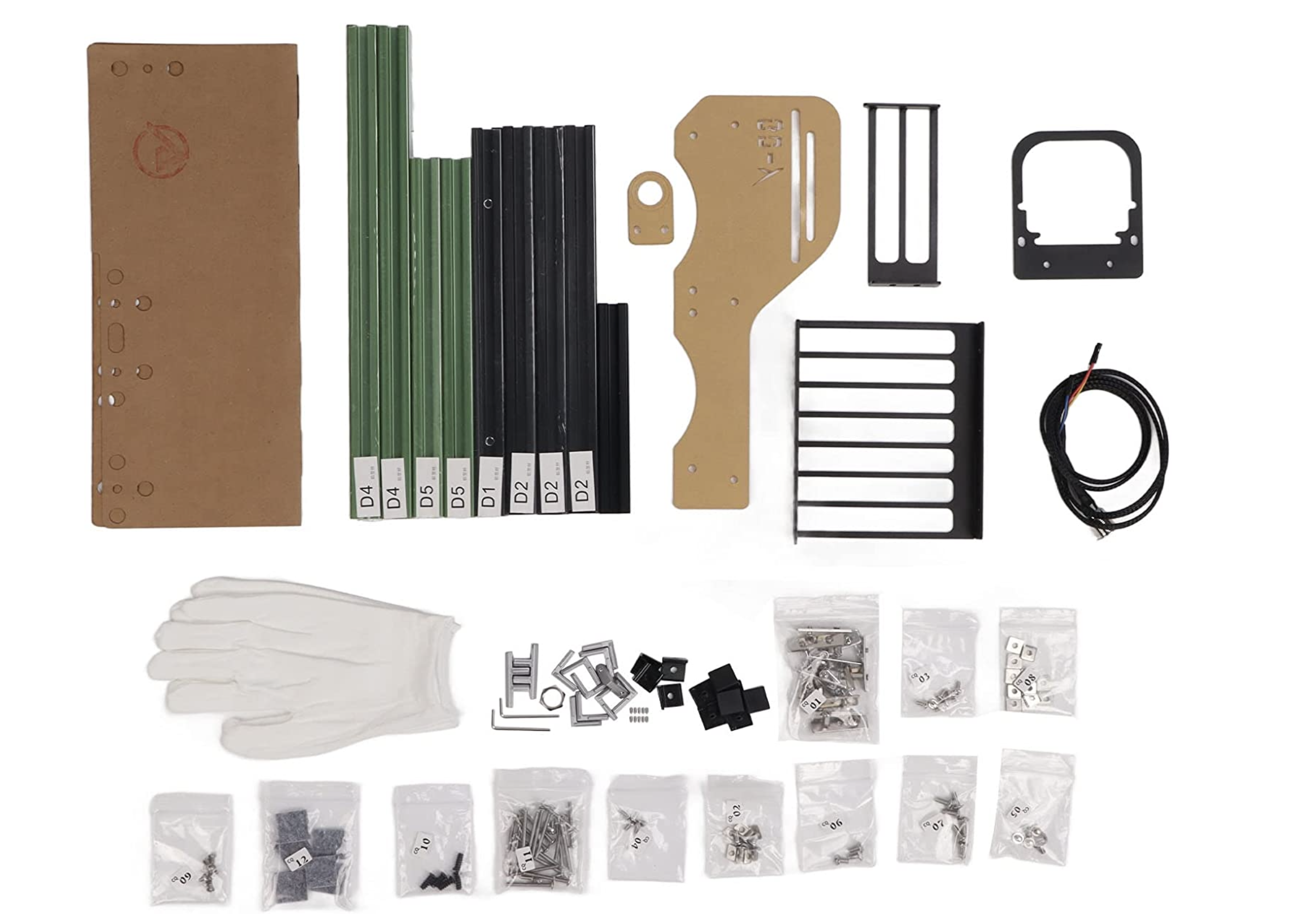 I've put an older ATX PSU and AT2ATX converter, 3.5" floppy drive and 512M CF card in adaptor and put it all together: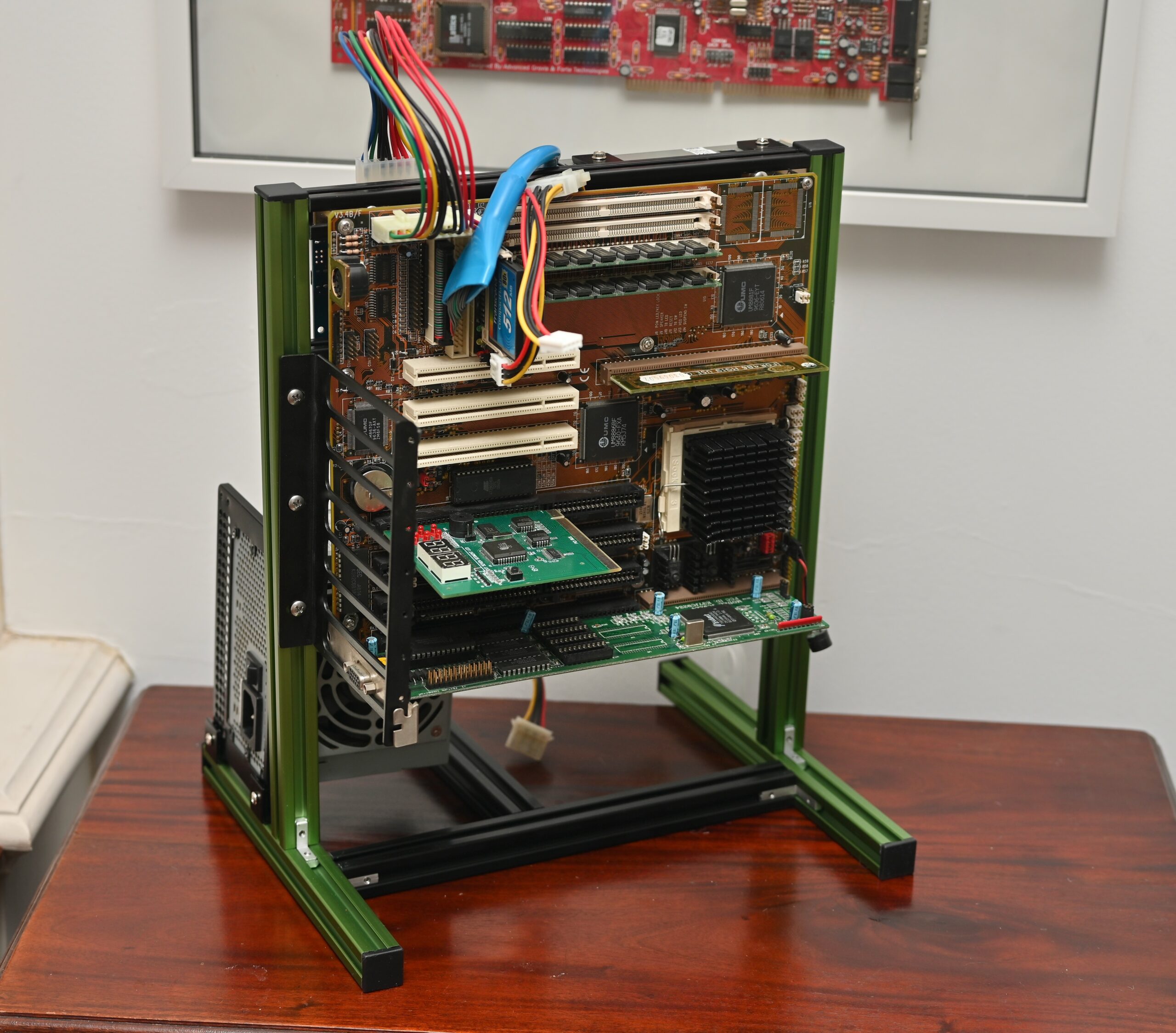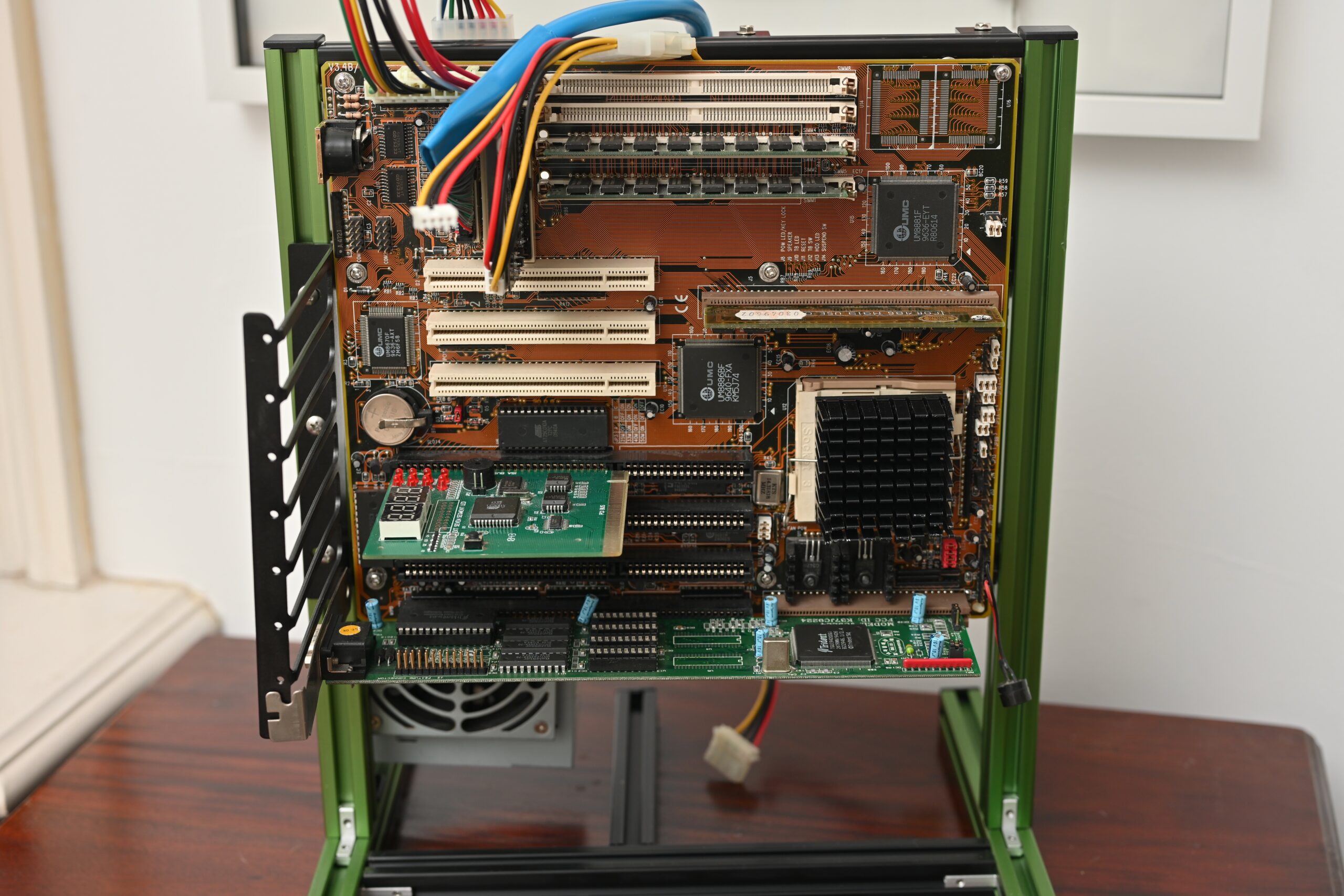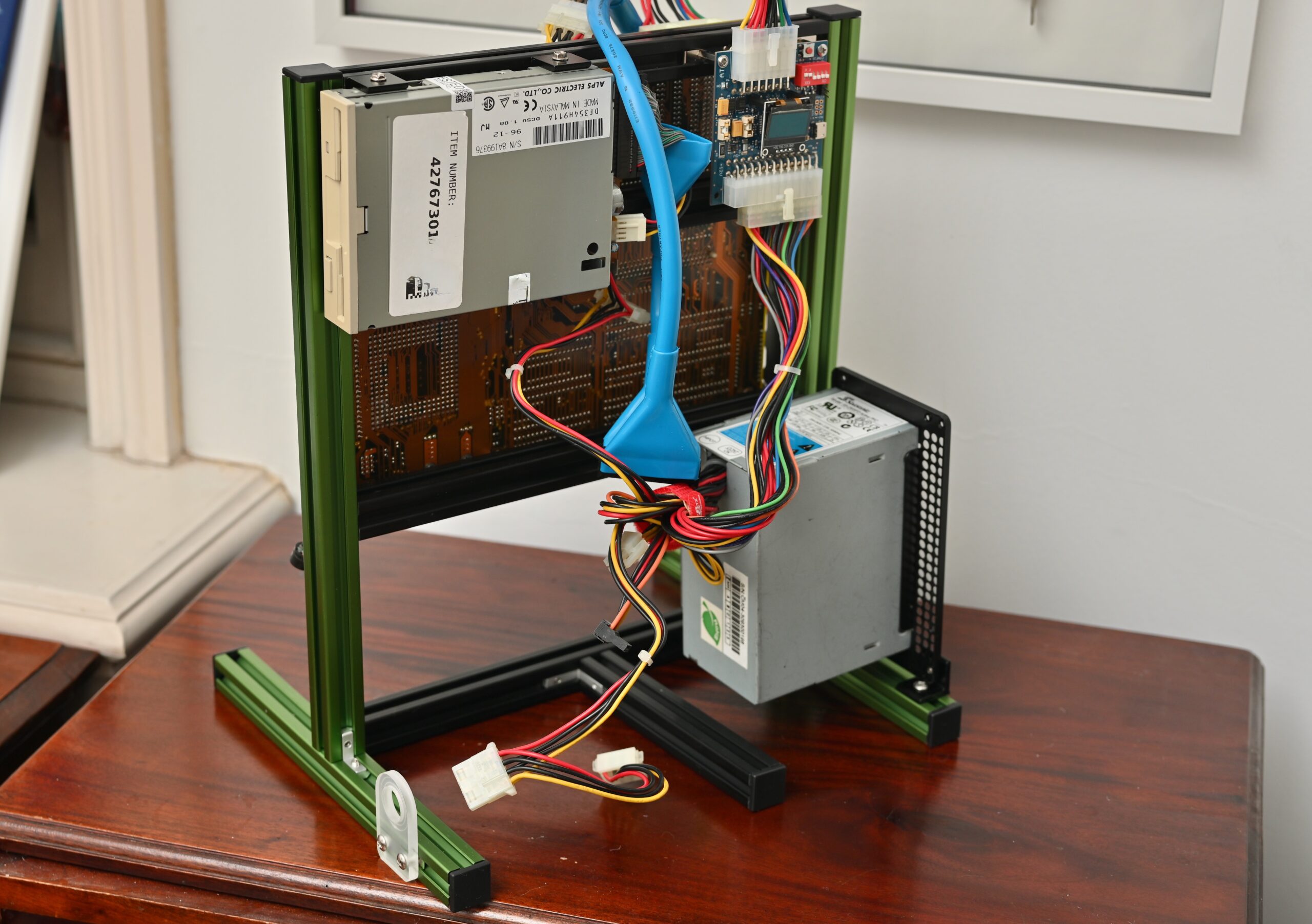 I am still not sure if the M919 is the best choice, so will keep experimenting to make sure it is the most compatible board, but I like the compactness and elegant nature of this build so far.