First post, by MKSheppard
I solved my problem, but here it is for those who may come after me in the future -- hopefully I didn't mangle my explanations too badly:
The Problem
Installing Star Trek: Judgment Rites from the original 3.5" 1.44MB disk media is pretty tough to do as the installer program is a product of the era it was programmed in.
Judgment Rites' installer uses a fairly complex early 1990s era ARJ decompressor to extract the files stored on the disks; and you will run into the dreaded:
"[file] is not the same date/time, Skipped [file]"
error if you use stock DOSBox, which leads to this: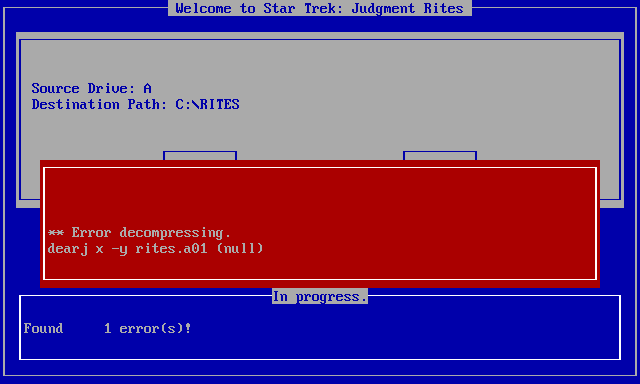 The reason for this is that the stock DOSBox build doesn't support preserving the original date/time stamp for copied over files, via INT 21/57.
This is a very obscure DOS specification which was used very rarely, so it isn't supported by DOSBox.
This BTW, is why the DOSBox team says you should NEVER use it for anything other than games.
ykhwong's unofficial DOSBox build(s) support this INT 21/57 spec, so the Judgment Rites installer will now work correctly.
References:
VOGONS Link 1
VOGONS Link 2
How to Install JR
Here's the LINK to ykhwong's page to get his specialist DOSBox version.
Step 1: Copy all the files off your 11 x 1.44 MB floppies into a folder. (I called mine "JR_All".)
You should have the following 28 files in that folder:
DEARJ.EXE
DISK.001
DISK.002
DISK.003
DISK.004
DISK.005
DISK.006
DISK.007
DISK.008
DISK.009
DISK.010
DISK.011
FILE00.EXE
INSTALL.COM
MISC.ARJ
REACH.EXE
README.DOC
RITES.A01
RITES.A02
RITES.A03
RITES.A04
RITES.A05
RITES.A06
RITES.A07
RITES.A08
RITES.A09
RITES.A10
RITES.ARJ
This is because I prefer to image my original media as disk images, to preserve it; instead of using the original media for installs. DOSBox doesn't allow for switching floppy disk images -- luckily the JR installer will work with all the files copied to a single folder, unlike some other installers from that era.
Step 2: Load up ykhwong's DOSBox and mount your "JR_All" folder as a floppy drive, along with your usual folder that you use to represent your virtual hard drive.
Step 3: Making sure that cycles are set around 6000 to be safe; start up the Judgment Rites installer (INSTALL.COM).
Step 4: Wait.
Step 5: Wait some more.
Step 6: Wait even more. It will seem to hang around "Decompressing Sounds Part 2", but don't close the DOSBox window or give up. Eventually it'll move onto the next file to decompress.
Step 7: Wait some more.
Step 8: The README.DOC file says this (no joking):
Star Trek: Judgement Rites
Stardate 12/09/93 21:18
Readme and Addendum

2. Initial installation takes approximately 20 minutes to read all eleven disks. After this, additional installation processing will continue for approximately 1.5 hours. The computer will beep when it is done. You do not need to be present during the additional 1.5 hours processing.
Don't you miss the closing days of floppy disk based installers?
If all works, you should eventually end see this screen:
And from there on, it's a few choices onwards to a working stock floppy install of Judgment Rites.