Reply 27760 of 48725, by dionb
My non-x86 side got very happy today: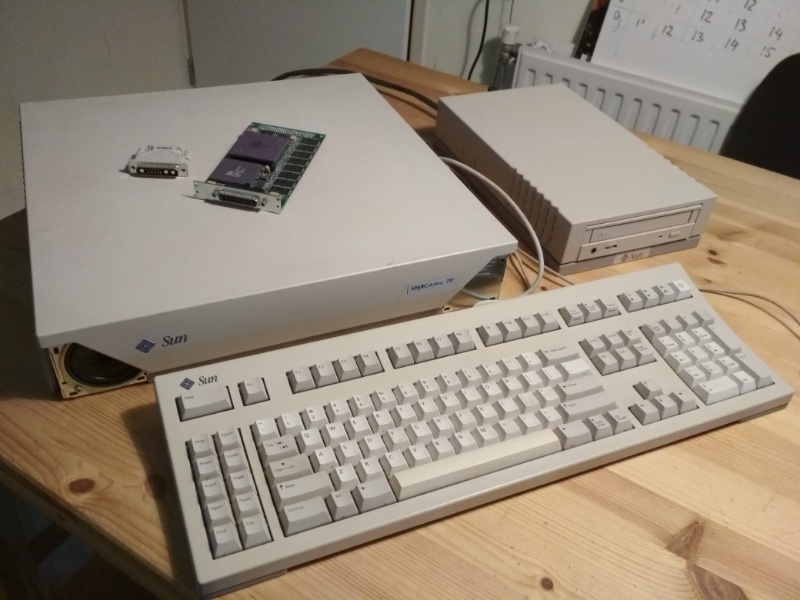 A Sun Sparcstation 20 with a separate SCSI CDRom drive in a 'lunchbox' (slightly newer than the SS20, that styling fits an Ultra 2), a Type 5 keyboard and (ball) mouse, and a spare TurboGX framebuffer.
Then looking inside:


A single MBUS CPU module, an SM61 (60MHz CPU, 50MHz bus) by the look of it, and a fairly miserly 2x 32MB DSIMMs for 64MB of RAM (these things max out at 512MB and Solaris 9 is SLOOOOW under 192MB). If I want to seriously use it, that needs addressing. Finally another TGX framebuffer and a combined Sun SCSI & Ethernet card (not sure why, it's the same SE-SCSI and 10MbE as the thing has onboard), and two SCA SCSI HDDs (1.05GB and 4.2GB). Oh and, the plastic Sun used realy, REALLY didn't age well. Basically anything I touch disintegrates 😒
So, grabbed the relevant cables and my Sun TFT and booted: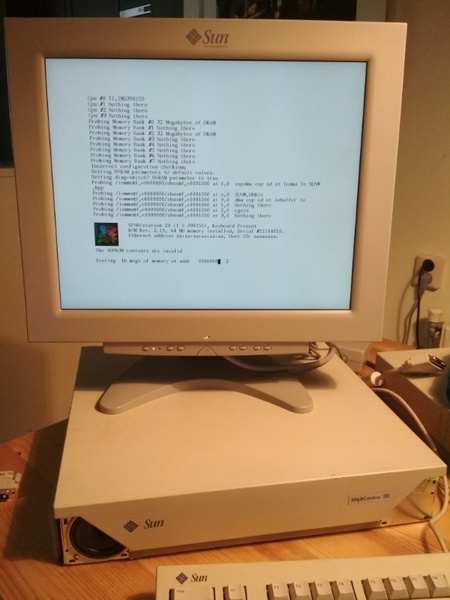 Good news: the basic hardware works, with CPU, RAM, HDDs and (after a bit of probing) CDRom all being detected.
Bad news: the inevitable aa:aa:aa:aa:aa:aa MAC and "The IDPROM contents are invalid". Yep, after a quarter of a century the RTC is dead.
Oh well, I know the drill by now: look for a new NVRAM RTC module or get out that dremel... 😉