Reply 29300 of 51109, by appiah4
I don't like paying this much money for a system to be honest but grabbed this case for $35.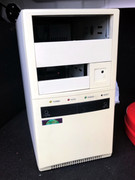 That's because it had the following inside:
As some of you may know I am currently having trouble getting a 386SX-40 board with cache to work but I've been making a lot of promising progress lately. That got me kind of interested in other 386 boards so when I saw this motherboardI sprang for it. It turned out to be only an SX-25 but if I can't get the SX-40 working I now have a fallback option.
The case itself is incredibly dirty shape but it should be a decent case once I clean it up. There is a speed display LED under the black glass.
Last edited by
appiah4
on 2019-06-28, 13:45. Edited 1 time in total.
Retronautics: A digital gallery of my retro computers, hardware and projects.