luckybob wrote:

dionb wrote:Actually newspaper is pretty good - its electrical characteristics are almost exactly the same as antistatic bags (i.e. it conducts very, very badly, but nonzero - so ESD-safe) and a few layers of it give better mechanical protection than a bag.

Compared to some of the other packaging I sometimes see, newspaper is one of my favorites.

I'm gonna call bs on this. But i'd wager is is better than plain styrofoam (not much of a competition there, bth)
Compared to plain styrofoam a woolen jumper woundn't even sound too bad. But why BS? The job of antistatic bags is to avoid any static charge buildup by (very slowly) leaking charge, and at the same time equalizing charges by conducting at least something. That's not rocket science, it's just a very high but very much not infinite resistance. Essentially antistatic bags are just reliably, reproducibly conducting through their material, while slowly leaking charge to ensure that whatever potential is present inside is the same as outside.
Newspaper isn't reliable or reproducible, but it essentially does the same. It beats any form of (non-conductive) plastic packaging, which unfortunately seems the norm.
I tell non-business shippers to use aluminum foil. 100% sure to short all pins together, thus preventing esd from penetrating the chip.
Assuming the aluminium foil doesn't tear. But yes, full conductivity - so essentially a faraday cage - is another approach that can work.
Edit:
Got my new toys working today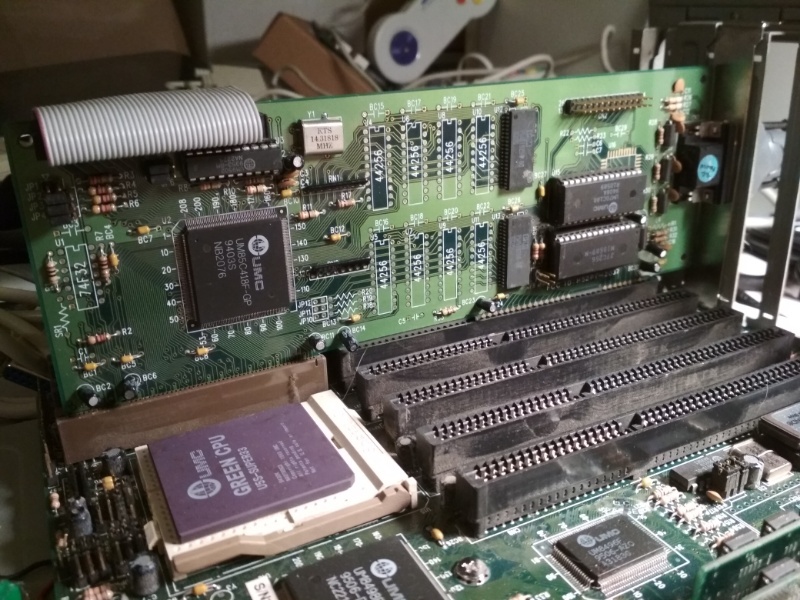 Puretek PT-2037, aka UMC UM85C418F-GP VLB board. Replaces my crappy UM85C408AF ISA VGA board in my UMC build. So far so good, it improves 3DBench scoers from 26.3 to 37.0. No FDD though, so I still need my multi-I/O card for that.