Reply 11700 of 17892, by dionb
Having done a *lot* of tidying up the spare room recently, I've at last found time to get working on my backlog of actual projects.
First off, I have a nice So3 voltage interposer that lets me run an Am5x86 CPU on any regular 5V 486. That's exactly what my ECS EISA board wants. Unfortunately it was missing a big MOSFET when I got it. Soldered that on a while ago, but that MOSFET urgently needed a heatsink. Of course, despite having a lot of dead boards etc, none even remotely fitted the MOSFET. So today I took a big aluminium heatsink from the linear VRM of a dead So7 board, got out the dremel and cut it to fit. Don't know what they put in that aluminium, but it was HARD to cut through - but with a bit of perseverance I got it shaped the way I wanted it: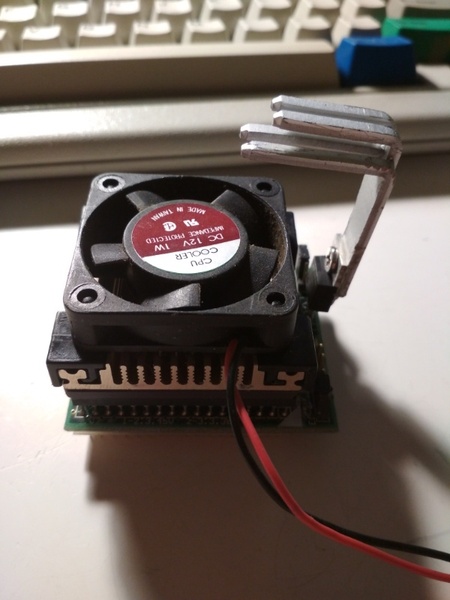 Next there was my Asus PCI/I-P5SP4 board, an So4 board with Pentium 60. Of course its Dallas RTC was dead. Fortunately it was socketed and I have a replacement. Bigger challenge: the plastic tab the socket lever rested behind had broken off. The system worked when I held down the lever, if not, not. After messing around with various clips that either didn't do the job, or risked short-circuiting stuff, on a hunch I tried a rubber washer from some anti-vibration mount for a HDD around the lever. It worked - enough friction to keep the lever where I wanted it, without risking anything else in the process. Still one to-do though: the fan on the heatsink was completely dead. I replaced it with another, but it's noisy as hell (well-used low-end Target fan that's already 20 years old...), so have ordered a few Gelid fans to sort that out.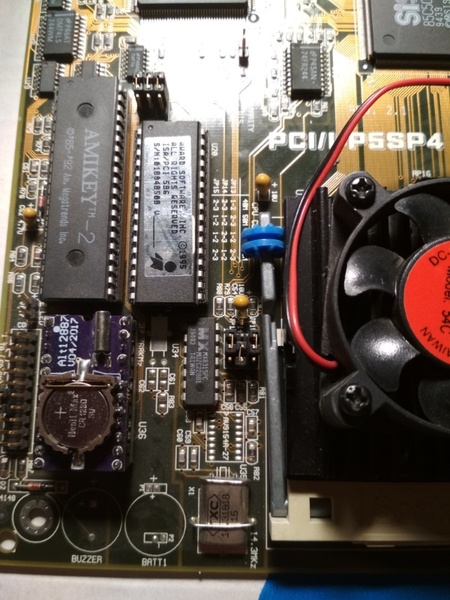 While I was at it I tested my 512MB PATA DIsk-On-Module. It works perfectly (at least after an FDISK /MBR to remove Grub to let DOS boot). I'll be ordering more of these things 😀