Double-fail here yesterday...
I have this nice mid-period 486 board with EISA and VLB that unfortunately had a soldered Dallas RTC, which was of course completely dead.
So, after quite some desoldering I managed to remove the offending unit and (with rather less effort) added a socket to plop a replacement onto: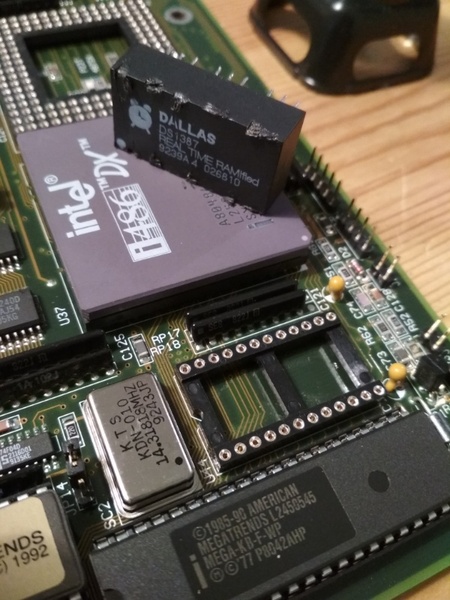 Looks shiny - so why a fail?
Firstly, note the RTC - it's a DS1387, not a DS1287; something I should have seen before I started. That means it's "RAMified", i.e. it has 4k SRAM onboard - and that there is basically no like-for-like replacement available. I also lost two of its legs while trying to remove it, so even if I try to mod it, I'll have fun getting it hooked up again. That said, the way it was nestled down in between two other chips means that I couldn't have operated on it in-situ anyway, so this bit was inevitable.
Secondly, I think I killed the board. Previously it would boot with no more complaint than CMOS settings invalid. Now, it starts the very beginning of POST, but stops at 0d. Not good.
Two possibilities:
1) the board tries to access the SRAM on the DS1387 early in the POST and if it can't find it, stops there. In that case I could try to fix the DS1387's legs (the ones I killed are CS and OER, i.e. RAM output enable - so directly related to the SRAM) or get another one less mutilated.
2) the board would boot happily without the DS1387 and its SRAM, but I borked something else with my cack-handed soldering and it's total loss.
This is the first time I've worked on a system with a DS1387. Anyone who has handled them before know what expected behaviour is if you try to boot with the DS1387 removed or defective?