First post, by Skyscraper
After half a year without much time for tinkering with the retro systems I finally found the time to play around a bit with my Gigabyte GA-5AX rev 5.2.
It has the bugged Aladdin 5 chipset so it can only cache 128 mb when used with a CPU without on chip L2.
First I tested an intel 166 MMX CPU. This CPU accepts 2x 2.5x 3x and 3.5x multipliers and worked great at all speeds up to ~300 MHz @3.5v
One thing that did bother me a bit though was that FSB speeds over 100 MHz was not really 100% stable at any multiplier with the onboard L2 activated, and without L2 the performance took a serious hit. Then I tried a CPU with on chip L2 so I could disable the onboard cache without much of a performance loss, the optimal CPU would have been a K6-3+, I do not own one of those but I do own a K6-2+ 500.
The K6-2+ was gaming stable at 6*100 MHz @ 2.2v but needed 2.3v to be able to loop 3dmark2001. Knowing that the CPU topped out at ~600 MHz I tried a few combinations with higher FSB.
In the end I ended up with 4.5*130=585 MHz @ 2.2v. The 130 Mhz FSB makes the PCI run at 43.33 MHz and the AGP run at 86.66 but the vortex 2 sound card and geforce 2 MX 400 video card seem to be happy enough. I did also test an ISA SB32 PNP but it did not like the 130 MHz FSB and played garbled sounds regardless of BIOS tweaks.
Here are some screenshots. OS is Windows 98SE.
First a somewhat crappy Super Pi 1m score with the Pentium MMX @ 3x100 MHz as a reference.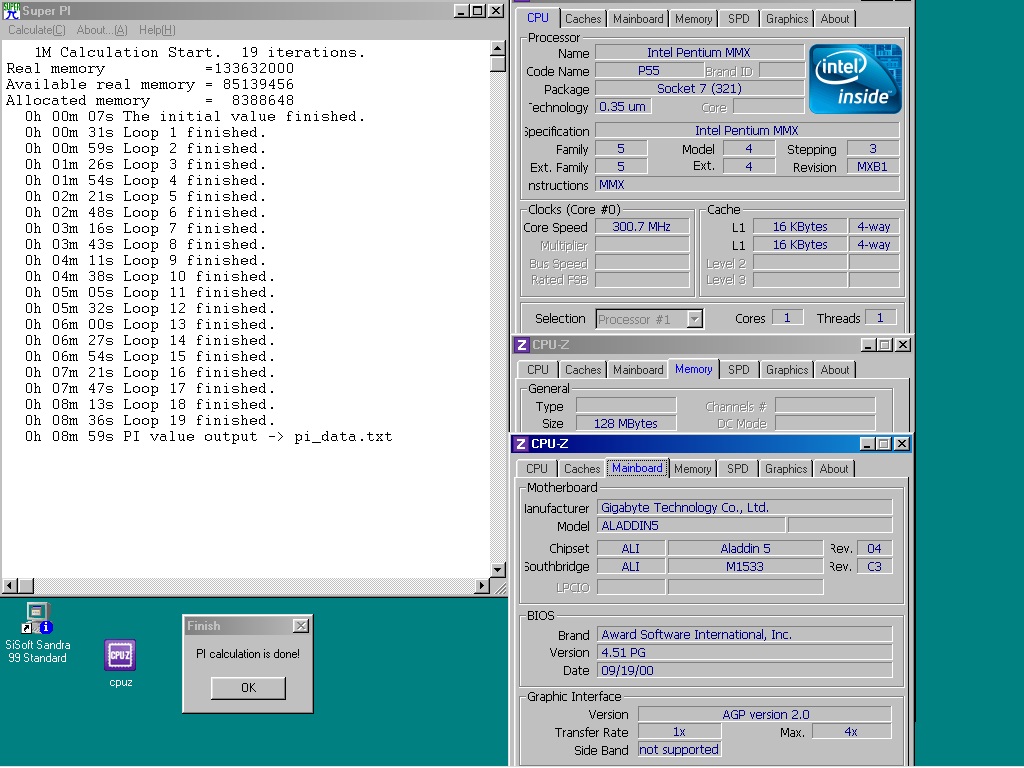 Here is the Super pi 1m score with the K6-2+ @ 4.5*130 MHz, Onboard cache off otherwise same bios settings as the Pentium MMX@300)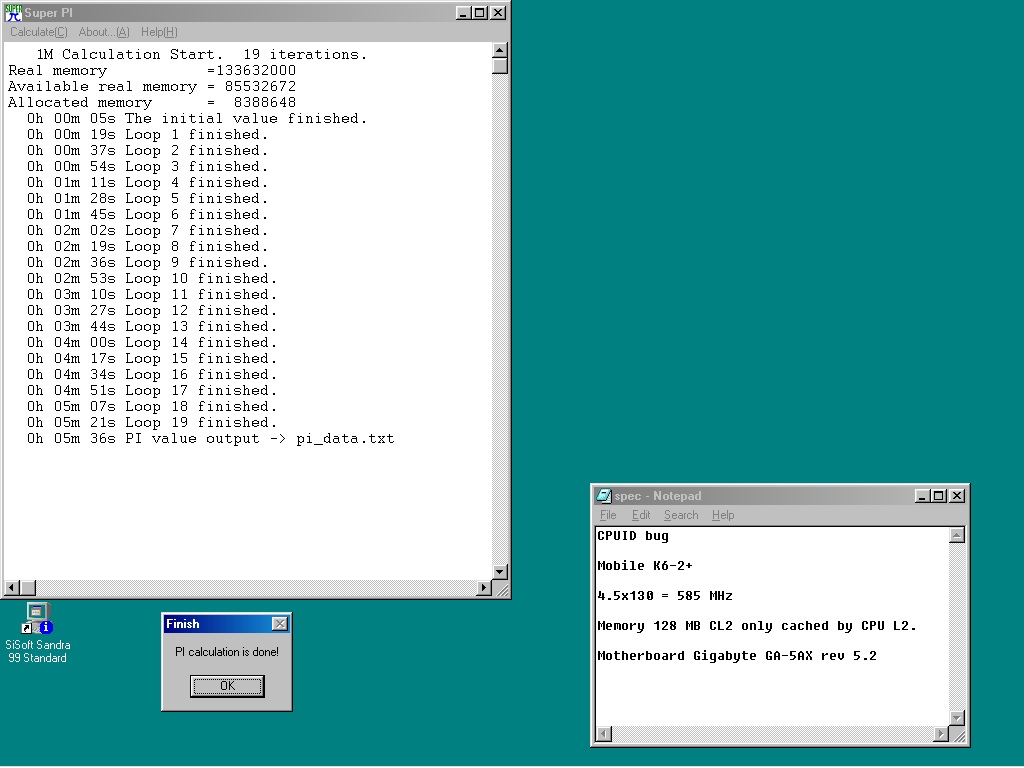 Sisoft Sandra 99, the memory score is not too bad for a socket 7 system! 😀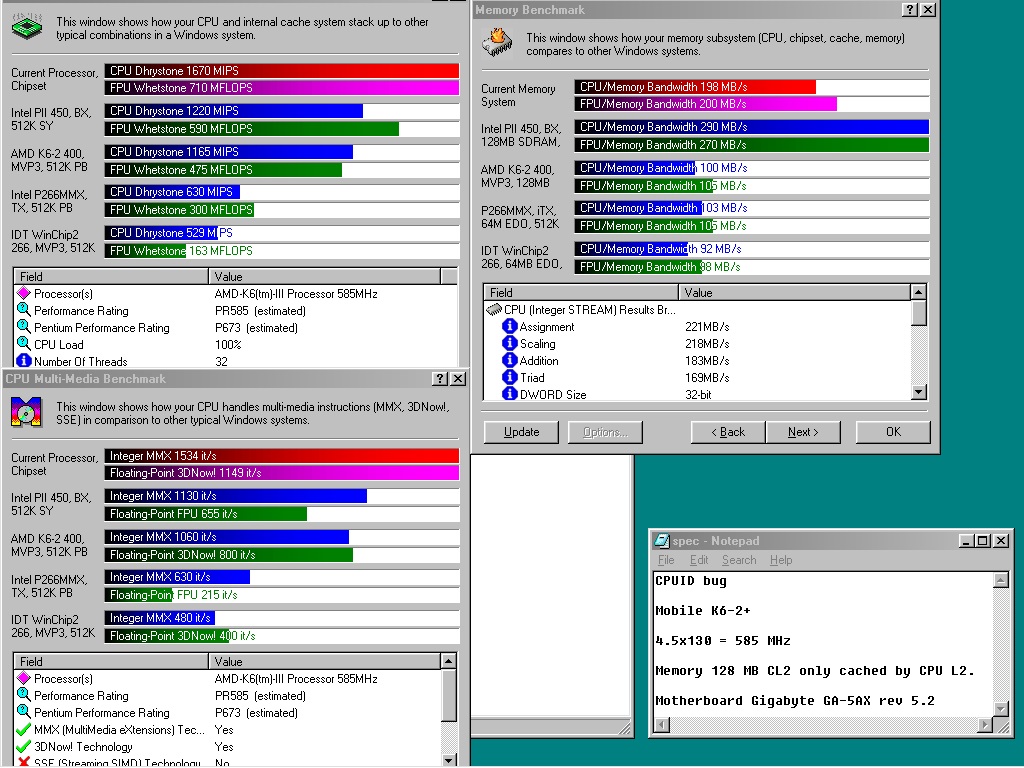 3dmark 99 with a Geforce2 MX400. I have no idea if the score is good or bad, no AGP drivers loaded so the AGP port is just a fast PCI slot...

3dmark 2000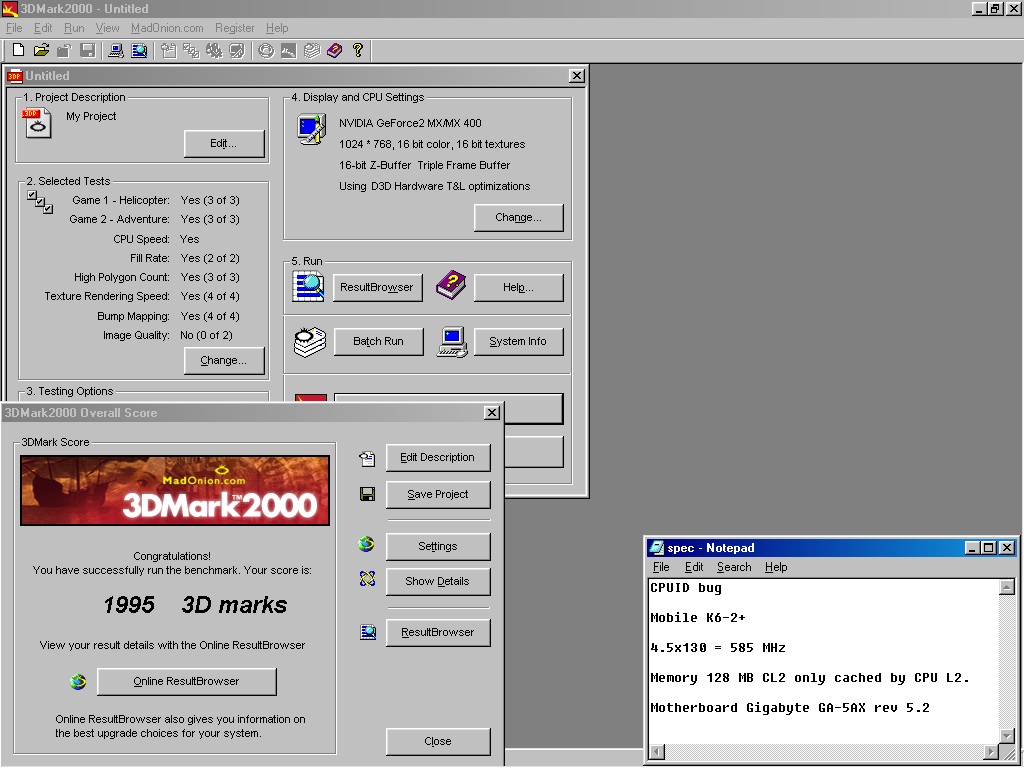 And the most important benchmark of them all, SPEEDSYS!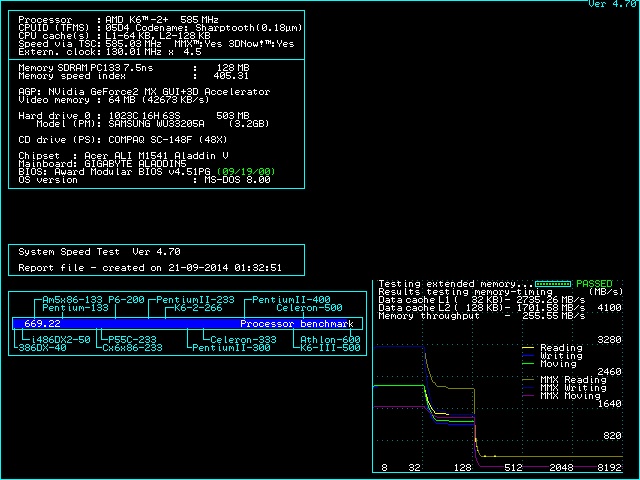 Not really sure if I will build a system in a case with these parts but I have tried a bunch of games and the system feels really fast for a socket-7 system.
New PC: i9 12900K @5GHz all cores @1.2v. MSI PRO Z690-A. 32GB DDR4 3600 CL14. 3070Ti.
Old PC: Dual Xeon X5690@4.6GHz, EVGA SR-2, 48GB DDR3R@2000MHz, Intel X25-M. GTX 980ti.
Older PC: K6-3+ 400@600MHz, PC-Chips M577, 256MB SDRAM, AWE64, Voodoo Banshee.