First post, by forteller
Hello everyone!
I wanted to present my retro PC build I've made recently, but since I've got nostalgic I think I will start with a little background about me and my history with PCs 😜
###### ABOLUTELY IRRELEVANT STUFF STARTS HERE ######
(wish there was a spoiler bbcode tag supported)
As for now I am 26 years old and I started my journey with PCs early but slowly – I never had any alternatives at home. First computer which my parents owned was equipped with 386DX-25MHz, 4MB of RAM and 130MB HDD. Machine was very expensive in 1992 in my country, and not many people could afford anything x86 based – most of friends had NES clones named Pegazus during 1990s. Because of that it was more of novelty to me, because I didn't know anyone I could share my experiences with. I remember that it had Wolfenstein 3D, Mamba and Colgate games installed along with some clones of Tetris, Mahjong, Solitare etc under Windows 3.11. Somewhere around 1997 and 1998 most of them were removed to make space for Office 4.0 which was painful experience on that machine anyway (I remember that Excel took few minutes to start).
I started to lose my interest in that PC totally, because during late 1990s many people were buying new PCs as they were becoming more affordable. Most of them had P54's with 16MB RAM, so not awesome at all, but I was totally shocked by how NFS3 and GLQuake looked (one of my neighbors had a Voodoo card!). It was totally new level experience to make a jump from Wolfenstein3D to GLQuake.
In 2000 my parents finally decided to buy next PC. It was low-budget machine, underpowered even back then; it had Celeron 500MHz, 64MB of RAM and Riva TNT2 M64 which later became my nightmare. It had few nice things though – my father insisted on DVD playback and bought necessary drive. I believe it was Pioneer DVD-106 and it failed pretty soon (2-3 years later), but we also got nice flat CRT screen, although it was far too small for watching DVDs – Sony Trinitron E100. (side note: 12 years later, I found on attic boxes from this PC laying around – for GPU, CPU and mobo. Apparently, I had Abit BX133. If only I have known anything about overclocking CPUs back then! (and if Celeron 500 was Coppermine and not Mendocino)).
I can say with all honesty that my history with computers started for real in 2000. I spent hours and hours playing on that PC and learning about it. I installed OS for the first time on my own, got dial-up connection to Internet and was really sucked by it.
Moving forward into the more recent times: in 2002 my father got this PC upgraded, although it couldn't go more badly: we've got Pentium 4 1,6GHz Willamete, but most of other components remained the same, so it was painfully slow equipped with SDRAM (now on 192MB) and Riva TNT2 M64. I remember seeing 4FPS in GTA3. This was last upgrade made by my father, all further PCs I've built on my own starting from Barton 2600+ and Radeon 9550 in 2004, but it is not so relevant.
I became interested in retro PCs around 2006 when I graduated to high school. There were months I went to commodity market 2 times a week (so every time it was open) and I was buying MASSIVE amount (or so I thought) of "old junk". That's how I became owner of bunch of Pentium PROs, Intel Confidence 865 board, dozens of CPUs etc etc. I also bought my first digital camera there, so I got some pictures from those times.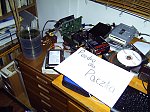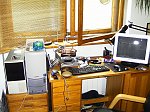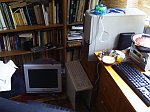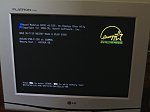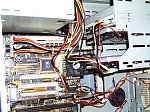 Time passed by and I shifted my focus from retro PCs to modern ones to keep up with studying. Most of the components I had were somehow lost in time – I either given it away to someone, or disposed it if it wasn't working. And that's how we end up now.
I have kept few things from those times though:
- More than 100 cpus including few interesting ones
- 2 boxes of RAM sticks
- Intel Providence PR440FX board with two Pentium Pro 200Mhz 512k, VRM, and 192MB of RAM (definitely my favorite platform, but not suitable for Win98/DOS)
- My favorite AT case (you saw it already 😉 )
- Creative CT3990
- Quite few other things
###### ABOLUTELY IRRELEVANT STUFF ENDS HERE ######
Recently I wanted to go back in time, and play games that I enjoyed during late 1990s with my friends, but also those that I was playing in early 2000s on Celeron 500 PC. Choice was obvious: my PC will be based on Socket 7 platform for extended compatibility. I will also try to "max it out" as far as I can so I could run games from around 2002 such as GTA3. I didn't thought that so many obstacles will occur, so let's start!
Luckily, one Super Socket 7 board survived all those years in my basement, so I thought that the worst part is out of my way, as those boards are getting very pricey lately. I couldn't be more wrong, but more on that later. The board itself is Shuttle HOT-591P, so one of slower ones, but from benchmarks I've done, it is on par with other MVP3 / Alladin V boards. It has one issue though – PCI slots are in line with CPU socket, so basically any cooling solution will prevent me from using Voodoo 2 card which I really wanted to put in my PC.


First tests were done using some really small GPU heatsink with fan laying around: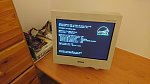 I started to dig around and after few days I found cooling solution right for me. I don't know where it was applied, but it has label saying "P4 2.0" so that's a clue about it's cooling capabilities. Should be enough for any CPU designed for Socket 7. It looks like cooling solution for some tiny PC though.
Mods done to make it work:
- Mount it upside-down so it will actually touch the CPU
- Drill mounting hole for Socket A bracket using CNC mill
- Modify bracket so it will fit on this board and push cooler onto the CPU (basically some bending and cutting)
- Solder 3-pin FAN connector (it used proprietary 4-pin connector with separate +12V for each fan)
- Attach Noctua Ultra-Low Noise adapter (at max speed, those fans are louder than hairdryer)
- Rotate fans so the actually push air through heatsink (done after pics were taken)
- Cut a hole in case, as the cooler collided with lower 5,25" bay
Here is how it looks like: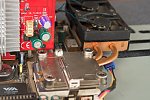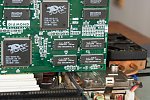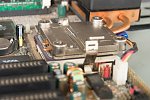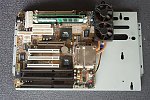 In the meantime, I started to seek for AT case. As I stated above, I have kept my favorite one but unfortunately not in some very good conditions, so it corroded badly. I managed to find another case, but it must had fell at least a few times and it was bent so badly, that I spent 15 minutes just trying to open it. I didn't know that obtaining nice AT case is so hard today, so I decided to stick with it. I managed to straighten it, but front panel was in very bad condition after those drops. Then I had an idea – maybe I will exchange only front panels? To my surprise it was 100% fit! I could enjoy my favorite case (or front panel to be precise) in good condition. I was very pleased with that.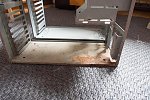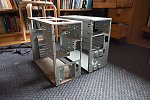 What is so special about this front panel?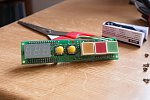 I absolutely love this display and LEDs. They look awesome, and with complete setup it gets even better (you will see). Only one problem though: my board doesn't support Turbo button, so I hardwired it and it lights up as soon as I switch power on. All in all, Super Socket 7 is "Turbo" considering AT era PCs, right? 😉
Then the PSU – the only properly working one I own had a proprietary switch soldered into the cable and it was broken anyway (there wasn't a way to turn the unit off) so soldering again!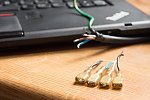 All it took to make a complete setup was to find properly working expansion cards and here you have it: my ultimate retro gaming PC: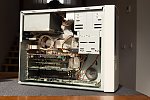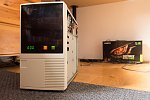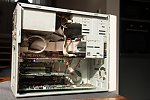 (TURBO!! 😁)
It is equipped with:
- AMD K6-III+ 400ATZ @ 600MHz 2,2V
- Shuttle HOT-591P
- 384MB of SDRAM @ 100MHz 2-2-2-5
- MSI GeForce 3Ti 200 (MS-8850)
- Diamond Monster 3D II 8MB
- Creative SoundBlaster AWE32 CT3990 (I only have 1MB 30-pin SIMMs, so currently 2MB but looking for upgrade!)
- Realtek RTL8139C
- Seagate ST3160215A (Barracuda 7200.10 160GB)
- Old Samsung DVD drive
- Sony FDD
- 230W AT PSU
I also got:
- Sony G200 CRT screen (identical to my E100 but bigger and supporting two inputs)
- A bunch of keyboards, but none mechanical yet. I've got some foam and foil Unitek and bunch of IBM and Dell rubber domes from 1993-1998. I also used Cherry MY keyboard borrowed from my brother but didn't liked it.
- Two ball mice from MS and A4Tech
Few more observations and questions to you guys:
- Do anyone have an idea why memory performance suffers badly when I exchange 128MB stick with the 256MB one (drop from 130MB/s to 80MB/s write performance in Everest Home)? I have two the same 256MB PC133 sticks and with only one + 128MB it works fine.
- I have big music collection stored on NAS in FLAC format. When I try to play it with foobar2000 0.8.3 it clicks and cracks constantly and I observed the same behavior with PR440FX and AWE32 under Windows XP with FLAC files stored locally. Using Winamp2 with FLAC plugin makes playback almost perfect (although there are come cracks still) and playing MP3 320k doesn't reveal such problem in either foobar and Winamp. Is it related to pushing too much data through ISA slot?
- I thought that such modern HDD will run quietly, but it is quite loud. I will replace it with some single-platter Barracuda 7200.7 as I remember that those were very quiet
- I have put another low speed fan adapter from Noctua on GPU fan as it drove me crazy, but it is still loud and GPU became so hot, it warms up the whole case and I need to keep it open
- I am about to exchange GF3Ti with Kyro II 64MB, but I don't have a cooler on it yet. I think it will do just fine with a passive cooling from some GF4MX card and performance wise it should be more than enough for K6 machine. I will miss those fancy shaders and T&L but not much 😀
I think that's all! I wonder if someone will read it, as my English isn't my strong point and my post became a little overwhelming. But I hope someone will enjoy my journey at least partly as I did. Now let's play Rayman 2!
Last edited by
forteller
on 2017-11-17, 22:00. Edited 6 times in total.
2017: 7800X@4,6G / X299 / 32GB / GTX 1080 / SM961 256GB+2x256GB RAID0 / G710+ / G402 / U2713H
2003: P4 2,8C@3,4G / IS7 / 2GB / AIW9700Pro / 160GB+2x40GB RAID0 / SK-8000 / IMO 1.1A / G200
2000: K6-3+@600M / 591P / 384MB / Voodoo3+1 / GUS+AWE32 / 40GB