I have recently acquired and restored a Compaq Deskpro EN-SFF: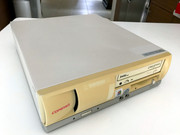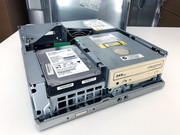 Now it's time to decide what I want to do with it, and how to upgrade it!
Current configuration is Pentium 1000/133 Coppermine with 384MB PC133 RAM (upgraded from 256MB PC133), a 120GB Samsung IDE (upgraded from a 20GB Samsung IDE), and a LG 16x DVD-RW (upgraded from a broken CD-ROM). The board has onboard i752 video and AD1885 AC97 Audio. Due to some quirks with the motherboard the secondary IDE controller is unreliable and disabled. The motherboard is Tualatin capable so upgrading to a P3-1200 is a possibility (but is it worth it or wise in such a cramped case?). The riser has 3 PCI slots, no ISA.
First order of business was deciding on an OS for this thing..What I had in mind was a Win98/Win2K dual boot, but a good argument can sway me in any direction including Linux distros and OS/2 Warp.
I will then of course need to pick a video card and an audio card for this. My available options are:
Video
3dfx Voodoo 1 A-Trend ATC-2465A4
3dfx Voodoo 1 Diamond Monster3D
3dfx Voodoo 2 PixelView Voodoo II-T
Creative Graphics Blaster PCI CT6700
nVidia TNT2 M64 PCI (Dell OEM)
Matrox Millennium G450 PCI
Sapphire Radeon 7000 PCI
ATI Radeon 7500 PCI (HP Alpha OEM)
Palit GeForce 2 MX 400 PCI
Sapphire Radeon 9250 PCI
Audio
Aureal SoundCom V90
Turtle Beach Montego
Aztech PCI168
Creative Ensoniq PCI
Creative Sb Live! 5.1 SB0100
Terratec DMX XFire 1024
Turtle Beach Santa Cruz
Terratec 128i (TTSOLO1-S Ver:1.2)
S-Link SL-41A ESS Solo-1
Terratec 512i Digital
S-Link SL-41A YMF-724
Typhoon A471-N60/A461-L00
How would you go about setting this thing up?