Well, this is probably our version of HOTU, or probably a computer game-equivalent of
this
, or both. Maybe it's a bad game that deserves a second chance, maybe it's a game that's never properly appreciated, or maybe it's a good game with its own charm but was soon eclipsed by a (perceivedly) better game of the same genre.
I'll start with Knights of the Sky by Microprose (1990).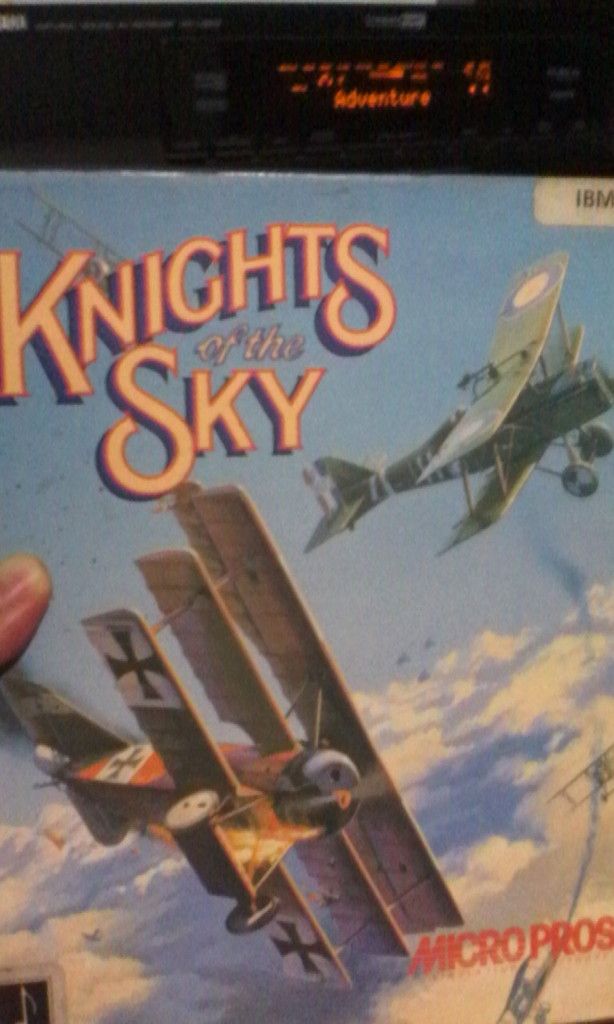 Knights of the Sky box art.
It's a Microprose flight sim with typical Microprose's charm of providing a sense of "role playing", where you as the player take the role of a pilot undergoing a career through randomly generation missions that may be a part of a selectable theater (like in F-19) or an entire war (like in this game). What makes the game unique is you don't aim for the highest score possible, but the best ace of the entire war. Of course you have to perform each mission well, but you also have to compete with several AI-controlled historical aces like Oswald Boelcke and Max Immelman. You can compete "fairly" by earning the most kills, but you can also eliminate your competitors by challenging them in a duel.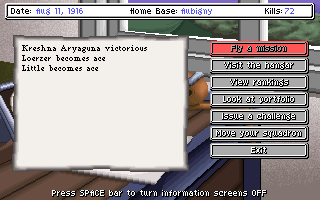 The "Issue a challenge" option where you can challenge AI-controlled historical aces.
So let say the highest ranked ace is Max Immelman with 20 kills. You, on the other hand, are placed second with 12 kills. Of course you can compete "fairly" by trying to shot down more planes than he does, but it generally takes more time and patience. Let say in the next mission you manage to kill 7 enemy planes, raising your kill score to 19. Alas, while you're busy flying your mission, Immelman also flies his own (off-screen) and manages to make 5 kills, raising his score to 27. So now your score is 19 kills against his 27 kills. Well, it's still long way to go, isn't it? The quicker but riskier way is to challenge Immelman in a duel. It's riskier, because Immelman naturally has much better AI than average enemies, but it's also rewarding, because if you manage to kill him, then you take his place as number one ace despite the previous score gap between you two. So just like other Microprose games like Sid Meier's Pirates! or Sword of the Samurai, greater risk brings greater reward.
So, anyway, I killed Max Immelman several missions ago and has been staying the number one ace ever since. But I became complacent, and then an AI-controlled ace named Oswald Boelcke slowly but consistently outkills me in each mission while I'm doing mine at leisure pace. Slowly, and patiently, Boelcke manages to close the gap between us.
Unless I do something fast, Boelcke may take my throne in the next mission.
So, unless I do something fast, I believe Boelcke may take my position in the next mission. I guess I have no other choice but challenging him. If I manage to kill him, then I would have much easier time to maintain my position, since Rudolf Berthold, the third-ranked ace, only has 40 kills compared to my 70.
Finally, I have to say that Knights of the Sky is a very good game, with such unique gameplay that makes it stand out among its competition. So yes, the flight model doesn't have sufficient amount of realism, but who cares about realism when you're too busy immersing yourself in the "role playing" aspect of the game? After all, Sid Meier's Pirates! doesn't have the most realistic sail model, doesn't it? Nor does it need to, and neither does Knight of the Sky. It's nice to know there are game designers who understand that sometimes it doesn't take a meticulously realistic physics model to make a good game.
Oh, and just like typical Microprose games like Red Storm Rising or Railroad Tycoon, Knights of the Sky also features dynamically-generated news and gossips to help your gaming mood.
Wartime news....
...and gossips.
So, with its great gameplay and unique charm, why do I call Knights of the Sky a flop? Because, alas, Knights of the Sky was released about the same time with Dynamix Red Baron; a game much praised for its historical accuracy and flight model realism. Of course, Red Baron also has its own charm, like being challenged by enemy ace, being able to recuperate in a hospital or imprisoned by the enemies, but still, flight model realism is what people appreciate the most from the game.
And the rest is history. Despite its typical Microprose charm, Knights of the Sky fell into obscurity.
So, what are yours?