First post, by Kreshna Aryaguna Nurzaman
Last year I got married and became a father. And then we were three. Guess what happened about nine months later? 😉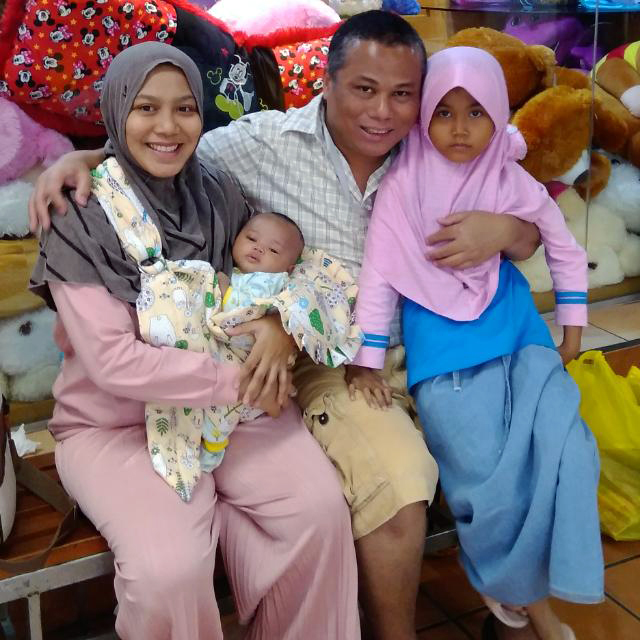 Now we were four.
Allow me to introduce the youngest member of my family: Siti Trianovi Salsabila, or Tria for short. She was born on June 27 at Limijati Hospital, Bandung, about half an hour after sunset.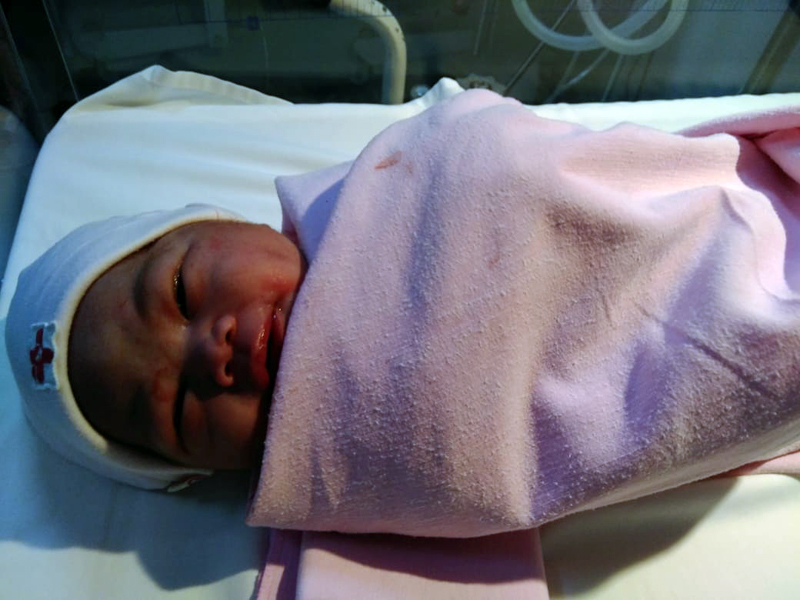 Siti Trianovi Salsabila (Tria), right after birth.
The name parts 'Siti' and 'Tria' are taken from my beloved mother's name: Siti Sutriah Nurzaman. 'Novi' is from my wife's name, Evi Novianti. 'Salsabila' is taken from a Quranic verse about a never ending fountain in heaven. Now, some of you my ask, where does the 'Nurzaman' go? Surprise! 'Nurzaman' is not my surname. Yes, many Indonesians don't use family name, as our names are not typically divided into first and family names (also, this and this might help). However, it's customary for sons to take a part of his father's name out of respect, and wife to do the same with her husband's name out of love.
Anyway, that was probably the most memorable Thursday for us. We were anxious, we were sleepless, but everything ended well. 😀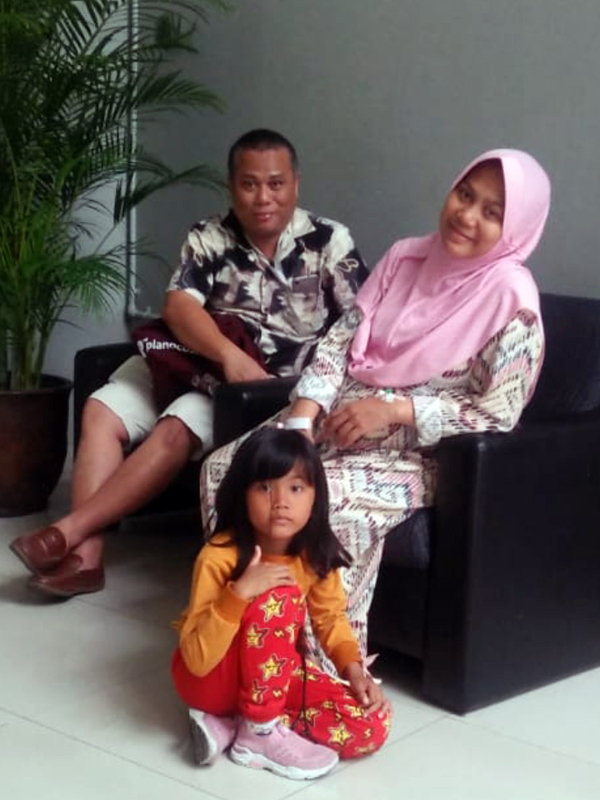 Those were us about four hours before Tria's birth, anxiously waiting.
My stepdaughter, Shafa Hawairul Aini, Evi's daughter from her deceased husband, was notably ecstatic from the birth of her sister. She adores her so much!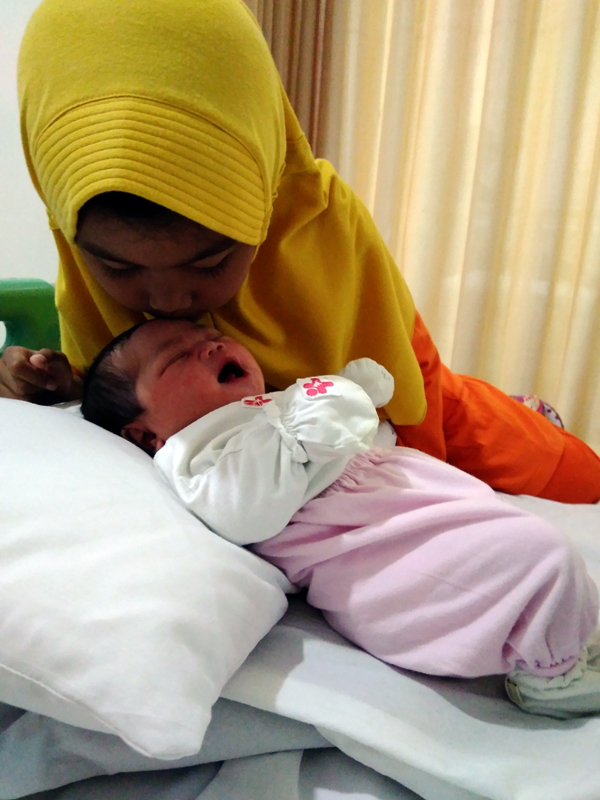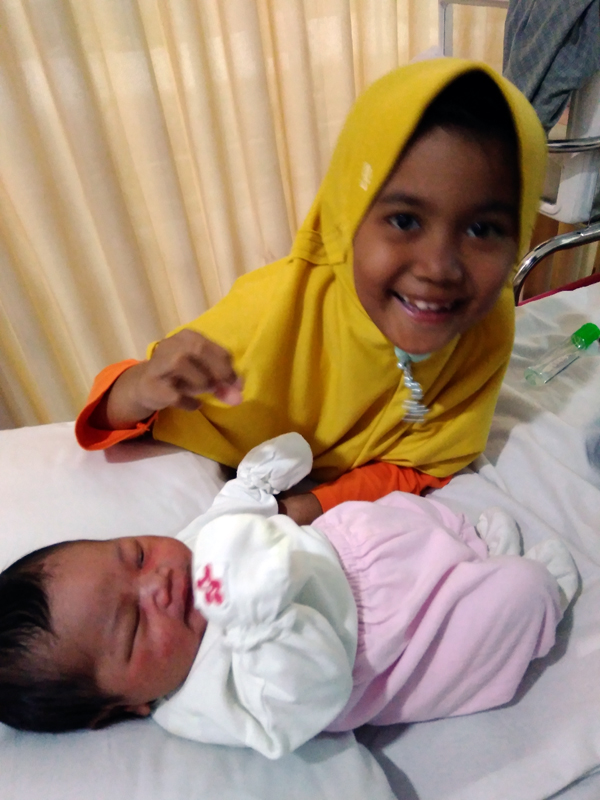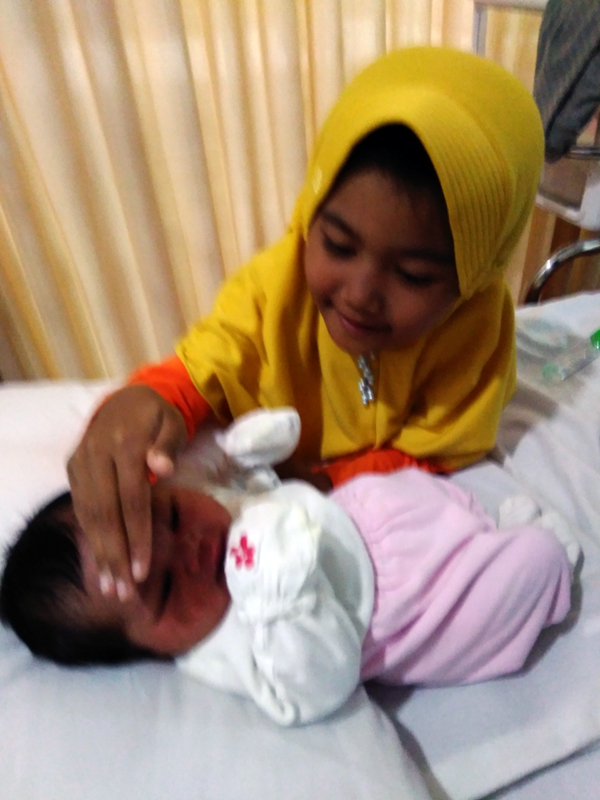 Shafa adores her sister so much...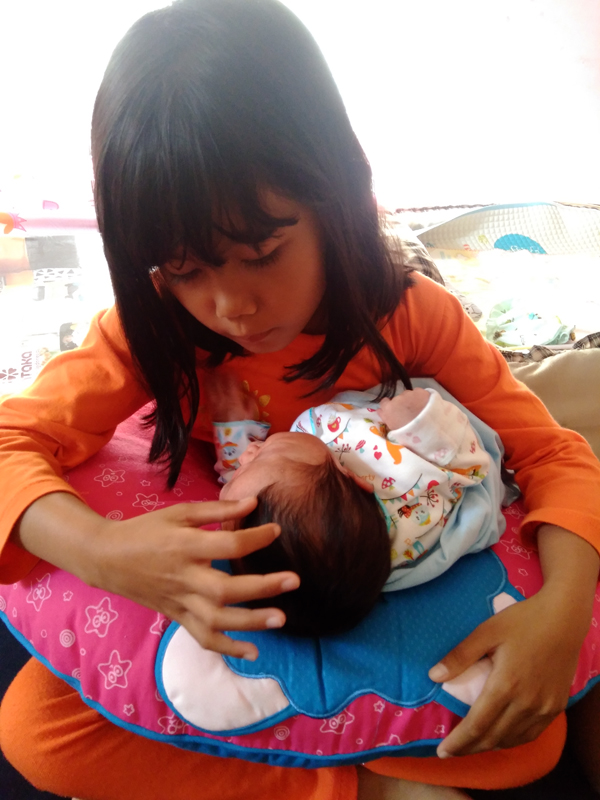 ...she just couldn't stop cradling her!
Anyway, this is Tria when she was about two weeks old.

Tria, about two weeks old.
Around the third week we performed aqiqah. That is, an Islamic tradition of slaughtering a sheep and distributing the meat to the poor, as well as preparing feats for family and friends, to celebrate a child's birth.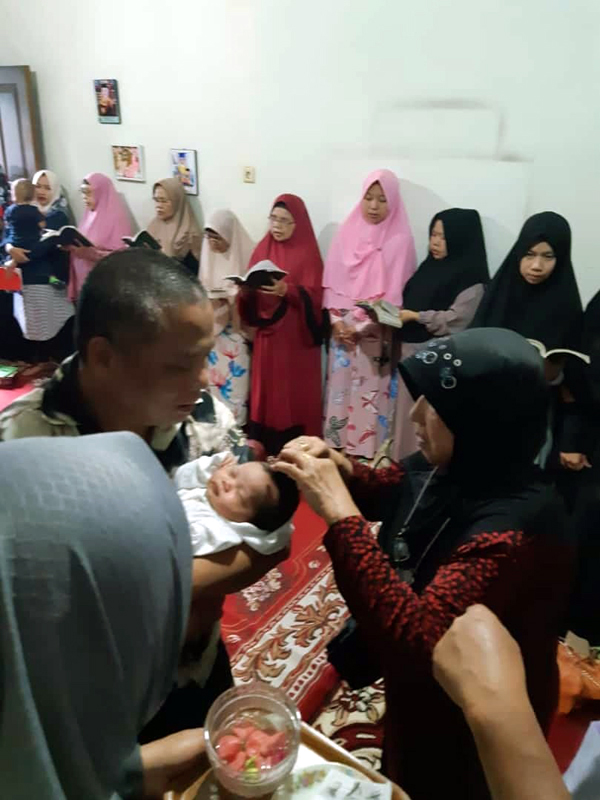 Tria's aqiqah celebration.
Tria has notably become very active when she reached the age of one month. She also has big apetite. Breastfeeding is more than sufficient to satiate her though.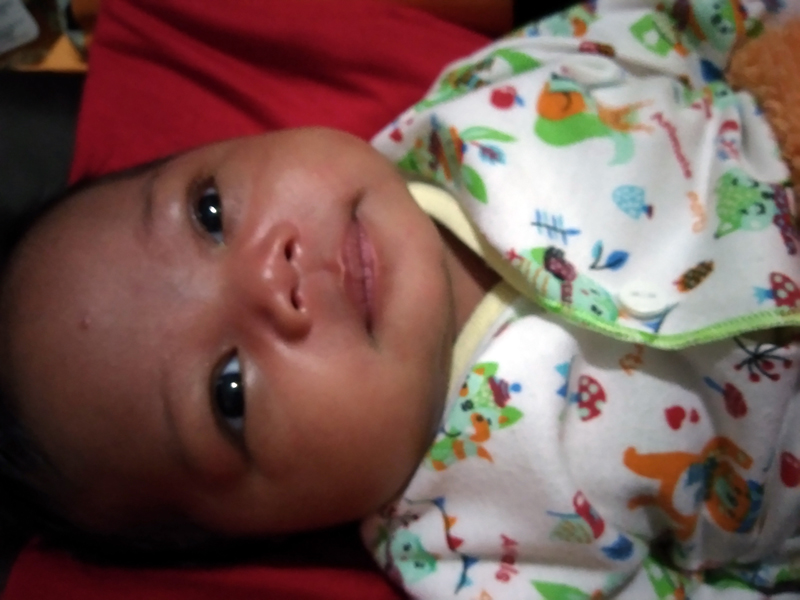 Tria, one month old.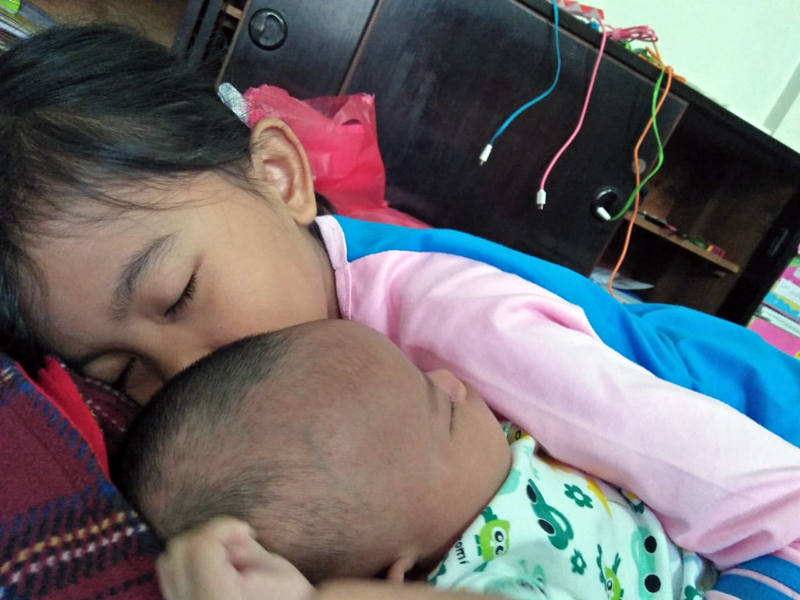 Shafa couldn't stop adoring her baby sister.
About a week ago we gave Tria a haircut, and she looked even cuter!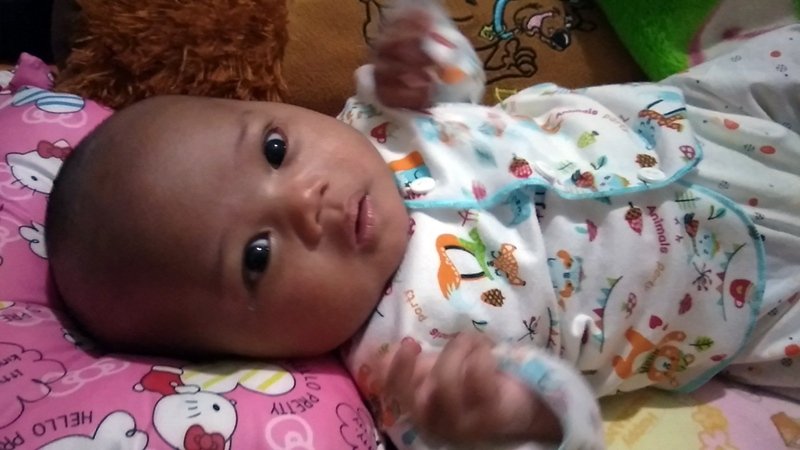 Tria after haircut. Yes, she kept waving her hands when I photographed her.

My wife and daughters after evening prayer.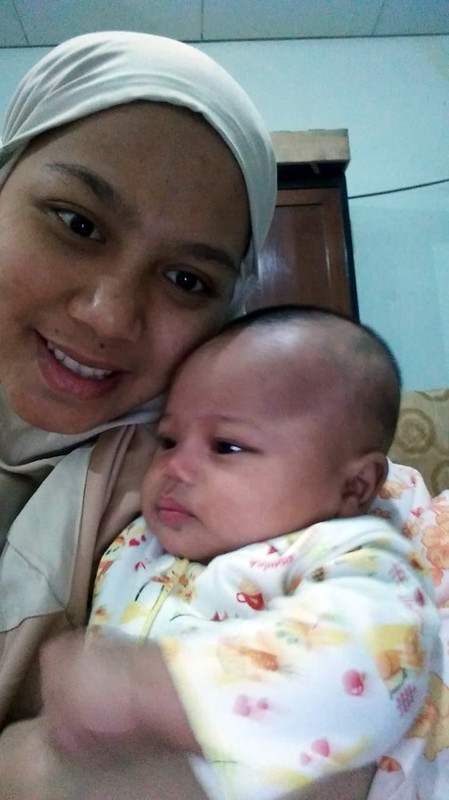 Evi and Tria.

Shafa always adores her sister.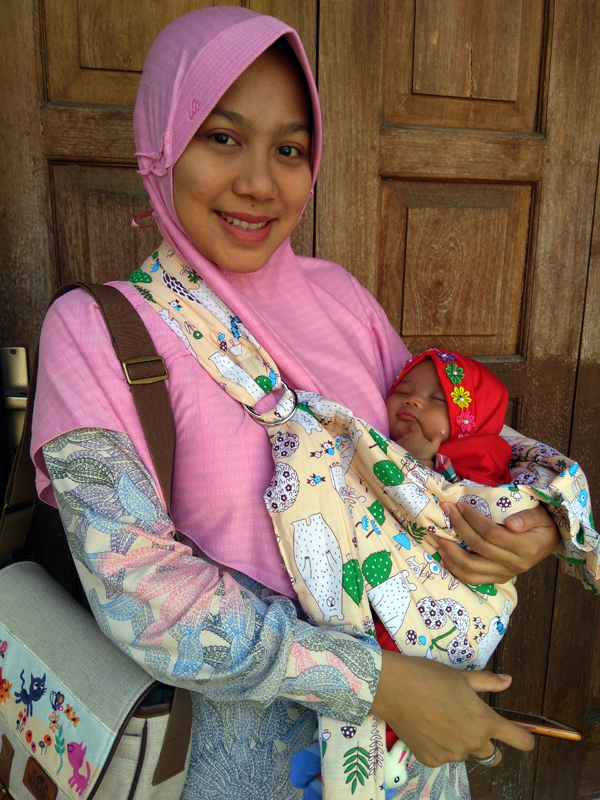 Evi and our Little Red Hood.
So, now there are four of us! We were anxious, we were tired, we spent sleepless night, but we are happy! 😀 And yes, I'm the obsessive-compulsive parent when it goes to our baby ("is she comfortable with that position?", "why is she crying? Is she alright?", "OH MY GOD IS SHE BREATHING? IS SHE BREATHING?"), while my wife handles it all with grace. Shafa is getting into jealous phase now, but she still adores her baby sister. So yes, we are all happy. 😀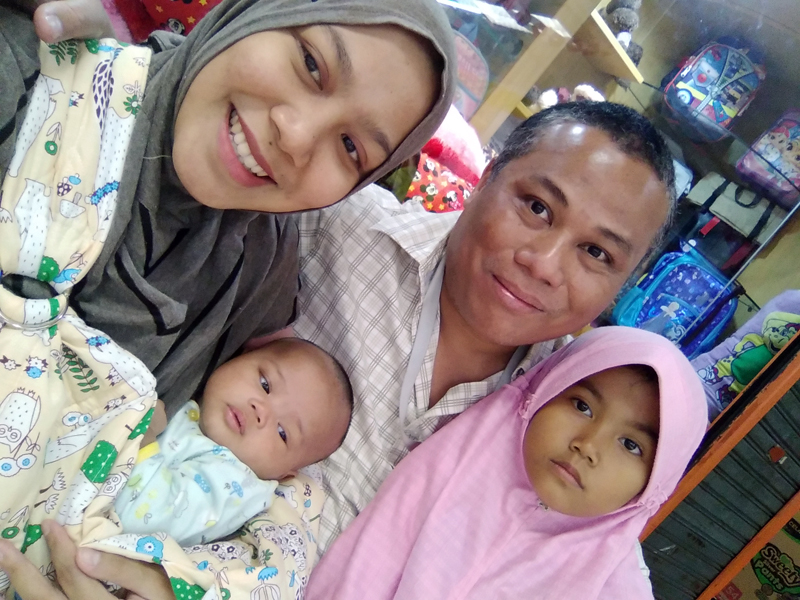 The four of us.
The only sad part of all this happiness is I cannot share it with my mother, she passed away in 2015. I still miss her so much. The photo below was taken at Adisucipto International Airport, Yogyakarta. Mother went to the city of Surakarta (which is reached through Yogyakarta from Bandung) to undergo stem cell treatments, to cure the systemic sclerosis she had suffered for decades. Neither of us ever thought it would be one of our last moments together.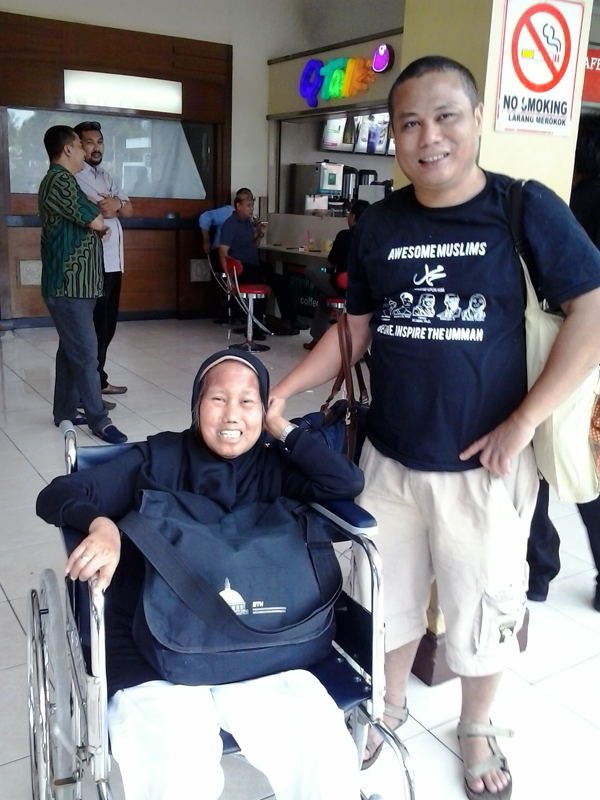 My mother and I in January 2015, about five months before she passed away.