First post, by antrad
While browsing through archive.org for some information about Abuse (Crack dot Com, 1996) I found about a game built on the same engine called Genocide. It was made by KaosKontrol and released in 1998, then re-released in 1999 as "Genocide: Remixed Version".
You basically play as a Borg soldier shooting Strogg in some Quake 2 facility, so on paper it should be the best 2D shooter ever made, but in reality it is not a good game. It is supposed to be a fast paced side-scrolling shooter, but then you shoot a bad guy and he falls to the ground and you can't shoot him until he stands up again. This basically ruins the whole game, and it is mind-blowing someone thought that was a good idea.
Speaking of Quake 2, in the Remixed Version there are several textures taken directly from Quake 2 and also some sound effects. The developer seems to have been very sketchy. On their official website they later announced 3-4 games (BlockWar,Trouble, Blowout,Kadaver), and in an interview mentioned how they are rapidly expanding and have offices all over the world like Yokohama(Japan), San Francisco(USA) and Nice(France)... pretty expensive locations for a developer that took Abuse and changed few textures. I bet it was never more than one guy. They actually did release a completely different game on Steam few years ago called Versus Squad under name DieselPower.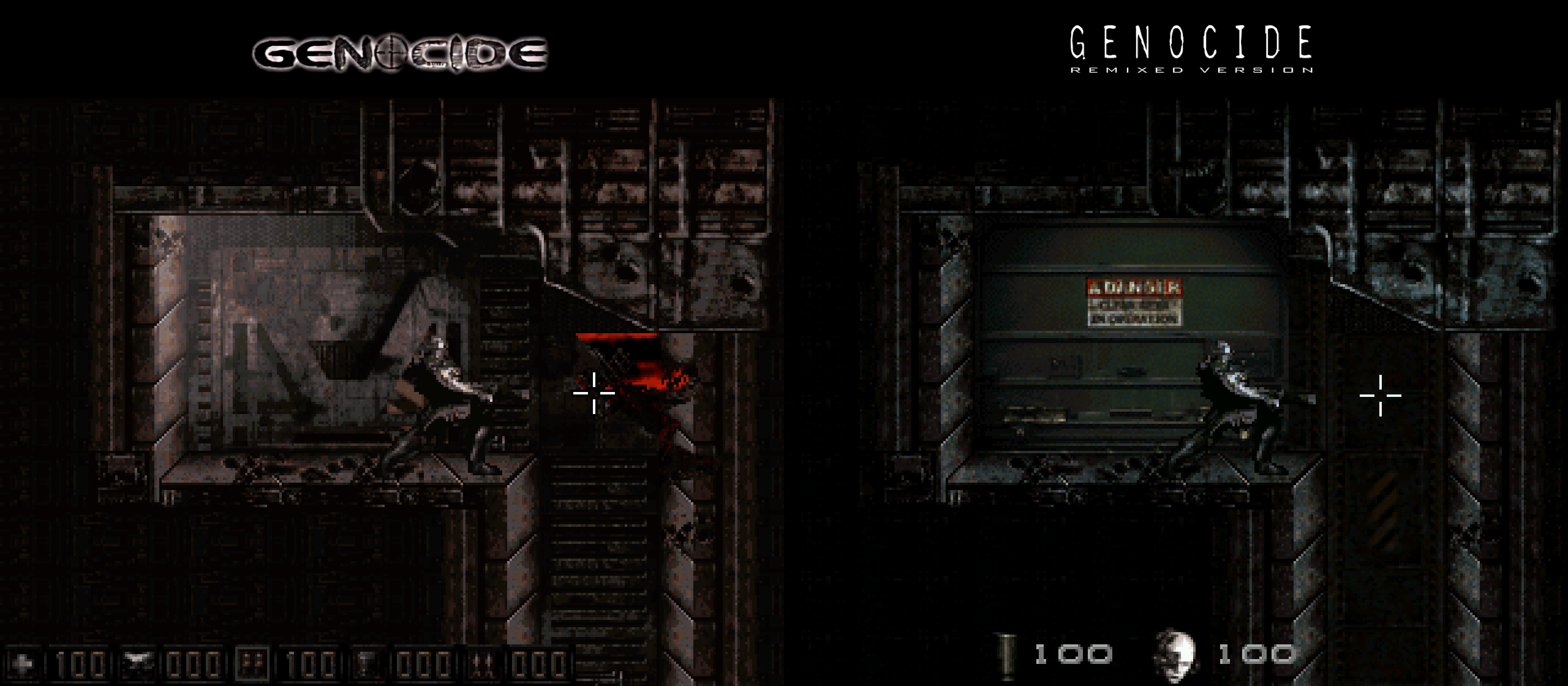 The Abuse Engine was stripped from some of the best parts. Game still has a built-in editor, but it was greatly simplified. The Lisp based scripting system that controlled all the Abuse logic was completely scrapped. Textures also use different format and it is all encrypted and not moddable like Abuse was.
There is almost no info about Genocide online, but you can find the actual full games with a simple search, unless you end up on websites and videos about WW2 and stuff. There are only a few videos of it on YouTube. "Genocide" is really not the best name for a game, because it is very hard to search for online. I did my best to bring the game and some info about it back from the dead by uploading the demos on ModDB, posting some screenshots there and creating PCGamingWiki pages for both versions and listing the differences.
https://www.moddb.com/games/genocide
https://www.pcgamingwiki.com/wiki/Genocide
https://www.pcgamingwiki.com/wiki/Genocide:_Remixed_Version
It would be great if someone has the full boxed version and if they could share the photos, because even MobyGames doesn't have covers for it. Also the ReadMe file mentions that owners of the full game can download the development kit from their website (ftp://ftp.kaoskontrol.com/genodev.zip) and use it to mod the game, so it would be mind-blowing if anyone still has those files.