Well, I was unsuccessful, again
I tried to trick the flasher, using the /RESET attribute and I made a file SAVE.ROM from a good BIOS image, which I made READ ONLY using the DOS ATTRIB comand, so it wouldnt be overwritten by flash.exe, but this led to nothing. In two instances I received
EEPROM successfully programmed
but there was no change. A blind dumpbios returned a file that was unreadable by the bios editor. This procedure was suggested by Class Rahden the creator of the site:
https://3dfxbios.cl-rahden.de/index.php?title=Voodoo4
when I told him I tried to trick the flasher with the /RESET attribute but the flasher always overwritten the SAVE.ROM, he suggested the READ ONLY approach.
Sometimes the flasher would try to write something but the operation didnt start and I was returned to the DOS console. Sometimes there was a message saying
Cannot Program a Napalm/Napalm2 with not Napalm/Napalm2 BIOS!!!
- nice chinglish YEAH BABY!!! ALL YOUR BASE ARE BELONG TO US, again
I also tried another BIOS file but without results.
http://web.csulb.edu/~murdock/attrib.html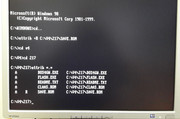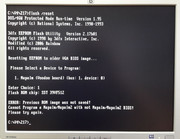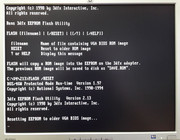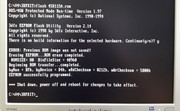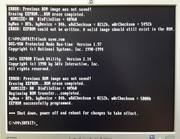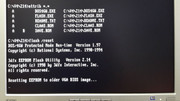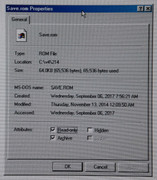 After these attempts, the flasher wouldn't recognize the BIOS chip and returned the
Error: Unknown flash EEPROM manufacturer. (Man. ID: FFh, Dev. ID: FFh)
again, instead of the
Error: EEPROM could not be written. A valid image should still exist in ROM.
A
blind dumpbios
returned a file that cant be open by the BIOS editor. Sometimes the file recovered was
40KB
sometimes
64KB.
The V4-L is still recognized by the PC and PCI.EXE
- this lobotomy is quite tricky
Now it is
A LEXICON VooDoo 4
WOW!!!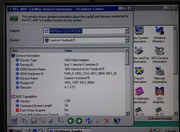 I did my absolute best even if I knew my chances of success were extremely low.The BIOS chip
is
BAD
and it
was BAD
ever since I got the card that is for sure. I can rest now. there isnt anything more to try. I'm sure the card will be revived sometime in the future. When that will happen you will be notified
If only the VGA BIOS was corrupted I should've been able to do something.The SOLUTION:
NEW BIOS CHIP with a PLCC 32 socket fo easy replacement, programmed with a good VGA BIOS FILE.
The information in this thread might help somebody save their card. NEVER GIVE UP!!!
The UNIFLASH 1.40 path
TOBOR
suggested is a difficult one and I'll look into it just for research.
Thanks for everyone that tried to help or posted their thoughts.
(goes to try HOLY water on the powered V4-L card.....j u s t - k i d d i ng...
)
The END?