First post, by Kreshna Aryaguna Nurzaman
Interactive Magic's iM1A2 Abrams may not look as good as Microprose's M1 Tank Platoon II, yet no less interesting. You could find reviews here and here. As for me, it was my first SVGA tank sim (no, Armored Fist doesn't count). I remember it quite fondly; I was a junior (third year student) in the university, I was also an active member of the university's student cooperative (KOKESMA ITB). I still remember misappropriating the cooperative's office printer to print the game's 200-page manual! 🤣 Ironically, I never played it beyond the quickstart mission, I was distracted by Heroes II of Might and Magic at that time.
In any case, iM1A2 Abrams is a Windows 95-era game that runs rock-stable on Windows XP. Alas, the same couldn't be said about Windows 7 64-bit. The purpose of this article is to explain how to install and run the game on the said 64-bit operating system.
Installation.
iM1A2 Abrams' installer won't install because it's a 16-bit installer, more details can be found here and here. TL;DR: just right-click on the iM1A2's SETUP.EXE, then click on Properties, and finally click on the Details tab to see the product version, which is 3.00.095.0. It is InstallShield 3, so you need 32-bit version of InstallShield 3 (Is3Engine)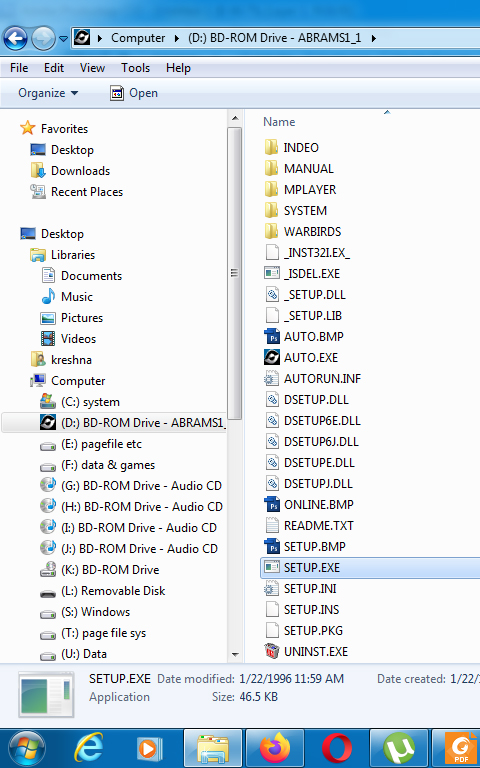 iM1A2 Abrams' SETUP.EXE is 16-bit installer. Click on Properties, then on the Details tab to reveal the version...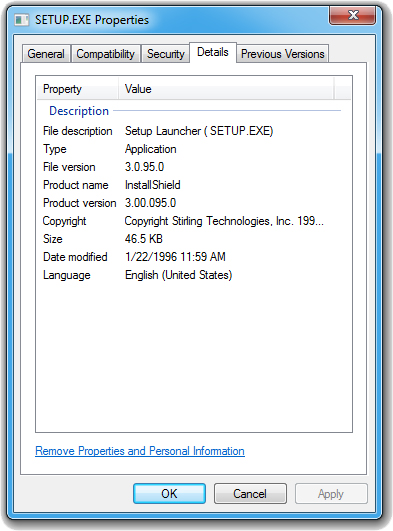 ...which is InstallShield 3.
You can download 32-bit InstallShield 3 here. But first, you should copy the entire contents of the game's CD to a writable folder, because you'll need to put InstallShield 3's executable on the same folder with the game's installation files.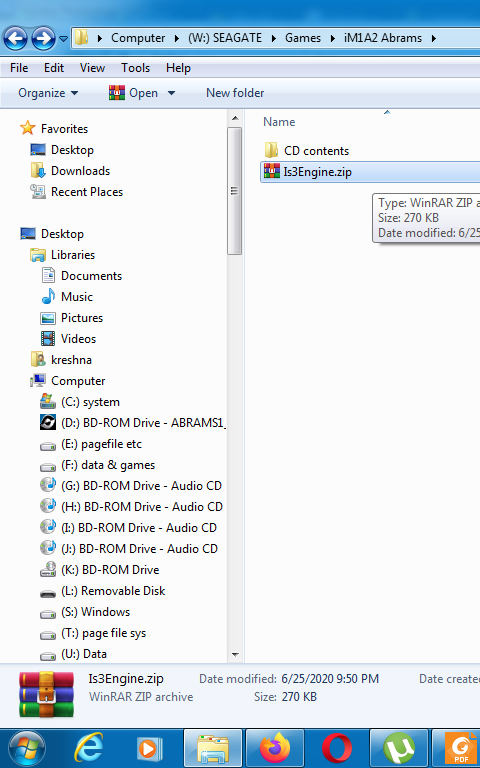 This is what the InstallShield 3 package looks like. Unzip the file, and then put the extracted .EXE in the same folder where you put the contents of the CD.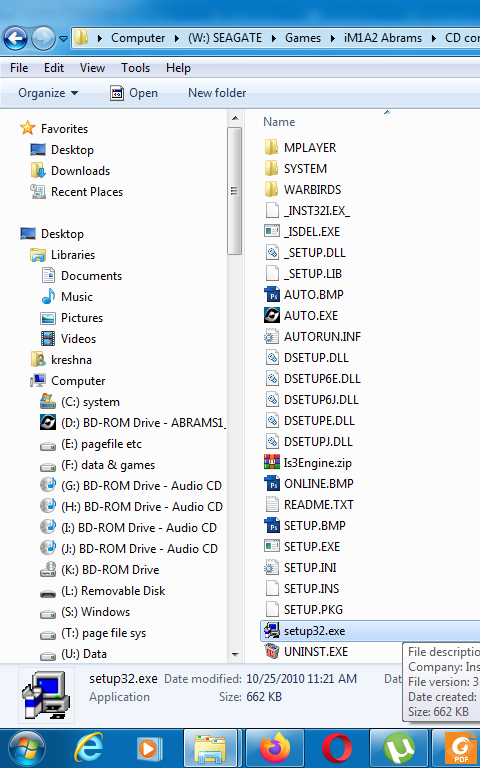 This is the 32-bit setup file. Use this instead of the original SETUP.EXE.
Finally, run the setup32.exe executable to install the game.
Running The Game.
First thing first, you should find the right compatibility setting. I originally set compatibility setting to Windows 95, and the game became very prone to crash, especially when Alt-Tabbing. Why Alt-Tabbing is important? You might ask. Well, I'll tell the details later. Suffice to say it drove me crazy, that I went through all lengths to install Windows 95 on DOSBOX to play the game with reasonable speed, that I wouldn't need to Alt-Tab (and I tend to get obsessive over such things). Thankfully, I eventually discovered that iM1A2 Abrams is rock-stable when compatibility is set to Windows 98 / Windows Me, even when Alt-Tabbing.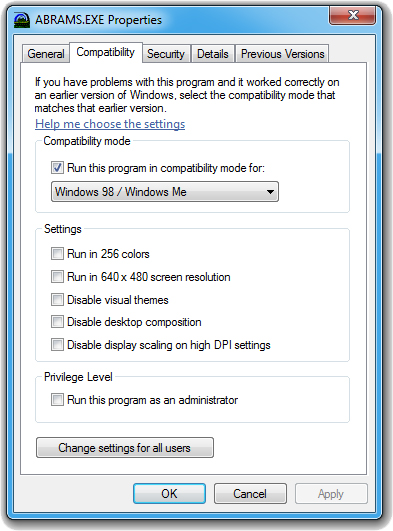 This is the most stable compatibility setting for iM1A2 Abrams on Windows 7 64-bit.
The next step is tackling palette corruption, which is typical of 256 color games on Windows 7. Some of us might resort to TASKKILL /F /IM "explorer.exe", then starting explorer again after quitting the game. I choose to use DXGL instead.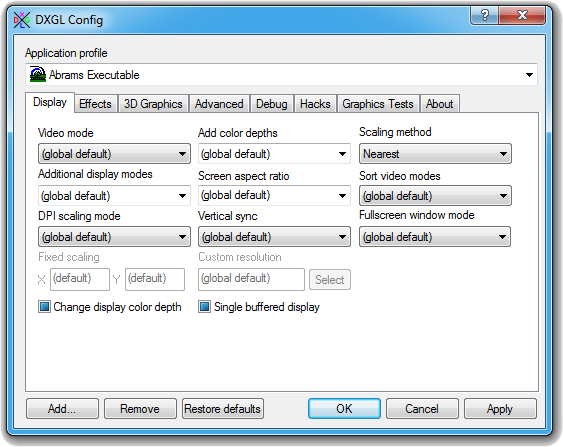 DXGL for iM1A2 Abrams.
It's funny, I originally intended DXGL to apply FXAA on DOSBOX, which I originally intended to run using DirectDraw. Yet DOSBOX crashes when being ran that way, so I run DOSBOX using OpenGL instead, and apply FXAA directly without having to use DXGL. I also tried DXGL with the original Heroes of Might and Magic (yes, Heroes I), and the game crashed. Yet, DXGL worked with iM1A2 Abrams, as shown on the screenshot below.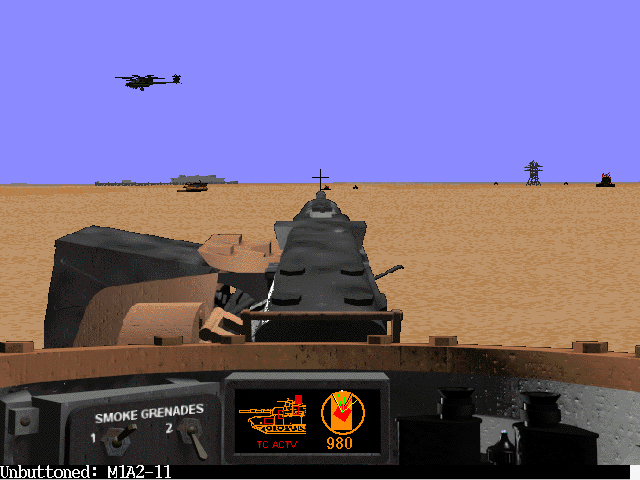 When using DXGL, iM1A2 Abrams doesn't suffer from palette corruption.
Normally, when taking screenshot of 256 color games on Windows XP and above, the resulting colors turn weird. Well, iM1A2 Abrams has its own in-game screen capture utility which produces flawless screenshots, but not all 256 color games come with that. In any case, I took the screenshot above using Print Screen button instead of the game's built-in screen capture, and the screenshot doesn't suffer from palette corruption.
Anyway, I previously mentioned about Alt-Tabbing, didn't I? Well here is the explanation: iM1A2 Abrams runs too fast on modern systems. It alreadyruns too fast on my lowly Athlon II X4 620 --one of my home office computers that run Windows XP-- not to mention on more modern systems. As such, I need a slowdown utility. I use Asoftech Speeder, which runs fine on both Windows XP 32-bit and Windows 7 64-bit. At first, I dislike the program, because it requires Alt-Tabbing. See, unlike MoSlo, which calls the game's executable from command line, Asoftech Speeder automatically detects every programs that are currently running --including the game executable, if you already had it running. Then you get to select the game's executable from Asoftech Speeder's drop-down list in order to adjust its speed. Naturally, it involves a lot of Alt-Tabbing, so I originally dislike the idea. But it turned out iM1A2 Abrams is rock-stable when Alt-Tabbed on Windows XP, and turned out later to be stable as well on Windows 7 64-bit, as long as you set compatibility to Windows 98 / Windows Me. As such, Alt-Tabbing doesn't bother me too much.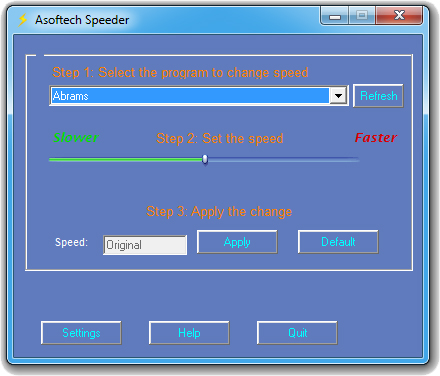 iM1A2 Abrams, default speed.
But what I really like about Asoftech Speeder is that you can adjust the game's speed dynamically on the fly. As such, you can effectively pause iM1A2 Abrams while still giving orders on the tactical map, and then increase speed again to let the action unfold. Yes, some might considered it cheating, but to hell with that.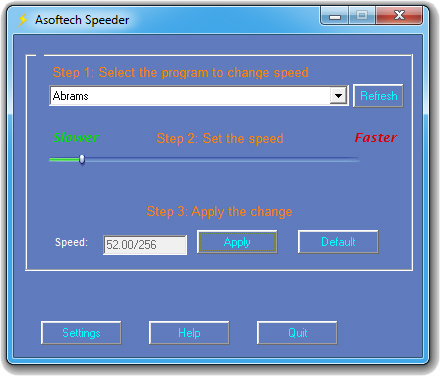 iM1A2 Abrams, slowed down.
So, I hope this guide useful to those who want to re-live iM1A2 Abrams on modern PC.
Happy playing!
-KAN