So while back I found this and a Mac G3 in a skip outside the Industrial Unit next to ours.
The G3 was in pretty bad shape missing the PSU, HDD and some of the casing.
I was lucky with the PC as it was only missing the HDD. I quicly grabbed both and took them inside before anyone saw me stealing their trash, not that I think they would have minded.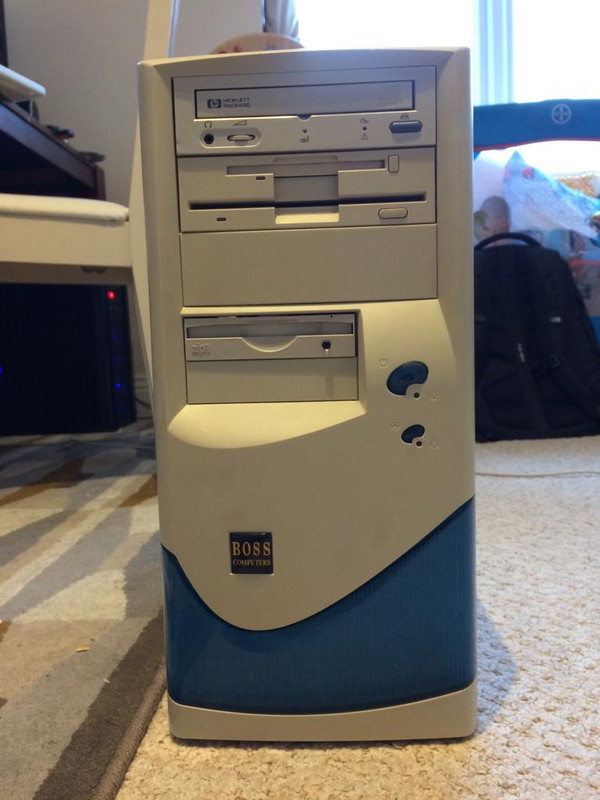 In the end I was very pleasantly surprised!
Motherboard: Fic SD11
CPU: AMD Athlon 650 (AMD-K7650MTR51B A)
Ram: 128MB x2
Video: Voodoo 3 2000 PCI
FDD: Teac FD-505 Duel floppy
CD: HP C4352-56000
PSU: SkyHalk? 300w
NIC Sweex LC001 V2.7 (RTL8139D based)
and a Apple branded Zip 100 SCSI attached to a IWill Side-2930C V1.1 SCSI controller.
The PC was good condition accept where the HDD was obviously forced out probably before throwing away and bending the cage pretty bad. It was pretty dusty but that's to expected if it was used next door in a dusty industrial unit (the guy runs a commercial printing press)
Sadly the 3 1/2 floppy doesn't work. I don't have any disks to try out the 5.25 drive. Although don't really need one as can boot from CD then the network is up and running.
The loading spring doesn't work on the zip drive either, so you can put a disk in but it wont come out again.
One of the heatsink fans also is pretty close to seizing, although the more its turned it seems to be loosening up again.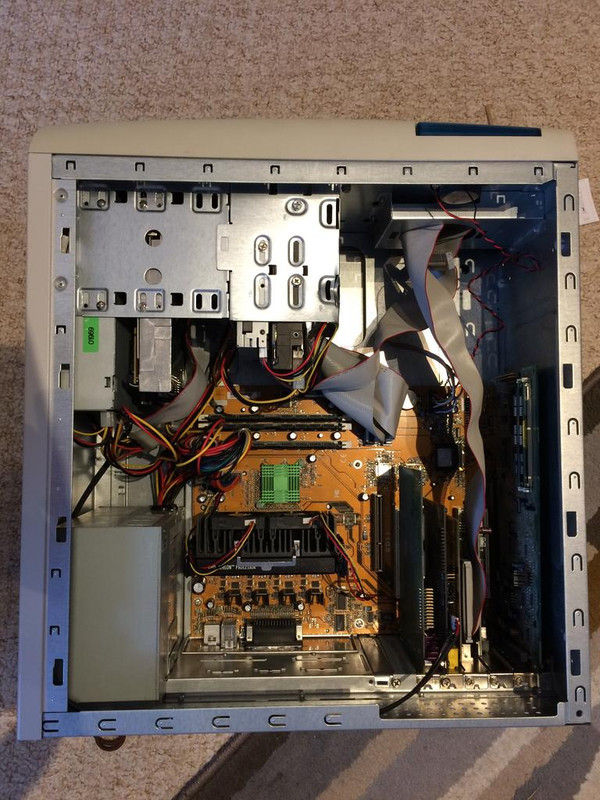 I actually really wanted a Slot A system for my collection as I'm a big fan of the cartridge style CPU's but doubt I'd of ever actually gone out and paid for one (Just like I really want a Slot 2 system)
Also Voodoo 3 PCI is really nice even if it is just the 2000, although makes sense with the buggy AGP implementation of early Athlon systems. however over all RedHill liked these boards (well out of the slim choices for slot a)
http://www.redhill.net.au/b/b-99.html
I've done a few upgrades with hardware I already had.
Ram got maxed out with 3 sticks of KVR133X64C3/256
Added a Seagate ST360015A 60GB HDD
Added a spare SB Live and SB32
Replaced the Nic for a DLink DGE-528T just because the first drivers I tried for the original NIC didn't work
Next its onto trying this thing out!