First post, by 386_junkie
The Systempro Project
1) Beginnings (The modified System): - 386_Junkie's duo core 386; The modified Systempro!
2) Build (The Systempro): - The Systempro Project; The Build
3) Bios: - The Systempro Project; The Bios
4) Bugs: -
5) Benching (386 class): - <----------You are here
6) Benching (386 class) round 2: - The Systempro; Benchmarking (TI486SXL2-66)
7) Benching (4/586 class): -
______________________________________________________________
Benchmarking (386 class)
Before I go with the benchmark tests and results, I wanted to make a quick note that from the various tests I've done (one being the mix of CPU boards and different CPU's), I've found that the system does not seem to do Asymmetrical Multi-Processing (AMP) as suggested from other sources (Wikipedia etc), instead it seems to only utilise Symmetrical Multi-Processing (SMP), under Windows NT 3.1 at least; -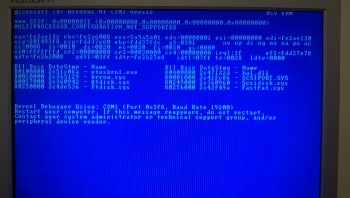 Two different processors can but used to boot the system up and get into DOS, but DOS remember can only see the one primary processor not both. As DOS can only see one processor, all the DOS benchmarks also are taken with only the one CPU recognised. Windows NT 3.1 (unlike DOS) has the ability to recognise and utilise both primary and secondary processors... as long as they are both the same i.e. symmetrical!
Having a finalised rig with the specifications set out below I went on to test.
Test Specs
Systempro EISA Motherboard @ 40MHz FSB
1) 2x AMD 386DX40
2) 2x TI 486SXL50 (no cache)
3) 2x TI 486SXL50 (8Kb cache)
DRAM board; 80Mb / 80ns
Graphics; ELSA Winner 1000 EISA 2MB VRAM / 70ns
Adaptec 2740 EISA Controller
1.44Mb Floppy & 4Gb IDE HDD
DOS tests performed were; -
LM20
LM60
NSI
3DBench
3DBench2
PCPBench
Topbench
Cachechk
Doom
I have tried Speedsys a number of times but the program can never get past the "checking memory" stage of initialization. The RAM modules in this system are quite unconventional though, so not difficult to understand the reasoning.
Windows NT 3.1 tests were; -
Wintune 2.0
Winbench 4
Winbench 9 (WB95 v1.0)
Winsock 3.30
I have tried Wintune 95 amongst many other Windows programs, and all seem to be incompatible with NT3.1.
The results
Table
https://www.dropbox.com/s/fep0abjs08vfc5o/Sys … esults.jpg?dl=0
Also here: -


Screenshots of the various tests are below.
2x AMD386DX40
DOS
Cachechk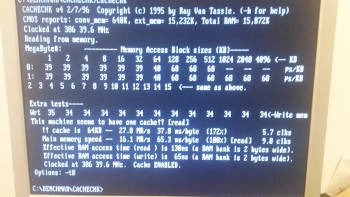 Again, being Dos it only see's one set of L2 cache, through the proprietary nature of the cache split over two boards it comes up as only 64K!
Topbench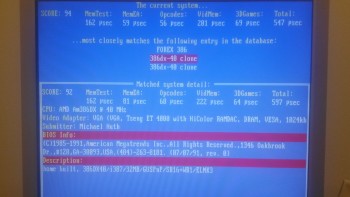 This one is a little interesting, I don't know if there is a mistake in the program but it seems to list BOTH 386 cpu's and thinks that it is running off an equivalent Forex motherboard.
Doom v1.9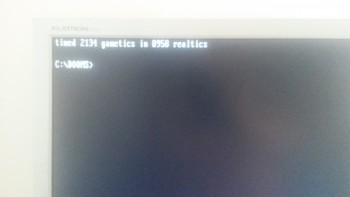 Doing the math, 74690/8958 = 8.34 fps!
???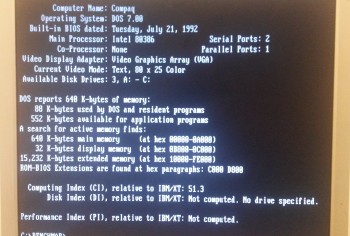 Windows NT 3.1
I'll start with NT's very own Performance Monitor program. Below are a few video's I've uploaded onto Youtube for anyone who's interested, screenshots below.
Combined; - https://youtu.be/89ivhPmKbWo
Graph solo; - https://youtu.be/aLTUTixtQ_o
Histogram solo; - https://youtu.be/U9cM85wBmUo
Screenshots: -
The screenshots above are graphs both showing the trace of each 386 processor, instance 0 is the primary CPU, Instance 1 the secondary. I noticed from time to time (shown in second picture) that when the system is idle the primary and secondary CPU swaps over monitoring of the system. I timed each interval it occurred and found it was a non-sequential random event.
Windsock 3.3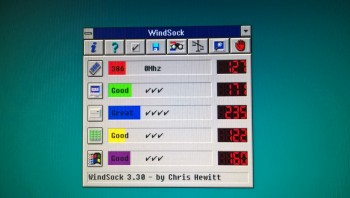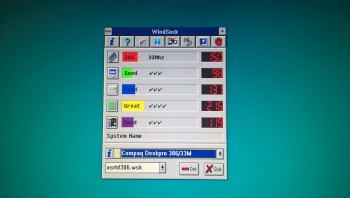 Making a comparison with a Compaq Deskpro 33/M.
_______________________________________________________________

Half time substitutions
Changing over the AMD 386DX40's for the TI486SXL50's.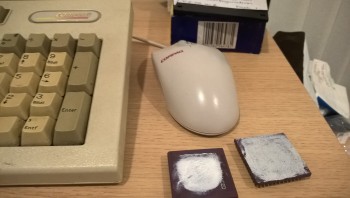 Giving the old guys a rest!
_______________________________________________________________
2x TI486SLX50 (8Kb cache)
DOS
Doom v1.9
[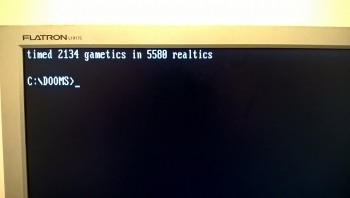 Doing the math, 74690/5580 = 13.39 fps!
A professionally filmed clip here: -
https://www.youtube.com/watch?v=-4ARLn_fnG0
Windows NT 3.1
Windsock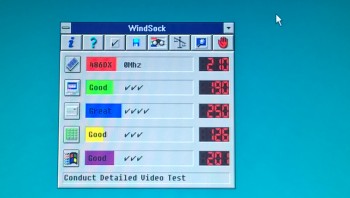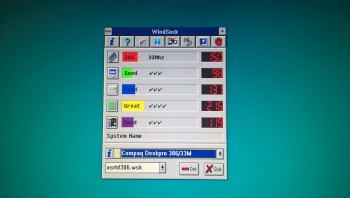 Making a comparison with a Compaq Deskpro 33/M.
Summary & Interpretation
After brief analysis of the results, it can be seen that of the few benchmark programs that will execute on Windows NT 3.1, none of them seem to be capable of detecting SMP and instead only single processing systems. In one or two cases, and taking this with a pinch of salt… I found there to be slightly better results running the Systempro as a single processor system!
Each of the programs run seem to have areas performing better than others, like graphics performance being around the same (2 to 2.5 million pixels) for both Winbench 4 and Wintune 2.0, but then be poorly on Winbench 9.
I'm not entirely sure if Winbench 9 (WB95 v1.0) uses CPU performance when processing "Disk Winmarks", as this parameter when compared to the other results saved in the program, seems to outperform with margin.
The Wintune results were a little more extensive and add a bit more insight to other areas of the system, giving also the CPU dhrystone and whetstone counts which I like, if only it could detect both processor boards!
The other program run was Windsock 3.30 which I found easy to use and quick to do tests. Not as informative as the previous programs, but good to gauge beside other systems logged.
Conclusion of 386 Benchmarking
I have to say it's been an interesting past few benchmarking weeks which have comprised of many hours of up's and down's, configuring, benchmarking, and reconfiguring! I've got to know The Systempro quite well; what works and what does not.
Going by the results collected I would say that overall system performance is very good, in fact I think it would be fair to say as a (non-VLB) 386 system, performance is up there with the highest I've seen.
Going further forward though with anymore dual CPU testing at this moment will be a pointless exercise, unless: -
1) I can find a benchmark program that is compatible with Windows NT 3.1… AND… has SMP compatibility.
2) I install a different OS altogether which is compatible with an SMP compatible benchmark program.
3) I can collaborate with someone who is software oriented to find a way of quantifying MIPS within Windows NT 3.1 whilst running a program loop or similar to stress test both single and double CPU configurations.
…or find some other way to differentiate and log performance between a single processor system and multiprocessing systems.
Further testing could also see an attempt to utilise the full 16Kb of L1 cache by using a NAND circuit. At the moment though while there is no way to test and quantify the difference between one and two CPU's, this little project extension will have to wait.
Last edited by
386_junkie
on 2017-06-03, 14:07. Edited 3 times in total.