First post, by bassix6
Hi all!
After several months of researching and parts hunting my first retro build is sort of getting somewhere. It was quite a journey where I learned a lot about all this old hardware. I'm very grateful for the Vogons forum that helped me with a lot of troubleshooting - I probably couldn't have done it without your help. I decided to create this Windows 98 SE machine in order to play late 90's games and early 2000 ones.
Specs
On to the specs! The PC consist of the following parts
CPU: Intel Pentium 3 1.0 GHZ
Mobo: Matsonic Ms7127C
Mobo chipset: Via VT82C693A Apollo Pro133
BIos: Award Modular (12/07/00)
RAM: 256 MB SDRAM
GPU: Nvidia Geforce Ti 4200
HDD: 32 GB SD Card with IDE Adapter
Sound Card: Aureal Montego II
Monitor: 17" Compaq 7500 CRT
Photos
Here are some pics. Don't mind the cable management as it is still a work in progress and I have to mound the IDE adapter somewhere haha!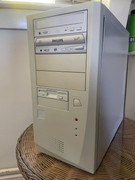 Future plans
I'm already quite happy with the rig, but I have the feeling the performance in certain games should be a bit better. Max Payne 1 doesn't run buttery smooth at 1024x768 and has some dips in FPS, whereas I have the feeling that shouldn't be the case. I have several GPU's laying around such as a Geforce 3 Ti 200 and a Voodoo 3, so I'll test them for better compatibility.
I'm also considering upgrading to a 1.4 GHZ Tualatin CPU in the future as it may be more appropriate for what I'm trying to achieve with this build. I'm also open to any suggestions you guys might have.