First post, by 4xtx
I've been working on a project called xyWords - a small cross-word anagrams game inspired by the mobile game "WordScapes"
Puzzles are on a 19x11 tile board and you use the letters in the circle to make the words and clear the level.
Puzzles can be in free-play or organised into collections.
Also included is xyPE - the puzzle editor.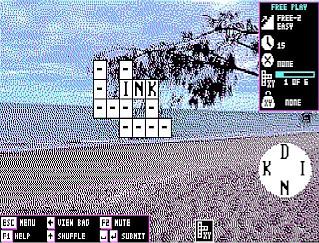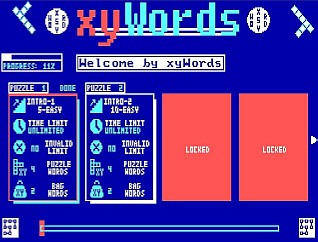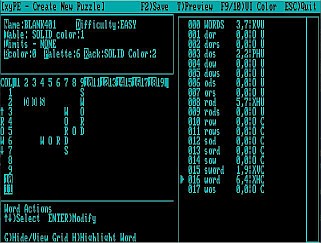 Released as Public Domain.
Requirements: IBM PC (8088@4.77mhz), CGA graphics, MS-DOS 2.11+ and 384KB RAM.
If you're using DOSBOX please use the machine=cga setting and max cycles (or some high amount)
It's written in Quickbasic 4.5, probably has a lot of bugs, but hopefully works well enough to be fun 😀
Note: If you plan on creating your own puzzles using the xyPE utility included.
Using an XT the word list generation can take a very long time.
Example: 4.77mhz 8088 took 6:25 to generate a puzzle based on keyword: 'words'
A pentium 3 gets it done in less than 1 second.
The latest snapshots here: https://4am.org/xywords
Distributions include:
- xyWords - the full release containing a full user manual, player, editor and utilities.
- xyPICO - a stripped-down "player only" version that can run from a 360KB floppy and uses a 8088 compatible packed exe.
- xyMini - a HFE based image using a supersized double density format.
This is designed to be used in GOTEK / flashfloppy based units that are connected to a floppy interface that can only support 360KB.
By using a DOS 5.0 boot disk, NFORMAT utility (BIOSPTCH.SYS) you can load 2.5MB off a 360KB floppy interface.
Why on earth would someone do this? Well I did - as I've got an old Sharp PC-7100 luggable XT which cannot support above 360KB disks.
I would love to see photos of it running on original hardware XT/286, CGA.. or even someone with a Hercules Mono using CGA emulation!
For those who don't want to download - you can do the dosbox in browser thing..
I have attempted to load it onto archive.org, I can't gaurantee I will keep this there as it's a hassle to update!
https://archive.org/details/xywords_dosbox_202304
EDIT: Updated version to 1.0.2 and have implemented some debugging, a change to pallettes for EGA/VGA cards and change to timer to avoid FPU-less problems
Last edited by
4xtx
on 2023-04-15, 01:33. Edited 9 times in total.