First post, by 8bitbubsy
I'm trying to port ProTracker to MS-DOS (386+, Sound Blaster 2.0/ Pro / 16).
This is just a proof of concept for now, so the only thing that works is to load a module through Disk Op, then press Play or Stop (or change the BPM).
It won't be "just another .MOD player" though, as the goal here is playback accuracy. I've ported the ProTracker replayer from 68k asm to i386 asm, and I've written a Paula (Amiga sound chip) i386 assembler mixer that kinda works like Paula in the way it handles looping and register updating (DAT/LEN). I don't think there's a single ProTracker player for MS-DOS that does "live sample-swapping" correctly, but this one does. This tecnique was used in several chiptune-styled .MODs to simulate SID PWM. The swapping shouldn't happen instantly (many players do this, it's wrong), but rather at the next "sample end" point inside the mixer.
The mixer runs at 43.5kHz (SB 2.0/Pro) or 45.5kHz (SB16). 16-bit mixing, 8-bit/16-bit output, no resampling interpolation.
Minimum system requirements:
- Intel 386SX processor @ 25MHz (486 recommended)
- At least 2MB RAM
- Sound Blaster 2.0 / Pro / 16 (earlier SB cards not supported, output rate must be >32kHz)
- NOTE: Audio might have occasional buffering issues under DOSBox
A 486+ w/ SB16 is going to give the best experience and sound quality.
Download: https://16-bits.org/etc/pt4dos.zip
Source code: https://16-bits.org/etc/pt4dos_src.zip (tabsize = 8 for the .asm files)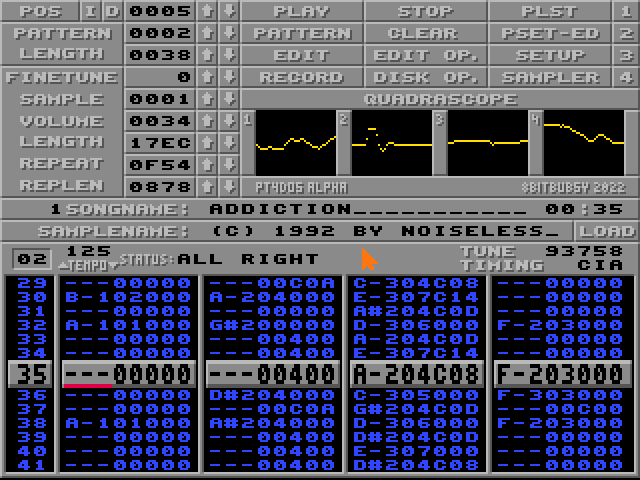 Last edited by
8bitbubsy
on 2023-07-09, 11:58. Edited 13 times in total.
386:
- CPU: 386DX-40 (128kB external L1 cache)
- RAM: 8MB (0 waitstates at 40MHz)
- VGA: Diamond SpeedSTAR VGA (ET4000AX 1MB ISA)
- Audio: SB Pro 2.0 + GUS 1MB
- ISA PS/2 mouse card + ISA USB card
- MS-DOS 6.22 + Win 3.1
- MR BIOS