First post, by Choum
Hello,
I have a sound blaster ZxR since many years and found something wrong about eax emulation, alchemy and host open Al installation on windows 10.
As you know this sound card use a software call Host open Al to support openAL with EAX support up to 5 (with sens_oal.dll).
First problem it look like on an X64 version of windows, the creative drivers installer put the 64bits dll of sens_oal.dll in the syswow64 instead of system32 folder and do not install at all the 32bits dll.
This result in absolutely no support at all of openAl exept though the default "generic device" of the openAl drivers itself.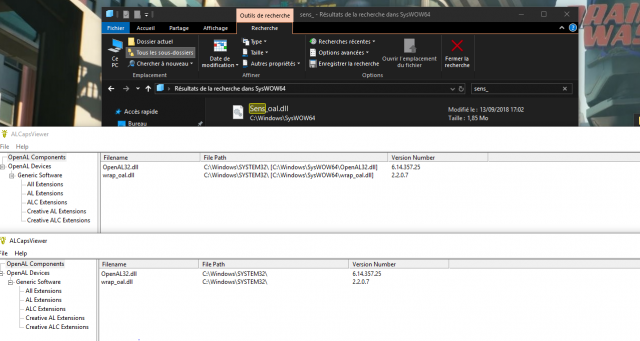 If you manually replace the 32 bits dll to syswow64 and put the 64 bits dll to system32 folder, openAL support is back.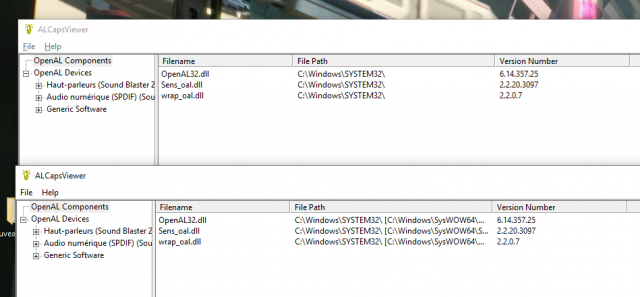 Second problem related to Creative Alchemy (the directsound 3D wrapper to openAl).
It look like that this software will not use at all the sens_oal.dll but instead use some kind of "embedded library".
Creative alchemy seems to only check if the CT_OAL.DLL (the openAL drivers for X-Fi/audigy card) is present and if not it will use his own default library.
If the software do not find CT_OAL.DLL (which is the openAl drivers of X-FI card / audigy), resulting in alchemy using some kind of default wrapper / emulation.
This result in a poor quality and audio glitch, this is flagrand in some game like star wars : the phantom menace.
In this game, if you use alchemy and activate EAX (game support EAX 2.0), the voice will be inaudible especially when music in playing.
Alchemy log will report : "Using Creative Software 3D Library"
To fix that you need to rename or copy the 32bits of sens_oal.dll as Inside c:\windows\syswow64 folder as Ct_oal.dll (you do not need to do the same of the system32 folder as alchemy do not support X64 application) and I'm not aware of any X64 game that use directsound 3D.
After that it seems that alchemy will use the host openAL dll.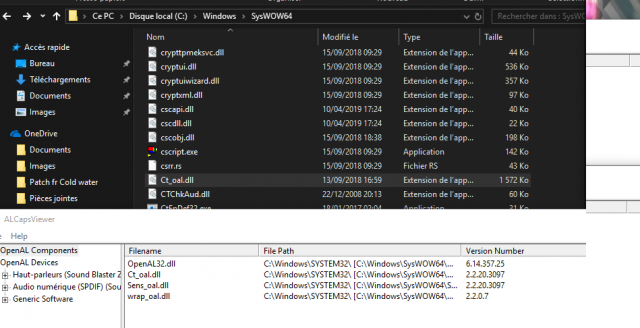 In my example of the Phantom menace, The sound will be at another level, the voice will be very clear (it will not be inaudible due to the music), you will have reverb of the voice depending of the room size.
Log in alchemy will report : Using Native OpenAL Renderer
EDIT : I do not recommend to rename the openal drivers sens_oal.dll to CT_oal.dll this could help on phantom menace but this also break many eax game (like call of duty 1)
Can someone with a recond3d, sound blaster Z , Zx ZxR or AE card confirm the problem about host openAL (wrong dll in the wrong folder) and alchemy ?
I use ALCapsViewer32.exe and ALCapsViewer64.exe to list openAL device on my screenshoot.
The host openAL dll ca ben extracted from the bin.cab in SBZxR_CD_L13_1_01_05.exe\Audio\extras\CTShared\CTRedist\HOAL\ (winsysdir = 32 dll, winsys64 = 64bits dll) with 7zip
Last edited by
Choum
on 2021-03-10, 12:51. Edited 1 time in total.