In two words:
Light sources like car headlights and street lights randomly disappear, especially in dense (like hitting light limit or whatever). See detailed explanation below, video included.
My configuration:
Intel i7 7700K (
link
)
NVIDIA GeForce GTX 970 (
MSI GeForce GTX 970 GAMING 4G
)
16 GB of RAM
Windows 7 x64 SP1 (registered license)
NVIDIA Display Driver 384.76
Latest DirectX
Hard Truck II: King of the Road 8.1 (registered license, box version)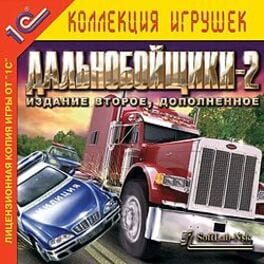 dgVoodoo 2.55
dgVoodoo configuration:
Details:
Sometimes I experience difficulties with lights such car headlights and street light: they begin blinking and disappear after that. Game restart is only way to fix disappeared lights. It happens each 5-10 minutes or even after few seconds after loading the game. I have recorded video using OBS. It is available on YouTube:
VIDEO >>>
https://www.youtube.com/watch?v=sWNePBaMdE8
<<< VIDEO
At 00:03 I turned headlights off and on to show that I have working headlights on my truck.
At 00:10 I show that headlights have smoke "trails" in front of them and also you can see the ground is bright in front of the headlights.
At 00:14 you can see AI (Renault Magnum and cars) also has working headlights. But... somethign went wrong... you can see the light blinked.
At 00:22 for some reason sky begins to blink and light sources behave themselves like they detached from the headlights: they don't move with the cars. You can see the light spot at 00:23.
At 00:28 you can see, my truck's headlights is not working anymore. The ground is not bright in front of the truck.
At 00:39 I turn light off and on few times to show that I still controll headlights by pressing a button but the ground is dark. You can see the trees are lit but not the road and the grass.
At 00:48 light spot appeared from nowhere like traffic headlights were temporarily fixed for 0.1 seconds.
At 00:52 AI also hasbroken headlights. Car has white texture on the headlight, but actually lights don't work.
It happens VERY often (always literally) in the towns where a lot of light sources are placed and rarely in wilderness if you drive your truck alone withouf traffic. This is very common issue in ru community of this game. I copied few user messages from vk.com for you from the thread related to dgVoodoo at
https://vk.com/topic-11599748_34456791
...
Известные проблемы:
Периодически не работающие фары
...

Translation:
...
Known issues:
Periodically not working headlights
...

Андрей Курилкин 4 янв 2017 в 23:21
кто-нибудь нашёл решение нормальное, чтобы фары не гасли неожиданно в дождь
...

Translation:
Has anyone found a solution for broken headlights which turn off unexpectedly in rain and in the dark

Руслан Штепин 19 фев 2017 в 22:31
Потестил версию 2.5.3- не советую. При первом же запуске выявились очевидные проблемы: при тех же настройках, что в версии 2.5.1 во-первых- в гл. меню все шрифты стали "пискельные", а во-вторых- в самой игре появилось моргание меню и в особенности интерфейса при открытии панелек (F3-F4) и включенной в максимальном размере мини-карте.
Решилась данная проблема отключением враппера, и ручной настройкой драйверов под игру. Отключил все основные настройки, включил Верт.Синхронизацию и вуаля- враппер не нужен и огроменный ПЛЮС- решилась уже набившая оскомину проблема с исчезающими фарами (через 10-15 мин после запуска игры). Правда, с выключенным враппером цвета отображаются менее качественно, появляется зеленоватый шлейф у дыма и фиолетовый оттенок у пыли, когда дует ветер. Но, на сколько я помню, в оригинальных Дальноюйщиках-2 на старой системе была точно такая же картинка.
A bunch of text. In few words: that guy could run the game without dgVoodoo and he told that light issues gone away if the game doesn't use dgVoodoo to run.
Илья Нечаев 27 мар 2017 в 22:15
Что насчет решения проблемы со светом фар?
Translation:
What about solution for headlights?
Александр Тякотев 22 июн 2017 в 10:03
По поводу не работающих фар и не рабочей мышки в правой части экрана. Чтобы заработали фары, попробуйте снизить разрешение экрана в игре и слегка убавить детализацию и дальность прорисовки.
Чтобы мышка работала как положено и без танцев с бубном, и вылетом в оконный режим, сразу зайдите в настройки графики и нажмите "автопоиск". Потом донастройте параметры графики на свой вкус.
Мне, по крайней мере, это помогает.
Translation:
About not working headlights and mouse pointer at the right part of the screen. Try to reduce ingame resolution, detail and distance levels to order light to be fixed....

Actually it doesn't work. I tested lights on 640x480 and lowest detail level.
Аарон Рассел 20 июл 2017 в 19:45
Alexander, первое время после запуска фары горят, потом пропадают
Translation:
The headlights are working a just short period of time after game start. Then they disappear.
Алексей Грачёв вчера в 2:42
Проблема с фарами до сих пор актуальна.
Translation:
The headlights issue is still actual and not fixed yet.
PS It seems this game uses DirectDraw to render graphics because after moving DDraw.dll and D3DImm.dll to the game root directory and NOT moving D3D8.dll it works fine. I mean it starts correctly and can detect dgVoodoo graphics card.
I also tried 2.52, 2.53 and 2.54 dgVoodoo. I tried to change every single option (excluding Glide tab), tested default settings, tried to use Windows compatibility with all available versions from Windows 95 to Windows 7. Same results.