First post, by dionb
Back around the turn of the millennium I was a student with a part-time job at the UK/IE tech support for Packard Bell, working from a location in a small town in the east of the Netherlands. The work was typical helpdesk, the pay peanuts and the management significantly worse than in other similar gigs, but hours were flexible and it helped pay the bills and even with the downsides beat flipping burgers or piling boxes in a warehouse. Packard Bell computers are and were aimed at the least knowledgeable end of the market, but at times the hardware could be quite good if somewhat eccentric. At the time I was working there they were just transitioning from late 90s systems with onboard VGA to early 00s systems with integrated VGA and consensus was that particularly in the low end it was a massive step backwards in performance and user experience.
The last, greatest board with onboard VGA was the 1999 vintage MSI MS-6168 rev 2.0, internally called "Bora Pro" at PB. It wasn't a low-end board, with i440BX chipset, Slot 1, CuMine and 512MB RAM support - and a Voodoo3-2000 onboard. The V3 was slightly hobbled with only 8MB of RAM, but apart from that it ran at the regular 143MHz. This was a great little board to have in 1999/2000. And of course back then on a part-time helpdesk salary spent mainly on beer and travel I couldn't remotely afford it.
Additionally one of my colleagues, friends and co-author of various community FAQs on CPUs, motherboards and memory, once tricked me into believing there was a special "BoraPro 2" with onboard Voodoo3 *and* an AGP slot. Unless the V3 was hooked up to the PCI bus (which actually would have made sense...) this is of course technically impossible. But I fell for it and he kept teasing me about it for years. So this board very much remained in my mind.
Fast forward to this year. After a decade without vintage computers, my son lit my spark again and I started to think of what I wanted. Aside from an 'educational' SS7 system to build with my son, part of me wanted to do stuff with old sound cards (and indeed I have), but part of me wanted to get hold of an MS-6168 and do the board justice. So I did. And this system is the result.
First up the aims:
- MS-6168 in an original period-correct Packard Bell case, externally identical to how it would have been shipped back in 1999/2000
- Insanely max out everything else in there, so:
-- Max CPU, if possible at 133MHz FSB
-- Max RAM
-- SSD at least as large as original HDD
- Do all of the above and also make it as near to completely silent as possible.
- Run Win2k on it (both for old times' sake and because the aforementioned colleague/friend had a fixation for it)
I'm by no means done with this system, but I've now met all of these aims, so it's worth a little topic.
Pride of place - the motherboard:
The MSI MS-6168 came in two revisions, v1 and v2; v1 had i440ZX chipset (so max 128MB per DIMM, 256MB total) and no CuMine support. v2 had i440BX and CuMine support. I believe that v2 was far more widely sold than v1, and looking at what I could find second hand that seems to be the case. I got one v2 for a low price (EUR 20) sold as dead, with a sticker saying "doesn't boot" on the back. Another one I got almost for free in a large lot I paid peanuts for. Both were indeed dead at first test, but the cause was clear enough: bad caps. The two big caps next to the socket were bulging and failing on both boards. After replacing them, both boards were rock-solid. I got two as I intended to push the board to the limit and wanted a backup. Unfortunately, the second board singularly refuses to boot with CuMine CPU, despite being exact same revision with exact same chips and VRMs as the first. Oh well, one down, but one very much remaining.
Both boards had PB's OEM AMI BIOS, but MSI's own retail Award BIOS is also available. I have no huge preference for Award vs AMI, but as I want to push the system to its limits I upgraded to the retail BIOS to get clock and timing settings.
Here's the board after re-capping:

A great little beauty. Unfortunately the fan on the V3 was never quiet at the best of times, and by now has completely shot bearings, so is both ineffective and loud as hell. So off it went - this is what it looked like after cleaning up: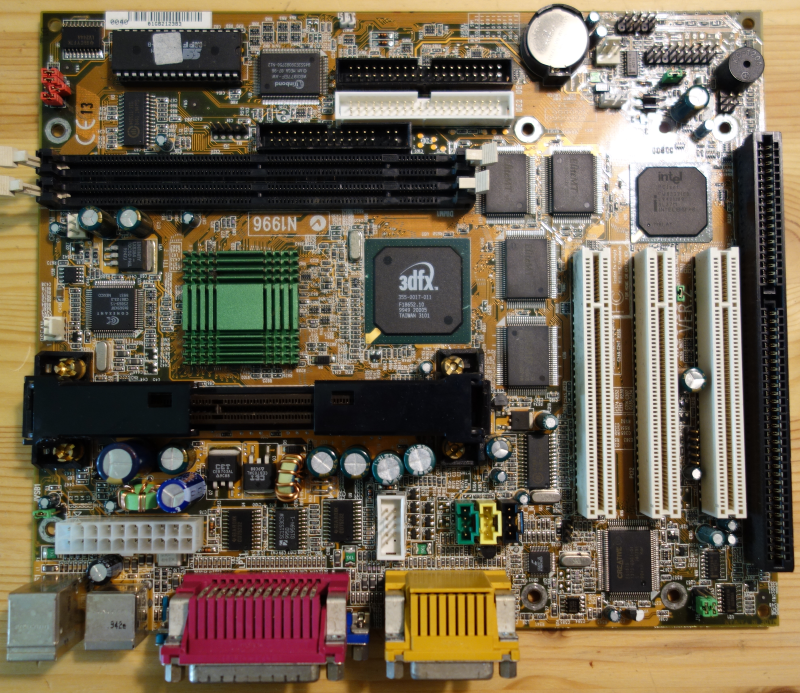 Yep, that's a Voodoo alright. But the Voodoo needs cooling. The lack of mounting holes or any form of restraint rather limited my options, so I went for an Enzotech MCP35-12 passive heat sink which I stuck on using Akasa thermal adhesive: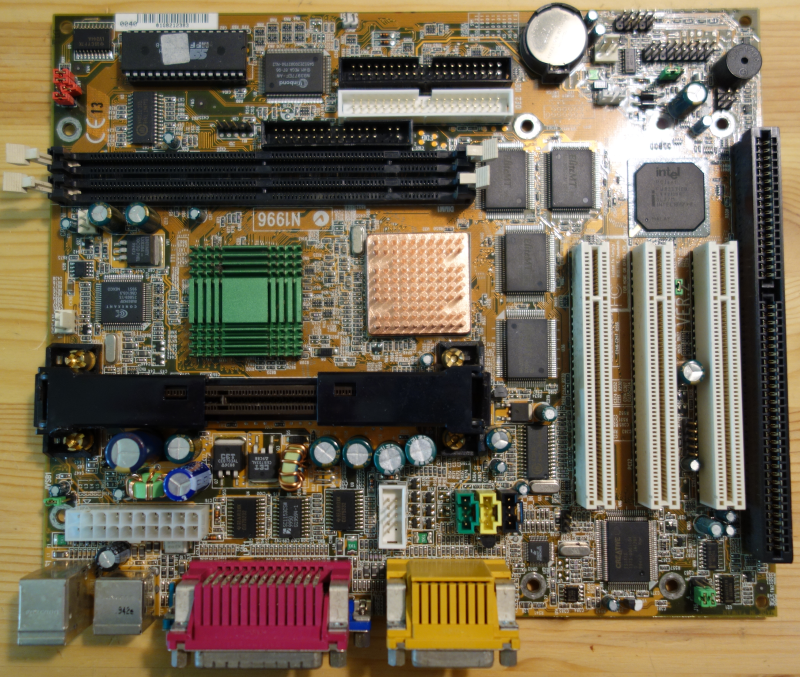 All ready for mounting. But where to mount it...?
It turned out that finding a suitable case would be more difficult than finding the motherboard. These boards were shipped in the 'Symphony' systems of late 1999 through 2000. There were three potential cases, the Platinum II full ATX (large) midi tower, the Spheris II full ATX (small) midi tower and the Squarius II uATX minitower. As it's an uATX board, the Squarius II was my first choice, but beggars can't be choosers, so I'd go with whichever I found first. Fortune smiled on me, as the first one I found was indeed a Squarius II. Then it shat on my head given the state it was in: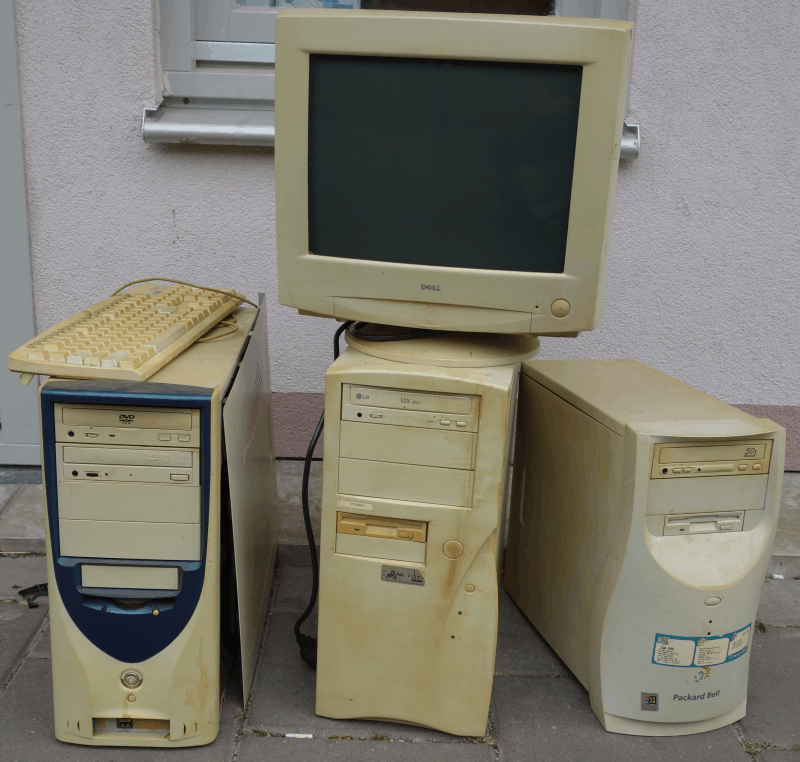 The Squarius II is the one on the right. That's not yellowing due to age & UV, that's almost two decades' worth of cigarette tar and nicotine stains. "Filthy" doesn't even begin to describe the state of these systems. I immediately trashed the monitor, the other two cases (after rescuing one of the motherboards and a few other bits and pieces) and the PSU and heatsinks of the PB system. Then the cleaning began. Various chemicals combined with scrubbing failed to work, either leaving smell or stains or both (or in the case of very concentrated ammonia actually eating into the paint - but still leaving the smell). Eventually I decided to try one last thing before giving up - chucking all the metal and plastic bits in the dishwasher. To my surprise, it worked very well. The first time got rid of all the stains, a second run killed the smells - and it didn't touch the plastic and only caused very superficial oxidation to the steel parts.
Then I dug up a new PSU (250W FSP with most of that on 5V - nothing special) and did my first silencing intervention. First I auditioned three low-noise 80mm fans (Noctua ULN, Noctua Redux and Coolink Swif2-800). It was a toss-up between the Noctua Redux and the Coolink in terms of noise at default 12V (with the more expensive ULN surprisingly making a more noticable, higher pitch sound than the other two), but the Noctua Redux moved more air, so I installed that in the PSU.
This was the case immediately before installation:

And inside:

Then the other components. Without modifications, CuMine is the max for this system, so here's a P3-1000EB on an MSI MS-6905 Master slocket. To keep it virtually silent, I added a Zalman CNPS-6000Cu heatsink with Zalman bracket to position a big, quiet fan immediately over the CPU. It was originally supplied with a Zalman 80mm fan, but to cool the Voodoo and the VRMs immediately behind the CPU I needed a bigger fan, so replaced the Zalman with a 120mm Noctua Redux.
A Micron 256MB CL2 PC133 SDR-SDRAM DIMM takes care of memory. I'd install two, but the CNPS-6000 is so large it blocks the first DIMM slot.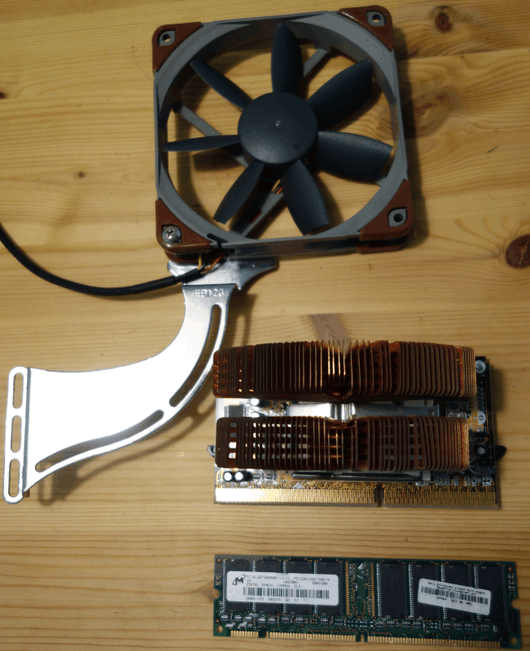 Next up - storage. These systems were orignally shipped with around 20GB of 5400rpm sloth. Unlike with the CPU there's nothing stopping you from adding the latest greatest SSD. Instead of going for a nonsensical waste of money and performance, I decided to choose the first SSD I lusted after but couldn't even remotely afford at the time, the Intel X25E in all its SLC glory, more specifically the 64GB version, which never sold for less than EUR 500 when new. Fortunately, the better part of a decade later it's pretty much being dumped. So despite it still being the single most expensive component of this system, at EUR 30 it didn't break the bank.
To install my OS without having to mess around with storage drivers, I just used a SATA-to-PATA converter, which does the job, but limits performance to the i440BX's native ATA-33. But a Promise SATA-150 TX2Plus nicely bumps that up fourfold:

Finally the rest of the I/O. The board only supports three USB 1.1 ports, which is rather limited - and they are sloooow. So I added a NEC USB 2.0 card. And any system here needs to be networked, so a 3Com 905C-TXM completes the part list. I also installed the TV-out bracket for the onboard Voodoo, although I seriously doubt I will ever use low-quality analogue video again.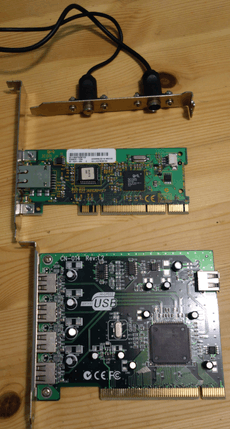 So, putting this all together looks like this:

Then let's see if it can boot at 133MHz FSB:

Yep, it's pretty illegible, but the CPU is happily reporting 1000MHz 😀
So let's put an OS on it: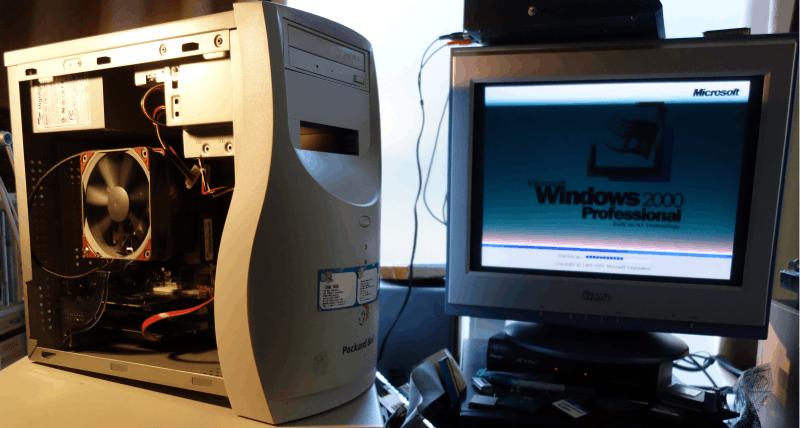 Taking pictures of a CRT is always tricky, but this looked fine IRL. The CPU and Voodoo heat sinks are warm, but not hot to the touch, although neither has been competely stressed yet. Basically, this system is go!
To do:
- Remove that tattered spec sticker from the front of the case. Regardless of the state it's in, this case no longer contains a K6-2 450 😜
- Sort out an issue with the power button - it seems to pretty randomly short, either booting the system when it shouldn't or shutting it down when running. It really is the button itself, as no problems with another one or a screwdriver on the pins.
- Replace the SATA-150 TX2Plus with a SATA-300 TX2Plus. Theoretically it removes a bottleneck between SSD and CPU, but 150MBps is already over the max 133MBps of the 32b PCI bus, so apart from bragging rights this probably won't actually change much. I should get the SATA-300 TX2Plus later this week.
- Do a pin mod on the CPU or mod the socket on a second MS-6905 Master slocket to see if I can get a Tualatin to run on this board. I have both P3-1400S and Celeron 1400A, so if I can get any Tualatin to run, I can hit 1400MHz, even if I can't manage 133MHz FSB with it.
- Check temps of CPU and V3 on a hot day under heavy load (UT99 sounds like the ideal application) and see if cooling is adequate. If the CPU stays more than cool enough (as I expect) I might saw off the last cm of the heatsink fins, allowing me to add a second 256MB DIMM.
- Check how hot the MOSFETs of the VRM are getting, and if in doubt, adding a little heatsink there.
- Do some cable management, possibly with a rounded PATA cable for the optical drive.
- Decide what to put in the 3.5" external slot. FDD would be most period correct (and I have enough lying around), but I have a pathological hatred of floppies (and a similarly low opinon of ZIP and LS-120 drivers for that matter). Probably will stick in a floppy just for looks, but not bother to hook it up.
- If I find a second (i.e. spare) case, get creative with it. One idea is to carefully remove the red/blue PB logo, replace with clear plastic and illuminate with red/blue LEDs. If internal temps are too high, I might add an outtake fan and/or put a hole in the side cover above the 120mm fan, so it can draw in cool outside air.
So, what do you guys think? (apart from "TLDR" 😜 )