First post, by swaaye
Rendition Verite V1000 (1996)
Sierra Screamin 3D 4MB PCI (V1000E)
Slideshow: Jedi Knight, Shadows of the Empire, Turok (V1000 preset) [Quake2 captures didn't work]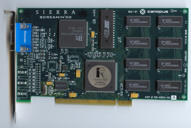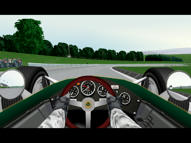 Notes:
tested with V1000 drivers v2.1 beta2
Speedy3D [DOS] / RRedline [Win9x] APIs - some games have support for these and have extra effects like anti-aliasing.
3D
-Good feature support and image quality.
-Speed is similar to Virge GX.
-Resolution support to 800x600 ~ 960x720.
-OpenGL/MiniGL support can run Quake-based games.
-vQuake/vHexen2/vQuake2 are options for more speed.
-Lacks D3D table fog support (see Shadows of the Empire shots)
2D
-GUI acceleration is probably slower than Virge.
-Gets blurry at 1024x768x85 Hz.
-Reference drivers lack refresh rate control. Powerstrip can set it.
-DOS VGA is very slow but VESA modes are good.
Hardware
-no issues
see more Verite screenshots in my Verite thread in my signature
Matrox Mystique / Millennium II (1996-97)
Millennium II PCI 8MB WRAM
slideshow: Jedi Knight, Shadows of the Empire
Mystique 220 PCI 4MB SGRAM
slideshow: Jedi Knight, Turok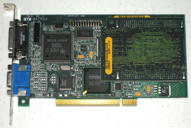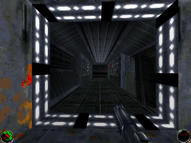 Notes
Mystique driver: 4.12 & 3.70 / Millennium II driver: 4.33
I've been curious as to what 3D capabilities the Millennium II has. I'd read that it was like Mystique and it does appear that is the case. They have the same features and quirks. I found few details about their differences other than the Millennium II supporting a 32-bit Z-buffer whereas the Mystique has only 16-bit Z-buffer support.
I had a lot of lockup problems trying to take screenshots of these cards. They don't seem to like my ASUS mobo. I tried older drivers for the Mystique but that didn't help. I have a feeling that it might be related to some BIOS setting (like USWC / UC).
3D
-They lack most 3D features and look like CPU rendering.
-Speed is similar to a Virge GX. 800x600 is playable in Jedi Knight.
-No OpenGL support
-Alpha textures are either stippled or opaque depending on drivers used.
2D
-Fast, clean and crisp. Millennium II's WRAM is faster at very high resolutions.
Hardware
-Very unstable in 3D on ASUS TUSL2-C. I found other reports of freezes from back in the day for other systems on Google Groups.
Cirrus Logic Laguna 3D CL-GD5464 (1997)
Creative Graphics Blaster 3D 4MB RDRAM PCI
slideshow: Turok, Jedi Knight, Shadows of the Empire, 3DMark 99 / 2000, Drakan, Tomb Raider 2, Forsaken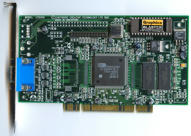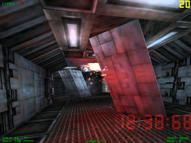 thanks to elianda for a bunch of screenshots
Notes:
Driver v2.0 (found on Driverguide)
3D
-Missing features but mostly D3D 5 "capable"
-Texture alignment / perspective problems ala PS1, depending on setting of "quality/speed" slider in control panel
-Approximated bilinear filtering
-Poor software compatibility
-No OpenGL
2D
-2D GUI speed is noticeably sluggish.
-Good output signal quality
Hardware
-wouldn't work in some PCI slots of my Abit BF6
Rendition Verite V2200 (1997)
Rendition V2200 reference card. 4MB PCI.
slideshow: Quake 2, Shadows of the Empire, Unreal Gold, Turok, 3DMark99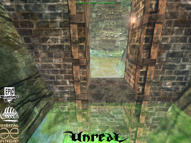 Notes
3.0 beta5, build 5176 - June 2, 1999
It was supposed to put Rendition back on top, beating the Voodoo1 without question. Unfortunately Voodoo2 came soon after and like the various other small 3D chip companies, Rendition simply couldn't compete.
Speedy3D/RRedline API gives access to some interesting ports with extra features such as anti-aliasing.
3D
-Nice texture filtering and 24-bit color support
-Often performs better than Voodoo1
-Beta drivers are buggy. Older versions can be preferable (ie Diamond / Hercules packs).
-OpenGL / MiniGL are ok with Quake-based games but buggy too.
-Only per-polygon mip mapping means ugly texturing in newer games (ie Half Life).
2D
-Acceptable GUI acceleration speed.
-Not blurry but not crystal clear either.
-DOS VGA is very slow but VESA modes fast.
Hardware
-no problems
S3 Virge GX (1997)
STB Nitro 3D 4MB EDO PCI. Supposedly 75/75 MHz. 64-bit memory bus.
slideshow: Shadows of the Empire, Jedi Knight, NFS4, Turok, 3DMark99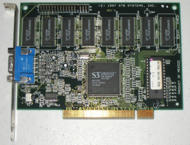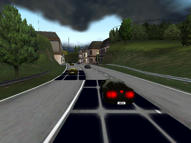 Notes
4.10.01.2122-3.42.02 "FASTD3D" Driver
Virge DX/GX (D for EDO, G for SGRAM) are about 3x faster than the original Virge chip. Interestingly the Nitro 3D uses EDO although it uses the GX chip.
3D
-Ok image quality when it works well (rare).
-Jedi Knight runs pretty well at 800x600 and looks good too.
-It ran NFS4! Not playable though.
-No OpenGL support.
-No D3D table fog support.
-Some S3 S3D games refuse to work with anything other than original Virge chip.
2D
-Good GUI speed.
-Good signal quality.
Hardware
-no problems
NV Riva 128 (1997)
STB Velocity 128 AGP 4MB
slideshow: Jedi Knight, NFS4, Shadows of the Empire, Quake 2, Turok (Velocity 128 preset)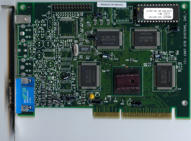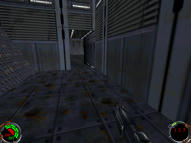 Notes:
NV Riva 128 AGP driver v3.37
3D
-Texture filtering is grainy (dither artifacts?), but nice and sharp.
-Good feature support (ie table fog)
-Good OpenGL support.
-Visible texture seams in some games.
-Can do 960x720.
-High resolutions can cause stuttering.
-Similar speed to Voodoo1.
-It can't run Unreal D3D due to hardware limitations.
2D
-Fast GUI and clean signal quality.
Hardware
-No apparent issues
Riva 128 PR brochure (found in the internet archive)
Intel 740 (1998)
Real3D StarFighter AGP 8MB
slideshow: Quake 2, Shadows of the Empire, Unreal Gold, NFS4, Turok D3D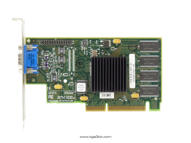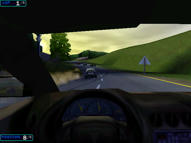 (thanks to TGA3DX for card image)
Notes
Intel 740 ref driver 4.0v (available from Intel site)
3D
-Good image quality and features (no table fog)
-Trilinear filtering is approximated (ie mip map blending not perfect)
-Speed is similar to Voodoo1
-Stuttering problems (caused by AGP texturing?)
-AGP texturing lets it score well in 3DMark99 large texture tests
-Can 800x600+
-Ran tested games without stability problems
-Unreal Gold D3D works but has missing features / issues
2D
-Fast, clean and clear
Hardware
-No issues
Matrox G200 (1998)
Matrox Millennium G200 8MB SGRAM AGP
slideshow: Quake 2, Shadows of the Empire, Unreal Gold, NFS4, Turok D3D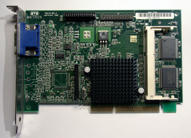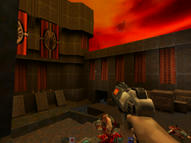 Notes
driver v6.82 Win9x
Vsync disabled via Matrox Technical Support Utility
useful link: MatroX Files
To say that Matrox improved the drivers for this chip since its release would be an understatement. They went from having a product that didn't have OpenGL support and had D3D riddled with issues, to a card that runs most old games very well while looking great too. It took them years to achieve this though.
How does a Direct3D to OpenGL wrapper sound? That was G200's early days. 😵 I have owned this G200 since 1998 and lived through all that early agony. 😀
3D
-Good D3D image quality with some minor quirks
-Very clean filtering and dithering
-32-bit color depth
-Resolution support only limited by RAM
-OpenGL is pretty good in its final incarnation but Quake 2 lacks transparent water
-Should be around the speed of a Voodoo2
-Even supports fog table
2D
-Fast, clean and crisp.
-It does get slightly fuzzy at high resolutions and refresh rates (>= 1280x)
Hardware
-In my experience, Matrox AGP cards don't like VIA Super 7 chipsets.
3Dfx Voodoo² (1998)
STB Blackmagic 3D 12MB cards in SLI and single (aka Voodoo² 1000)
slideshow: Quake 2, Shadows of the Empire, Unreal Gold (Glide), NFS4 (Glide), Turok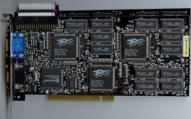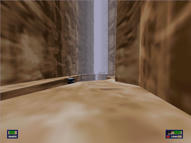 Notes
Voodoo2 Driver kit Version: 3.02.02 (final 3dfx)
Voodoo2Tweaker used to disable vsync for benchmarks
The standard in 3D acceleration for 1998. 😀
3D
-Nice image quality but sometimes a little washed out looking
-Flawless compatibility
-Fast
-SLI interleave can be visible if vsync disabled
-16-bit dithering is good but maybe not the best
2D
-Doesn't do much of this 😉 however...
-Passthrough doesn't affect 2D quality as much as with my Voodoo1
Hardware
-no problems
-only one card needs monitor connection in SLI

3DLabs Permedia 2 (1997)
Diamond FireGL 1000 Pro 8MB AGP
slideshow: Quake 2, Shadows of the Empire, 3DMark99, NFS4, Turok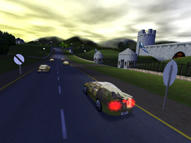 Notes
Diamond driver 4.10.01.2359, BIOS 1.54
It was a budget computer-aided design workstation chip with good OpenGL support.
3D
-Good OpenGL but missing a few features (see Quake2)
-D3D very buggy but some games work ok
-Good image quality when it works
-Not very fast
2D
-Good, clean picture. Not slow but not the fastest.
Hardware
-No problems

NV RIVA TNT (1998)
Creative Graphics Blaster TNT 16MB PCI
slideshow: Quake 2, Shadows of the Empire, Unreal Gold, NFS4, Turok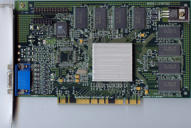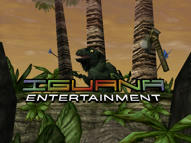 Notes
NV driver 28.32
The chip that started to show that NVIDIA really meant business. It is a vast improvement over RIVA 128 in every way. It at least matches Voodoo2 in speed. Unfortunately, they couldn't reach their intended clock speed of 110 MHz and shipped it at only 90 MHz.
3D
-Great image quality
-Some D3D oldies have ugly text (sometimes fixable with the pixel center adjustment)
-Quite fast
-Runs everything D3D/OGL
-32-bit support
-Capable of very high resolutions
2D
-Very fast GUI and great quality (my card does anyway)
-Excellent DOS support
Hardware
-No problems
ATI Rage 128 Pro (1999)
ATI Rage 128 Pro Ultra 32MB AGP (OEM edition)
Slideshow: Quake 2, Shadows of the Empire, Unreal Gold, NFS4, Turok, 3DMark99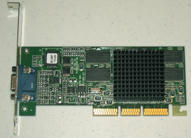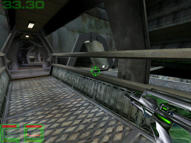 Notes
driver 4.13.7192 (had to manually install on this OEM card. uhg)
vsync disabled in control panel
The second edition of the ATI Rage 128. It is clocked a little higher (133/133 in this case) and has better 16-bit dithering.
3D
-Good image quality in most cases
-Fast in most games. Sometimes stutters (ie NFS4)
-OpenGL defaults to a "optimized" performance mode (see screens)
2D
-Great image quality and very fast GUI
-DOS support is likely troublesome from my experience with Radeons
Hardware
-no problems
S3 Savage 2000 (1999)
Diamond Viper II Z200 32MB AGP 4x
slideshow: Quake 2, Shadows of the Empire, Unreal Gold, NFS4, Turok D3D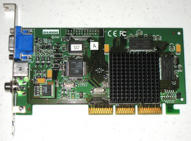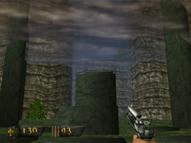 Notes
driver 9.51.17 w9x
Savage 2000 was supposed to be equivalent to GeForce 256. It sounded good on paper with its support of the same features and similar fillrate. Unfortunately, the chip isn't remotely as refined as NVIDIA's and the drivers are quite poor. I suspect that the hardware is broken and buggy in more ways than just T&L.
It is an ok card for Quake engines and UT99 however.
3D
-Filtering and dithering quality is pretty good.
-D3D is not great, with speed problems and bugs
-NFS4 runs really poorly with a lot of stutter
-Unreal D3D, Shadows of the Empire problems
-Z-errors are frequent in distant geometry
-OpenGL is ok with Quake engines
-UT99 can run in S3 Metal mode. Allows S3TC textures. Speed is ok but not spectacular (surely better than Savage4 tho)
2D
-Fast, clean and crisp.
Hardware
-AGP is picky. I had a lot of problems with VIA AGP once.
Extra benchmarked cards
NV GeForce 256 SDR (1999)
ASUS V6600 Deluxe 32MB AGP. 120/166 MHz 128-bit SDR.
driver 28.32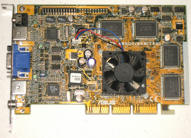 3dfx Voodoo3 2000 (1999)
3dfx Voodoo3 2000 AGP. 16MB 143/143 MHz 128-bit SDR
Voodoo3(tm) Driver kit 1.07.00-WHQL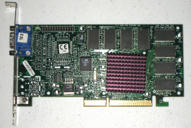 Matrox Millennium G400 Max (1999)
150/200 MHz 32MB SGRAM AGP
driver 6.83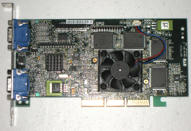 NV RIVA TNT2 (1999)
Diamond Viper V770 32MB AGP. 125/150 MHz 128-bit SDR
driver 28.32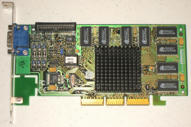 NV RIVA TNT2 M64 (1999)
Generic 32MB card
driver 28.32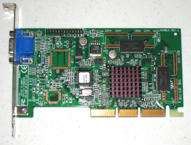 TNT2 M64 has half the memory bus width of a full TNT2, but the core clock is the same as a vanilla TNT2 (125 MHz). I forgot to write down the clock speeds so I don't know the RAM clock.
ATI Radeon 7000 (aka VE) (2001)
Generic card. 64 MB DDR. 155/155 MHz 64-bit bus.
Catalyst 6.2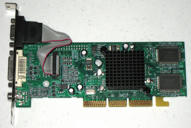 Another budget favorite. It's actually an interesting card. It's quite efficent as it has HyperZ. But it's only a 1x3 pipeline chip and has no T&L. It was the first Radeon with good dual monitor support.
NV GeForce 2 MX 200 (2001)
OEM card. 32MB 175/167 MHz 64-bit SDR
driver 28.32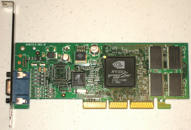 Benchmark Scores
Test sys: ASUS TUSL2-C, P3 1400, 512MB, Win98SE, DX8.1, Vortex2, Intel 100 NIC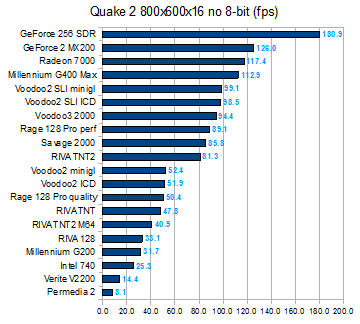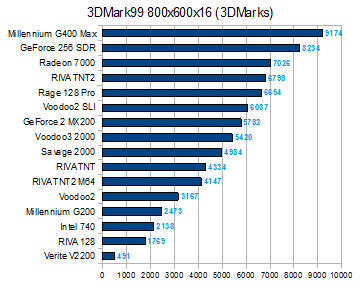 Last edited by
swaaye
on 2012-10-11, 23:41. Edited 39 times in total.