First post, by 386_junkie
The Systempro Project
1) Beginnings (The modified System): - 386_Junkie's duo core 386; The modified Systempro!
2) Build (The Systempro): - The Systempro Project; The Build
3) Bios: - The Systempro Project; The Bios
4) Bugs: -
5) Benching (386 class): - The Systempro Project; Benchmarking (386 class)
6) Benching (386 class) round 2: - <----------You are here
7) Benching (4/586 class): -
______________________________________________________________
Time for an update!
Since the last time of benchmarking, I have been really busy at work and only very recently acquired new parts to play with: -
The TI486SXL2-66 (PGA-132)... & repair!
… whilst the Systempro sat in hibernation.
With new introductions to the CPU board: -
I set about testing the TI486SXL-66. Though before testing, I removed the Weitek as right now it serves little use until I re-learn C and install Unix. Under Unix, I will be able to utilize both Weiteks and use simultaneously two 386's, all at the same time…. can't wait!
I digress…
Test Specs
Motherboard: Systempro EISA
CPU: TI486SXL2-66
DRAM board; 80Mb / 80ns
Adaptec 2740 EISA Controller
1.44Mb Floppy & 4Gb IDE HDD
Graphics; MiroCrystal 32S EISA with 4Mb VRAM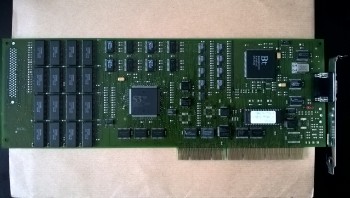 The TI486SXL2-66 installed as a single CPU system benched as follows: -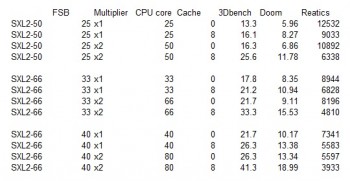 Below are screenshots of the SXL2-66 both with 8Kb cache enabled, with one clock doubled at 66MHz and the later clock doubled at 80MHz.