First post, by MaverickUK
Update: Version 0.1.0 is available for testing
https://www.dropbox.com/s/9kxxmvk1f9r3ali/Gam … v0-1-0.zip?dl=0
Please read getting started guide in Re: GameMinder - DOS games launcher
---
Hey folks
After a recent holiday with my Toshiba Libretto 100CT I got a little frustrated with navigating using DOS commands and not being able to remember what all my games were from the 8 character file names, so I decided to create my own lightweight DOS games launcher.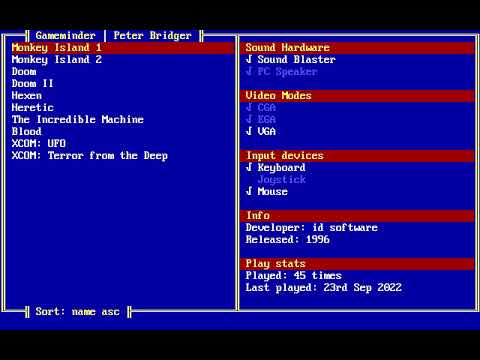 I'm sure there are already lots of similar utilities like this out there 😀 but I wanted to create something for my own specific needs and to enjoy the challenge of writing a DOS utility, which I've never done before.
It's designed to
Provide a simple, sortable list of DOS games
Display meta game about each game
Record the number and length of time each game is played
Consume very little memory, so as not to interfere with games
You can see a short proof of concept video of it in action at https://www.youtube.com/watch?v=tkKVguKeelc
More details about the project are available at https://github.com/MaverickUK/GameMinder where I'll release the source code once I've got it to an MVP state.
I would appreciate anyone with an interest in helping me test it on real hardware once it's a little further down the line
Thanks
Peter
Last edited by
MaverickUK
on 2022-09-26, 10:38. Edited 2 times in total.