Warning nostalgia overload if you want to skip the life history of the PC scroll down to the Hardware
History
The year was early 1995, Up till now we had an Apple IIe. I was starting to show a bit of interest in computers and one of dads friends work had over order and needed to get rid of the excess quick so these were going cheap. The deal didn't include a screen or keyboard but we did pay a bit more for a Osbornejet which was a Brother HJ-400 insides in What I assume was a Osborne designed shell. Nothing fancy but step up from the Apples Dot Matrix printer.
Osborne Australia started as the Australian distributor of the Osborne 1 but started manufacturing their own high quality systems till going bankrupt in the mid 90's and Gateway taking over. Making our model one of the last although remember advertising for Pentium class PC's.
We got 15" screen and a pre 95 keyboard (Win95 wasn't out yet) I can't remember if it came with PC Dos or MS Dos as I deleted IO.sys pretty early in its life and had to pay someone to come and fix it, later again I did something and a friend came round and fixed it. For the most part it was running version 6.21 of one of them. It booted into something called Osmenu their own menu system and preloaded with Windows for Workgroups, Works 3.0, MS Arcade and a bunch of Dos shareware games (No Doom sadly) To show off the fancy CD drive bundled software was Return to Zork, MS Bookshelf and Encarta 95.
In very early 96 a friend's dad in IT sold us a spare copy of Win95 for $30 bit. Later I got an external 336 modem and connected to the internet.
First hardware upgrade was also 96 I think? I got a 1GB hard drive which was massive at the time. Next was a Creative 24x CD-ROM as the original was playing up, It been though a few more since then. A network card was added about this time for LAN parties but had a "server" by 98 made from spare parts to share the dial up internet!
It then got the RAM upgraded 16MB stick at a time over the next few years till maxed out at 64MB. The original power supply died at some time but canalised one from other PC's I'd collected by that time.
It remained like this till 98 when I got my very own P2 400 and the Osborne was demoted to Dads word processor. I also installed NT4 which runs really well on this once booted up. In 99 Rest of the family got an updated PC so this went to my sister's room and doubt it got used much. Not sure what really what it did after that. Starting it up shows a 95/NT4 duel boot system in 2003-04 but cant see any proof of it been used much and most certainly spent the last 5+ years in my parents garage. till this year when it followed me back to the UK
Hardware
CPU: Intel 486 DX2 66 (Original)
M/B: Micronics Mpower4 plus. On board VL-BUS ATI Mach 64 and controller (Original)
Overall I like this board a lot. PS2 connections, Having the VL-BUS devices on board means they play well together. High speed serial ports were important back in dial up internet days. Down side is the Dallas real time clock (Mines still ok luckily) Only 1 IDE channel and BIOS has no configurable settings to speak of. Also looks like it's having trouble booting to 8GB drives these days.
Ram: 64MB, Originally came with 8MB but lost these long ago in another system, I like maxing it out anyway
HDD: Conner CFS420A 420MB (Original) I put this back in but not sure if I'll keep it in.
CD-ROM: Creative 2x CR-563 (Original) Panasonic interface, still reads Audio CD's but struggles with anything else.
Sound: SB16 Value CT2770 (Original) No complaints but always wanted an AWE32 growing up.
Speakers: Cheap Creative job (Original) Nothing great but will hook up to my server for basic sound as they are unpowered.
Keyboard: Osborne branded but not the one we had back in the day. This came from a 386 at Dads work and doesn't fail n key rollover tests. Our original one did but just the M key (Not bad)
Mouse: Osborne branded but not original. Original was a Osborne branded "Toe nail clipper" that mouse buttons died years ago. This is a serial mouse from the same PC as the keyboard, wont actually use. Also came with the strange mouse house thing.
NIC: Original 10MB that I brought all those years ago
Pics
PC as it is now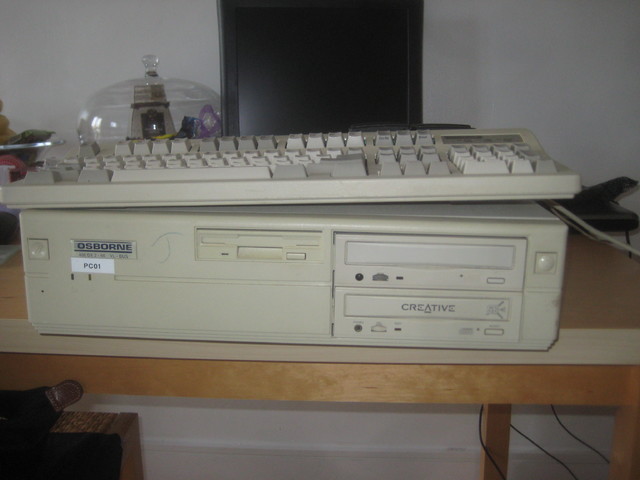 Everything (accept the M/B manual and disks)
Inside as it is now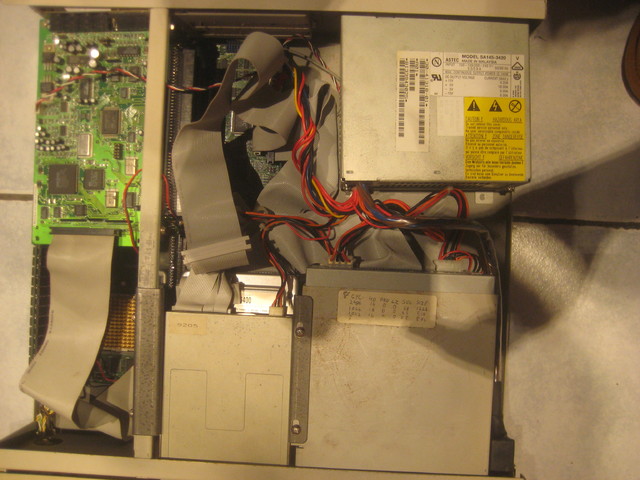 Motherboard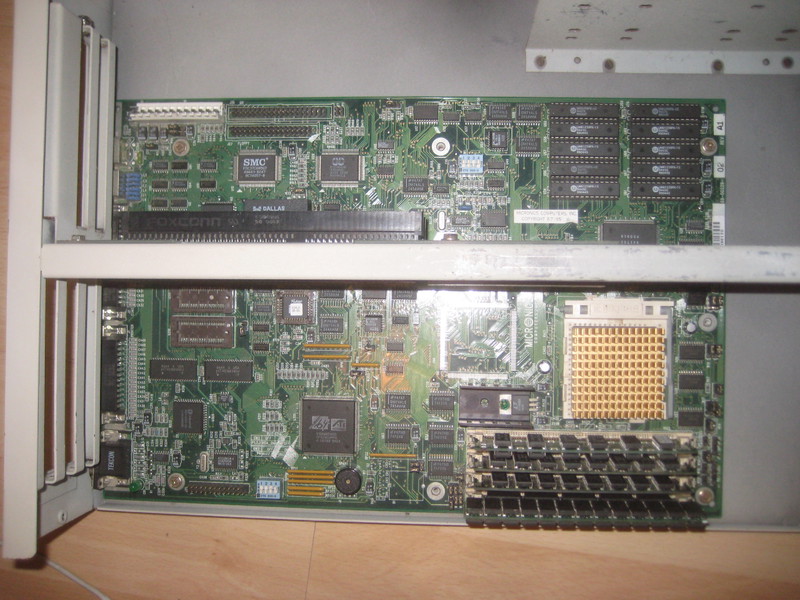 Questions
First is a long shot but here goes. I've only seen 3 other similar PC's and they all had Osborne written in gold on a Black background. Anyone know why the change?
Second I would like to fill the 2 spare video ram sockets. The manual says to use 256k x 16-60ns modules. Can someone point me where I can get these in the UK?
Can anyone confirm memory chip labelled "9346 k usa mt4c1004jdj -7" is 70ns I've confirmed the rest is rated 60ns but not this last stick.
Next its due a good hard clean and then I'm in 2 minds to take it back to original or give it the CF-card, gotek floppy, etc modernisation
Edit -updated pics URL