First post, by Robert B
Hellow everybody, my name is Robert, and like you I have a passion for old PC hardware. Over the following weeks, I'll be posting full details about a AMD 5x86 build, AMD K6-2 build, Pentium III Slot 1 build, AMD K7 Classic Athlon build and a few extras. My posts are usually TL;DR and I upload lots of images....I used postimage.org so that I wont burden your server storage.
The 5x86 Story
What do you do when you first start gathering old hardware?
In my situation the facts were stacked against me. The pieces I was trying to find were, by all means dinosaurs, a foot note into the PC history. Many have already been discarded, buried into landfills, melted, dismembered.....
I entered a couple of IT forums in my country and tried to find the pieces for the 5x86 puzzle, but to no avail.
My first purchase was a complete success. I scored for the sum of around 80 $, a large number of AGP and PCI VGA adapters prior to 2000, an awesome Maxi Gamer 3D Voodoo 2, some socket 7 motherboards, two busted socket 3 motherboard, lots on SIMM, and DIMM RAM and the a gem of a PSU Minebea Electronics 200W AT PSU - the first piece of the 5x86 puzzle 😀
I tried the local flea market but my searches were fruitless....In the end I found a guy who let me buy from him three socket 3 motherboars, two AMD 5x86 133MHz CPU's, one AMD 4x86-DX2 66MHz, one AMD 486-DX4-100MHz and two heatsinks complete with clips for my socket 3 build. This was my second piece of the 5x86 puzzle 😀
I was quite pissed for giving away my first PC back in '98 or '99. I was young and foolish 😁
The motherboard I found was a Jetway J446A v2.0 - chipset SiS 496/497 - 256KB cache/3 PCI/3 ISA/4 RAM SLOTS not a Tomato Board 4DPS SiS 496/497 like I used to have. So this was as good as it gets 😁
So there I was in 2015 with a motherboard, CPU, RAM and a PSU. How the hell was I going to find a case like the one I used to have and an exact HDD? The ODD was not so important....
To my surprise in one of my trips to the local flea market I found an almost exact case. The first time a I saw it I was thunder struck! 😁 I just couldn't belive my eyes 😀 It was dirty and scratched but it was complete.
The bouns inside was a socket 7 motherboard with a Cyrix 6x86 PR233, Tomato 5STX-J98 motherboard, 32MB RAM, SiS VGA, a Seagate Medalist 3.2GB HDD and a Sony ODD.
With the case I had another piece of the 5x86 puzzle 😁
Through some twist of the fate I found the HDD on a local forum and the moment I held it in my hand I new the PC Gods were smiling down to me from above 😁
The entire adventure took around three months of digging up in the local flea market and local IT forums.
So there I was smiling with all my loot 😁 these relics were more valuable to me than the latest GPU, CPU or another IT gizmo 😁
All the parts were prepared for a complete cleaning process using 99.9% isopropyl alcohol and a lot of elbow grease 😁
Steps taken for success 😁
1st STEP - deep cleaning of the motherboard,SIMM and CPU preparation
The first step into my 5x86 (re)build was the cleaning of the motherboard.
Jetway J446A v2.0 - chipset SiS 496/497 - 256KB cache/3 PCI/3 ISA/4 RAM SLOTS
I took my sweet time and after a few hours it came out golden!
All the chips, jumpers and accessories were removed and labeled before cleaning.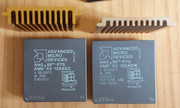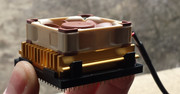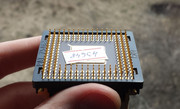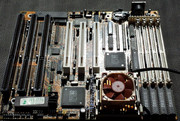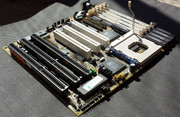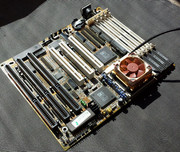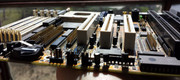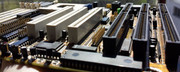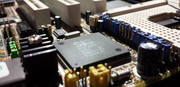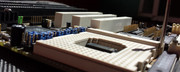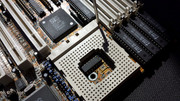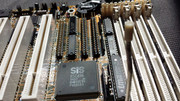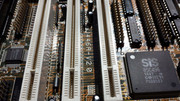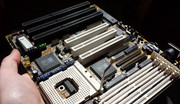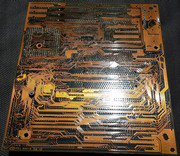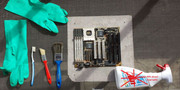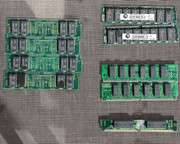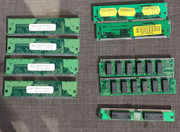 gallery: https://postimg.cc/gallery/seisg4mw/
Last edited by
Robert

B
on 2018-04-16, 19:29. Edited 7 times in total.