First post, by chinny22
I have 3 of these which were basically CCTV DVR's in a restaurant chain.
Smaller restaurants had these larger restaurants used PowerEdge R710 servers also rebadged.
Why they used 2 socket systems I don't know, the 2nd was never populated.
This PC's configuration at the time was
CPU x1 E5506 @ 2.13GHz
RAM: 4GB
Video: Quadro FX 580
HDD x2 250GB
OS: Downgraded to WinXP x64 later upgraded back up to Win7 to match rest of the restaurants.
about 5 years ago it became cheaper to replace these with actual DVR units while upgrading to HD camera's so these sat in my storage unit somewhat unloved.
That was till last year when I had a crazy idea. I've got a XP build based on a pair of GTX590's, why not try out AMD side of things.
HD7990's were supposed to be the last dual GPU cards with XP support so kept an eye on ebay lost many bids but eventually got them for just under £65 each which is what I decided was as high as I would go.
I can't remember what I paid for the CPU raiser card as got that 5 years ago, I think it was something like £75.
Now this build is far from a smooth process
Firstly power, 2 CPU's 2 spinning rust HDD's bunch of ram, this was never going to be a low power PC but think adding 2 HD7990's may be asking a lot of the standard 875w PSU. Not to mention not having enough connectors for 4 PCIe for video, and another 3 for HDD, Optical, FDD and just make matters more complicated the CPU raiser uses a special power connection.
Then I thought how do bitcoin miners do it as this would have made a great mining PC back in the day and found the "add2psu" adapters. I had a Corsair RM750i in a dead Win9x build so grabbed that.
It runs the 2 graphics cards and 2 Noctua 80MM fans, everything else is off the Dell PSU, as a bonus I can plug the Corsair USB monitoring cable into the motherboards internal USB port.
2nd problem space.
Dell really optimised space with this been as tall as a standard PC and even a bit slimmer. The graphics cards on the other hand are not small.
The bottom card blocks the airflow cover that's supposed to go over the ram, I'm hoping the 2 exhaust fans I've mounted help with this.
I also wasn't comfortable having the 2 cards directly next to each other. This does mean 1 card is on the x16 lane and other on the x8, not optimal at all!
I also wanted to install a PCI Audigy card I had spare but thats now blocked so have to make do with onboard sound but not like I'm missing out on EAX in Win7
and what I didn't find out till the very end, I cant close the case, the PCIe power cables stick out too far 🤣! so guess that helps with airflow now as well.
Software is also fighting me but for now will leave some pics
That IP is left over from it's work days, but reminds me which site it came from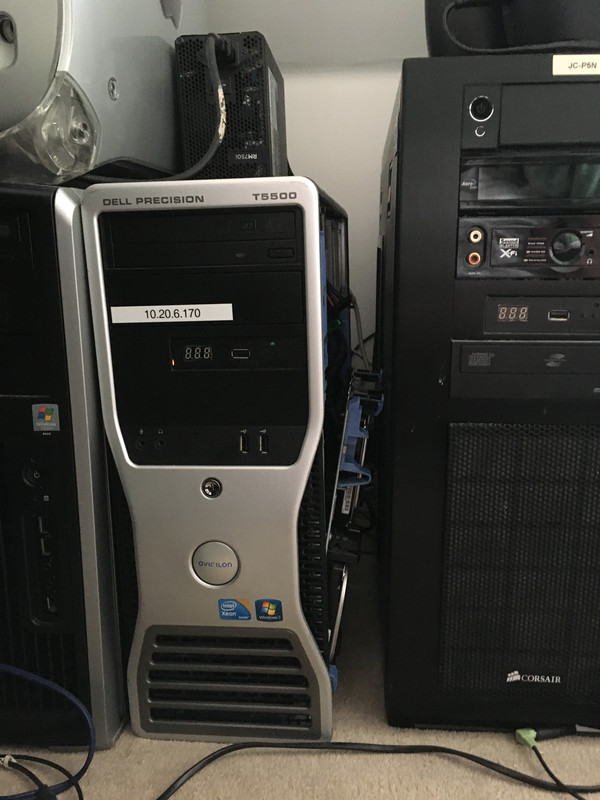 I ran the cables though a open card slot BEFORE realising I couldn't close the damn thing!