Hey there,
with D-Fend (Reloaded), DBGL et al, I may be a bit late to the party... Anyways, I'd like to present
Metropolis Launcher
, which is a Windows based Front-End for games and emulation in general and especially DOSBox.
The main features are:
Meta Data
Metropolis Launcher ships with extensive meta data based on mobygames.com, no web-scraping necessary. The meta data goes well beyond the usual genres, year and publisher. The UI is data-driven and lets you search, filter, group and sort by any combination of over 50 fields.
The experimental Simlarity Calculation feature allows to compare a selected game to all other games and presents a similarity score of 0 (dissimilar) - 100 (exact match) based on meta data.
User Based Data
Favourites, Individual Rating (Graphics, Sound, Story etc.), Statistics (number of play sessions, length of play sessions), Keeping track of your originals (have, want, trade)
Multi User Mode with password protection and restricted access (e.g. for parental control)
Extras (Screenshots, Cover-Art)
Automatic download of screenshots and cover-art from MobyGames.com
Monitoring of screenshot directories and automatic processing of taken screenshots
DOS Game Import
Regarding DOS games, Metropolis Launcher lets you import:
directories filled with packed games (zip, 7z, rar), recursive import from sub-directories included
directory containing an installed game instance (single import only)
game media (e.g. cd images, single import only)
During the import, a crc-based matching takes place in order to find the correct MobyGames meta data for the imported game.
DOSBox Support
A template-based configuration engine allows to quickly define general base-configurations. Per-game configuration is based on the underlying templates.
Inofficial patches and DOSBox variants like SVN Daum or DOSBox Enhanced Community Edition (DOSBox ECE) are supported including zip-mount, pixel perfect output mode, mt-32, fluidsynth etc.
Multiple DOSBox instances are supported (one will be the default instance).
Define the main executable upon launch, it will be re-used for subsequent launches. You can also define a setup- and install executable (holding Shift or Ctrl during launch).
Other Supported Emulators
Any emulator supporting command line parameters for launching games, e.g. RetroArch, Mednafen, Kega Fusion, Snes9x, WinVice etc.
ScummVM
MAME
Screenshot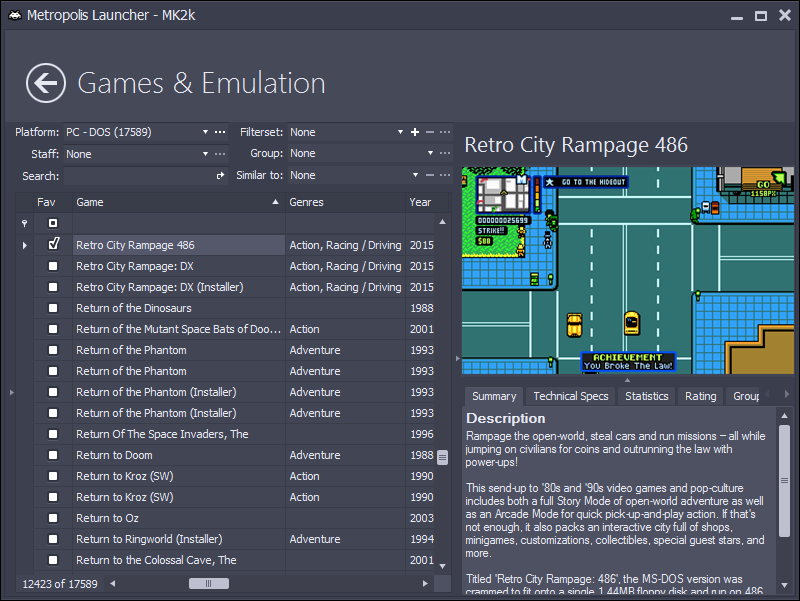 Download and Infos
https://metropolis-launcher.net
cheers
-- MK2k