First post, by bristlehog
Microsoft Windows Sound System (usually abbreviated to WSS) standard is supported by wide variety of DOS sound libraries, though its support is much rarer than Sound Blaster, Gravis and Roland series.
This is a standard for 16 bit PCM playback. Original Windows Sound System card has OPL3 chip onboard located at 388h address, thus it's a generic OPL3 card from the point of music. Other sound cards supporting WSS standard behave differently in music domain, from OPL3 bearing Yamaha OPL3SAx to monstrous Terratec EWS64XL offering MIDI daughterboards and loadable GM/GS patch banks for sample based synthesis.
Most popular late DOS sound libraries, Miles Sound System and HMI Sound Operating System, support WSS. Same with less popular Loudness Sound System, Digital Sound Interface Kit, Digital Sound & Music Interface and Junglevision Sound Drive.
Concerning earlier DOS epoch, WSS was supported by part of DIGPAK library games, and by some of Accolade and Sierra Online games.
Lands of Lore II (1997, Sound Operating System):
Warcraft II (1995, Miles Sound System):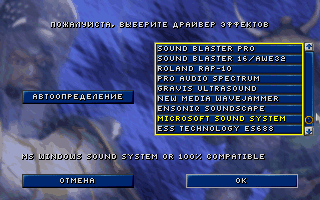 Tyrian 2000 (1999, Loudness Sound System):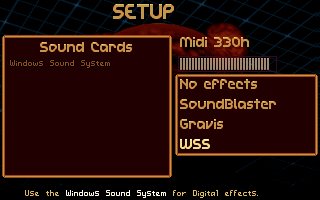 Earthworm Jim II (1995, Digital Sound Interface Kit)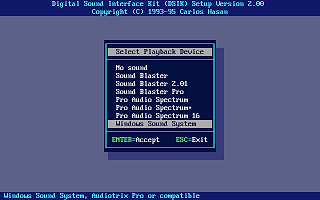 Tronic (1996, Digital Sound & Music Interface)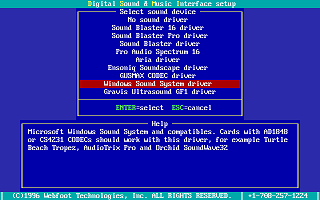 Gloriana (1995, Junglevision Sound Drive)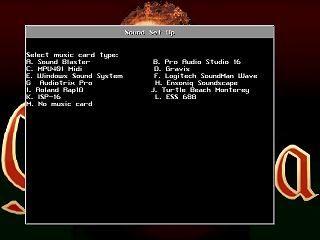 The 7th Guest (1993, DIGPAK):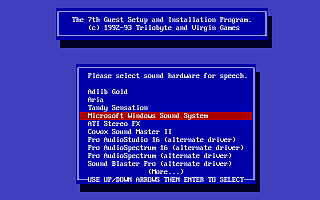 Unnecessary Roughness (1993, proprietary Accolade sound drivers):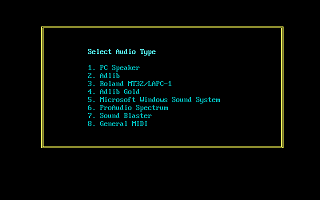 Space Quest V (1993, proprietary Sierra sound drivers):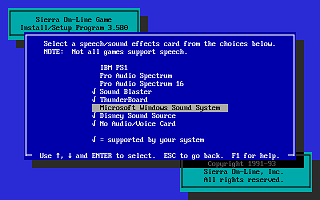 Sadly, some of DOS sound libraries don't support WSS standard:
- Audio Interface Library, including protected mode AIL/32 and AIL/16 (TES: Arena, Ultima VII, Ultima VIII and many others)
- DMX (Doom, Heretic etc.)
- Apogee Sound System (Duke Nukem 3D, Blood etc.)
- Sound Images Sound Drivers (Mortal Kombat II, Ecstatica etc.)
Last edited by
bristlehog
on 2014-05-29, 17:56. Edited 1 time in total.