First post, by thp
This week I've extended my quick DOS port of a Lumines-like puzzle game and the result is Loonies 8192, a 16-bit (386+), VGA and OPL-2 game coming in at only 8 KiB (executable size, that is -- it should only need 64 KiB of RAM). I've been developing it mostly in DOSBox, and at least on my machine, it runs perfect with ~ 8000 cycles and is still playable with 3000 cycles. I have also briefly tested it on a K6-II with 500 MHz and a SB16 (OPL-3, although the game itself only uses OPL-2 features, so it should work fine on an original AdLib).
I'd be interested in getting feedback on how the OPL-2 audio output is on sound cards that don't have an original OPL chip but some kind of compatible chip or even software emulation (again, tested and developed this game on DOSBox, so mostly interested in reports on running this on actual hardware).
Similarly, would be interesting to find out how low it can go, obviously 386 is the minimum for this game, since it uses some 386-specific instructions, but does it run fluently on a 486 already? Does the VGA card make a huge difference?
Also if you just want to give it a spin on your retro gaming machine and report back how you like the game, etc.. (generic feedback), that'd also be welcome 😀
With this game, I mostly wanted to play around with the rhythm section of the OPL-2, with palette cycling and creating tiles and fonts (the block tiles and the font used for the score numbers) and creating (generating) aesthetic color schemes.
Download here: LOON8R44.ZIP
UPDATE 2018-07-23: New build with music and performance improvements for retro hardware, thanks to all the testers in this thread for making this possible 😀
UPDATE 2018-09-05: New build with PC-Speaker support, German translation, new keyboard handling and VGA performance improvements to make it smooth on 286-era machines as well as newer ones. Thanks again to the testers in this thread 😀
Screenshots: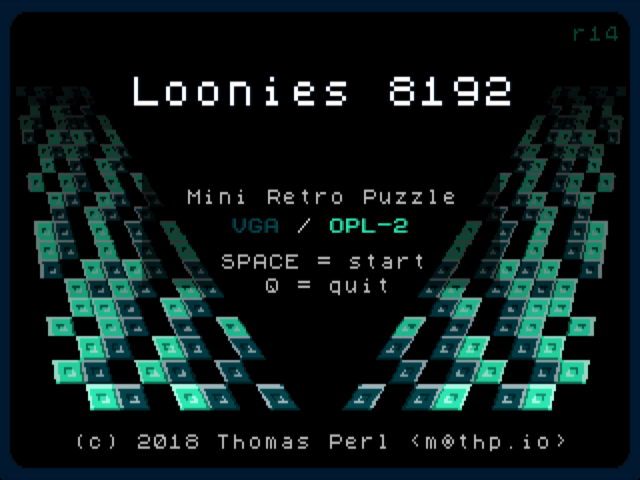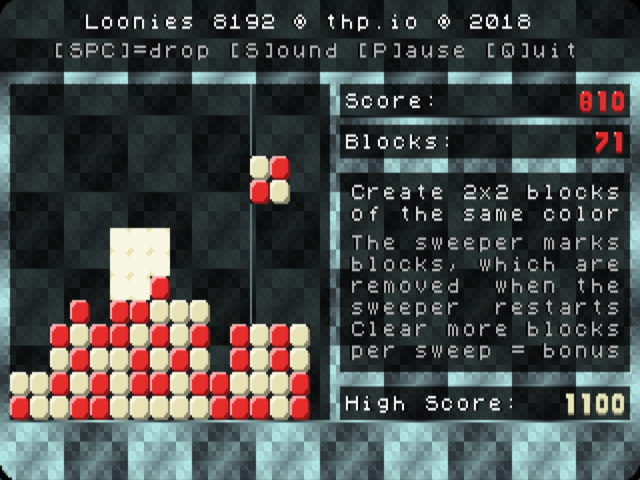 Last edited by
thp
on 2018-09-05, 18:48. Edited 5 times in total.