First post, by Enternal
So this was my favorite childhood computer (Not specifically the one pictured, but same case and monitor) I found that on ebay they can go for 175-200+ without the monitor.
I was able to win an auction for one at 111.00 and I was thrilled. That same day while out I found the same model power strip center that I had connected with it.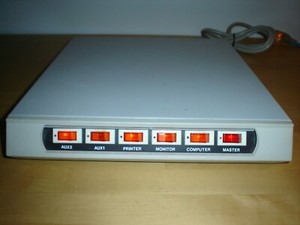 And was thinking the stars have aligned .
About a week passes and I see a big half refrigerator sized box on my doorstep. I'm a little confused because Im not expecting anything that size.
I realize its my pc, so I ecstatically go to bring it in the house...then...oh no...the sides of the box start to fold in as I start to lift and I realize this box wasn't packed properly.
Seller used a small sheet of small bubble wrap, leaving the box 3/4 open for the pc to tumble around in during shipping.
So the front had broken off the mounts and the front had a bunch of cracks, there was pieces of it all in the bottom of the box.
I complained, got my money back. Funny thing is, I told the seller in the notes to please pack it carefully. It cost them 56 dollars to ship, which they had to eat.
I've been debating on what to do with the machine,. Ideally I'd like to find a replacement front, but I don't know how likely that would be, unless anyone here knows of a place.
My other option would be to save the insides and junk the case, which is what I'm thinking I should do, I just feel bad.
Inside is a P100, sound blaster, trio 64+. My original was a 486 33SX but had the same case with a different badge.