First post, by tomcattech
While I am messing with my low cost XP \Small Form Factor mission with the HP Elite 8200, the idea popped into my head..... Why not do a similar Win98 setup with a P4 HP D530 SFF unit?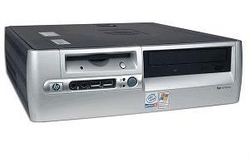 I could stack both of these small units with a input switch box and be ready to roll with a small amount of real estate on the desk.
Obviously the issues of drivers, power supply and AGP video card options come to mind as this unit would originally have come with XP only (I think) but I do see some "Win98" references to drivers out there.
Anyone done something similar to this type of system?
Last edited by
tomcattech
on 2023-02-26, 05:16. Edited 1 time in total.