Reply 5040 of 5338, by Kreshna Aryaguna Nurzaman
This is the reason why I never finished the game on the first place. This is the reason why I eventually threw the box and its entire contents to the trash can in rage and frustration. Recently, I re-purchased the game in GoG.com, decided to give it a second chance. Oh, how wrong I was.
See, the picture below shows the mission result of X-Wing Historical Mission 5: Rescue at Mon Calamari. Yes, I have successfully destroyed waves and waves of enemy fighters and bombers to protect my friendlies, and all Calamaris have been successfully rescued as well. Yet the game designers cheerfully gave me the middle finger by failing the mission, simply because a group of Y-Wings, which, by the way, was totally beyond my control, turned chickenshit and abandoned their mission goals, whatever the goals are.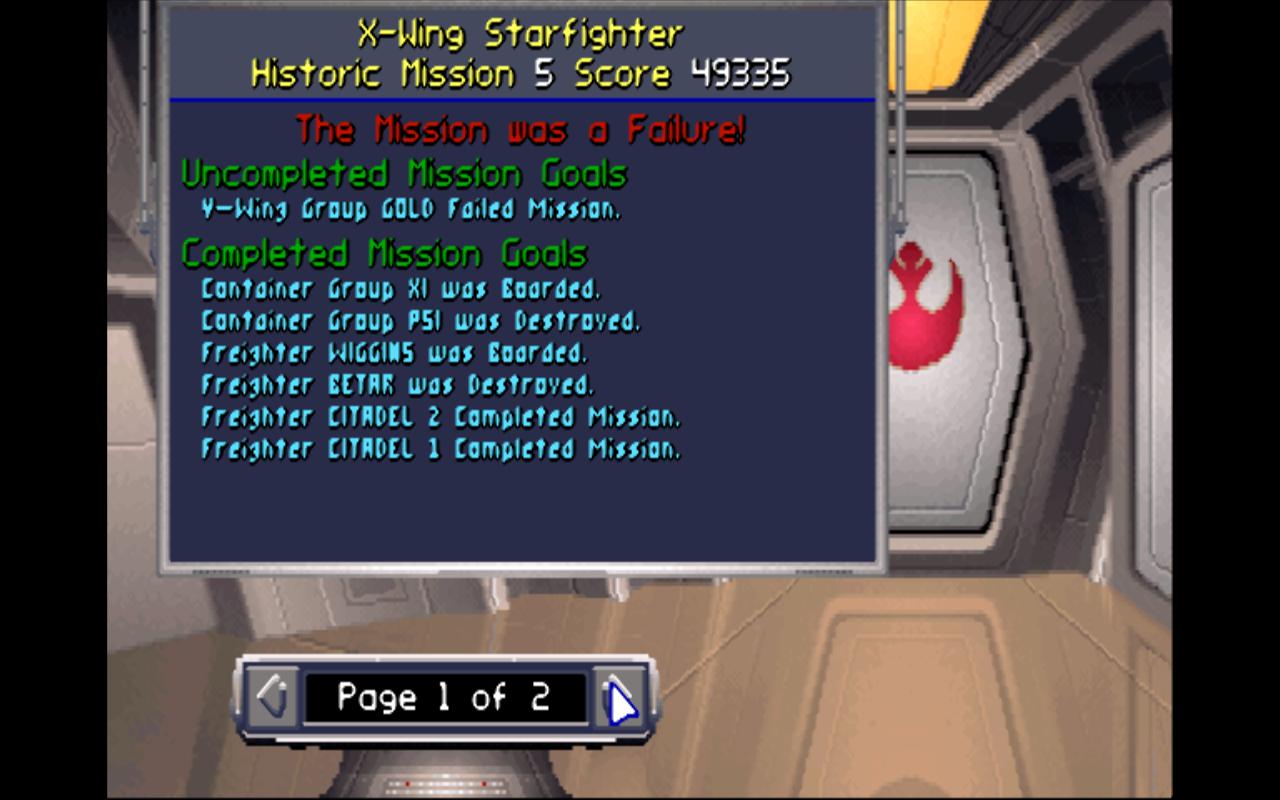 Fuck this shit, Holland, I'm outta here!
What's worse is that I already cheated to give myself a fair chance in that accursed mission, using X Wing Ship Editor v 5.0 to beef up my wingmen, and to make it easier for me to destroy enemy spacecrafts (wingmen remain stupid despite using beefed up ships). And I have successfully destroyed all of them, including a goddamn Star Destroyer, using a hundred of proton torpedoes or so. And yes, Calamaris from both crafts (one freighter and one container) have been rescued successfully. Yet the entire mission failed just because the Y-Wings didn't complete their mission goals. What the fuck?
Isn't the mission goal to rescue the Calamaris? Which, by the way, I have successfully achieved?
For years I've been wondering why X-Wing's gameplay is so poorly designed, especially since LucasArts' previous flight sims, Secret Weapons of the Luftwaffe, Their Finest Hour, and even Battlehawks 1942, are all playable and enjoyable. Also, TIE Fighter, which is X-Wing's successor, is perfectly playable and highly enjoyable.
Perhaps I'd try the mission again after using the ship editor to set TIE Fighter's and TIE Bomber's speed to 1, making them basically stand still in space, and their hitpoints to 1 as well, so they will be instantly destroyed by a single hit. Just to satisfy my curiosity if the mission is winnable that way.