First post, by appiah4
Dreamblaster X3MB Buran External General MIDI Device Review
Retrocomputing is neither an easy nor a cheap hobby. The further back you want to go in time, the more expensive it is to find the hardware to do so, and the more finnicky that hardware gets. Retro audio equipment (whether it be sound cards, wavetable daughterboards or as in this case MIDI devices) is one of the less straightforward and less commonly available pieces of hardware to our hobby. It is also one of the most essential.
Until the arrival of Adlib Music Synthesizer Card in 1987, PC games were restricted to using the mono-sound, square wave only PC Speaker for audio. To say that they were lightyears behind contemporary personal computer peers such as the Amiga 1000 at the time would not be an understatement. But in 1987, for better or for worse, the Adlib made Yamaha OPL FM Synthesis the defacto standard for PC music. Then the Sound Blaster took scene in 1989, and the rest is history.
Yet, while FM Synthesis is a nostalgic and familiar sound to those of us whose gaming experience was largely (or in my case, to be honest, entirely) restricted to, it was neither the only nor the best music synthesis option around. Computers such as the Amiga 500 that had stereo audio PCM (albeit with less polyphony) as well as impressive sequencing tools that made music like this (Courtesy of Constable Doge) the stuff of dreams for PCs for a very long while.
PC Music had an ace up its sleeve, though: MIDI. Granted, it was so expensive that the experience priced itself out of being an option for majority of the gamers at the time, but the ability to use the MT-32 and later Sound Canvas modules by Roland (and General MIDI standard modules by other producers such as Yamaha, Korg, etc.) made it possible to make our games sound like this (Courtesy of Phil's Computer Lab) by 1993:
The first half of this revolution involves the MT-32 proprietary Roland standard, and we will be only partially interested in it for this review. The second half, the transition to General MIDI and what followed is the main focus, and where the X3MB Buran External General MIDI Device comes in.
There are several contemporary options to get General MIDI music in retrogaming, especially if you are emulating. Things like VSTs, software synthesizers and soundfonts make it easy to emulate even iconic hardware like the SC-55 and SC-88 not terribly difficult. Even Pentium II/III generation hardware have options such as the Yamaha SW-YXG, Casio SW-10 and ESSTech SWWT to provide General MIDI music of passable to acceptable quality. However, getting exceptionally good quality General MIDI with these computers, or General MIDI music at all on older hardware, requires investment in wavetable daughterboards or external General MIDI devices (such as the Roland Sound Canvases or the Yamaha XG modules) which, if you do a brief search on eBay, often cost a kidney.
All is not lost, however, as there are many resourceful individuals who have come to the rescue over the years. Two such people are Roland and Serge Defever, who produce PC audio equipment under the brand Serdaco. These fine gents have been churning out audio gear after audio gear that are incredibly useful to our hobby. They have made things like affordable and quality wavetable daughterboards readily available in the market a well as developing completely new devices that allow OPL2/3 playback over the paralllel port.
They have also produced an external General MIDI module, that unfortunately seems to have gone under many people's radars. The original Dreamblaster X3M was released in 2017 and it was an incredibly useful General MIDI Swiss army knife kind of MIDI device that could fulfill a wide range of needs. Its complicated nature and poor documentation, coupled with most people's lack of familiarity with how General MIDI worked (this part is conjecture on my part from my own anectode of familiarizing with it) seems to have held the X3M back from the spotlight it really deserved.
Now it's 2018 and roughly 18 months after X3M's release, we have the X3MB Buran, an updated and revised device that aims to improve on the X3M and relaunch it at the same time, and I will be taking a very detailed look at it.
Let's start out with the specs; so what are we looking at with the X3MB:
- Dream 5000 Series Synth Chip (81 voices polyphony, high quality effects engine)
- Super Low Latency (<1ms)
- 64MB Flash for Soundbank data
- USB Interface (Fully ISB MIDI Compatible)
- DIN-5 MIDI Interface
- Stereo RCA Output (24-Bit HQ DAC)
- 5V Mini USB Power
- 16MB Dream Soundbank (Upgradable to the exclusive 64MB Buran Soundbank for free)
- Preset Editor Software
- Soundbank Upload Software
And this is what you get out of the box:
Let me go through a breakdown of the changes, and highlights of the X3M. Right off the bat, the thing looks vastly different from the outside; it now has a Lego brick compatible casing in the shape of a Buran space shuttle. To be honest, I don't know what the story behind the choice of Buran for the case style is, but I have to say it looks pretty cute and vastly more characterful than the dull grey casing of the X3M. Adhesive rubber feet would have been welcome (I added them to mine because having such a light device slide around and fall off my desk got tiresome after a while) and I would certainly recommend Serdaco to consider throwing in four of them with the unit (Most Pi cases come with such, they should be nearly zero-cost I would think.)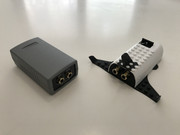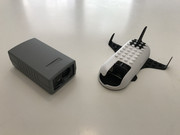 New Lego brick compatible Buran case to commemorate the Buran Space Shuttle
Keropi improvements now allow the X3MB to use its MIDI Interface for MIDI Out using the J8 Jumper Block. This is a huge update, because it enables some nifty use cases that I will discuss shortly. The X3MB Buran now also features more polyphony; it is capable of 81 voice polyphony compared to the 54 voice polyphony of the original X3M, enabling it to synthesize more complex music. Unfortunately, a side effect of this improvement is that it no longer has USB Audio Device capabilities. I will touch on this later on.
The X3MB also comes with a software suite that it shares with the X2 line. This suite is comprised of a Preset Editor and a Soundbank Upload Tool. The Preset Editor allows the user to change the equalizer curve, pre-amp settings and the chorus/reverb type and settings used by the DSP. It is fully functional, there is a wide range of options, although the tool itself is not entirely intuitive. I have found the factory default preset of my pre-launch X3MB to have gone a bit overboard with the reverb and chorus, so I am sharing the preset that I came up with as part of this review; this middleground equalizer and post processing seemed to give me the rich, punchy and warm sound I like in my music. All recordings were done using this preset. (EDIT: I have been informed by Serge that the preset I came up with has become the default preset for all launch units, so recordings on this review will be 100% reflective of what you will hear out of the X3MB).
The Soundbank Upload tool allows updating the standard Dream GM Soundbank that X3MB comes with to an X2 soundbank (GUD) or an X3M soundbank (Buran). While the original Dream soundbank is no dog (I would argue it compares well to things like Yamaha XG modules) it was certainly not the pinnacle of MIDI Synthesis in 2017. Since then, Serdaco have released two new Soundbanks, one for the X2 (GUD) and one exclusively for the X3M (Buran). GUD was an improvement and evolution of the S. Christian Collins's General User GS Soundfont (derived from the v1.35 and not from the v1.4x ones if my ears are not failing me) and a huge improvement on Dream; however, the Buran Soundbank takes X3MB's MIDI Synthesis to the next level. The soundbank is a further evolution of GUD; there have been several improvements in balance and looping, and several instruments like the brass set, electric guitars and some drum sets have been tweaked or changed to make it sound more like a Roland Sound Canvas Module. My subjective opinion is that it is superior to GUD in every way and succeeds in the task it set out to accomplish.
You can find recordings I've made of the X3MB Buran using both the Buran 0.9 and GUD 1.4 soundbanks below: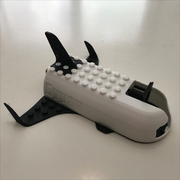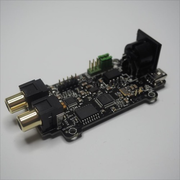 Left: Buran Soundbank, Right: GUD Soundbank
So how does one use the X3MB Buran, what does it do? Well, I've found four distinct uses of this device in my one month evaluation of it.
1. It works as a no hassle General MIDI device for your retro computers and other MIDI devices. Procure your MIDI cables (not included, but can be bought from Serdaco as an option) and connect the X3MB Buran to your retro PC via the MPU-401 interface of your Music Quest card or your Sound Card (you may need SoftMPU for many games if you will do the latter) or a MIDI device such as a keyboard, and the device will be found on the MIDI address right away, and output very clean and high quality audio to its RCA stereo out, which you can then route to an external mixer or to your sound card's Line-In and use its software mixer. The experience was incredibly smooth, the syntheis was absolutely lag free as promised and I encountered no popping/stuttering or otherwise jarring artifacts in the synthesized music.
2. The X3MB Buran can route MIDI In from the MIDI port to the USB MIDI interface. This makes it possible to use any device that can accept USB MIDI In to function as a Munt box for your retro PCs. With the X3MB, you can connect your Retro computer to the X3MB (General MIDI Device) which can then be connected to a Raspberry Pi or Tablet running MUNT to provide MT-32 emulation; Now all your MIDI needs have been covered. Well done X3MB.
3. It works as a General MIDI interface for modern devices. The X3MB Buran can receive MIDI commands via USB and functions the same way as it would when connected via the MIDI interface. That means it can be used for devices that have no MIDI ports or ways to connect a MIDI device. Your Raspberry Pi RetroPi can now finally utilize a real General MIDI module via USB.
4. The Keropi improvements that enable X3MB Buran to route USB MIDI to the DIN-5 MIDI port make it possible to connect it to a PC via USB and route the MIDI signals through the MIDI port to another MIDI device such as the MT-32 and the Sound Canvas. This enables the use of these ancient devices on modern computers that lack MIDI ports and rely on USB MIDI only.
That is incredible value and functionality out of a single device in my opinion. At this point, I should maybe point out the absence of the USB Audio functionality that was present in the original X3M. This feature allowed the original X3M to function as an external USB sound card to other devices. With this feature, it was possible to use the X3M as the final mixer and audio out point of a chain of MIDI devices as well as being able to record directly from the X3M's USB Audio In. In particular, this feature made using the X3MB and a Raspberry Pi as an all in one GM/MT-32 solution fairly easy, whereas with the X3MB Buran you need audio out from both devices to me mixed down externally before being routed back to the PC. The reason for this is simple: USB Audio functionality requires the use of a DSP core, and this core has been reallocated to polyphony use with the X3MB. While my initial reaction to the choice was negative, I can now say I honestly see it in better light and agree with it; it is now a more capable MIDI Synthesizer than before. What alleviates my concerns further is that the original X3M is now available for sale as the X3MA, and offers the Audio device capabilities at the expense of polyphony if that is the route you want to go. Choice is always good!
All said, my verdict is that the greatly overlooked X3M and now its X3MB Buran relaunch is quite possibly Serdaco's most capable and versatile MIDI device to date. Its going price makes it a formidable option against the inflated prices of MIDI module gear you can find in the second hand market and its extra functionalities make it a no-brainer. It may not look as cool as another module in your MIDI tower would, but I know I got more out of it than I can out of my Sound Canvas. I can recommend this product heartily. If you are in the market for an external MIDI device, do consider the X3MB; you will not be disappointed.
Last edited by
appiah4
on 2018-11-15, 12:19. Edited 2 times in total.
Retronautics: A digital gallery of my retro computers, hardware and projects.