First post, by Jonas-fr
Hi got the strangest issue with a GD610/620 based ISA video card (Stingray Rev4+, more info on it) on a 486 system. The video is ok in the embedded monochrome LCD (dedicated connector on the card) but as soon as the POST is finished and then the screen change (to show the HDD booting or in my case a message showing that no HDD is present) the screen is fully garbled. We can discernate some of the displayed text-UI features and shapes but it's hardly useable.
FWIW I'v got this issue right after dumping the BIOS of the card from a TL866 while using ESD safe tools.
What I've tried so far (without any success):
- cleaning the ISA card's gold connectors with IPA and paper (they were ok)
- removing all cards from the mobo if not the VGA card
- reseating both the BIOS chip and the RAMDAC on the video card
- putting the card on another ISA port
- trying enabling all the shadow memory option (despair mode activated)
Video of the issue :
https://streamable.com/6lrgrv
Pic of the garbled screen :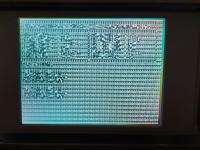 Pics of the BIOS config (same as when the computer worked) :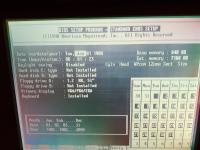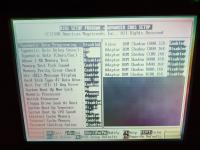 What I haven't tried:
- using it on external VGA (since switching from the internal LCD to the external VGA needs entering a command it's not exactly practical with a garbled screen !)
- replacing capacitors (they are small yellow ones and they all look pretty much ok)
- using the card on another mobo (the internal LCD wiring harness isn't long enough, so short of dismantling all the LCD assembly it isn't an easy test to do)
Last edited by
Stiletto
on 2020-08-11, 01:06. Edited 2 times in total.