Reply 1600 of 1769, by pshipkov
Chaintech 486SPM M104 (seems to be the latest revision), based on SiS 85C496, 85C497.
In crisp condition. Really well preserved.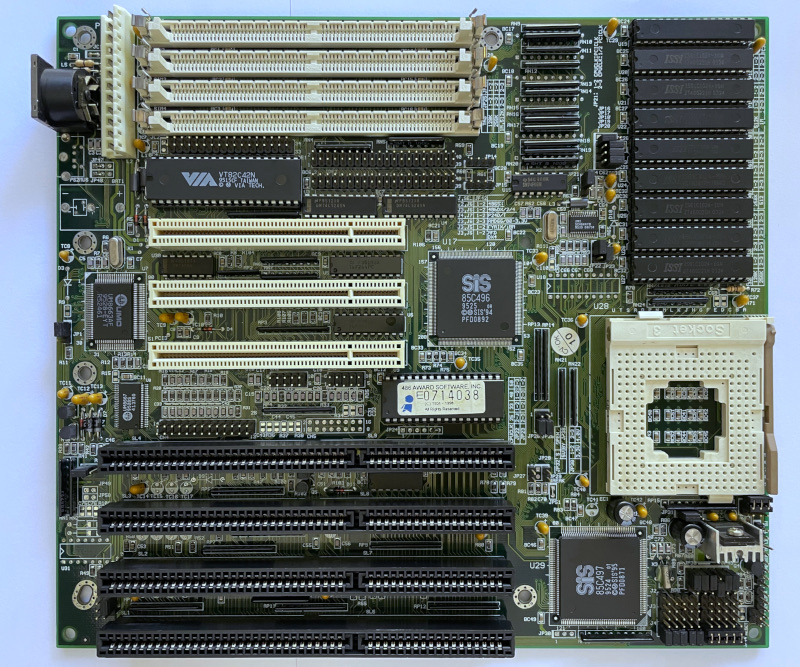 Feels like slightly early design compared to the very late 486 motherboards.
No support for EDO RAM.
No 3.45V to CPU option.
Very easy to setup jumpers. Very nice.
There is not much more to add - very straightforward assembly.
--- Am5x86 @160MHz (4x40)
All BIOS settings on max.
PnP BIOS auto-config can hang the system during POST. Requires BIOS reset to resolve it.
Turning that parameter off resolves the problem entirely.
SpeedSys: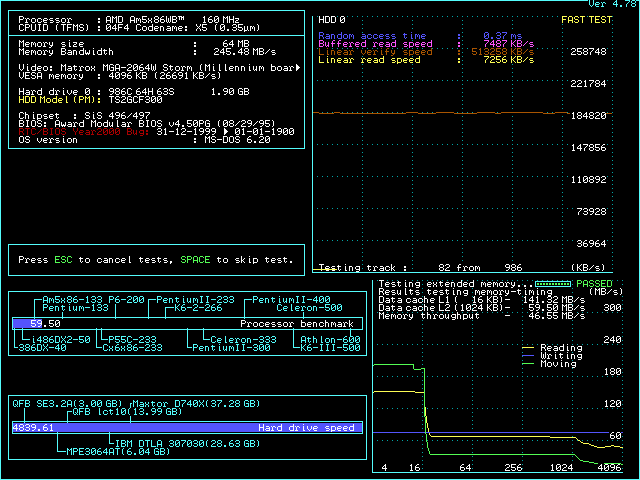 Not the fastest motherboard, but not bad either.
--- Am5x86 @180MHz (3x60) and @200MHz (3x66)
There are no clock generator jumpers for 60/66MHz. May get back to this with a simple mod at some point later.
--- Am5x86 @200MHz (4x50)
POST completes but always hangs during BOOT to DOS.
It is related to the level 1 cache. If turned-off or chips not present - all is good.
Tried hard to overcome the issue but without success.
--- Intel Pentium Overdrive P24T (POD100) @100MHz
All BIOS settings on max.
No jumper changes required between Am5x86 and POD100 CPUs, which is pretty nice.
Either the motherboard supplies 5V to CPU by itself, or POD100 works fine at 3.3V on this board.
Updated the POD100 comprehensive summary post with the related information for this motherboard.
The short summary:
Intermediate performance in interactive DOS graphics.
Number 3 in Quake 1, number 2 in Windows GUI and one of the top 3 in complex offline computing.
Quite satisfying.
---
The SPM model is a clear upgrade over the previous SOM model which does not handle POD processors and shows overall lower performance metrics.
Also, very easy to work with system.
Too bad it does not offer 60/66 clock generator jumpers out of the box.
Last edited by
pshipkov
on 2023-03-03, 07:38. Edited 2 times in total.