Reply 160 of 224, by appiah4
Is there a YMF71x model that is confirmed to fit a NEC XR385 without making a custom cable?
wrote:
https://www.ebay.co.uk/itm/Yamaha-OPL-Y ... 2942680258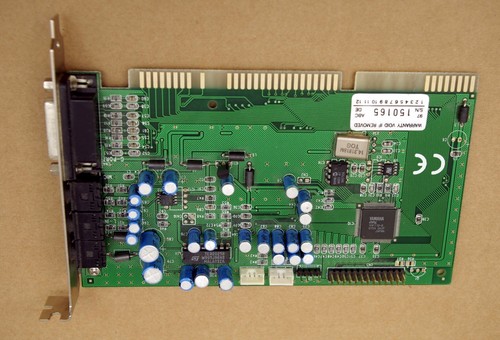 Why did you post that question in this thread?

An ESS1688 is the way to go:
wrote:
Well, is it really that simple? Why the 1688? I had a similar question I posted here a while ago: https://www.vogons.org/viewtopic.php?f=62&t=53158
And ultimately the 1868 is basically the same chip as a 1688 but integrates PnP, ATAPI controllers, full duplex mono and 3D spatial sound (albeit a shitty one). The 1869 is 48KHz so less desirable due to sampling shenanigans, I get that, but it also has full duplex stereo so it's a tradeoff.
A500:Rev6|+512K|ACA500+|C1084S
i386:Am386SX25|4M|GD5402|ES688
i486:U5S33|8M|GD5428|YMF719
i586:P133|32M|T64V+/MX2|V1|CT3980/32M
i686:K6-2/500|128M|Rage|V2/SLI|CT4520/32M
S370:P3-1200|384M|GF4-4200|MX300
S754:A3700+|2G|X800XTPE|SB0350